For Immediate Release
Contact:
Tel: +1-212-216-1832,Email:,hrwpress@hrw.org
DR Congo: Humanitarian Crisis Deepens as Peace Process Falters
Renewed Fighting Displaces 100,000 More Civilians in Eastern Congo
GOMA
Renewed combat in eastern Democratic Republic of Congo has caused a drastic deterioration in the humanitarian situation and immense suffering for civilians, the Congo Advocacy Coalition, a group of 83 aid agencies and human rights groups, said today. The coalition called for urgent action to improve protection of civilians and an immediate increase in assistance to vulnerable populations.
Since August 28, 2008, fighting has resumed between the Congolese army and the forces of a renegade general, Laurent Nkunda's National Congress for the Defense of the People (CNDP), as well as other armed groups, breaking a fragile ceasefire that had been in place since the Goma peace agreement was signed on January 23. An estimated 100,000 civilians were forced to flee in the most recent violence, including many who had been displaced by earlier waves of fighting. According to witnesses, some civilians were trapped in combat zones and were killed, wounded, raped or illegally detained by soldiers of the Congolese army and combatants of other armed groups.


"The situation for civilians is desperate, and it threatens to deteriorate further if fighting continues," said Rebecca Feeley of the ENOUGH Project. "All the parties who signed the Goma peace agreement should adhere strictly to their obligations, including to protect civilians and respect international humanitarian and human rights law."


The heavy fighting, the worst since the ceasefire was signed, started in Rutshuru territory in North Kivu province before spreading to Masisi territory and then to Kalehe territory in South Kivu. Since January 23, the UN peacekeeping mission, MONUC, has recorded more than 250 ceasefire violations in both North and South Kivu. Each round of fighting resulted in fresh displacement of civilians. The exact numbers are difficult to estimate as those returning home are frequently forced to flee again, but the UN believes that more than 1.2 million people are now displaced in North and South Kivu.


During the recent fighting, many civilians were wounded or killed in the crossfire while there are reports that others, including children, were abducted and forcibly recruited into armed service. In Kirotshe, a female worker at the local health center was shot in the stomach on September 11 while the CNDP and soldiers from the Congolese army fought for control of the town. Another woman who fled from Nyamubingwa village said she left behind three women who had been raped by armed combatants. Much of her village was looted.


"Again and again, we are attacked, we flee, our houses are pillaged, and then we are displaced with nothing," said one man, whose house was looted by two different militia groups after he fled from Nyamubingwa on September 10.


Roadblocks erected by the Congolese army and militia groups prevented many civilians from escaping to safety. In some cases, civilians fleeing combat were only permitted to pass if they paid fines or handed over their electoral cards (which serve as identification in Congo) and other goods which they managed to carry from their homes.


Even outside of combat zones, Congolese army soldiers, sent to the region in increasing numbers, killed or injured civilians, often in the process of pillaging their property. In Minova and neighboring villages of South Kivu, for example, four civilians were killed by indiscriminate fire from soldiers who were looting the area. In some areas, Congolese army soldiers, as well as members of armed groups, are also involved in illicit mining activities in the rich gold and tin mines across the Kivu provinces, systematically extorting from civilians, in particular through the imposition of illegal "taxes."


"Congolese army officers and leaders of armed groups must take urgent steps to control and discipline their troops," said Anneke Van Woudenberg, senior researcher at Human Rights Watch. "They are responsible for keeping their soldiers and combatants from killing, harassing and abusing the population."


Aid workers have suffered attacks that have forced them to suspend activities in North Kivu and parts of South Kivu, leaving many displaced persons without assistance. Soldiers and combatants from armed groups have looted health centers and hijacked trucks delivering humanitarian assistance, diverting them for military purposes. Crowds have stoned aid workers and refused to allow them to pass roadblocks, confusing their role with that of the UN peacekeeping force, MONUC. The crowds said they were angry about what they saw as MONUC's failure to end the conflict and protect the population.


"The signatories to the Goma peace agreement agreed to protect civilians, remove roadblocks and allow humanitarian access to populations in need, yet communities have witnessed them doing precisely the opposite," said Juliette Prodhan, country director for Oxfam GB in DRC. "All parties must live up to their commitments and cease such attacks immediately."


Ten years ago this month, the United Nations Guiding Principles on Internal Displacement were first presented to the Human Rights Commission, officially recognizing the basic rights of all internally displaced persons, including protection against arbitrary displacement, the right to protection and assistance while displaced, and guarantees for safe return.


"In eastern Congo many of the basic rights of displaced people have been flagrantly violated," said Ulrika Blom Mondlane from the Norwegian Refugee Council. "The UN's Guiding Principles should be more than just lofty aspirations. The people of eastern Congo desperately need the protection and basic standards of assistance detailed in this groundbreaking document to become a reality."


The Congo Advocacy Coalition calls on the parties to the Goma peace agreement, international donors, and international facilitators to the peace process (United States, European Union, African Union, and the UN) to redouble efforts to implement the Goma peace agreement and to ensure that the UN Guiding Principles on Internal Displacement are respected in one of the world's worst humanitarian emergencies.


Specifically, the coalition calls on these actors to:

* Uphold the commitments to civilian protection and respect for human rights set out in the Goma peace agreement and the Nairobi communique. Appoint a special adviser on human rights for eastern Congo to help ensure that human rights concerns are central to peace discussions.

* Significantly and urgently increase and improve assistance for those displaced from their homes and for the families and communities who host them.

* Sanction those who incite violence against humanitarian and UN workers. Inform the population about the different roles and mandates of MONUC and humanitarian agencies.

* Ensure that MONUC's protection mandate is given priority in the resourcing and management of operations.

* Ensure that the illegal exploitation of natural resources and the economic interests of the parties to the conflict are addressed explicitly in bilateral and international dialogues.


Background


On January 23, the Congolese government and 22 armed groups signed the Goma peace agreement, committing to an immediate ceasefire and observance of international human rights law. The Goma Agreement followed the November 2007 agreement between the governments of Congo and Rwanda, known as the Nairobi Communique, which sought to address the presence of the Democratic Forces for the Liberation of Rwanda (FDLR), a Rwandan armed group, in eastern Congo. In April 2008, the Congolese government set up the Amani Program to coordinate peace efforts in eastern Congo.


The UN Guiding Principles on Internal Displacement set out the basic rights of all displaced people, though their implementation has been weak in eastern Congo. A majority of displaced people in North and South Kivu do not have access to adequate health services, food, or education. In some areas, malnutrition rates have reached alarming levels and several diseases are endemic. A worrying increase in cholera cases, for example, has been registered in six health zones in North Kivu since the beginning of September.


Local food prices have increased dramatically, exacerbating poverty and malnutrition, but the World Food Programme has been obliged to reduce rations in eastern Congo because of food shortages. Displaced people and other vulnerable groups have resorted to high-risk strategies to feed their families. Despite the risk of abuses by army soldiers or combatants of armed groups, some have no alternative but to return home to cultivate their fields. Women and girls are the most affected: many have been raped while attempting to return home or to seek firewood or water. Others have been arbitrarily arrested or forced to pay illegal taxes. Those who do manage to reach home often find their houses looted or occupied by armed groups or bandits.


Children of displaced families have little or no access to education, either because the family has no money to pay school fees or because there are no schools operating in or near displacement camps. In the struggle to stay alive, children are forced to work. As one young boy said to a humanitarian worker, "if you don't work, you don't eat". Like women, children are vulnerable and easy prey to attacks by combatants. In areas around Masisi, for example, children go out to collect firewood at 3 a.m. to avoid abuse by militias, being captured for recruitment, or rape.


The vast majority of those forced to flee their homes live with host families, many of whom are as poor as those they support. To date, these host families, many of whom have sheltered large numbers of displaced persons for months or years, have received little attention and assistance. With village populations sometimes doubling in size, scarce local resources are so strained that displaced people are often forced to move again to other locations.


The Congo Advocacy Coalition, made up of local and international nongovernmental organizations, was established in July 2008 to focus attention on the protection of civilians and respect for human rights in eastern Congo's peace process. The coalition advocates that the parties to the Goma Agreement, the Nairobi Communique and the Congolese government's national Amani Program live up to their commitments to respect international human rights law and ensure protection of civilians. The following organizations are members of the coalition's steering committee: ActionAid, ENOUGH Project, Human Rights Watch, International Rescue Committee (IRC), Mercy Corps, Norwegian Refugee Council (NRC), Oxfam, Conseil Regional des Organisations Non Gouvernementales de Developpement (CRONGD) - North Kivu, Promotion et Appui aux Initiatives Feminines (PAIF) - North Kivu, Initiative Congolaise pour la Justice et la Paix (ICJP) - South Kivu, and Association des Femmes Juristes du Congo (AFEJUCO) - South Kivu.


Other signatories:


International NGOs: Agency for Technical Cooperation and Development (ACTED),

Beati i Costruttori di Pace (Blessed are the Peacemakers), CAFOD, CARE International, Catholic Relief Services (CRS), Global Witness, International Alert, La Benovolencija, Merlin, Refugees International, Save the Children UK, Scottish Catholic International Aid Fund (SCIAF), War Child Holland, Women for Women International, World Vision.


Congolese NGOs: ACP/Sud-Kivu, Action de Promotion et d'Assistance pour l'Amelioration du Niveau des Vies des Populations (APANIVIP), Action Paysanne pour la Reconstruction et le Developpement Communautaire (APREDECI), Action pour la Promotion de la Participation Citoyenne (APPC), Action pour la promotion et la defense des droits des personnes defavorisees (APRODEPED), Action Sociale pour la Paix et le Developpement (ASPD), ADEF, Aide et Action pour la Paix (AAP), Association Africaine de Defense des Droits de l'Homme (ASADHO)/Sud-Kivu, Association des jeunes pour la defense des droits de l'enfant et la lutte contre la racisme et la haine (AJERH), Association des Voluntaires du Congo (ASVOCO), BEDEWA, Blessed Aid, Caritas Goma, Centre de Recherche sur l'Environnement, la Democratie et les Droits de l'Homme (CREDDH0), Centre pour la Paix et les Droits de l'Homme - Peace and Human Rights Center (CPDH-PHRC), CEPROSSAN (Le Centre de promotion socio-sanitaire), CEREBA, Change Agents Peace Program (CAPP), Children's Voice, Coalition pour mettre fin a l'utilisation d'enfants soldats en RDC, Collectif des Associations des Femmes Pour le Developpement (CAFED), Collectif des ONGs de Droits de l'Homme (CODHO),Collectif des Organisations des Jeunes Solidaires du Congo, (COJESKI) /Nord et Sud Kivu. Construisons la Paix et le Developpement (COPADI), CPP (Campagne Pour la Paix), Dynamique des femmes juristes (DFJ), Federation des Organisations des Producteurs Agricoles du Congo (FOPAC), Femmes Plus/ Sud Kivu, GAM, Goma Pax Christi, Groupe de Voix de Sans Voix (GVSV), Heritiers de la Justice, Human Dignity in the World (HDW), IGEE, La Ligue Adili, LDGL, LUNACOP, Ministere de l'Eglise du Christ au Congo pour les Refugies et les Urgences (ECC MERU)/ Sud Kivu, Mouvement International des Droits de l'Enfant, de la femme, de l'homme veuf et de leur promotion sociale (MIDEFEHOPS), PAMI, PFPA, PRODES, Promotion de la Democratie et Protection des Droits Humains (PDH), PROPREAD, Reseau d'initiative Local pour le developpement durable (REID), Reseau Femme et Developpement (REFED)/Nord-Kivu, Reseau Provincial des ONGs de Droits de l'Homme (REPRODHOC)/Nord-Kivu, Solidarite Feminine pour la Paix et le Developpement Integral (SOFEPADI)/ Nord-Kivu, Solidarite pour la Promotion sociale et la Paix (SOPROP), SOS/Grands-Lacs, Syndicat des Associations Feminines pour un Developpement Integral (SAFEDI), Synergie des femmes pour les victimes des violences sexuelles (SFVS), Uwaki, VAS, Villages Cobaye (VICO), VOVOLIB.


For more information, please contact:

In Washington, DC, for the Enough Project, Colin Thomas-Jensen (English): +1-202-682-6136

In London, for Human Rights Watch, Anneke Van Woudenberg (English, French): +44-77-1166-4960 (mobile)

In Goma, for Norwegian Refugee Council, Ulrika Blom Mondlane (English): + 243-81-086-9030

In Kinshasa, for Oxfam, Juliette Prodhan (English): +243-81-348-9309

In Goma, for CRONGD, Kubuya Muhangi (French, Swahili): +243-99-861-0651
Human Rights Watch is one of the world's leading independent organizations dedicated to defending and protecting human rights. By focusing international attention where human rights are violated, we give voice to the oppressed and hold oppressors accountable for their crimes. Our rigorous, objective investigations and strategic, targeted advocacy build intense pressure for action and raise the cost of human rights abuse. For 30 years, Human Rights Watch has worked tenaciously to lay the legal and moral groundwork for deep-rooted change and has fought to bring greater justice and security to people around the world.
LATEST NEWS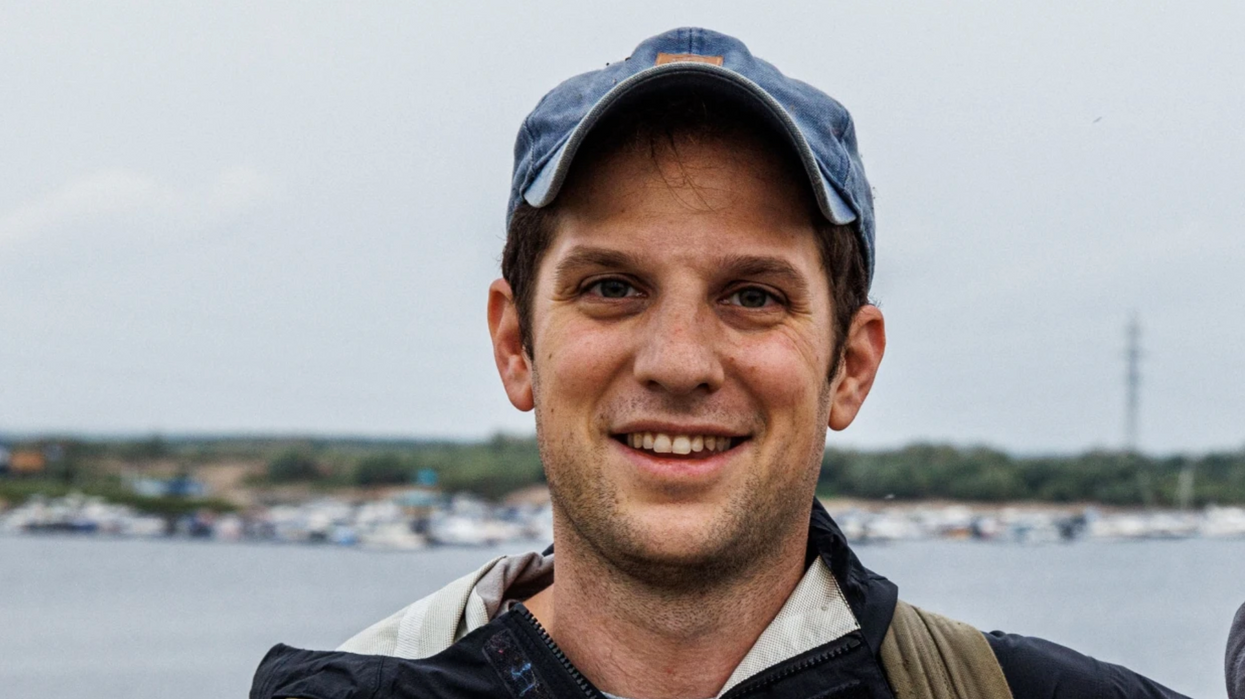 Reporters Without Borders said the arrest "looks like retaliation."
This is a developing news story... Check back for possible updates...

Russia's security service said Thursday that it has detained Wall Street Journal reporter Evan Gershkovich, a U.S. citizen, on charges of "espionage in the interests of the American government."
The Russian Federal Security Service (FSB) alleged that Gershkovich "collected information constituting a state secret about the activities of one of the enterprises of the Russian military-industrial complex."
Gershkovich has recently reported on the war in Ukraine and the role played by the Russian paramilitary group Wagner, whose founder toldThe Daily Beast that he had not heard of the journalist's arrest.
"If you want, I can check the torture cellar in my house to see if he's there," said Yevgeny Prigozhin. "At first glance, I didn't see him among the American journalists I keep there by the dozens. I can, if you want, also look at the fresh graves of foreign journalists on my house plot. But if I'm not mistaken, we didn't bury him there either."
The Journalsaid in a statement that it "vehemently denies" the accusations against Gershkovich and is pursuing his immediate release. Gershkovich was accredited to work as a journalist in Russia by the nation's foreign ministry.
In response to news of Gershkovich's arrest, the global press freedom group Reporters Without Borders said it is "alarmed by what looks like retaliation: journalists must not be targeted!"

News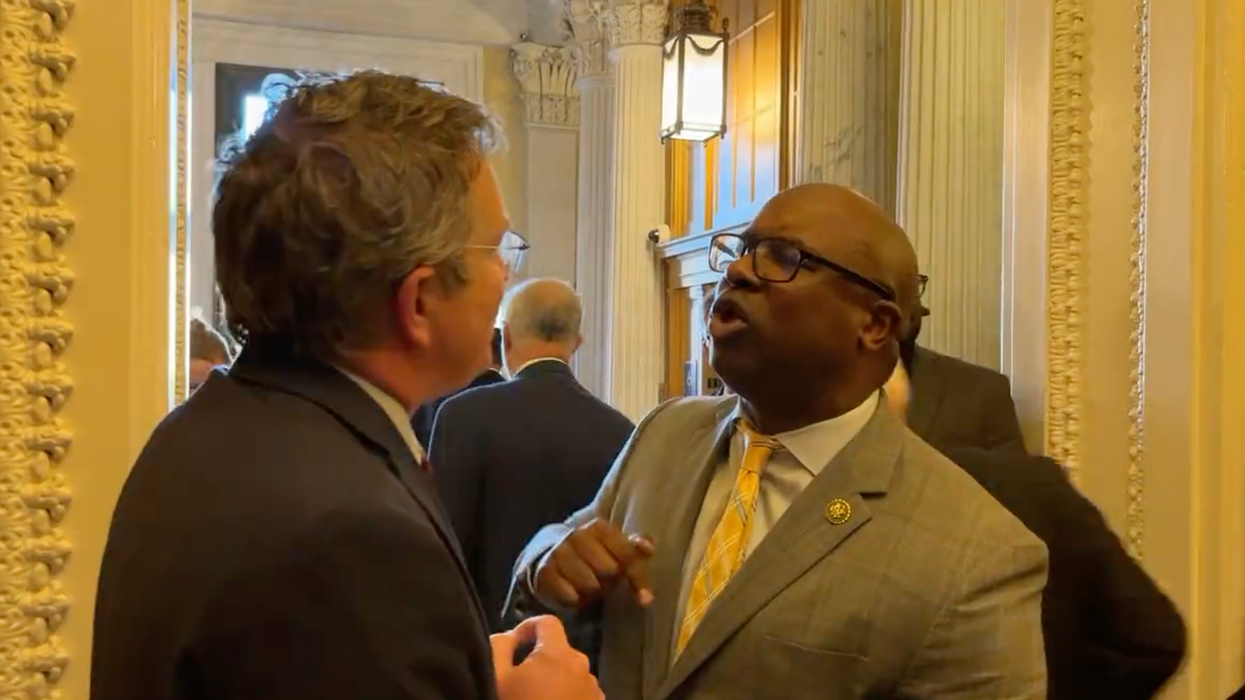 "Republicans won't do SHIT when it comes to gun violence, but try to tell me to calm down," Rep. Jamaal Bowman wrote after a heated exchange with Republican Rep. Thomas Massie.
Democratic Rep. Jamaal Bowman vocally condemned his Republican colleagues in a hallway outside the House chamber on Wednesday, calling them "freaking cowards" and "gutless" for refusing to support basic control measures in the wake of the nation's latest mass shooting—the 130th of the year.
As Bowman railed against GOP obstructionism, saying that Republicans "won't do anything to save the lives of our children," Rep. Thomas Massie (R-Ky.) stopped to ask the New York Democrat, "What are you talking about?"
"I'm talking about gun violence!" Bowman responded.
Massie—who in 2021 posted a Christmas photo in which he and his family members are holding guns—proceeded to tout a dangerous, NRA-backed proposal that Republicans float after virtually every school shooting in the U.S.: Arming teachers. (A number of states already allow teachers to carry firearms under certain conditions.)
Bowman, a former teacher and middle school principal, derided Massie's suggestion, replying: "More guns lead to more death. Look at the data." A study published in The BMJ in 2019 found that states with more lax gun regulation—and higher rates of gun ownership—experience higher rates of mass shootings.
Watch the heated exchange between Bowman and Massie, one of the most fervent opponents of gun regulations in Congress:
\u201cReps.

Jamaal Bowman

and Thomas Massie in a shouting match outside the House chamber on gun violence\u201d

— Ellis Kim (@Ellis Kim) 1680129701
Bowman later posted the exchange to his Twitter account, writing: "Republicans won't do SHIT when it comes to gun violence, but try to tell me to calm down."
"We can't calm down," he added. "People are dying every day while we wait."
There's no indication that Republicans intend to drop their opposition to popular gun control measures in the wake of the deadly shooting at a Christian elementary school in Nashville earlier this week.
"The things that have already been done have gone about as far as we're going with gun control," Sen. Mike Rounds (R-S.D.) toldCNN.
In an appearance on that same network on Tuesday, Bowman called gun violence "an American disease."
"We must vote anyone out of office who does not support a ban on assault rifles," he said. "Gun violence is the number one killer of children in America today. We have to do something about that."

News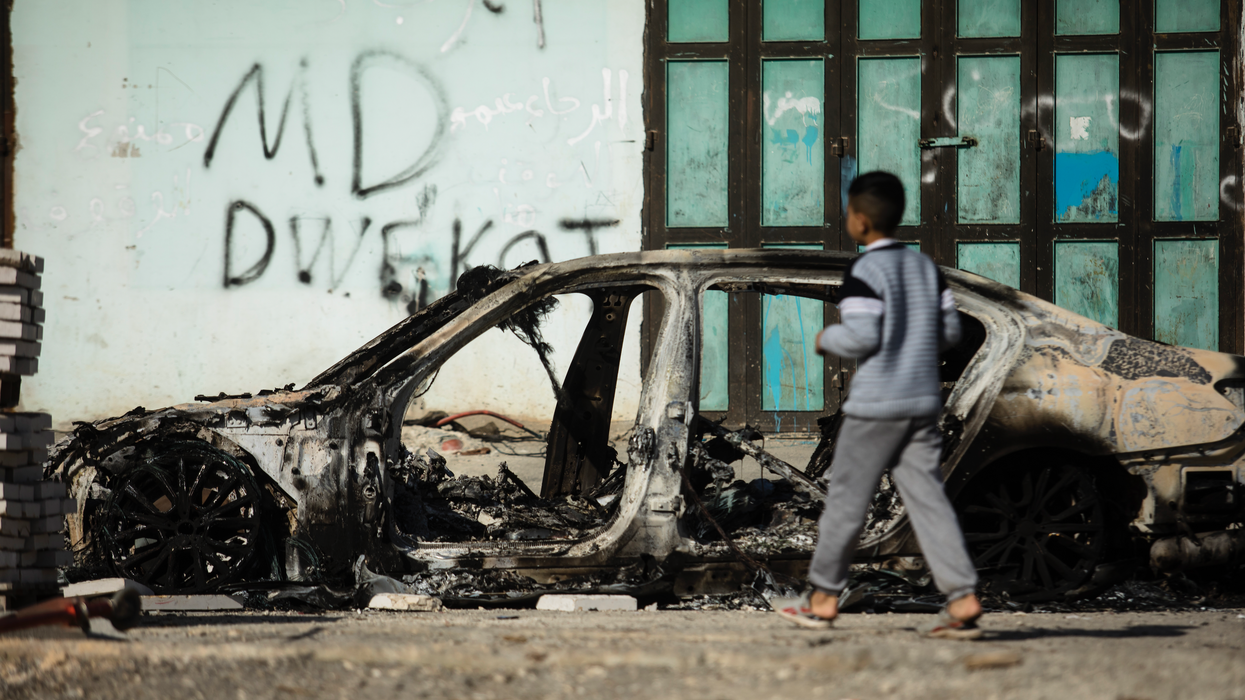 "Leaders in Congress who join this letter are following the demands of a rapidly growing number of Americans—including American Jews—who want to see the Israeli government held accountable for its decades of oppression of Palestinians," said one advocate.
Rep. Jamaal Bowman and Sen. Bernie Sanders are circulating a letter this week urging the Biden administration to "undertake a shift in U.S. policy in recognition of the worsening violence, further annexation of land, and denial of Palestinian rights" by Israel.
The letter, which was first obtained and published by Alex Kane at Jewish Currents, was written by Bowman (D-N.Y.) and is being circulated by Sanders (I-Vt.) in order to gain support from other senators. So far, Reps. Alexandria Ocasio-Cortez (D-N.Y.), Summer Lee (D-Pa.), Rashida Tlaib (D-Mich.), Cori Bush (D-Mo.), Ilhan Omar (D-Minn.), Betty McCollum (D-Minn.), André Carson (D-Ind.), and Ayanna Pressley (D-Mass.) have signed it.
In the letter, the lawmakers expressed their "deep concern" over the "rapidly escalating violence" perpetrated by Israeli occupation forces and settler-colonists against Palestinians. It notes that Israeli Prime Minister Benjamin Netanyahu's far-right government includes people like Itamar Ben-Gvir, the Jewish supremacist security minister who "openly encourages and praises violence against Palestinians," and Finance Minister Bezalel Smotrich, who "responded to the recent Israeli settler attacks on the Palestinian town of Huwara" by calling for the whole town to be "wiped out."
\u201cSCOOP: Bowman, Sanders and 8 others are urging the Biden administration to investigate whether Israel is using US weapons to commit human rights abuses against Palestinians. It's progressives' most forceful response yet to Israel\u2019s new far-right government\u00a0https://t.co/iPJVBdemIe\u201d

— Alex Kane (@Alex Kane) 1680104787
The letter—which, unlike various human rights groups, does not use the term apartheid—details "shocking violence" that is the "bloody reality" for Palestinians living under illegal occupation in the West Bank.
"On February 22, a daytime raid by the Israeli army into the crowded Palestinian city of Nablus killed 11 Palestinians, among them a 72 year-old-man and a 16-year-old child," the lawmakers wrote. "On February 26, a Palestinian gunman shot dead two Israeli settlers outside of Nablus. Subsequently, hundreds of Israeli settlers attacked the Palestinian town of Huwara."
"The settlers, accompanied by the Israeli army, set fire to homes, schools, vehicles, and businesses, killing one Palestinian and injuring over 300 Palestinians," the letter continues. "The local Israeli military commander called the attack a 'pogrom.'"
The letter notes:
This comes amid an already violent year. Israeli forces and settlers have killed over 85 Palestinians in 2023, including 16 children. At least 14 Israelis have been killed, including two children. The previous year was the deadliest for Palestinians in the occupied West Bank since 2004 and included the Israeli military's killings of two American citizens, Shireen Abu Akleh and Omar Assad...

This Israeli government's anti-democratic mission to dismantle the rule of law is a threat to Israelis and Palestinians alike. In addition to explicitly hateful, anti-Palestinian policies, this government is attempting to destroy the independent Israeli judiciary.
The Israeli government's judiciary reforms—which earlier this week were put on hold amid massive protests—"open the path towards further annexation of Palestinian lands," in "violation of international law," the U.S. legislators noted.
The lawmakers urge the Biden administration to:
Ensure U.S. taxpayer funds do not support projects in illegal settlements;
Determine whether U.S.-origin defense articles have been used in violation of existing U.S. laws, including for a purpose not authorized by Section 4 of the Arms Export Control Act... or to commit or support gross violations of human rights by the Israeli government; and
Ensure that all future foreign assistance to Israel, including weapons and equipment, is not used in support of gross violations of human rights.
The lawmakers' push was praised by organizations including the Institute for Policy Studies, Win Without War, and Jewish Voice for Peace, whose political director, Beth Miller, called the letter "an important call to action."
\u201cUSCPR is proud to sign onto this letter led by \n@SenSanders & @RepBowman. \n\nThis letter pushes action & accountability for the U.S.'s ongoing funding of the Israeli regime's human rights abuses against Palestinian people. \n\n#StopArmingIsrael\nhttps://t.co/N4YDS2CSDD\u201d

— #DefendMasaferYatta USCPR (@#DefendMasaferYatta USCPR) 1680112274
"Over 80 Palestinians have been killed by Israeli forces and settlers just since the beginning of 2023, and the Biden administration's statements of 'concern' mean nothing without action and accountability," Miller said in a statement. "Leaders in Congress who join this letter are following the demands of a rapidly growing number of Americans—including American Jews—who want to see the Israeli government held accountable for its decades of oppression of Palestinians."
News
SUPPORT OUR WORK.
We are independent, non-profit, advertising-free and 100%
reader supported.