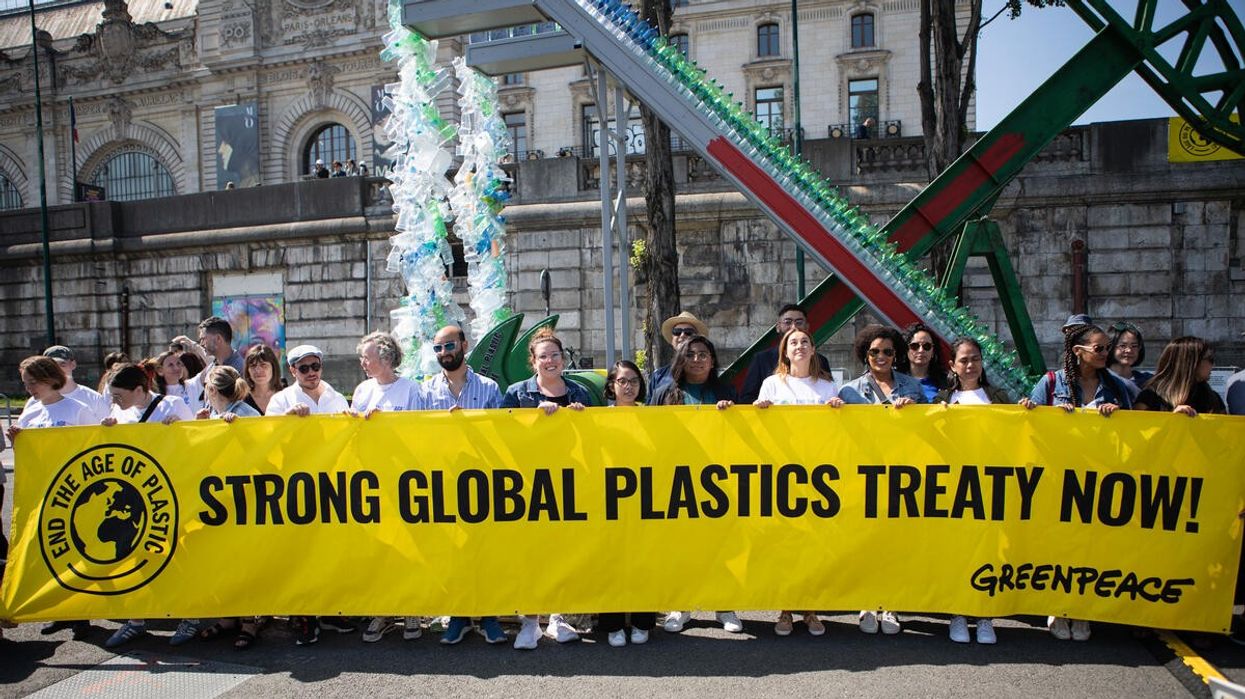 "The fossil fuel and petrochemical industries are heavily resisting people- and planet-saving measures in the global plastics treaty. Their growing presence in the negotiations is very telling," said a Greenpeace campaigner.
Three days into the third round of negotiations for a global plastics treaty, an analysis revealed Wednesday that 143 fossil fuel and chemical lobbyists registered to attend the talks—heightening green groups' fears about nefarious industry influence over the final deal.
The third session of the Intergovernmental Negotiating Committee (INC-3) is scheduled to run through Sunday at the United Nations Environment Program (UNEP) headquarters in Kenya. Building on previous meetings in Uruguay and France, this event is focused on "the so-called zero draft of the international legally binding instrument on plastic pollution, released earlier this year, with the goal of concluding negotiations by the end of 2024," according toU.N. News.
The Center for International Environmental Law (CIEL), which is behind the new lobbyist analysis, noted Wednesday that over the past year of talks, "civil society organizations and scientists have petitioned UNEP and the INC Secretariat to safeguard the negotiating process from industry influence and to implement strong conflict of interest policies."
Despite such demands, polluters' presence at the talks is increasing. Based on the UNEP's provisional list of INC-3 participants, CIEL found that there was a 36% rise in registered fossil fuel and chemical lobbyists from INC-2. Additionally, industry representatives outnumber the 70 smallest member state delegations at the Kenya meeting.
The group pointed out that its "estimate is likely to be conservative, as our methodology relies on delegates to the talks disclosing their own connections to fossil fuel or chemical industry interests, and many lobbyists may choose to obscure that link."
CIEL global petrochemicals campaign manager Delphine Lévi Alvarès compared polluters targeting the plastics treaty talks to similar behavior at annual U.N. climate summits—the next of which, COP28, kicks off in the United Arab Emirates this month.
"Time and time again, we have seen how industry influence has blocked substantive progress in environmental treaty negotiations, including in spaces like the climate COP," she said. "At INC-2, the Secretariat stated that there were 'not a lot of fossil fuel companies in the venue.' Our analysis shows that is simply not true—their presence is only increasing. We must course-correct immediately to ensure that the plastics treaty is grounded in science and does not become a fossil-fueled treaty."
The CIEL analysis is supported by groups including Greenpeace, whose head of delegation to the talks, Graham Forbes, said Wednesday that "the fossil fuel and petrochemical industries are heavily resisting people- and planet-saving measures in the global plastics treaty. Their growing presence in the negotiations is very telling."
"We urge U.N. member states to listen to the millions of people around the world who want an end to plastic pollution, rather than the fossil fuel lobby," declared Forbes, whose group has issued five detailed demands for the final agreement.
Greenpeace argues that the treaty must:
End plastic pollution—from production to disposal—to protect the environment and human health;
Set a legally binding target to reduce plastic production by at least 75% by 2040 to stay below 1.5° C;
End single-use plastics, starting with the worst offending items;
Ensure a just and inclusive transition to a low-carbon, zero-waste, reuse-based economy; and
Be firmly rooted in a human rights-based approach that reduces inequality, prioritizes human health, and centers justice in its creation and implementation.
Other organizations supporting CIEL's analysis include Beyond Petrochemicals, Break Free from Plastic, and the International Pollutants Elimination Network (IPEN). Representatives from those groups also called for swift action to curb industry influence.

"Fossil fuel, chemicals, and plastics corporations are here en masse to ensure that they can exponentially increase toxic plastics production at the expense of our health and that of future generations," warned IPEN co-chair Pamela Miller. "We must have a strong, health-protective treaty that is based on independent science and free of these conflicts of interests."

Like Lévi Alvarès, Break Free from Plastic global coordinator Von Hernandez stressed that "this is not the first time that fossil fuel interests have tried to influence a process intended to check and curtail the pollution they have spawned and created."
"That they have descended in great numbers in Nairobi shows what and how much is at stake here," he added. "People and planet must come first—they cannot be left hostage to these predatory interests."
News