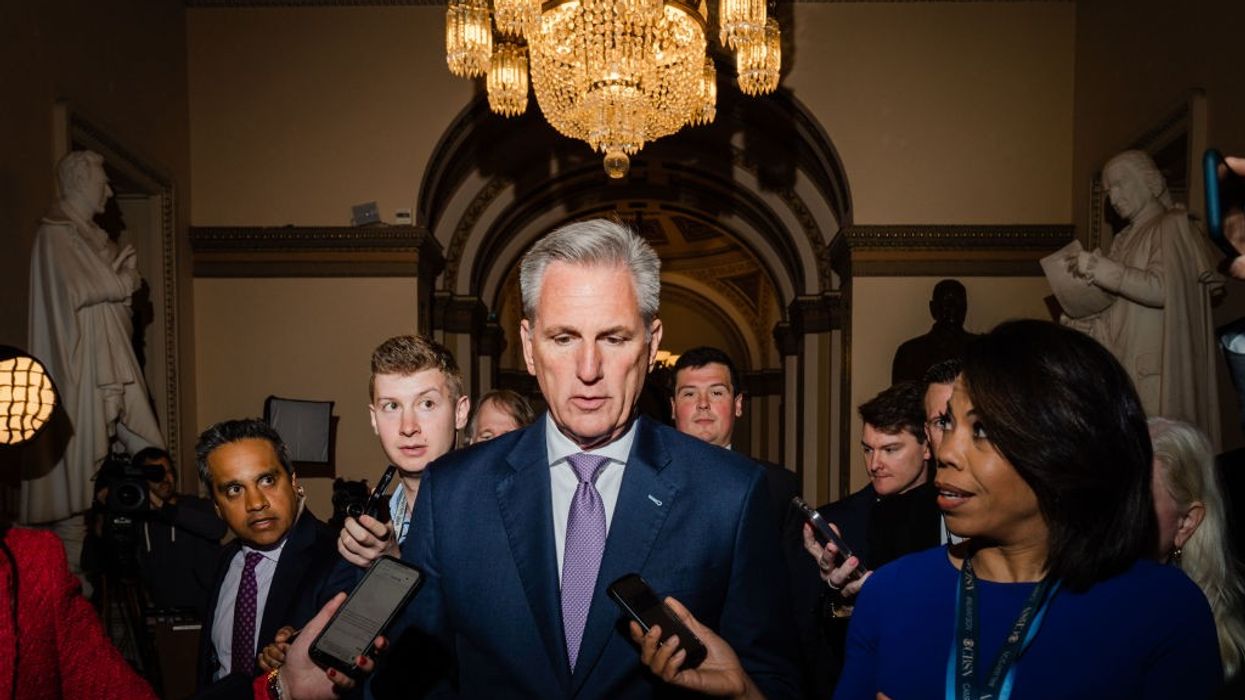 "In tax cuts in 2017 passed by the other side of the aisle, we see wonderful tax cuts for yacht owners and private jets," said Rep. Alexandria Ocasio-Cortez. "But in order to balance our budget now, we're talking about cuts to SNAP, to food out of babies' mouths."
Before House Speaker Kevin McCarthy opened debate Wednesday on a bill that would raise the nation's debt ceiling while gutting social programs and imposing more barriers to access them, nearly 200 House Democrats from across the ideological spectrum signed a letter imploring Republican deficit hawks to drop their demands and pass a clean hike.
Since Washington's arbitrary and arguably unconstitutional borrowing limit was breached in January, Treasury Secretary Janet Yellen has implemented "extraordinary measures" enabling the U.S. government to meet its financial obligations for a few additional months. Unless President Joe Biden's administration takes unilateral action to disarm the debt ceiling, Congress has until sometime between July and September to increase or suspend the federal borrowing cap. If Republicans refuse to do so, the U.S. is poised to suffer an unprecedented default that would have catastrophic impacts both domestically and globally.
Fully aware of the stakes, GOP lawmakers are holding the economy hostage in a bid to further weaken the nation's comparatively meager welfare state and its insufficient climate policies. Last week, McCarthy (R-Calif.) unveiled the so-called Limit, Save, Grow Act, which would raise the debt ceiling, but only in conjunction with measures to peg discretionary spending at fiscal year 2022 levels through 2033; establish new work requirements for Medicaid beneficiaries and expand work requirements for recipients of food aid and income support; force through a Big Oil-friendly energy package; repeal recently approved clean energy investments and Internal Revenue Service (IRS) funding; eliminate Biden's contested student debt cancellation plan; claw back unspent Covid-19 relief money; and require congressional approval before any major federal regulations can take effect.
Wednesday's letter—led by House Budget Committee Ranking Member Brendan Boyle (D-Pa.), Congressional Progressive Caucus (CPC) Chair Pramila Jayapal (D-Wash.), and New Democrat Coalition Chair Annie Kuster (D-N.H.)—calls on McCarthy to fulfill his duty to "uphold the full faith and credit" of the U.S. by "allowing prompt floor consideration of legislation to raise the debt ceiling without any extraneous policies attached."
House Democrats pointed out that "congressional Republicans voted to raise the debt ceiling without preconditions or crisis on three separate occasions" under former President Donald Trump and urged them "to do the same on this occasion."
Democratic lawmakers also reminded McCarthy—who recently described the national debt as "the greatest threat to our future"—that "congressional Republicans voted to pass the Tax Cuts and Jobs Act (TCJA) in 2017, which the Congressional Budget Office (CBO) estimated would increase the federal deficit by $1.9 trillion over 10 years, with 83% of the law's benefits estimated to accrue to the richest 1% by 2027."
Progressive Rep. Alexandria Ocasio-Cortez (D-N.Y.) recently contrasted GOP lawmakers' willingness to attack the poor and slash popular initiatives like Supplementary Nutrition Assistance Program (SNAP) with their previous support for the highly regressive and deeply unpopular TCJA, which corporations and the wealthy enthusiastically welcomed when Trump signed it into law.
"In tax cuts in 2017 passed by the other side of the aisle, we see wonderful tax cuts for yacht owners and private jets," said Ocasio-Cortez. "But in order to balance our budget now, we're talking about cuts to SNAP, to food out of babies' mouths, instead of actually reexamining the inequities within our tax system."
\u201c"In tax cuts in 2017 passed by the other side of the aisle, we see wonderful tax cuts for yacht owners and private jets. But in order to balance our budget now, we're talking about cuts to SNAP, to food out of babies' mouths."\u201d

— Rep. Alexandria Ocasio-Cortez (@Rep. Alexandria Ocasio-Cortez) 1682525709
As the letter notes, "The first act of House Republicans in the 118th Congress... was passing legislation—which Democrats unanimously opposed—to rescind funding for IRS enforcement against tax evasion by wealthy individuals and large corporations. The CBO estimated that by reducing revenue, that legislation would increase the deficit by $114 billion over 10 years."
In addition to refusing to consider how creating a fairer tax code and cracking down on tax dodging would increase revenue, GOP lawmakers have shown little interest in shrinking the ever-expanding U.S. military budget.
Overall, the Limit, Save, Grow Act—heavily influenced by the far-right House Freedom Caucus' austerity blueprint—would reduce the federal deficit by roughly $4.8 trillion over 10 years, according to a CBO estimate published Tuesday.
But as journalist Bryce Covert observed, it's essential to remember that this meaningless achievement would be realized in part by taking away Medicaid and SNAP benefits from millions of people.
\u201cWhen you see headlines like this, it's worth knowing that $120bn of that reduction comes from work requirements. How? By removing 1.5 million people from Medicaid and kicking 275,000 people off SNAP each month. https://t.co/4viI7cCoEm\u201d

— Bryce Covert (@Bryce Covert) 1682512000
In a Wednesday blog post, Josh Bivens and Samantha Sanders of the Economic Policy Institute warned that if McCarthy's "deeply unrealistic spending cuts actually came to pass, the human toll would be enormous, and economic growth would be deeply damaged."
"The McCarthy proposal," they wrote, "also resurfaces a completely inaccurate but alarmingly persistent conservative claim: the idea that government anti-poverty programs are unnecessarily generous, bloated, and are keeping people out of the workforce who should otherwise be supporting themselves entirely through income earned in the labor market."
"The U.S. safety net is in serious need of reforms, but not because of inaccurate claims that its excess generosity keeps people out of work," they continued. "The biggest problem with the U.S. safety net is that our programs don't help as many people, or as effectively, as they should."
Echoing House Democrats, Bivens and Sanders derided McCarthy's claim that his proposal would put the U.S. on a path to "fiscal responsibility" and lower inflation as "laughable."
"The biggest driver of deficits for the last 20 years has been a steady trend toward ever-larger tax cuts for corporations and the richest U.S. households," the pair wrote. "No one who actually wants to reduce the federal deficit should be looking to do that on the backs of the poorest and most vulnerable Americans."
In their letter, House Democrats said that "instead of supporting an agenda of deficit-exploding tax cuts for the wealthiest individuals and corporations, we welcome an honest discussion regarding the federal budget that makes clear that the deficit is made up of revenues and investments and that sustainable fiscal solutions will ensure our revenues match the level of investments needed to maintain our economic growth and prosperity."
However, the CPC tweeted, "negotiations on what the government is spending its money on have a time and place—the yearly budget process."
"Republicans are welcome to try to get their extremist wish list met that way," the group added. "But that must happen separately from the threat of U.S. default."
The GOP cleared a key procedural hurdle on Wednesday afternoon when the House approved the rule governing debate on the Limit, Save, Grow Act in a 219-210 party-line vote. McCarthy is seeking to pass the legislation later on Wednesday.
News