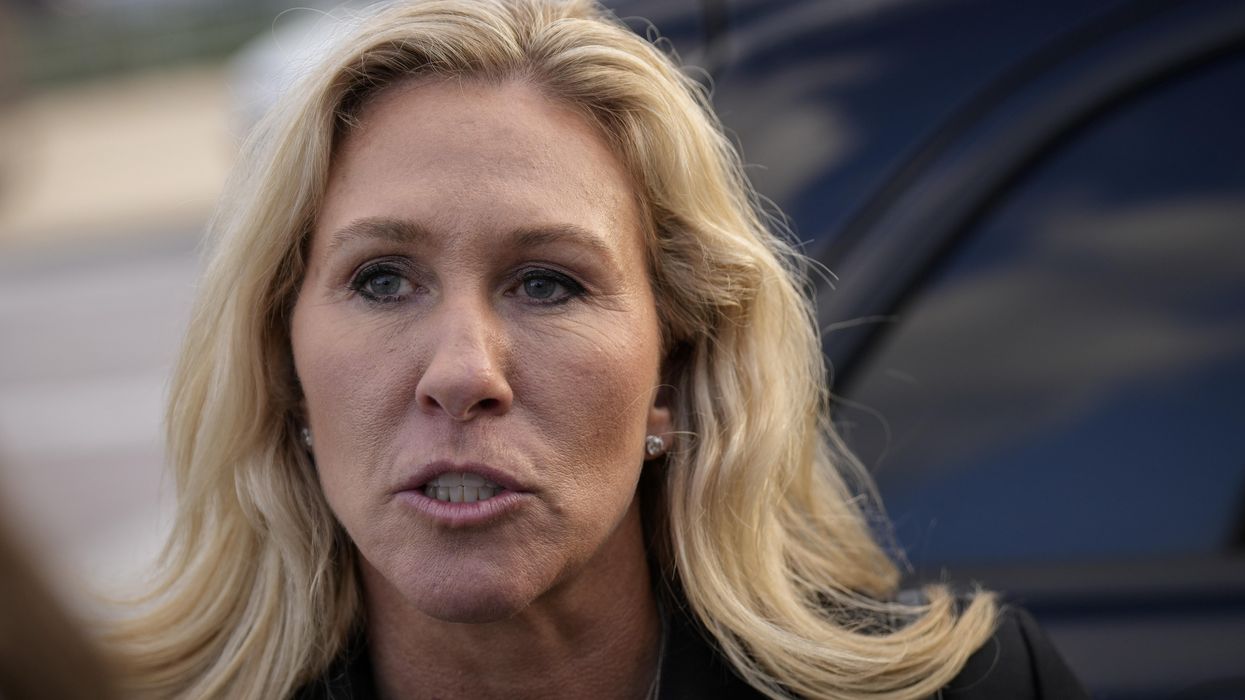 GOP Rep. Marjorie Taylor Greene claimed over the weekend that the January 6 insurrectionists "would've been armed" and "would have won" had she and Steve Bannon been in charge.
Republican Congresswoman Marjorie Taylor Greene of Georgia asserted over the weekend that former President Donald Trump's right-wing mob would have pulled off a successful coup had she and erstwhile Trump adviser Steve Bannon organized the January 6, 2021 assault on the Capitol.
"I want to tell you something, if Steve Bannon and I had organized that, we would have won. Not to mention, we would've been armed," Greene said Saturday night at the annual New York Young Republican Club dinner, during which the club's president instructed a throng of white nationalists and other far-right figures, including Donald Trump Jr., to prepare for "total war."
U.S. Rep. Cori Bush (D-Mo.), who has called for the expulsion of Greene and other congressional Republicans accused of helping to plot the deadly insurrection, responded on social media by asking, "And then what?"
As Rolling Stonereported Sunday:
Greene's comments about that day seem to imply that she was not involved with the planning of Jan. 6. Two anonymous sources who organized the pro-Trump rally that preceded the Capitol attack have told Rolling Stone they recalled working with Greene on the rally. "I remember Marjorie Taylor Greene specifically," one organizer said.

"I remember talking to probably close to a dozen other members at one point or another or their staffs." Greene's communications director told Rolling Stone in October of last year that the congresswoman was involved only in planning to object to the electoral certification on the House floor, not the rally.

But in testimony she gave under oath this year, when Greene was asked if she recalled hearing anyone mention there would be potential violence on Jan. 6 or if she talked to fellow House Republicans or the White House about Jan. 6 protests, she answered repeatedly, "I don't remember."

Greene is among the GOP lawmakers accused of giving reconnaissance tours of the Capitol to insurrectionists before the deadly attack. She has also been a staunch defender of the rioters jailed for violently attempting to prevent Congress from certifying President Joe Biden's 2020 election victory, referring to them as "political prisoners."
More than 950 people have been arrested so far. That includes nearly 300 individuals who have been charged with assaulting or obstructing law enforcement as well as two leaders of the far-right Oath Keepers militia who were recently convicted of seditious conspiracy. In the immediate aftermath of Trump's failed coup, Greene and 146 other congressional Republicans voted to reverse Biden's decisive win.
"Very soon," historian Harvey Kaye warned Monday morning, House Democrats "hand over power to the likes of her."
News