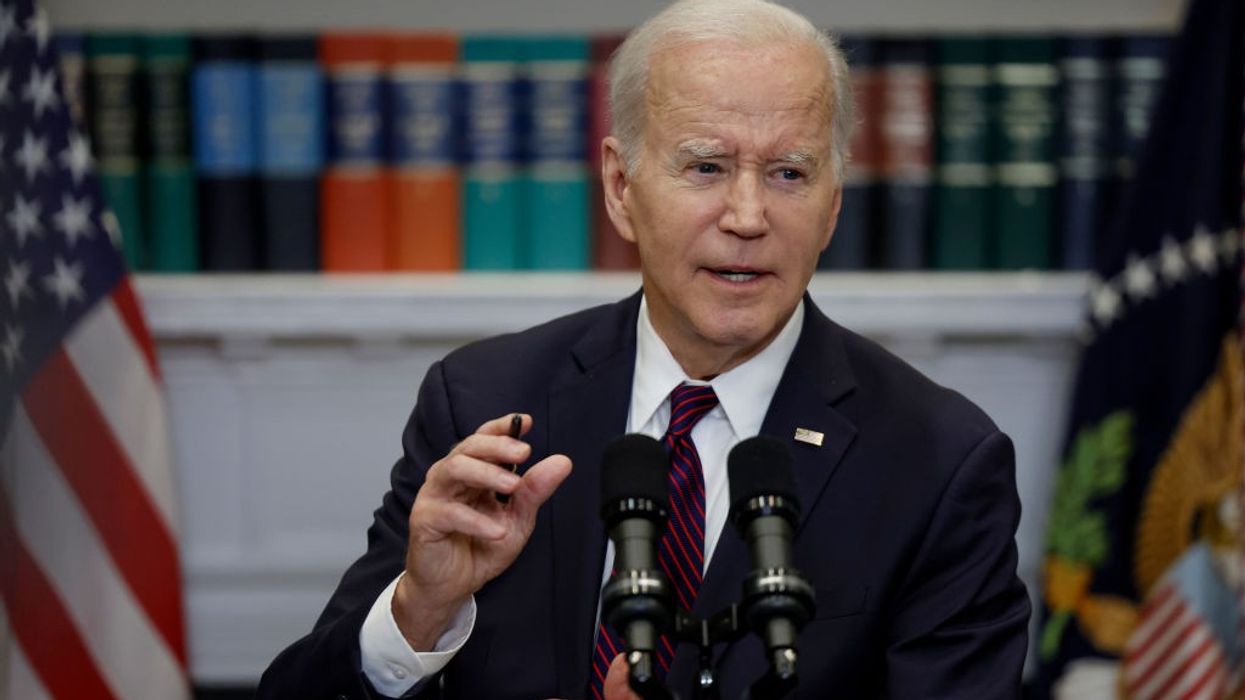 "There is no room to negotiate when it comes to our communities," said a coalition of 87 groups.
As a potential government shutdown once again looms, a coalition on Wednesday urged U.S. President Joe Biden to reject any spending bills that include "inhumane" cuts to programs that working and low-wealth people rely on every day.
The 87 labor groups, civil society organizations, and policy experts demanded that Biden and congressional Democrats "brush aside the threats of a small group of extremists" to slash crucial spending.
The White House reached a deal with Republicans in Congress in September to keep the government open until November 17, and progressives celebrated the bill that was passed without cuts to housing assistance, the Women, Infants, and Children (WIC) nutrition program, scientific research, and other domestic spending.
But when the 45-day stopgap measure was passed, progressive lawmakers and advocates knew House Republicans, now led by hard-right House Speaker Mike Johnson of Louisiana, still aim to cut social spending.
The coalition, under the name ProsperUS and including groups such as Communications Workers of America, the Friends Committee on National Legislation, and Groundwork Collaborative, thanked Biden for requesting emergency supplemental funding for disaster relief at the Federal Emergency Management Agency, childcare stabilization for one year, and other domestic programs, and credited the administration with spending that has helped keep unemployment low.
"But extremists in Congress are trying to undo these successes," the groups wrote, citing the so-called Fiscal Responsibility Act that was passed in June in exchange for an increase to the nation's arbitrary debt limit. The package included work requirements for the Supplemental Nutrition Assistance Program (SNAP) and other safety net programs and cut Internal Revenue Service (IRS) funding meant to stop tax evasion by wealthy Americans.
Even with those cuts, ProsperUS warned, "House Republicans have signaled they are willing to make even more draconian cuts in a potential stopgap bill."
Extremists in the party have proposed substantial cuts to the U.S. Department of Education, agricultural programs, violence prevention initiatives at the U.S. Department of Justice, and the IRS. Other social spending they aim to reduce includes home heating assistance for low-income families and SNAP, which they would take away from 1.3 million people with low incomes, according to the Center for Budget and Policy Priorities.
"Polls consistently show that Americans oppose cuts to essential programs and support reinvesting our tax dollars back into our communities, whether it's for teachers' salaries, clean drinking water, or ensuring that every child has enough healthy food to succeed," said ProsperUS. "These public investments make our economy more stable, families more secure, and our nation safer."
Jhumpa Bhattacharya, co-president of the Maven Collaborative, which is part of the coalition, said that considering the White House has requested $14 billion in aid for Israel this month, "it's way past time for our policymakers to give programs that help feed, educate, and care for American families the value they deserve."
"If we can find money to fund war and destruction internationally, we should be able to also fund programs that save lives domestically," said Bhattacharya. "All Americans deserve to have a roof over their heads, food on the table, and their children educated and cared for. We should never let extremist, racist ideology take that away from us."
The groups noted that housing assistance, Social Security, and nutrition programs are among the "lifesaving, economy-building" initiatives that have faced "chronic underfunding."
"Cutting critical programs and failing to invest more in our communities undermines our economic progress," said Bilal Baydoun, director of policy and research at Groundwork Collaborative. "The president must reject any proposal that cuts the public investments that pushed unemployment to record lows and restarted our economic engine. There is no room to negotiate when it comes to our communities."
News