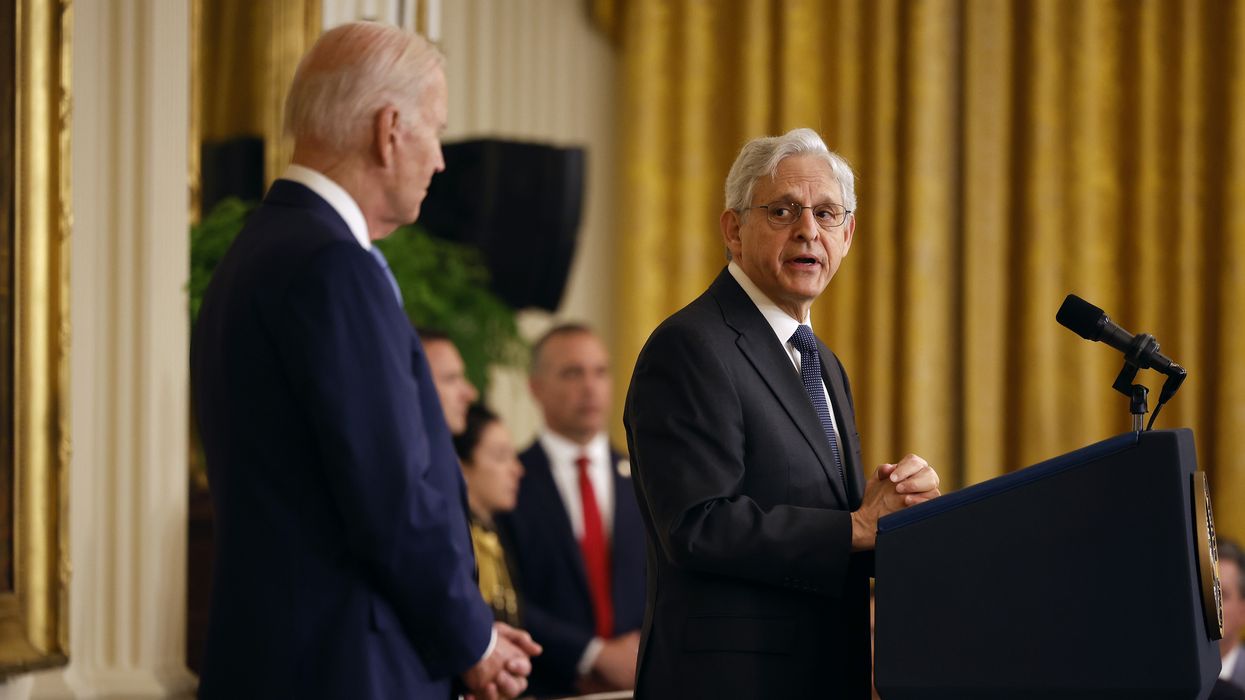 While a DOJ attorney declined to disclose the government's position, one observer said it seems to be: "Stop trying to make us... get rid of the debt ceiling. That sort of thing is for high-level insiders only, not pesky labor unions that are going about it all wrong."
With a "significant gap" remaining between what House Republicans and White House negotiators want to resolve the debt limit fight, a federal judge on Tuesday scheduled a hearing next week for a related lawsuit brought by a union for government workers.
Attorneys for the National Association of Government Employees (NAGE)—which represents about 75,000 workers across federal agencies—sued President Joe Biden and Treasury Secretary Yellen in the U.S. District Court for the District of Massachusetts earlier this month. The union's legal team requested emergency action by the court in a filing on Friday.
During a Tuesday videoconference, Judge Richard Stearns gave the U.S. Department of Justice (DOJ) until May 30 to file a response detailing the department's position on presidential authority relating to the public debt and scheduled a hearing for May 31—the eve of the so-called X-date, or when Yellen warns the government could run out of money.
While NAGE wants a decision from the court before the X-date, Stearns, an appointee of former President Bill Clinton, "sounded skeptical of arguments from the union's lawyers that disaster for the nation is impending if he did not put the case on an even faster track," according toPolitico.
"If the emergency is as dire as you think it is, I would think that it's within the power of the president to address it using executive branch authority," the judge said. He added that "I understand there are time constraints, given that events are developing probably even as we're meeting, that probably make a decision prior to June 1st impossible."
Politico also noted that during the conference, DOJ lawyer Alexander Ely declined to disclose the department's position on whether the 14th Amendment's declaration that "the validity of the public debt of the United States... shall not be questioned" means the president can disregard the debt limit on constitutional grounds.
\u201cAs I read this, the government's position in the suit is:\n\n"Stop trying to make us to get rid of the

debt ceiling

. That sort of thing is for high-level insiders only, not pesky labor unions that are going about it all wrong."\n\nAh, the eternal cry of elites against activists.\u201d

— David Rosen (@David Rosen) 1684867753
Thomas Geoghegan, an attorney for NAGE, said that "what we're faced with, I fear, is that the government doesn't really have a position on this, but there is no time to prevent irreparable injury."
As Common Dreamsreported Monday, Revolving Door Project executive director Jeff Hauser argued that not only should U.S. Attorney General Merrick Garland "refuse to defend the unconstitutional legal incoherence that is the debt ceiling," but also the DOJ should "file papers supporting the National Association of Government Employees' request, and should do so as soon as possible."
"NAGE's argument is sound," Hauser said. "While President Biden may be willing to keep channels open until the very last minute with nihilistic, bad-faith Republican lawmakers, the Justice Department's obligation is to the Constitution, which is unequivocal."
The American Prospect executive editor David Dayen—who has been closely following the case—noted on Twitter that the DOJ and NAGE's formal request for the Tuesday conference states that "defendants intend to file an opposition to plaintiff's emergency motion for preliminary injunction."
Law Dork's Chris Geidner responded that "it's not necessarily opposition to the underlying arguments. It's possible that their opposition is either to a court ordering this or employees, through litigation, ordering them to do so. I'd think it would be unusual for any executive to argue otherwise."
The Tuesday conference came as the head of another union representing federal workers sent a letter to the White House.
"Many federal agencies that deliver services directly to the public, like the Social Security Administration, are already at the breaking point from years of inadequate funding," American Federation of Government Employees national president Everett Kelley wrote to Biden, warning the House GOP's proposed spending cuts "would be an economic and humanitarian calamity."
"I urge you not to yield to threats but instead to heed the advice of many legal scholars who have concluded that you have the inherent power, and indeed the duty, to avoid a default under the Constitution's 14th Amendment," Kelley added. "You have additional authorities to mint platinum coins under 31 USC § 5112. Please use these authorities now before it is too late."
As Matt Bruenig, president of the think tank People's Policy Project, highlighted in a blog post Tuesday, minting the coin isn't Biden's only option—he could also have the Treasury "issue bonds with a face value of $0 that only paid its holders a set amount of interest each year for a certain number of years. In this scenario, people would still buy the bonds in order to receive the interest, but there would be no principal and thus no face value."
"My current thinking on the best way for Biden to deal with the debt limit is to sell zero-principal bonds," Bruenig wrote. "These would not count as debt under the wording of the debt limit statute because they have a $0 face value. If this was challenged, then the administration has three different defenses to the challenge: that zero-principal bonds do not contribute to the debt limit, that the debt limit is unconstitutional, and that illegally selling bonds is no more unconstitutional than illegally raising taxes, selling assets, or cutting spending.
"But whichever course of action Biden chooses," he concluded, "we should be clear that he has other options than agreeing to crack the whip against America's poor."
News