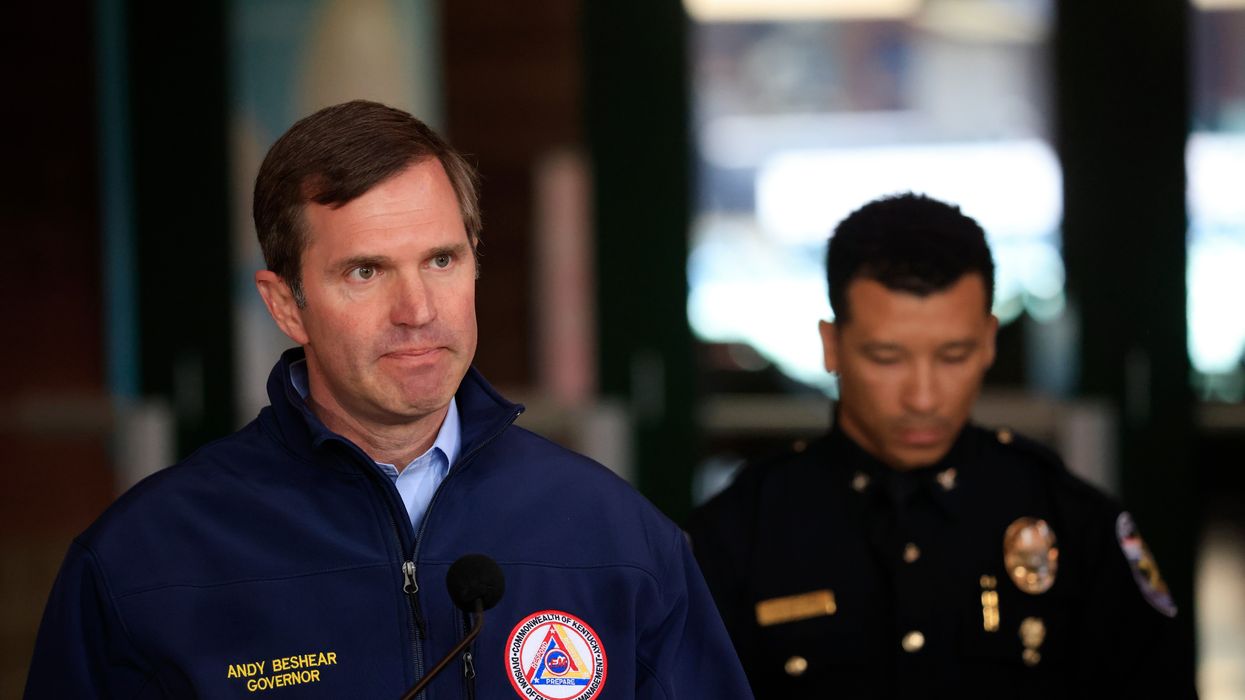 "We're horrified and sickened," said March for Our Lives. "Power and peace to those that lost their lives. We'll fight like hell in their memory. This makes 146 mass shootings this year."

This is a developing story… Please check back for possible updates...

Amid national demands for stricter gun laws, at least four people were killed and eight more were injured and transported to the hospital Monday morning in a mass shooting at Old National Bank in Louisville, Kentucky.
Louisville Metro Police Department (LMPD) Deputy Chief Paul Humphrey told reporters that two officers were shot and the suspect was dead. Interim Chief Jacquelyn Gwinn-Villaroel later confirmed that the shooter was fatally shot by police.
Authorities ultimately identified the shooter as 23-year-old Connor Sturgeon. Citing an unnamed law enforcement source, CNNreported that Sturgeon was notified that he was going to be fired from his job at the bank, and that he wrote a note for his parents and a friend.

Louisville Mayor Craig Greenberg and Gov. Andy Beshear, both Democrats, joined Humphrey at a morning press conference. Choking back tears, the governor said he uses this bank personally and had friends who were killed and injured.
\u201cSecond mass shooting in two weeks when a governor's family friend was murdered. Beshear says he lost a close friend today; Gov. Bill Lee's wife lost one of her best friends in Nashville school shooting.\u201d

— Natalie Allison (@Natalie Allison) 1681141019
The latest mass shooting in Kentucky comes as the nation also watches neighboring Tennessee, where Republicans in the state Legislature last week expelled a pair of young, Black Democratic lawmakers for supporting protests for gun control on the House floor after the deadly Covenant School shooting in Nashville.
The carnage in Louisville sparked yet another wave of demands for stricter gun laws.
\u201cWhat a better way to start the week than another mass shooting. Thoughts and prayers to all the politicians debating ways to come up with their next excuses for continuing to show more sympathy for guns than for people\u201d

— Charles Idelson (@Charles Idelson) 1681137833
"This is America," tweeted March for Our Lives, which was formed by students after the 2018 massacre at Marjory Stoneman Douglas High School in Parkland, Florida.

"We're horrified and sickened. Power and peace to those that lost their lives. We'll fight like hell in their memory. This makes 146 mass shootings this year," the group continued, citing figures from the Gun Violence Archive.

\u201cWE DON'T HAVE TO LIVE LIKE THIS.\u201d

— March For Our Lives \u262e\ufe0f (@March For Our Lives \u262e\ufe0f) 1681138418
Everytown for Gun Safety declared: "More lives stolen by senseless, preventable gun violence. We shouldn't have to accept this. No other country does."
"Our hearts are with the victims, survivors, their loved ones, and the entire Louisville community," the group added. "Tonight there will be more empty seats at dinner tables and more families grieving loved ones who should still be here."
A federal law enforcement source confirmed to CNN that an AR-15-style rifle was used in the Louisville shooting.
"This horrific shooting is exactly why AR-15-style weapons and assault weapons have no place in our communities," said Kris Brown, president of Brady, the oldest national gun violence prevention group. "These weapons of war were designed for the battlefield and to kill as many people as quickly as possible, which is why they are the weapon of choice for mass shooters. Preventable tragedies like this are why other developed countries, including the United Kingdom and Australia, have banned these weapons for civilian use."
"Whether it's a bank, a school, a supermarket, or a church, Americans no longer feel safe in their communities. And Americans are increasingly tired of living in fear of being a victim of a mass shooting," Brown stressed. "It does not have to be this way. But until the gun industry no longer has a vice grip on our elected officials, this will continue to be our daily reality."
News