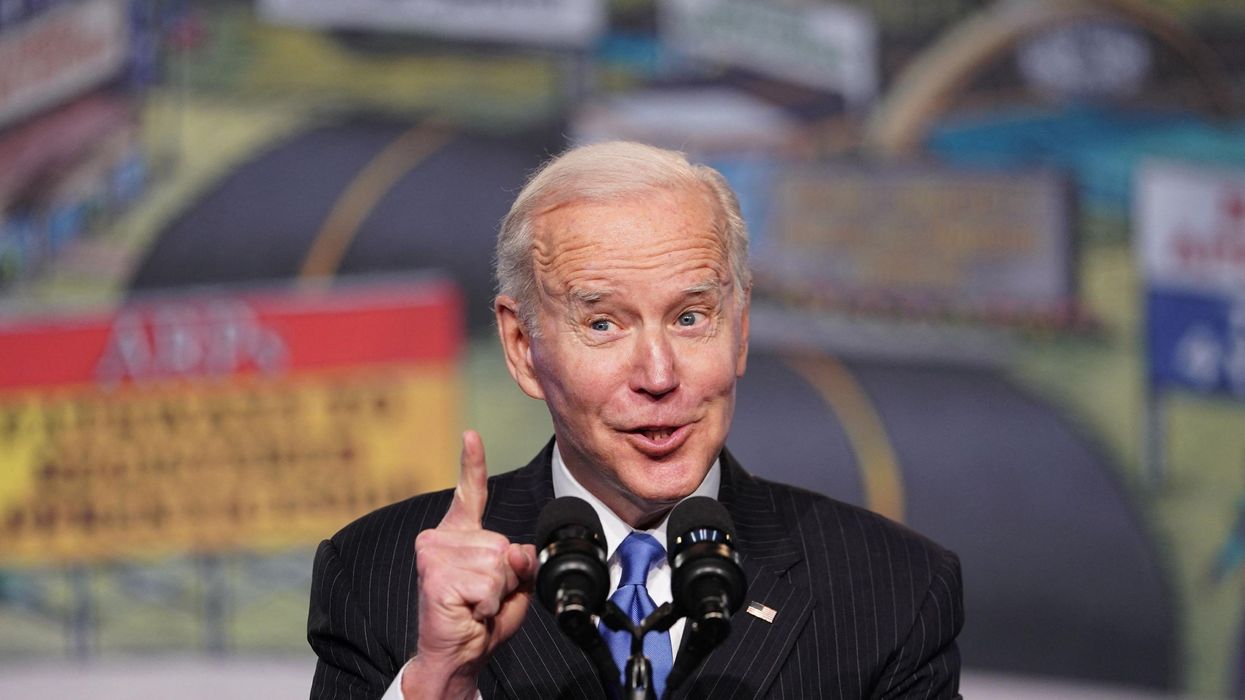 Sen. Bernie Sanders and others applauded the president's statement of support for Amazon workers, but the White House quickly worked to temper Biden's comments.
Sen. Bernie Sanders and other progressives on Wednesday applauded President Joe Biden's words of support for Amazon workers--and rejected the White House's attempt to temper the president's statement, calling on the administration to proudly and unequivocally align itself with pro-worker efforts.
In a speech to the North America's Building Trades Unions (NABTU), Biden spoke about the creation of the White House Task Force on Worker Organizing and Empowerment, which is "dedicated to mobilizing the federal government's policies, programs, and practices to empower workers to organize and successfully bargain with their employers."
"Unions are about providing dignity and respect. That's why I created the White House task force to make sure the choice belongs to workers alone," Biden said before smiling and adding. "And by the way, Amazon, here we come. Watch. Watch."
The president went on to talk about his administration's push for Congress to pass the Protecting the Right to Organize (PRO) Act.
Biden's comments came less than a week after Amazon employees at Staten Island, New York's JFK8 fulfillment center voted by a wide margin to form a labor union--without the support of an established union and after facing aggressive anti-labor tactics by the company.
The vote could make workers at the warehouse the first of Amazon's 1.1 million U.S. workers to secure a union contract; employees in Bessemer, Alabama are also attempting to form a collective bargaining unit for the second time, but that election is so far too close to call.
"President Biden is right," said Sanders (I-Vt.) after the president's speech. "Let's get every Amazon worker in a union."
The president's remarks were "exactly what working class people need to hear," said Faiz Shakir, a former campaign manager for Sanders and the founder of pro-labor media outlet More Perfect Union.
"It was a clear call of support to the multi-union campaign to unionize Amazon," he toldThe Washington Post.
The stunning victory in Staten Island last week, which was spearheaded by a worker who had been fired for the company after publicly complaining about safety practices, comes as employees at Starbucks stores across the country are also working to unionize and facing union-busting tactics, and as union membership has declined over the past year.
"This kind of rhetoric from Biden is a welcome change coming from the top of the Democratic Party," said Majority Report co-host Emma Vigeland.
Biden's comments led Post reporter Olivier Knox to muse that White House Chief of Staff Ronald Klain may soon be hearing from Amazon, where the president's former director of communications, Jay Carney, now oversees public relations.
The White House worked quickly to moderate any expectation progressives might have had that the president's words signaled plans to take action to help Amazon workers who want to unionize.
"What he was not doing is sending a message that he or the U.S. government would be directly involved in any of these efforts or take any direct action," said White House Press Secretary Jen Psaki shortly after Biden's speech, when she was asked by a reporter if the president was "endorsing" the efforts of workers trying to organize.
"I do not understand the negative framing here," tweeted Mike Casca, communications director for Sanders.
The Vermont senator's staff director, Warren Gunnels, also expressed exasperation with Psaki.
The "correct answer" to the reporter's question, said Gunnels, should have been "an unambiguous yes."
"The U.S. government and the administration should be actively encouraging workers to form unions at Amazon and every corporation in America," he added. "Say it with pride, not shame."
News