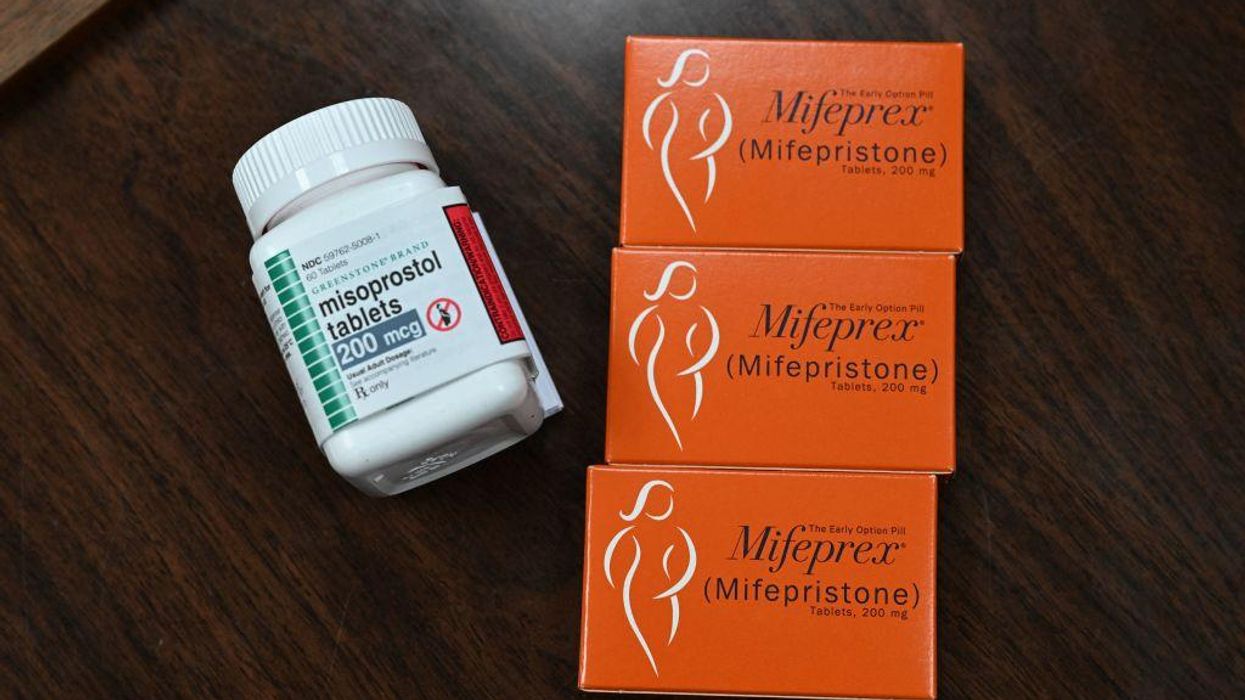 "This is the most important government action today and it didn't involve Kevin McCarthy," said one journalist.
The Food and Drug Administration late Tuesday formalized a regulatory change that will allow retail pharmacies in the U.S. to dispense abortion pills for the first time, removing a major barrier to access as Republican lawmakers wage all-out war on abortion throughout the country.
Prior to the newly finalized change, the provision of mifepristone was heavily restricted, with only certified doctors or clinics allowed to offer the drug—one of two medications that can be taken in tandem to induce an abortion. In 2020, medication abortion accounted for more than half of all abortions in the U.S.
The New York Times, which first reported the FDA's move Tuesday, noted that "in December 2021, the FDA said it would permanently lift the requirement that patients obtain mifepristone in person from a health provider, a step that paved the way for telemedicine abortion services which conduct medical consultations with patients by video, phone or online questionnaires and then arrange for them to receive the prescribed pills by mail."
"On Tuesday, the FDA officially removed the in-person requirement from its regulatory rule book for mifepristone, leaving in place the remaining two requirements: that health providers be certified to show they have the knowledge and ability to treat abortion patients and that patients complete a consent form," the Times added.
Patients will still need a prescription to obtain abortion pills from CVS, Walgreens, and other retail pharmacies.

Mini Timmaraju, the president of NARAL Pro-Choice America, applauded the FDA for "following the science and taking this much-welcome step to permanently lift the in-person dispensing requirement for medication abortion care and expand access through pharmacies."
"For more than 20 years, millions of people have used medication abortion," Timmaraju said in a statement. "It is a safe, effective option. With abortion access being more restricted now than ever before, it is all the more important that we continue expanding access to care. This was a science-based decision that will empower folks to get the care they need in the way that best works for them. We look forward to continuing our work with the Biden administration to restore the right to abortion and expand abortion access for all."
The regulatory move was made public by the FDA with little fanfare amid the absurd spectacle of Republicans trying—and repeatedly failing—to decide who will lead their narrow majority in the House of Representatives.
"This is the most important government action today and it didn't involve Kevin McCarthy," The American Prospect's David Dayen wrote of the FDA news.
"With abortion access being more restricted now than ever before, it is all the more important that we continue expanding access to care."
Despite the FDA's change, retail pharmacies located in Republican-controlled states where abortion is heavily restricted or illegal will likely still be unable to offer abortion pills.
"State laws that ban or restrict abortion apply to medication abortion just as they apply to abortion procedures," the Kaiser Family Foundation (KFF) explains. "Even though the federal FDA has approved mifepristone as safe and effective, following the Dobbs decision, the availability of medication abortion today depends on state laws. Even before the Dobbs decision, however, some states restricted access to medication abortion either by blocking the use of telehealth abortions by mandating in-person visits for abortions, imposing requirements for in-person dispensing, or limiting the kinds of clinicians who could dispense the pills (only permitting MDs to dispense). In many states, these laws are now superseded by state laws that ban abortion."
The reproductive rights group UltraViolet lamented that fact Tuesday, writing on Twitter that "in abortion-hostile states, retail pharmacies may not be able to dispense mifepristone due to abortion bans like Texas' S.B. 8, which criminalizes and punishes those who help others access abortion."
In a separate decision Tuesday, the Justice Department's Office of Legal Counsel said federal law "does not prohibit the mailing, or the delivery, or receipt by mail of mifepristone or misoprostol where the sender lacks the intent that the recipient of the drugs will use them unlawfully"—a legal opinion that will allow the U.S. Postal Service to carry abortion pills into red states.
"There are manifold ways in which recipients in every state may use these drugs, including to produce an abortion, without violating state law," the OCL opinion reads. "Therefore, the mere mailing of such drugs to a particular jurisdiction is an insufficient basis for concluding that the sender intends them to be used unlawfully."
Kirsten Moore, director of the Expanding Medication Abortion Access Project, toldPolitico on Tuesday that "in a post-Roe world, patients need all available options to get the care they need, whether in-person, by mail, or at the local pharmacy."
"Millions of people still live in states where abortion care is banned entirely," said Moore. "The kind of care you get shouldn't depend on where you live, but that's the reality anti-abortion politicians have created."
This story has been updated to correct the spelling of NARAL Pro-Choice America's president.

News