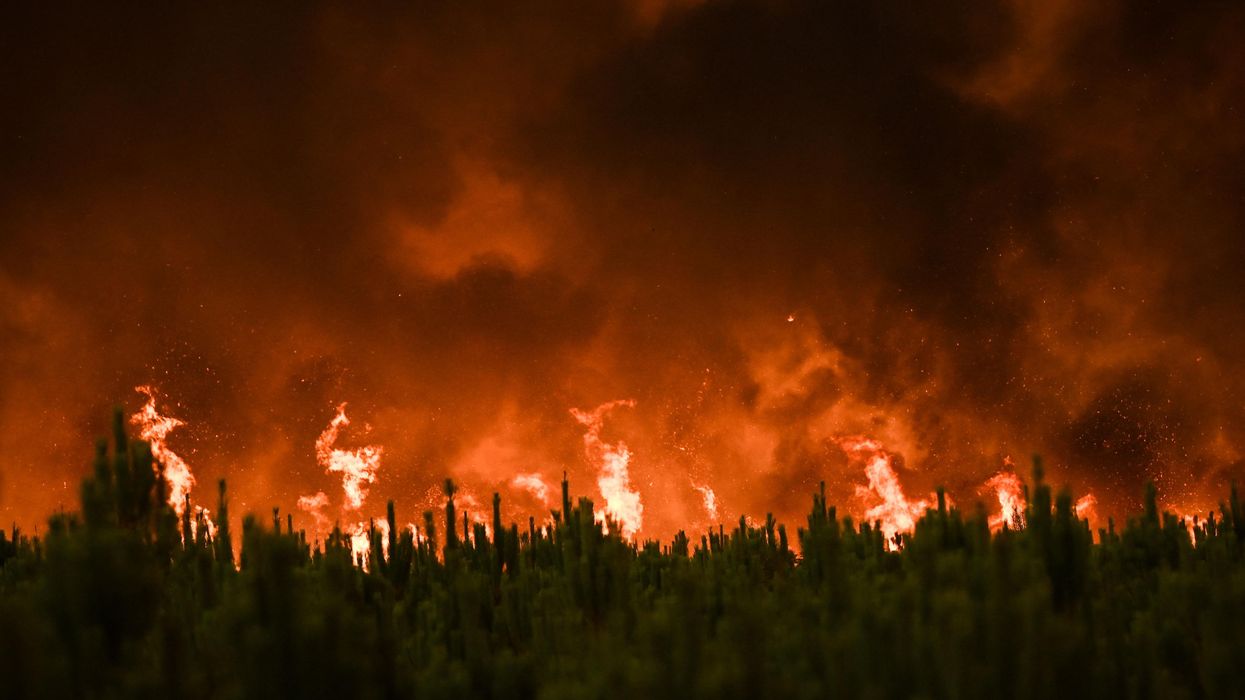 One senior researcher said this drought—which is expected to worsen—could be the most severe to hit the continent in 500 years.
Climate campaigners on Wednesday once again sounded the alarm as historic drought conditions and massive wildfires scorched Europe during a summer in which nearly 12,000 people across the continent have been killed by extreme heat.
"With droughts, floods, and extreme weather on the rise, it's clear that climate breakdown is well and truly here."
The European Drought Observatory said Wednesday that more than 60% of the land area of the European Union and United Kingdom is now under drought warnings or alerts.
"This European summer has included the continent's most severe drought in decades, with major disruption caused to people and industry. Sustained climate action to stop droughts like this is the best investment European nations could make," the London-based Environmental Justice Foundation tweeted.
Taking aim at government subsidies for the fossil fuel and agriculture industries, the group added, "Here's one step we can take for a healthier, happier planet: Stop pumping public money into industries which are actively destroying it."
The U.K. Green Party tweeted that "with droughts, floods, and extreme weather on the rise, it's clear that climate breakdown is well and truly here. Time for the U.K. government to make the right decisions, and act now."
\u201cDrought conditions affecting around 60% of the EU and U.K., Exacerbated by climate-change driven record heat this summer, according to new research from European Drought Observatory. Photo credit: European Drought Observatory\u201d

— Rob Davies (@Rob Davies) 1660146982
Andrea Toreti, a senior researcher at the European Commission's Joint Research Center (EC-JRC)--which compiles data for the European Drought Observatory--said that "at the moment... this seems to be the worst" drought in Europe in five centuries, although other scientists have concluded that extreme dry spells on the continent in recent years were "unprecedented" in millennia.
Toreti said EC-JRC has not fully analyzed the current drought "because it is still ongoing, but based on my experience I think that this is perhaps even more extreme than 2018."
"Just to give you an idea the 2018 drought was so extreme that, looking back at least the last 500 years, there were no other events similar to the drought of 2018," he added, "but this year I think it is really worse than 2018."
The 2018 drought and heatwave saw record-breaking temperatures and wildfires ravage much of Europe. Researchers at the Royal Netherlands Meteorological Institute and World Weather Attribution estimated that the climate emergency made the heatwave two to five times more likely.
Toreti said EC-JRC expects the current drought to worsen, while warning that drying, warming rivers are exacerbating the crisis.
"Our analysis indeed is pointing to extremely low flows affecting almost all the European rivers," he said.
\u201cThe Rhine \u2014 the continent\u2019s most important river and a pillar of the German, Dutch and Swiss economies for centuries \u2014 has dried up to the point of becoming all but impassable at a key bottleneck, stymieing vast flows of diesel and coal https://t.co/X1lJkJzd22\u201d

— Bloomberg Green (@Bloomberg Green) 1660122774
Dry conditions are fueling wildfires raging in southwest France, which is enduring its fourth heatwave of the year and where, according toAgence France-Presse, more than 6,000 people have been evacuated from the Gironde region as fire that destroyed more than 20,000 hectares of forest in July is flaring anew.
Meanwhile in the United Kingdom, the Meteorological Office on Tuesday issued an amber heat warning for large parts of southern England and some of Wales for Thursday through Sunday ahead of forecast high temperatures of at least 90degF over those four days. The move follows the Met Office's first-ever red extreme heat warning last month.
News