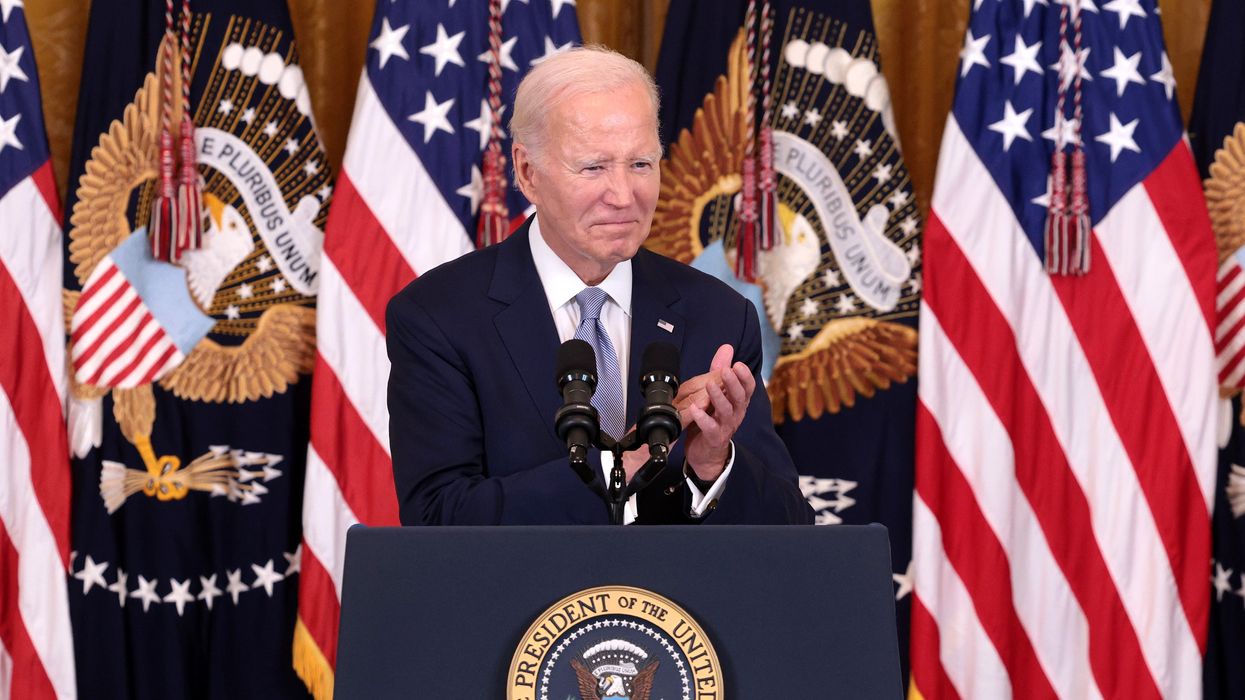 "You know it's good policy when Big Pharma is terrified of it."
Predictably, the pharmaceutical lobby responded with outrage on Tuesday after the Biden administration took its first, modest step toward directly negotiating the costs of a small selection of high-priced prescription medications—a move that is overwhelmingly popular across the political spectrum.
The CEO of the Pharmaceutical Research and Manufacturers of America (PhRMA), the U.S. drug industry's powerful trade group, complained in a statement that the Centers for Medicare and Medicaid Services (CMS) has engaged in a "rushed process focused on short-term political gain rather than what is best for patients," even though the negotiation period for the first 10 drugs is set to last until next August.
Negotiated prices for the medications aren't scheduled to take effect until January 1, 2026.
The lobbying group, which is fighting the drug price negotiation effort in court, also declared that "giving a single government agency the power to arbitrarily set the price of medicines with little accountability, oversight, or input from patients and their doctors will have significant negative consequences long after this administration is gone"—not mentioning that drug companies currently have the virtually unrestrained power to jack up prices thanks to government-granted patent monopolies.
In April, Bristol-Myers Squibb and Pfizer—co-developers of the blood clot medication Eliquis— sued two generic drugmakers for infringing on a patent that's not set to expire until 2031. The two companies have been working together to stave off generic alternatives to Eliquis, which carries a list price of $561 for a 30-day supply, for years.
As Dean Baker of the Center for Economic and Policy Research noted Tuesday: "There are few drugs that are actually expensive to manufacture and distribute. This means that without government-imposed barriers, most drugs would be cheap. Prices of patented drugs fall by 90% or more after enough generics have time to enter the market."
Eliquis, which is used by millions of Americans, is one of the 10 drugs that will soon be subject to direct price negotiations with Medicare. The drug cost Medicare Part D more than $16 billion between June 2022 and May 2023, CMS said.
David Dayen and Maureen Tkacik observed in The American Prospect that "seven of the 10 drugs selected are produced in part or in full by companies that are in active litigation with the government."
"The other three drugs," they added, "are made by Amgen, Novartis, and Novo Nordisk, all members of the Pharmaceutical Research and Manufacturers of America."
The price-negotiation process was set in motion by last year's passage of the Inflation Reduction Act (IRA), which PhRMA spent tens of millions lobbying to defeat. The industry has also worked alongside congressional Republicans to sabotage implementation of the law, which progressives say should be expanded.
"You know it's good policy when Big Pharma is terrified of it," Santiago Mayer, executive director of Voters of Tomorrow, wrote on social media.
In June, PhRMA sued the Biden administration over the impending price negotiations, calling the IRA provisions unconstitutional. The Biden Justice Department moved to dismiss the suit on Monday, calling it "the continuation of a long-running, as-yet-unsuccessful lobbying effort" fueled by "policy objections rather than any concrete injury."
In its lawsuit—one of eight filed by pharmaceutical companies and industry groups in recent weeks—PhRMA rehashed the familiar claim that attempts to regulate drug prices endanger innovation, potentially stifling the development of lifesaving medications.
Stephen Ubl, PhRMA's CEO, echoed that narrative in his statement Tuesday, warning that "the cancer moonshot will not succeed if this administration continues to dismantle the innovation rocket we need to get there."
But advocates and experts have long argued that the pharmaceutical industry dramatically overstates alleged threats to innovation to justify driving up costs to pad their bottom lines.
In a 2021 report, Patients for Affordable Drugs noted that "pharma is a highly profitable industry; there is plenty of room to trim profits while maintaining investment in innovation."
"The money that U.S.-based drug companies make by charging Americans high prices is 76% greater than what's needed to fund their entire global research and development (R&D) expenditures," the report adds. "Pharma wants us to think that drug pricing reform will hurt innovation and new drug development by making the pharmaceutical industry unattractive to investors and impeding investments into R&D. The reality is that even if profits were reduced by billions, the drug industry would still be more profitable than most publicly traded companies."
Alex Lawson, executive director of Social Security Works, said in a statement that the medications listed by the Biden administration on Tuesday "are among the most outrageously priced drugs on the market, pharma's prized cash cows."
"This is just the beginning. Within a decade, Medicare will have the power to negotiate lower prices on well over 100 drugs. That's a huge win for seniors and people with disabilities," Lawson added. "This is the biggest defeat Big Pharma has ever suffered—and it won't be the last. We are going to keep fighting until every single person in America can get the medications they need."
News