MONTGOMERY, Alabama
Parents challenging Alabama's SB 184 have responded to the State's appeal of a district court ruling that blocked enforcement of the law in May 2022. SB 184 criminalizes parents who seek essential medical care for their transgender children, the doctors who provide this medical care, and anyone else who assists transgender young people to get the care they need. Under the law, parents, doctors, and others could face up to 10 years in prison and a fine of up to $15,000. The State of Alabama has appealed the district court's May 13 order blocking the law from being enforced to the U.S. Court of Appeals for the 11th Circuit.
In their brief filed last night, plaintiffs urged the Court of Appeals to keep the injunction against SB 184 in place, citing the district court's reliance on well-established, evidence-based medical standards and parents' fundamental right to obtain medical care for their children. At a May hearing before the district court and in related filings, parents testified that being able to access needed care has had an enormously positive impact on their children's health and that being forced to stop treatment would create devastating consequences for their children's wellbeing.
The district court blocked enforcement of SB 184 citing substantial evidence that the law seeks to ban established, effective medical care and that doing so would cause severe harm. In its order the court said that plaintiffs are likely to prevail in their claim that SB 184 unconstitutionally discriminates against transgender minors and violates the fundamental right of parents, rather than the state, to make healthcare decisions for their children.
In blocking the law, the district court noted that the State of Alabama presented no evidence to contradict testimony from doctors and medical experts on the well-established safety and efficacy of medical care for transgender youth who experience gender dysphoria, including the fact that over 22 major medical organizations recognize the established course of care for transgender youth.
The suit, Rev. Eknes-Tucker v. Marshall, is brought by five parents on the grounds that it strips them of the right to make important decisions about their children's healthcare. They are joined by a private practice pediatrician in rural Southeast Alabama, a clinical psychologist with the UAB medical system, and Reverend Paul Eknes-Tucker, Senior Pastor at Pilgrim United Church of Christ in Birmingham, all of whom could face severe criminal penalties if the law were allowed to go into effect. The U.S. Department of Justice has also joined the suit as plaintiff-intervenor challenging the constitutionality of the law which would deny established medical treatments to youth who are transgender but not to others.
Plaintiff Megan Poe, mother of 15-year-old Allison of Northern Alabama:
"While many people may not understand what it means to have a transgender child, I know any parent can relate to worrying about whether your child is healthy and safe. Stopping SB 184 from taking effect has let my family breathe a little easier as my daughter has continued to get the support and care she needs. This law has shined a spotlight on our family's personal healthcare decisions that we didn't ask for, but I'm so glad that the district court heard and understood our experience and the experience of other families like ours. My daughter is a confident, engaged, and happy teenager today because we are able to provide her care. I hope the court of appeals will see that, too, and keep the injunction against SB 184 in place until we hopefully see it stopped for good."
Reverend Paul Eknes-Tucker, who has served as Senior Pastor at historic Pilgrim Church UCC since 2015:
"Parents of transgender children in congregations I have served are seeking what all parents want, to find the best path to ensure their kids are happy and healthy. I have sat with concerned parents and I have witnessed how finding the right support and individualized care has addressed their questions and allowed their transgender children to flourish. Allowing SB 184 to go into effect would take away Alabama families' options for support and would put Alabama kids at risk."
Dr. Rachel Koe, a pediatrician in private practice in rural Southeast Alabama:
"The district court's ruling blocking SB 184 brought overwhelming relief to parents of transgender children in my practice who, like all parents, want to do what's best for their kids. It would be unbelievably cruel to put families through that fear again, and it would be devastating to put parents in the position of risking prison or stopping treatment that is enabling their kids to thrive."
The families challenging SB 184 come from across the state and are proceeding anonymously due to the risk of criminal prosecution as well as for their privacy and safety.
The plaintiffs are represented by Lightfoot, Franklin & White LLC, King & Spalding LLP, GLBTQ Legal Advocates & Defenders (GLAD), the National Center for Lesbian Rights (NCLR), SPLC Action Fund (SPLC), and the Human Rights Campaign (HRC).
Asaf Orr, NCLR Senior Staff Attorney and Transgender Youth Project Director:
"As the district court said, governments cannot deny transgender adolescents the ability to obtain essential medical care simply because of who they are. Holding otherwise would allow states to enact discriminatory laws that harm young people and intrude into family life."
Jennifer Levi, GLAD Transgender Rights Project Director:
"The district court recognized that parents, not the government, should make decisions about what's best for their kids' health and wellbeing. Parents want what's best for their kids. That's why preserving parental rights to make healthcare decisions for their children has been such a long-held American value."
Sarah Warbelow, HRC Legal Director:
"It is absolutely critical that parents continue to have the autonomy to make these crucial, life-saving decisions for their children--not state lawmakers. It is imperative that the injunction remains in place against this unconstitutional, harmful law that strips parents of their ability to act in the best interest of their child."
Scott McCoy, SPLC Action Fund Interim Deputy Legal Director LGBTQ Rights & Special Litigation:
"Maintaining the injunction against this ill-conceived law is critical to the children and families that rely on this life-affirming and life-saving medical care. We are hopeful that the Court of Appeals will see that the district court got it right in finding that this law is unconstitutional and risks the health and well-being of transgender kids."
The National Center for Lesbian Rights is a national legal organization committed to advancing the civil and human rights of lesbian, gay, bisexual, and transgender people and their families through litigation, public policy advocacy, and public education.
LATEST NEWS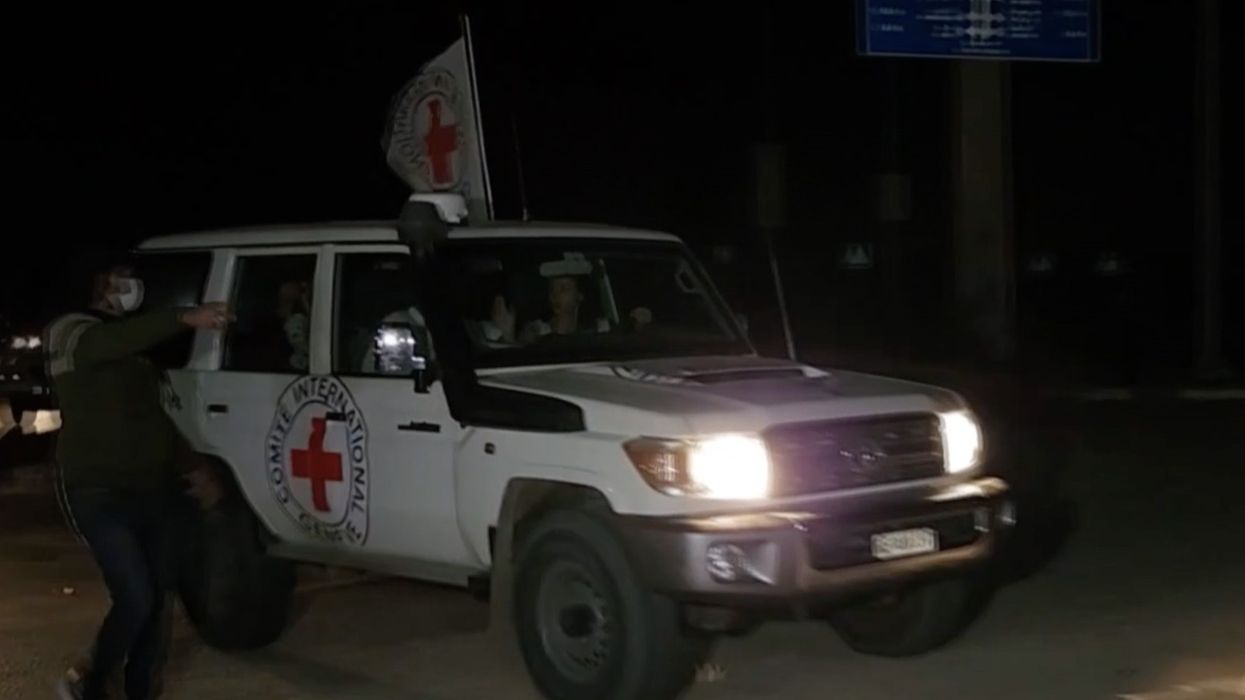 "After a delay, obstacles to release of prisoners were overcome through Qatari-Egyptian contacts with both sides," a Qatari spokesperson said.
Despite an initial delay, the second round of hostages were released by Hamas on Saturday night.
The group included 13 Israelis and four foreign nationals believed to be Thai, Middle East Eyereported. Israel also began to release 39 Palestinian prisoners in exchange as the second day of a four-day cease-fire concluded.
"After a delay, obstacles to release of prisoners were overcome through Qatari-Egyptian contacts with both sides," Majed Al Ansari, a spokesperson for Qatar's foreign ministry, tweeted, adding that the hostages were transferred to the International Committee of the Red Cross.
The Israeli military confirmed to The Associated Press that the hostages reached Israel after midnight local time. The hostages included seven children and six women, the office of Israeli Prime Minister Benjamin Netanyahu said. One of the hostages, a young girl named Emily Hand, was previously believed dead by her father.
The swap appeared to be in danger earlier in the day when Hamas said that Israel had not allowed enough aid to enter northern Gaza, which has taken the brunt of the Israeli military's force since October 7, when Hamas attacked Israel, killing 1,200 and taking around 240 hostages. Israel has since killed more than 14,800 Palestinians in Gaza in its response. The two sides have agreed to a four-day cease-fire beginning Friday that will see a total of 50 Hamas-held hostages and 150 Israeli-held Palestinians released.
In explaining the delay, Hamas also said that Israel had not released enough long-serving prisoners.
"Civilians should not be pawns in a deadly standoff between warring parties who flout basic principles of humanity."
"This is putting the deal in danger," said Osama Hamdan, a senior Hamas official in Beirut, as AP reported.
Sari Bashi, the program director of Human Rights Watch, criticized both sides for the delay.
"Hamas is obligated to release hostages, whether or not aid enters Gaza," Bashi tweeted. "The Israeli government is obligated to supply Gaza with aid, whether or not hostages are released. Civilians should not be pawns in a deadly standoff between warring parties who flout basic principles of humanity."
However, Egypt, Qatar, and Hamas later said everything had been resolved and the exchange would go forward, according to AP, sparking great relief from the hostages' friends and families.
"I was very nervous when I heard about the delay. I thought something would happen," Zohar, a classmate of 18-year-old Israeli hostage Noga Weiss, told Channel 13 TV, as AP reported. "It was a great relief when I saw her."
Egypt had also said earlier in the day that it had received "positive signals" from both sides about a possible extension of the cease-fire, Reuters reported. Netanyahu had previously said the pause would extend one day for every extra 10 hostages that Hamas releases.
Hamas said it expected Israel to release six women and 33 teenage boys on the second day of exchanges, AP reported.
One of the prisoners released Saturday was Shorouq Dwayyat, the Palestinian woman who had been held in an Israeli jail the longest, Middle East Eye reported. Dwayyat was first arrested eight years ago when she was 18. Israel claimed she stabbed a settler, which her family denies.
"We send a message to our people in Gaza that we stand by your side and support you," Duwiyat said upon returning home, as AP reported.
Another woman released by Israel was Israa Jaabis, who was arrested in 2015 with burns covering half her body, according to Middle East Eye. Jaabis' family said that she was burned when a defective cylinder of cooking gas ignited near a checkpoint, while Israel accused her of attempting a bombing. Israeli forces raided Jaabis' home ahead of her release, forcing any journalists or distant relatives to leave.
Police also raided the home of Marah Bkeer before her release Friday, Reuters reported.
"There is no real joy, even this little joy we feel as we wait," her monther, Sawsan Bkeer, told reporters. "We are still afraid to feel happy."
Dwayyat told reporters that Israel had threatened to re-arrest the released prisoners if they celebrated, according to Middle East Eye.
News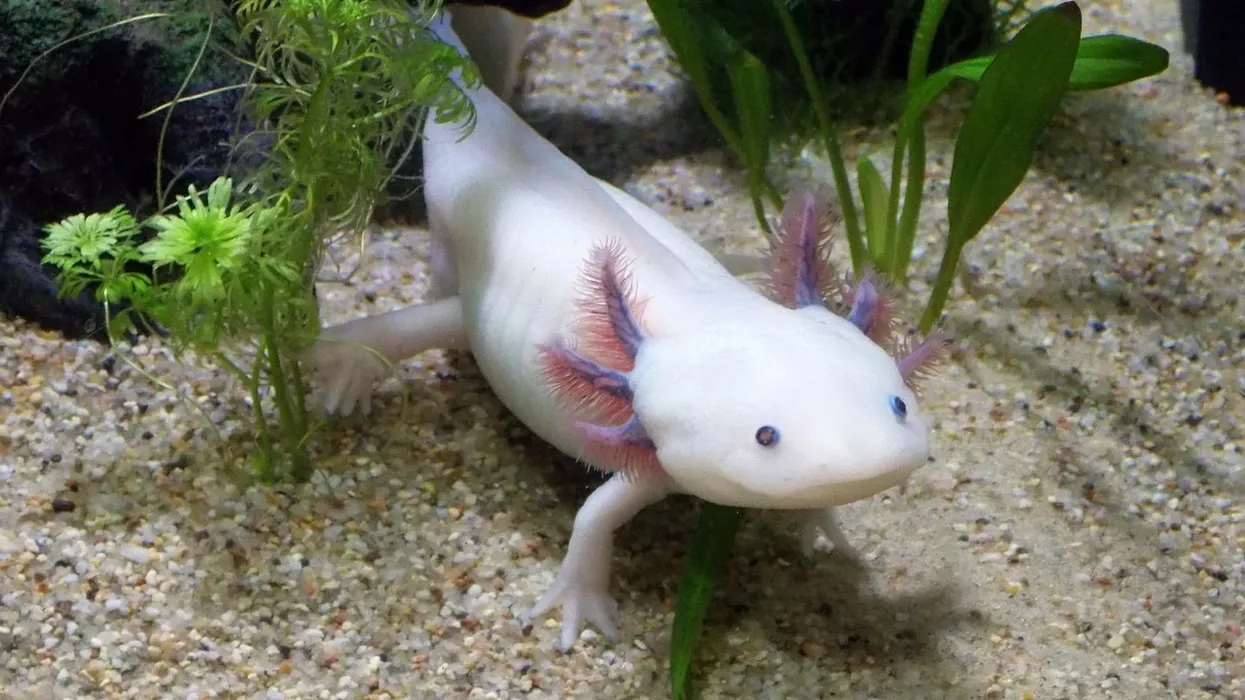 The Adoptaxolotl 2024 campaign invites donors to adopt a threatened salamander for around 600 pesos, or $35.
Ecologists in Mexico relaunched a campaign Thursday to protect the axolotl, an iconic Mexican underwater salamander threatened with extinction.
The Adoptaxolotl 2024 campaign invites donors to adopt a threatened salamander for around 600 pesos, or $35, The Associated Press reported. A virtual adoption comes with regular updates on the amphibian's well-being. Axolotl lovers can also buy one of the salamanders a dinner or purchase axolotl-themed t-shirts, bandannas, and mugs.
"The axolotl is at critical risk of extinction," Luis Zambrano González, who works at the Biology Institute of Mexico's National Autonomous University (UNAM), told the UNAM Gazette. "For this reason we need to understand its conservation as something that all of society is responsible for, to care for its habitat and develop strategies to allow people to relate more to these animals."
"Thanks to these surveys we realized that the amphibian is on the edge of extinction, and if we don't do something we will soon lose it in the wild."
There are 18 different species of axolotls in Mexico, and nearly all of them are considered critically endangered, according to AP. The salamander is famous for its unique appearance, as well as its ability to grow back severed limbs. Scientists believe that studying the axolotls' ability may help them to repair tissue damage or aid in cancer recovery, but they will have to work fast to uncover their secrets.
Zambrano told the UNAM Gazette that axolotl numbers had rapidly declined in surveys: from 6,000 per square kilometer in 1998 to 36 in 2014, a decline of 99.5% in less than two decades.
"Thanks to these surveys we realized that the amphibian is on the edge of extinction, and if we don't do something we will soon lose it in the wild," Zambrano said.
The campaign, which is organized by UNAM scientists, raised more than 450,000 pesos, or $26,300, last year to launch a captive breeding program and to restore habitat in the ancient canals of the southern Mexico City district of Xochimilco, according to AP.
The scientists said that the salamanders in Xochimilco were in danger because their habitat was menaced by urbanization, pollution, and invasive species, the UNAM Gazette reported.
"There is no more time for Xochimilco," Zambrano told AP.
So far, researchers have restored 40 floating islands and 5.5 kilometers of canal, created 36 biodiversity refuges, and installed 71 filters to improve water quality, the UNAM Gazette reported.
Axolotls are also susceptible to the chrytid fungus behind mass amphibian deaths worldwide, according to AP.
Scientists say more research is needed to truly know the extent of the damage to the axolotls' habitat and the risk to the all of the species.
Alejandro Calzada, who works for the Mexican government monitoring less popular species of axolotl, told AP that his team of nine is not able to monitor all the streams in Mexico City or the country as a whole.
"What I know is that we have to work urgently," Calzada said.
News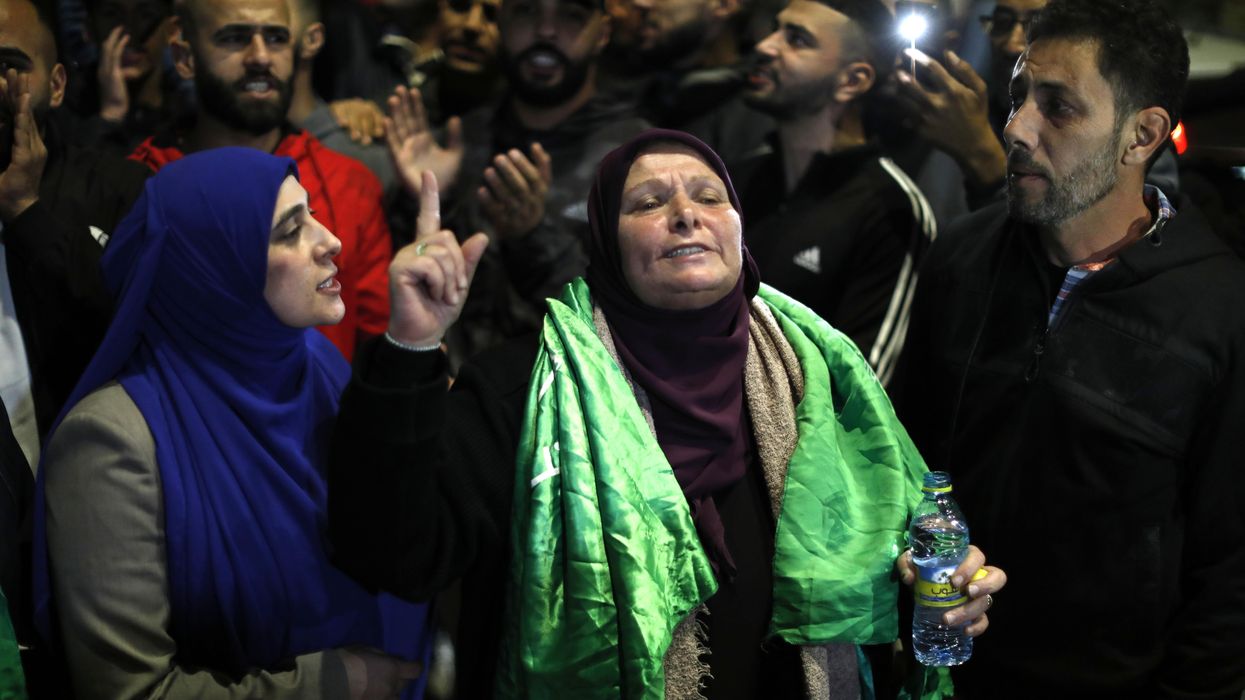 The exchange came on the first day of a Qatari-brokered four-day cease-fire that is slated to see at least 50 Israeli hostages exchanged for at least 150 Palestinian women and children held in Israel.
The first 24 Israeli hostages held by Hamas in Gaza were released Friday evening in exchange for 39 Palestinian women and children held in Israeli prisons.
The exchange came on the first day of a Qatari-brokered four-day cease-fire that is slated to see at least 50 Israeli hostages exchanged for at least 150 Palestinian women and children held in Israel. The office of Israeli Prime Minister Benjamin Netanyahu has said that the pause would be extended a day for every additional 10 hostages released.
"It's a sign of hope for Palestinians and Israelis that the cease-fire will continue and the killing will stop," Mohammed Khatib, who watched the release of the first Palestinian prisoners Friday, toldBBC News.
"I'm very happy of course, but I feel devastated by how that deal was reached… at the cost of our brothers' and sisters' lives in Gaza."
The pause in the fighting has also allowed much needed aid trucks to enter Gaza. The United Nations Office for the Coordination of Humanitarian Affairs (OCHA) said that 200 aid trucks were sent from Israel Friday, of which 137 were unloaded by the U.N. Relief and Works Agency for Palestinian Refugees in the Near East, U.N. Newsreported. It's the largest convey of aid to enter Gaza since Israel's bombardment began October 7.
"Hundreds of thousands of people were assisted with food, water, medical supplies and other essential humanitarian items," OCHA said.
Four trucks full of gas and 129,000 liters of fuel also arrived in Gaza Friday.
However, Hamas has reportedly delayed the release of more hostages Saturday because it says Israel is not allowing aid to enter northern Gaza, Al Jazeera reported. The group said Israel had also violated the terms of the cease-fire by shooting tear gas and live ammunition at people who attempted to return to their homes in northern Gaza and by flying surveillance drones high over Gaza Saturday.
Hamas took around 240 hostages—both Israelis and foreign nationals—into Gaza during its October 7 attack on Israel that also killed around 1,200 people. On Friday, the group released 13 Israelis, including an 85-year-old woman and children as young as 2, as well as 10 Thai nationals and one person from the Philippines, The Guardian reported.
"Each of them is an entire world," Netanyahu said in response to the first release. "But I emphasize… we are committed to returning all the hostages. This is one of the aims of the war and we are committed to achieving all the aims of the war."
The families of the Thai hostages celebrated their return.
"We are all very happy. Everybody is crying," Rungarun Wichangern, the brother of 33-year-old Vetoon Phoome who was released Friday, toldThe Guardian.
Phoome, who was working on a potato and pomegranate farm near Gaza when he was captured, was one of 30,000 Thai nationals working in the agricultural sector in Israel before the war, and one of around 5,000 employed at farms near Gaza. The Thai government said that 20 more Thai nationals were still being held in Gaza.
The one Philippines hostage released was 33-year-old Gelienor "Jimmy" Pacheco, who had been working as a carer in Gaza. Philippine President Ferdinand Marcos said on social media that he was "overjoyed" by Pacheco's release, and that he was safely at the Thai embassy in Israel.
"I salute the work of the Philippine Foreign Service in securing his release, and once again thank the State of Qatar for their invaluable assistance in making Jimmy's release possible," Marcos said.
Another Philippine woman, Noralyn Babadilla, remains missing.
Meanwhile, jubilant crowds turned out in the West Bank to welcome the first Palestinian prisoners released from Israeli custody, according to BBC News. The group included 24 women and 15 teenage boys. They had been arrested for offenses ranging from stone throwing to attempted murder. While some had been convicted, others were awaiting trial. Of a total of 300 Palestinian women and children marked by Israel for potential release, less than 25% have been convicted.
Israel holds around 8,000 Palestinians in its prisons, 3,000 of whom were detained since the October 7 attacks, Al Jazeera reported. Nearly every family in the West Bank has had a relative detained at one point, according to BBC News.
The NGO Palestinian Prisoners' Club said that Israel had told the families of released prisoners that they could be fined around 70,000 shekels ($18,740) for sharing sweets to celebrate their loved ones' return, speaking to reporters, or having guests over.
One of the Palestinian prisoners released was 24-year-old Marah Bakeer, who was 16 when she was arrested for allegedly attempting to stab an Israeli soldier, something she and her family deny. Israeli forces shot her in the arm and hand 12 times before her arrest.
"I'm very happy of course, but I feel devastated by how that deal was reached… at the cost of our brothers' and sisters' lives in Gaza," Bakeer said.
The Israeli attack on Gaza has killed more than 14,800 people, around 10,000 of them women and children. This means Israel has killed women and children at a rate that outstrips the deadliest conflicts of the 21st century, The New York Times reported Saturday. More than double the number of women and children have been killed in Gaza in nearly two months of fighting than have been reported killed in Ukraine in two years. Using women and children as a conservative stand-in for overall civilian deaths would mean more civilians have died during these two months than were killed by U.S. forces in the first year of the Iraq War, and nearly as many as the 12,400 estimated killed by the U.S. and its allies during nearly two decades of war in Afghanistan.
"It's beyond anything that I've seen in my career," Marc Garlasco, a former Pentagon senior intelligence analyst who now advises the Dutch organization PAX, told the Times, adding that, for a comparison, one may "have to go back to Vietnam, or the Second World War."
The bombardment has also destroyed or damaged more than 60,000 buildings, and some Gazans used the pause in the fighting to return to their homes and survey the damage.
"Our home is destroyed, nothing remains standing. And most of the ducks and chickens were eaten by hungry street dogs," one older woman toldAl Jazeera. "This is not a war; it is a genocide."
News