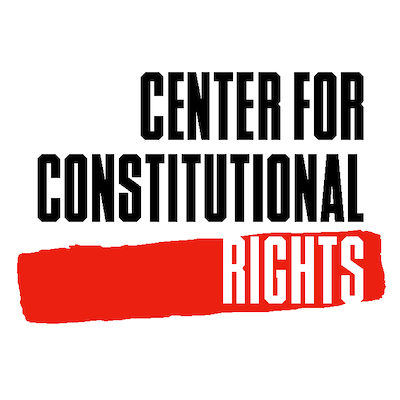 Supreme Court Rules Against Government Transparency in Contracts with Private Businesses
Reversing decades of precedent, highest court allows private corporations to block release of government information
WASHINGTON
Today, the Supreme Court reversed decades of precedent barring private corporations from interfering with the government's obligations to release information to the public pursuant to the Freedom of Information Act (FOIA). In Food Marketing Institute v. Argus Leader Media, Justice Gorsuch, writing for a 6-3 majority, held that the government could withhold information about government spending through the food stamps program even if there was no showing of any competitive harm to the company. In addition to reordering FOIA to make it far more difficult for the public to learn about the details of government arrangements with private companies, the decision reverses 40 years of precedent by finding that private entities have standing to appeal an order that the government disclose information even where the government itself does not appeal.
On behalf of Detention Watch Network, Prison Policy Initiative, and the Human Rights Defense Center, the Center for Constitutional Rights, and the Center for Social Justice at Seton Hall Law School, filed an amicus brief in March in the case. Amici argued that private entities did not have independent standing to sue to block releases under FOIA, and that allowing them to do so would severely undermine the power of FOIA to educate the public about government contracting with private corporations. FOIA cases have been a crucial tool for prisoners' and immigrants' rights and advocates to obtain information about the increasingly common collaborations between the federal government and private prison contractors.
"This outcome is a major step backward for government transparency under the FOIA," said Ghita Schwarz, senior staff attorney at the Center for Constitutional Rights. "For 40 years, the court has held private companies have no rights under FOIA to stop the government from releasing information to the public. Unfortunately, we are likely to see many private actors seeking to interfere with access to government information in the future."
Said Jenny-Brooke Condon, a professor at Seton Hall Law School, and co-counsel with the Center for Constitutional Rights for amici in this case, "The decision will unfortunately make it harder for the public to expose abuses when the government uses private entities and contractors to implement government functions, including in the private prison and detention context. By allowing a corporation to unilaterally appeal a FOIA judgment instead of the government, the Court also wrongly opened the door for more outside interests to stand in the shoes of the government and oppose public interest litigation as if they are the government."
The ruling has the potential to block information needed to educate the public on some of the most controversial aspects of privatization.
"Private contractors work relentlessly to keep their secrets buried," said Silky Shah, executive director of Detention Watch Network. "With this ruling we can expect the further obscuring of profiteering schemes and deadly abuses by private prison companies that administer and profit from over 70 percent of the immigration detention system."
For more information, visit the Center for Constitutional Rights' case page.
The Center for Constitutional Rights is dedicated to advancing and protecting the rights guaranteed by the United States Constitution and the Universal Declaration of Human Rights. CCR is committed to the creative use of law as a positive force for social change.
(212) 614-6464
LATEST NEWS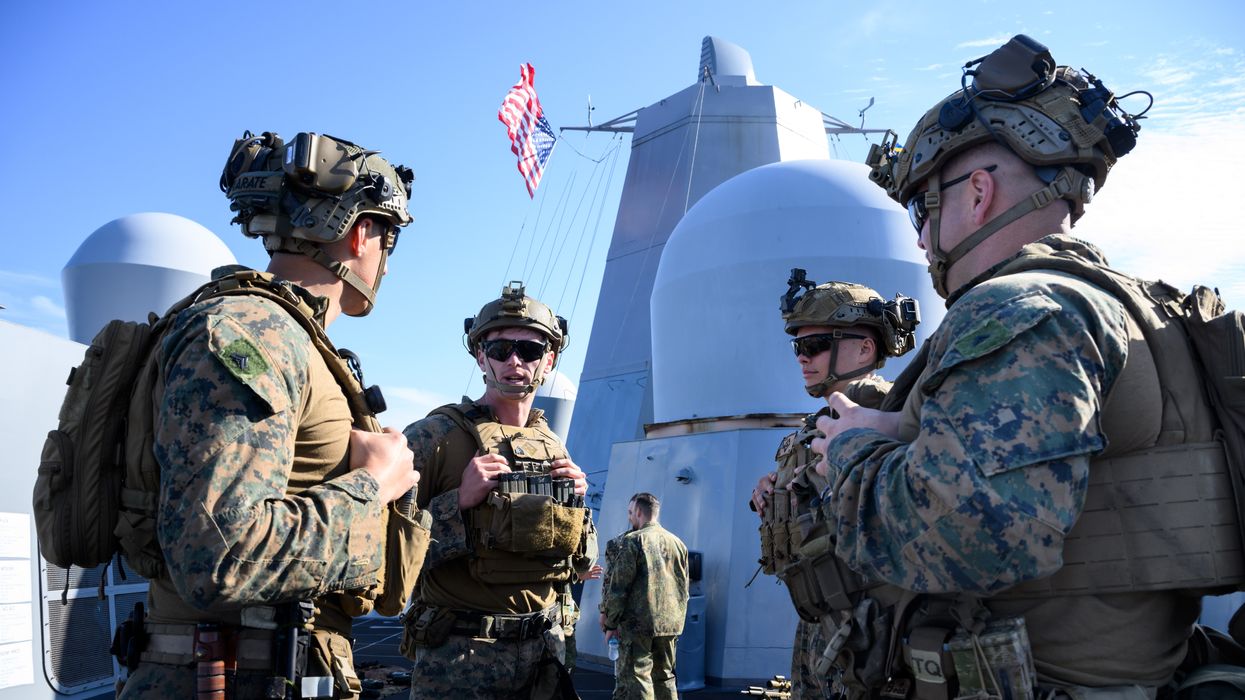 "Taken altogether, this map's data highlights that the expansive global counterterrorism apparatus grinds ever onwards," says a Costs of War Project report.
"We're not at war."
That's what U.S. House Budget Committee Chair Jodey Arrington (R-Texas) claimed during a Wednesday hearing about controversial legislation backed by Republicans and right-wing Democrats that would create a so-called fiscal commission for the U.S. debt.

Making some on-the-fly additions to his prepared remarks, Arrington said, "120% debt to GDP—this is the highest level of indebtedness in the history of our country surpassing World War II and we're not at war, we're in relative peace and prosperity."
And yet, a report published Wednesday by the Costs of War Project at Brown University's Watson Institute for International and Public Affairs shows that since 2021, the U.S. military has conducted counterterrorism operations—including training and assistance, military exercises, combat and detention, and air and drone strikes—in at least 78 countries.
"The war launched by the United States government in response to the 9/11 terror attacks continues," states the report, authored by project co-director Stephanie Savell. "This map is a snapshot of today's global military and civilian operations that evolved from President George W. Bush's 'Global War on Terror,' launched in 2001, and continued through and beyond the U.S. military's official withdrawal from Afghanistan in 2021. This war on terror continues under President Joe Biden."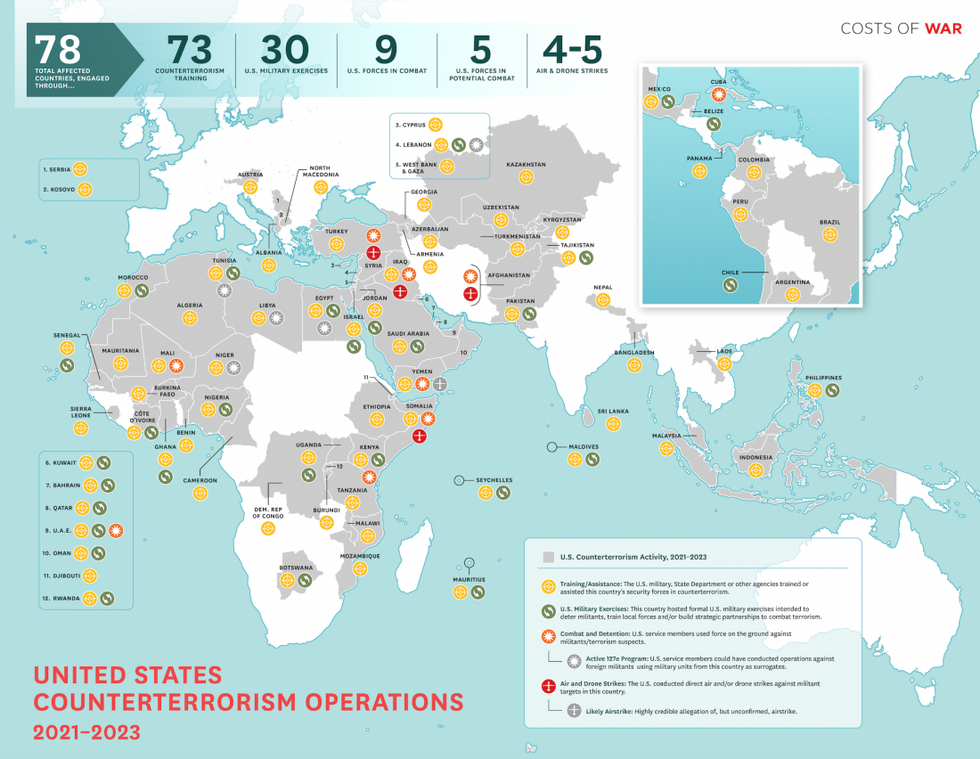 The United States conducted air and drone strikes against militants in Afghanistan, Iraq, Somalia, Syria, and likely Yemen, according to the report. U.S. forces also "engaged in combat and detention, using force on the ground against militants/terrorism suspects" in those five countries plus Cuba, Kenya, Mali, and the United Arab Emirates.
The publication also identifies 30 countries where the United States "conducted formal, named military exercises to project
force locally and rehearse scenarios of combating 'terrorists' or 'violent extremist organizations," and 73 nations where the U.S. government "trained and/or assisted military, police, and/or border patrol forces."
As the report details:
Many U.S. military operations are not included here—notably, those aimed at what U.S. officials and media identify as the military threat posed by Russia and China, the focus of much current U.S. foreign policy. Nor does this map include the military bases that have housed counterterrorism operations. Further, it does not include counterterrorism-related arms sales to foreign governments, all deployments of U.S. special operations forces, or all Central Intelligence Agency (CIA) operations. Also excluded are "military information support operations (MISO)," or "psychological operations," which the U.S. military carries out in many countries on the map and beyond, such as in Iran. All of these are significant elements of the bigger picture of U.S. counterterrorism strategy but beyond the scope of the map's data set.
USA Today exclusively reported on the new map. Citing the Pentagon and David Vine, an anthropologist and U.S military expert at American University, the newspaper noted that "there are up to 800 U.S. military bases overseas," and "the Biden administration signed an agreement in June that will bring six new U.S. military bases to Papua New Guinea."
The Costs of War Project report points out that "there are a few notable differences in comparing the current data with the previous version of the map, which covered activities between 2018 through 2020 under President Donald Trump's administration." Differences include that the number of nations hit with U.S. airstrikes decreased while the tally of countries where U.S. service members engaged in ground combat rose by one—the UAE.
"Overall, though the total number of countries has decreased slightly, from 85 to 78 total countries, the United States counterterrorism footprint remains remarkably similar," the report stresses. "Taken altogether, this map's data highlights that the expansive global counterterrorism apparatus grinds ever onwards. This contrasts starkly with claims or assumptions on the part of the U.S. public and policymakers that the so-called 'War on Terror' is over."
The report comes as Congress considers how much more military aid—if any—to provide Ukraine, which has been battling a Russian invasion since February 2022, and Israel, which launched a war on the Gaza Strip in retaliation for a Hamas-led attack on October 7.
"Today, in the current geopolitical context of the Middle East, the U.S. counterterrorism machinery is like a spark, ready to ignite," Savell wrote Wednesday in a related opinion piece for Newsweek. "The U.S. footprint in the region does not only make U.S. forces sitting ducks—it also threatens to dramatically escalate the current war on Gaza. Research has shown that having U.S. troops at the ready in so many places actually makes the chances of the U.S. waging aggressive, offensive wars far more likely."
"It is time for the U.S. to think deeply about the costs of overseas counterterrorism and to admit it has been a failure, underlaid by structural racism," she argued. "It is time to truly end the post-9/11 war era."
News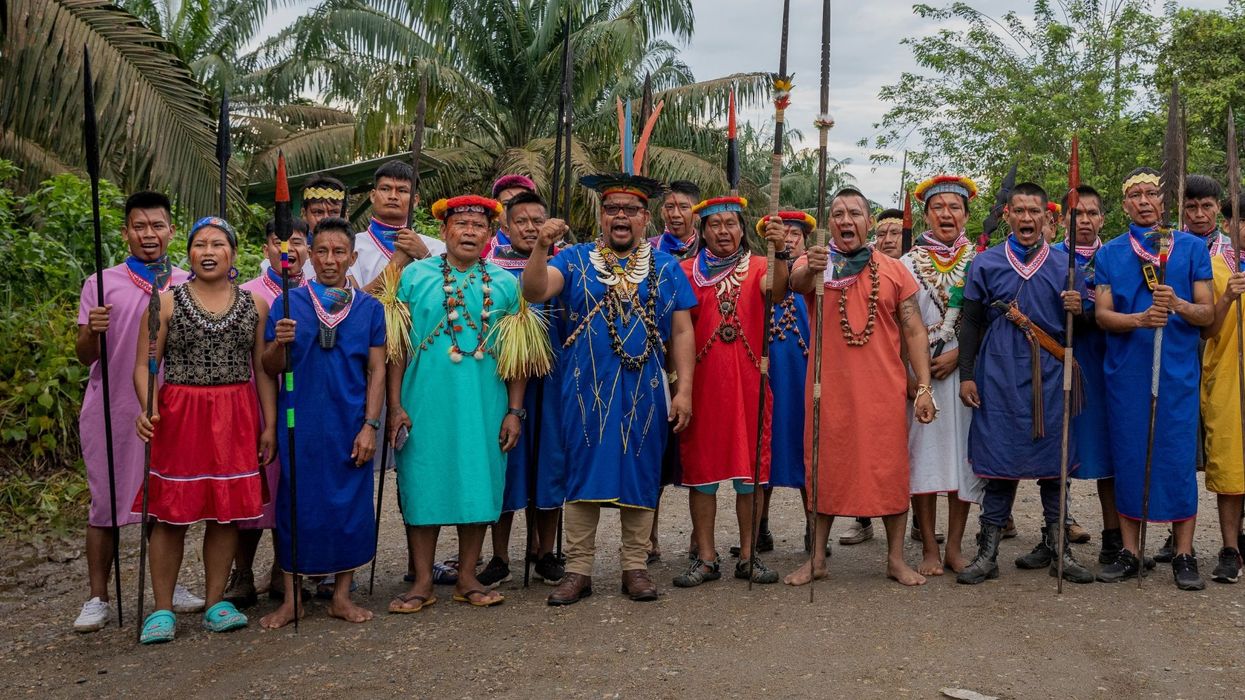 "This groundbreaking precedent paves the way for other Indigenous communities who dream of recovering their territories within protected areas," said one campaigner.
Amazon defenders this week cheered what one group called "an invaluable precedent for all Indigenous peoples fighting to recover their lands" after an Ecuadorean appeals court ruled in favor of the Siekopai Nation's ownership claim over its ancestral homeland.
The November 24 decision by a three-judge panel of the Sucumbios Provincial Court of Justice gives Ecuador's Ministry of the Environment 45 days to hand over title to more than 104,000 acres of land along the country's border with Peru.
"Today is a great day for our nation," Siokepai Nation President Elias Piyahuaje said following the ruling. "Until the end of time, this land will be ours."
The Siekopai—who call their homeland Pë'këya—were forcibly displaced from the region, one of the most biodiverse on the planet, in 1941 during the first of three border wars between Peru and Ecuador. They were then prevented from returning home as the Ecuadorean government unilaterally claimed ownership of Pë'këya.
The ruling marks the first time that an Ecuadorean court has ordered the return of land stolen from Indigenous people.
Amazon Frontlines—a San Francisco-based advocacy group that helped the Siekopai with their case—explained:
With a population of barely 800 in Ecuador and 1,200 in Peru, the Siekopai are on the brink of cultural and physical extinction. On both sides of the border, the Siekopai are currently waging legal battles to recover more than a half-million acres of land that were stolen from their ancestors. The Siekopai's court victory recognizing Pë'këyamarks a major stepping stone in this binational struggle for the reunification of their ancestral territory. After centuries of violence, racism, and conquest by colonizing missions, rubber corporations, and governments, the court's recognition of the Siekopai as the owners of Pë'këya is an indispensable step towards restoring justice and guaranteeing their collective survival and the continuity of their culture.
"For over 80 years, we have been fighting to get our land back," Piyahuaje said. "Despite all the evidence regarding our land title claim—even historians testified that our ancestors dwelled in the area since the time of conquest—the Ecuadorian government failed to uphold our land rights time and time again."
"We are fighting for the preservation of our culture on this planet. Without this territory, we cannot exist as Siekopai people," he added.
Amazon Frontlines attorney Maria Espinosa said that "this victory has been decades in the making, it has been a very long struggle against the government."
"Now, finally, the Siekopai's dream of recovering their ancestral territory has been achieved," Espinosa added. "This groundbreaking precedent paves the way for other Indigenous communities who dream of recovering their territories within protected areas."
News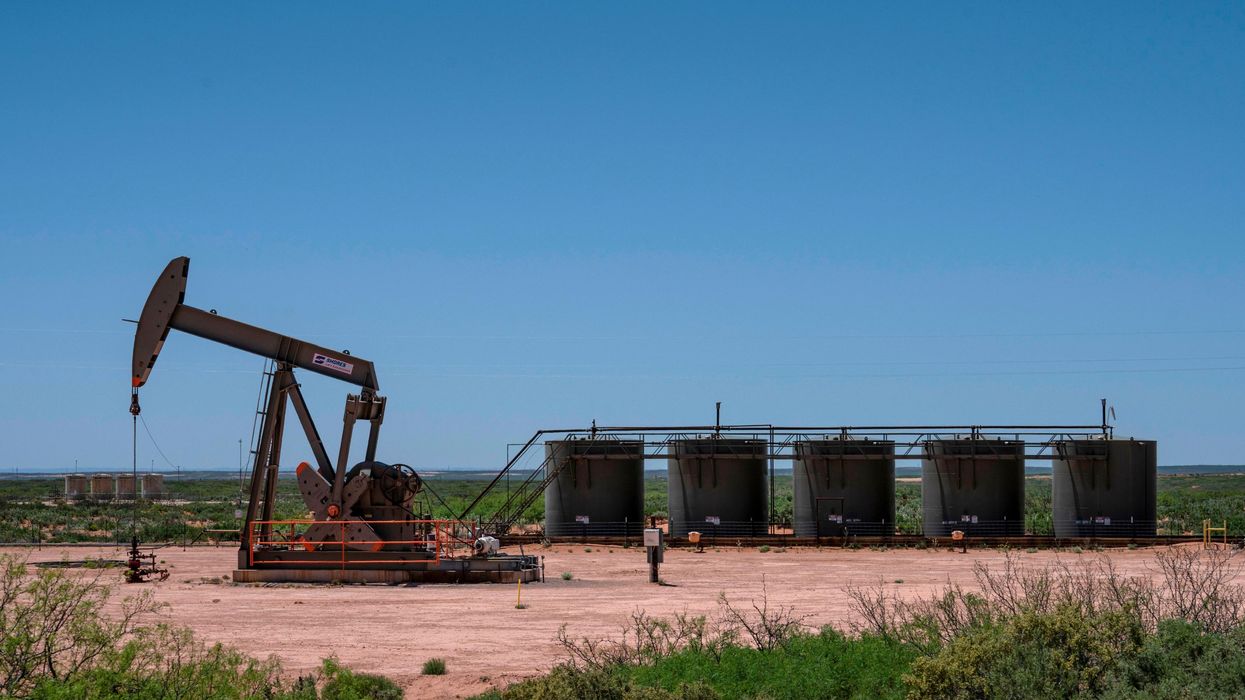 "Instead of doing the necessary work to fight climate change, Biden continues to support the expansion of fossil fuels here in the U.S.," said one advocate.
As world leaders prepared to head to Dubai for the 28th United Nations Climate Change Conference on Tuesday, the U.S. Interior Department underscored President Joe Biden's nonattendance at the summit by moving to sell $3.4 million in oil and gas drilling leases—just the first in a series of drilling auctions set to take place over the next two weeks while other leaders discuss the need to reduce fossil fuel emissions.
The U.S. Bureau of Land Management (BLM) put up 37 parcels of land covering 35,000 acres of land in Wyoming, but ultimately sold 18 parcels on 21,500 acres. The agency ultimately hopes to sell drilling rights on 44,000 acres in the state as well as in New Mexico, Nevada, North Dakota, Oklahoma, and Utah, with the final sale taking place as the climate change conference (COP28) wraps up on December 12.
Nicole Ghio, senior fossil fuels program manager at Friends of the Earth, told the Washington Examiner that the sale was "the latest in a string of disappointments" regarding Biden's continued support for fossil fuel extraction.
"Instead of doing the necessary work to fight climate change, Biden continues to support the expansion of fossil fuels here in the U.S., including leasing public lands and waters for drilling and pushing forward with mega projects like Willow in Alaska," Ghio told the outlet.
The president promised while campaigning in 2020 to ban oil and gas leases on federal lands, but upon signing the Inflation Reduction Act (IRA) in 2022, he approved a stipulation requiring the White House to continue selling oil and gas drilling rights in order to develop offshore wind power—a demand made by right-wing Sen. Joe Manchin (D-W.Va.).
Even before the IRA was signed into law, Biden faced condemnation for approving oil and gas leases at a faster rate than former Republican President Donald Trump.

The Biden administration approved 6,430 permits for oil and gas drilling on public lands in its first two years, while the Trump administration approved 6,172 permits in 2017 and 2018.
Climate groups have said in recent days that by skipping COP28—where other Biden officials will reportedly be in attendance—the president is forgoing an opportunity to strengthen his administration's record on the climate.
"If Biden wants to be taken seriously on climate by young people at home and by the rest of the world, he needs to use every tool at his disposal to mobilize the U.S. government to save lives," Michele Weindling, political director for the Sunrise Movement, toldThe New York Times on Monday.
In addition to moving forward with lease sales including this week's auction in Wyoming and the approval of a five-year plan to allow drilling in the Gulf of Mexico—announced in September, during which scientists were stunned by "mindblowing" high global temperatures—Biden has allowed crude oil to reach record production levels, according toing to the U.S. Energy Information Administration.
As Common Dreams reported on Monday, a Center for Biological Diversity report found that Biden's approval of oil and gas projects is projected to exceed any emissions reductions achieved by the IRA and his other climate policies.
At COP28 in the coming weeks, advocates and world leaders are expected to discuss how "current policies make it likely that global warming will exceed 1.5°C during the 21st century and make it harder to limit warming below 2°C," the Intergovernmental Panel on Climate Change said Tuesday.

"On the eve of COP28, the problem is clear," said Simon Stiell, executive secretary of the U.N. Framework Convention on Climate Change. "Business-as-usual is breaking our planet."

News