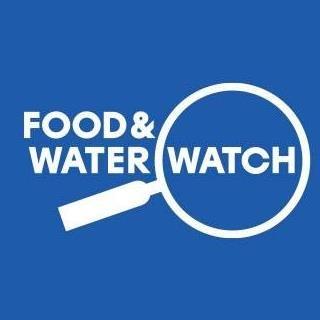 For Immediate Release
Contact:
Email:,info(at)fwwatch(dot)org,Seth Gladstone -,sgladstone@fwwatch.org
Maryland Legislators Introduce Fracking Moratorium Bill
More Than 100 Md. Health Professionals Support Moratorium, Citing Serious Health Risks; New National Poll Shows Majority of Americans Opposed to Fracking
Annapolis, Md.
Maryland Delegate David Fraser-Hidalgo, Senator Karen Montgomery, and 46 other General Assembly members today introduced the Protect Our Health and Communities Act, a bill to enact a long-term statewide moratorium on fracking. At the same time, a new statewide group of doctors, nurses, and other health professionals, Concerned Health Professionals of Maryland (CHP-Md), released a letter to General Assembly leadership, signed by more than 100 Maryland health professionals, supporting the moratorium bill. The letter highlighted a recent analysis that found 96 percent of peer-reviewed studies evaluating health impacts from fracking show serious health risks or actual adverse outcomes related to the drilling method.
As scientific evidence of fracking's health threats mounts, Americans are increasingly turning against the controversial drilling method. A Jan. 29th Pew Research Center poll found that a majority of Americans now oppose increased fracking. Furthermore, opposition to fracking within America's scientific community is even greater, with 66 percent of all scientists and 73 percent of biological and medical scientists opposed.
Fracking is a controversial natural gas extraction method that involves blasting millions of gallons of water, sand and toxic chemicals underground at extreme pressure to break up rock and release the gas. Hundreds of peer-reviewed scientific studies have identified numerous human health risks, air and water pollution, increased earthquake activity, and social problems linked to drilling and fracking in states where it already occurs.
"Almost every week a new study emerges pointing to the alarming health and environmental effects of fracking. To open up Maryland to fracking at this time would simply be reckless," said Delegate David Fraser-Hidalgo, the House bill sponsor. "New York's health department looked hard at the facts and concluded that fracking just isn't safe. Are New Yorkers' health and safety more important than our own? Surely not."
"Today we announce a new effort to place a moratorium on fracking in our state. This bill will allow us to maintain the public's confidence as we continue to gather data on the long-term effects of the hydraulic fracturing process," said Senator Karen Montgomery, the Senate bill sponsor. "Without more scientific data on the public health consequences, we cannot engage in possibly risky energy projects."
"Given the nature of the chemicals used in the fracking process, we may see increases in cancers, neurologic diseases, cardiac and respiratory diseases, and developmental disorders in coming years, but it will take time for these effects to show up," said Gina Angiola, M.D., Board Member of Chesapeake Physicians for Social Responsibility and cofounder of CHP-Md.
"No public health agency had any authority in Maryland's commission process. The key report that formed the basis of the proposed fracking regulations was completed before the health study was released. From a public health perspective, the commission was flawed from the beginning," said Ann Bristow, PhD, Commissioner, Marcellus Shale Advisory Commission and cofounder of CHP-Md.
"As a nurse-midwife, I am deeply concerned about the elevated risks of birth defects and low birth weight babies seen in families near fracking sites. We need to protect our future generations and continue a moratorium on fracking in Maryland," said Katie Huffling, RN, MS, CNM, Director of Programs, Alliance of Nurses for Healthy Environments and cofounder of CHP-Md.
Background: Two commissioners of the 15-person committee appointed to investigate the risks of fracking in Maryland released a letter in January describing how the Commission ignored the health risks from fracking and calling for a long-term moratorium on fracking in the state. In their letter, Commissioners Dr. Ann Bristow and Paul Roberts, a Garrett County business owner, outline the flawed work done under the Marcellus Shale Safe Drilling Initiative (MSSDI), which led to proposed regulations that cannot adequately protect the health of Marylanders.
The commissioners' letter states that 73 percent of the 400+ peer-reviewed scientific research on the effects of fracking have been published since January, 2013. Maryland's Institute for Applied Environmental Health (MIAEH) also concluded that the likelihood of negative public health impacts was "high" or "moderately high" in seven of eight areas studied. The latest poll in Maryland found 58 percent of Marylanders who know of fracking thought it would harm the state's environment.
For more information on the statewide campaign for a moratorium on fracking in Maryland: www.dontfrackmd.org.
Food & Water Watch mobilizes regular people to build political power to move bold and uncompromised solutions to the most pressing food, water, and climate problems of our time. We work to protect people's health, communities, and democracy from the growing destructive power of the most powerful economic interests.
(202) 683-2500
LATEST NEWS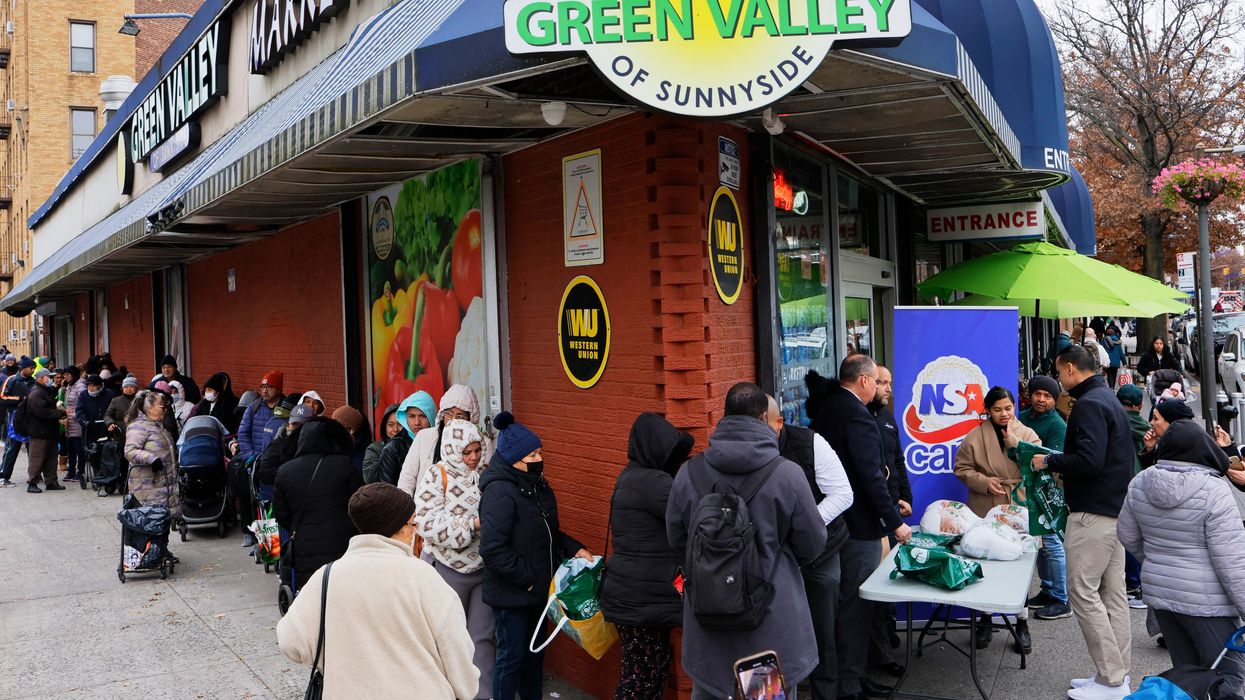 "Effective federal public policies over the previous few years were spectacularly successful in stemming U.S. hunger, but as many of those policies have been reversed, hunger has again soared," said one expert.
Highlighting the end of a yearslong trend of declining hunger in the United States due largely to federal policies like the expanded Child Tax Credit and universal school meals, a report published Wednesday details how the expiration of these programs has fueled a resurgence in food insecurity.
Hunger Free America's (HFA) 2023 National Hunger Survey Report found that "the number of Americans without enough food over a seven-day period was an average of 40% higher in September and October of 2023 than in September and October of 2021."
"Over that time period, the number of people without enough food increased from 19.7 million to 27.8 million nationwide," HFA noted, attributing the rise in hunger to the expiration of the expanded Child Tax Credit and universal school meals.
"Many federal benefit increases have either gone away entirely, or are being ramped down, even as prices for food, rent, healthcare, and fuel continue to soar," the advocacy group added.
Among the report's other findings:
The states with the highest rates of food-insecure children were Delaware (21.4%), Nebraska (21.0%), Texas (20.7%), Georgia (20.0%), Kentucky (19.7%), and Louisiana (19.7%);
Nationally, 9.1% of employed adults in the U.S. lived in food-insecure households during the three-year time period;
The states with the highest rates of food insecurity among employed adults were Arkansas (13.7%), Texas (13.4%), Louisiana (12.5%), South Carolina (12.5%), and Oklahoma (12.4%);
7.6% of older Americans, defined as people 60 years and older, lived in food-insecure households;
Louisiana had the highest rate of food insecurity among older Americans at 13.9%, followed by Mississippi (12.7%), the District of Columbia (12.6%), West Virginia (11.0%), and Oklahoma (10.4%); and
The states with the lowest rates of food insecurity were New Hampshire (6.1%), Minnesota (7.3%), Vermont (7.7%), Colorado (8.4%), and North Dakota (8.6%).
"This report should be a jarring wake-up call for our federal, state, and local leaders," HFA CEO Joel Berg said in a statement.
The new HFA report follows federal data released in November showing the U.S. child poverty rate more than doubled in 2022 compared to the previous year, thanks in large part to the expiration of the expanded Child Tax Credit. Under the policy—part of the American Rescue Plan signed into law by President Joe Biden in March 2021—eligible families received up to $300 per child each month.
However, the program expired at the end of 2021 as congressional Republicans and right-wing Democratic Sen. Joe Manchin of West Virginia opposed its extension. Manchin infamously argued that parents would use the money to buy drugs instead of food for their children.
Meanwhile, congressional Republicans last year blocked the extension of a pandemic-era policy under which public schools offered free breakfast and lunch to tens of millions of children.

"Effective federal public policies over the previous few years were spectacularly successful in stemming U.S. hunger, but as many of those policies have been reversed, hunger has again soared," Berg said on Wednesday. "At exactly the moment when so many Americans are in desperate need of relief, many of the federally funded benefits increases, such as the Child Tax Credit and universal school meals, have expired, due mostly to opposition from conservatives in Congress."
"Just as no one should be surprised if drought increases when water is taken away, no one should be shocked that when the government takes away food, as well as money to buy food, hunger rises," Berg added. "Our political leaders must act to raise wages and provide a strong safety net, so we can finally end U.S. hunger and ensure that all Americans have access to adequate, healthy food."
News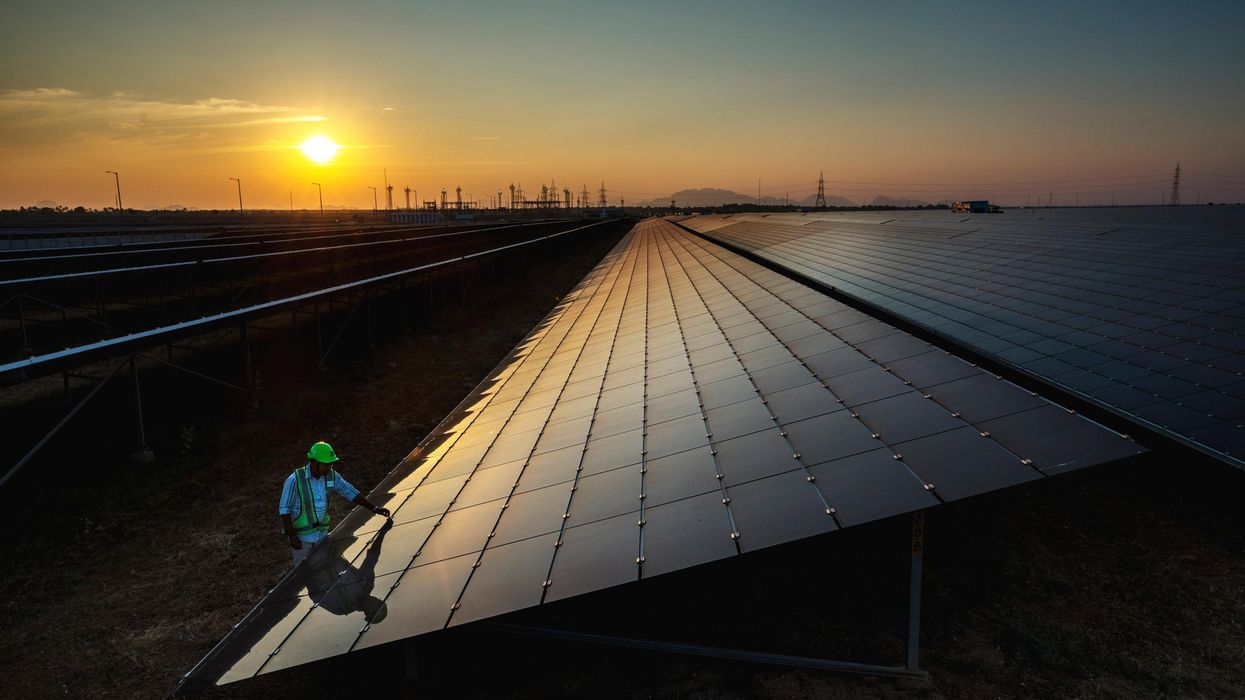 Recommendations include tripling renewable energy capacity by 2030, phasing out fossil fuels by 2050, and providing the Global South with the means to fund its energy transition.
As world leaders prepare to gather at the COP28 global climate talks next week in Dubai, 350.orgpublished a report Wednesday detailing how negotiators can draft a just and effective global transition to renewable energy.
One of the main agenda items at COP28 will be a worldwide target for renewable energy. Yet this target must be accompanied by a 2050 phaseout of fossil fuels and funds to speed the transition in the Global South, 350.org concluded.
"A renewable energy target at COP28 will only constitute a meaningful step towards climate justice if it is accompanied by a clear roadmap for implementation that includes equitable mechanisms and commitments in the financial and policy realms, as well as an urgent and equitable phaseout of fossil fuels," Andreas Sieber, 350.org associate director of global policy, said in a statement. "Without these, any agreement would represent a hollow, 'easy win' for the COP28 President Al Jaber, and risk allowing polluting countries to hide behind a renewables goal while continuing to emit fossil fuels."
"To achieve the proposed global renewable energy target by 2030, massive growth in financial investment into renewable energy is required in the Global South outside China, from both private and public sources."
The report, fully titled Power Up for Climate Justice: Financing and Implementing a 1.5°C-Aligned Global Renewables Target, also details how the target itself can be meaningful.
"For the global renewable energy target at COP28 to address global energy needs and redress fossil fuel dependency, it must include commitments to triple fair, safe, and clean renewable energy capacity by 2030 and deploy 1.5 terawatts per year thereafter, double energy efficiency by 2030, and completely phaseout of fossil fuels by 2050," said 350.org executive director May Boeve.
The report further argues that the target should be based on demonstrably effective technologies like wind and solar power.
"There is no room for dangerous distractions and unproven technologies such as Carbon Capture and Storage, nuclear energy, ammonia co-firing, which do not address the root causes of the climate crisis, and often cannot be implemented at scale," the report authors wrote.
They also emphasized the importance of providing poorer nations with the funds to scale up their renewable energy buildouts.
"To achieve the proposed global renewable energy target by 2030, massive growth in financial investment into renewable energy is required in the Global South outside China, from both private and public sources," Sieber said. "Barriers such as debt and the inequitable cost of capital in the Global South, significantly hinder investment in renewable energy."
Only $260 billion was invested in the Global South in 2022, the report notes, even though the International Energy Agency has said that $1.9 trillion is needed per year by 2030 in order to limit global heating to 1.5°C while providing energy to around 5 billion people—an amount of finance seven times 2022 levels.
The report offers several suggestions for how that funding can be realized, including canceling debt; sending the Global South $100 billion a year in concessional finance, providing it with $200 billion a year in grants; and channeling money away from fossil fuels by taxing profits, shifting subsidies and investments from fossil fuel projects to renewables, taxing wealth, issuing more Special Drawing Rights from the IMF, and using existing infrastructure funds.
The report comes at a crucial time for climate action. This year, 2023, is likely to be the hottest year in 125,000 years, and the U.N. concluded this week that current pledges put the world on course for 2.9°C of warming beyond preindustrial levels. But 350.org argues it's not too late to limit warming with ambitious action.
"The Paris Agreement is the landmark multilateral framework to stop climate change, and COP28—which includes the Global Stocktake of whether the world is on track to meet this target—is a pivotal moment to achieve its intended goal: limiting global heating to no more than 1.5°C," the report authors said.
News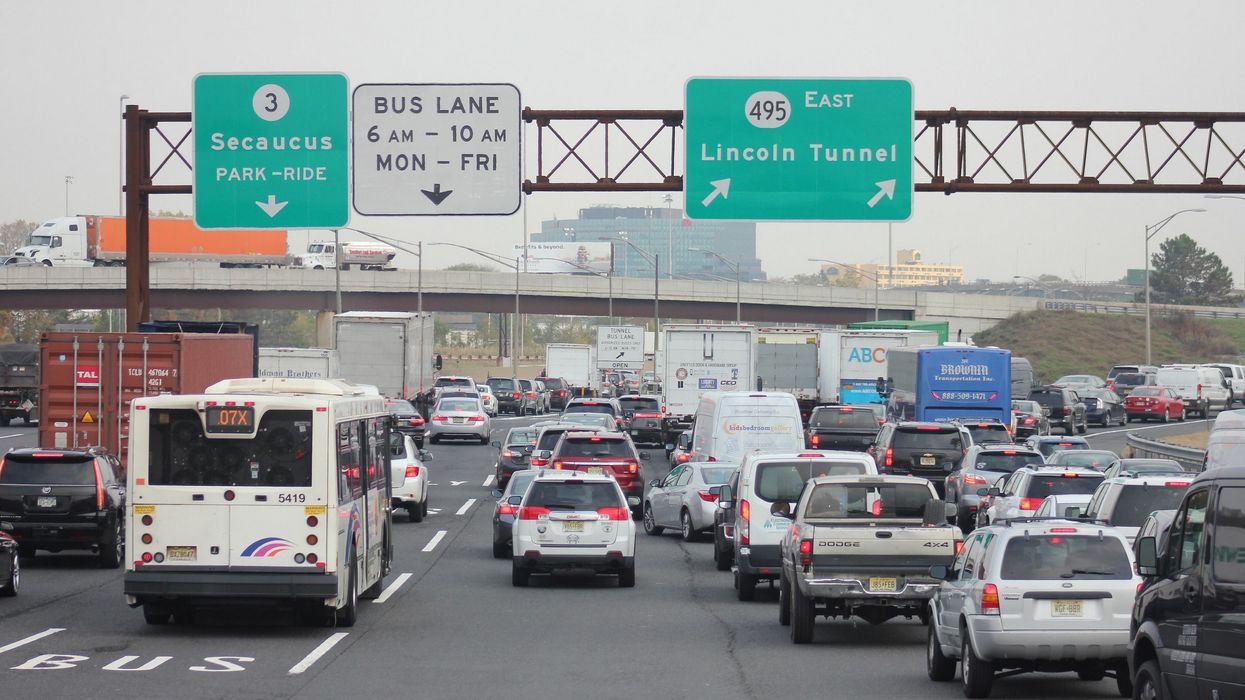 "The steps we take today to lower emissions will improve air quality and mitigate climate impacts for generations to come, all while increasing access to cleaner car choices," said Gov. Phil Murphy.
New Jersey on Tuesday joined eight other U.S. states in committing to phase out new gasoline-powered light-duty motor vehicles by 2035 as a key part of the fight against pollution and global heating—which is primarily caused by burning fossil fuels.
Democratic N.J. Gov. Phil Murphy and state Department of Environmental Protection Commissioner Shawn M. LaTourette announced that they're adopting the Advanced Clean Cars II (ACCII) Rule—developed by California authorities to achieve 100% new zero-emission vehicle sales in 2035—"setting the state on the road toward better air quality and cleaner choices for new car buyers while combating the worsening climate crisis."
The phaseout—which won't begin for a few years—is seen as a major boost for electric vehicles (EVs) and clean power in the state.
As Murphy's office explained:
The rule will take effect starting in model year 2027, providing time for auto industry transition and continued development of charging infrastructure and a more robust and cleaner electrical grid in New Jersey. It does not ban gasoline cars, nor does it force consumers to buy EVs. Rather, the rule will provide certainty to vehicle manufacturers, suppliers, utilities, and charging infrastructure companies to make the long-term investments that will be crucial to large-scale deployment of light-duty [zero-emission vehicles] and consumer choice.
"The steps we take today to lower emissions will improve air quality and mitigate climate impacts for generations to come, all while increasing access to cleaner car choices," Murphy said in a statement. "Indeed, together with my administration's continuing investments in voluntary electric vehicle incentives, charging infrastructure, and the green economy, these new standards will preserve consumer choice and promote affordability for hardworking New Jerseyans across the state."
LaTourette said that "cleaner cars and trucks mean cleaner air for our children and families, because the tailpipes of our own vehicles are a leading cause of poor local air quality."
"As New Jersey transitions to a zero-emission vehicle future, we will improve our quality of life and public health," LaTourette added. "At the same time, we will reduce climate pollutants from the transportation sector, the greatest source of planet-warming pollution in New Jersey and the nation."
Local Democratic leaders, green groups, and climate campaigners welcomed Murphy's announcement.
"As Newark continuously moves toward a healthier and more economically successful community, we welcome the Advanced Clean Cars II Rule, knowing it will reduce emissions that degrade our environment and cause respiratory problems like asthma," Newark Mayor Ras Baraka said.
"As the largest automobile transportation hub and energy generation center in the state, Newark has much to gain through this rule, through greater investment into [zero-emission vehicles], more jobs for city residents, and more availability of these vehicles for motorists," he added.
"This is a huge win not only for the environment, but for public health and the communities who suffer every day from the pollution from congested roadways."
Anjuli Ramos-Busot, director of the New Jersey Sierra Club, called the adoption of ACCII "a historic and monumental step in our transition toward a cleaner transportation sector, and carbon and co-pollutant emission reductions."
"This is a huge win not only for the environment, but for public health and the communities who suffer every day from the pollution from congested roadways," she added.
While the New Jersey Business and Industry Association opposes the adoption of ACCII, Richard Lawton, executive director of the N.J. Sustainable Business Council, welcomed the move, asserting that "consumers and companies are experiencing firsthand how EVs are cleaner, technologically superior, and less costly to operate and maintain than internal combustion engines."
"By accelerating the growth of the EV market, ACCII will spur continued investment and innovation in the transition to a clean energy transportation sector," Lawton added. "Thanks to this decision, New Jersey can look forward to increased economic development, more good-paying jobs, and cleaner air."
New Jersey joins California, Connecticut, Maryland, Massachusetts, New York, Oregon, Rhode Island, and Washington state in committing to adopt the ACCII rule.
Meanwhile at the federal level, the Biden administration earlier this year proposed a rule aimed at ensuring that as many as two-thirds of all new light- and medium-duty passenger vehicles sold in the U.S. by 2032 are EVs.
A report published last year by the American Lung Association concluded that, in addition to slowing global heating, a nationwide transition to zero-emission vehicles and renewable electricity would bring $1.2 trillion in public health benefits to the United States over the next 30 years.
News