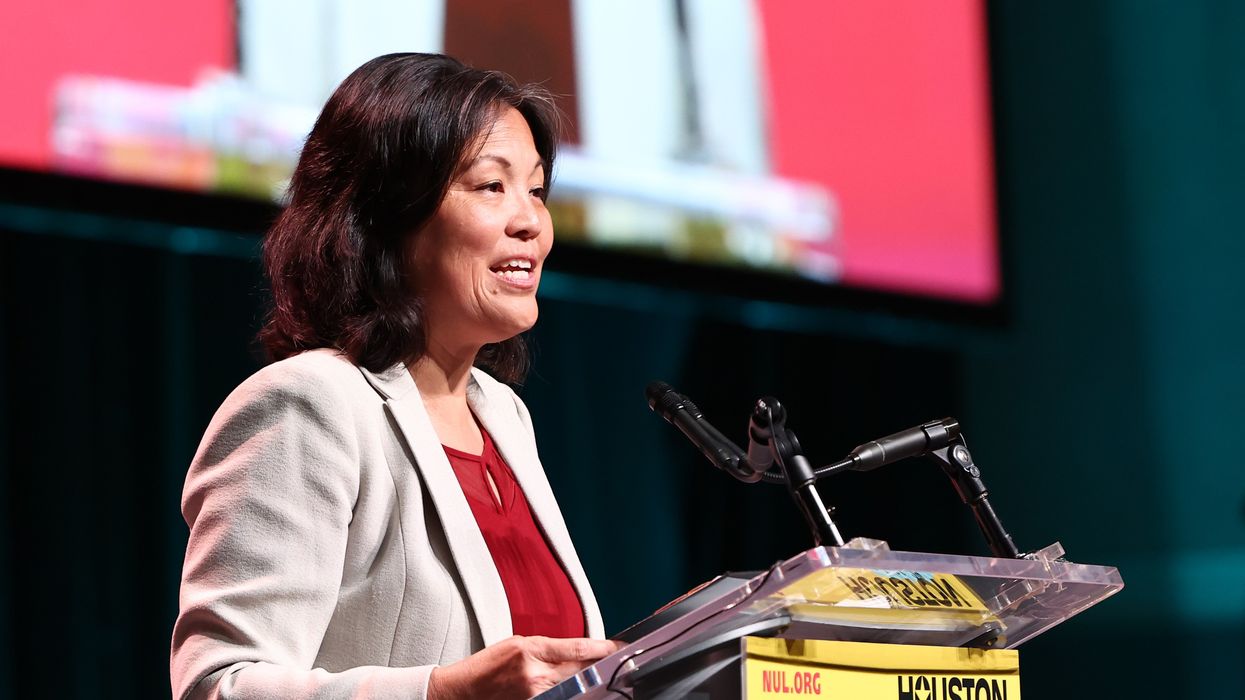 While welcoming the move, the head of the Congressional Progressive Caucus also urged the president to "not to consider the job done with this proposed rule, and pursue a relentless commitment to fair overtime pay."
Labor rights advocates within and beyond Congress celebrated on Wednesday after the Biden administration proposed a federal rule to restore and extend overtime protections to 3.6 million more salaried workers earning up to about $55,000 a year.
"For over 80 years, a cornerstone of workers' rights in this country is the right to a 40-hour workweek, the promise that you get to go home after 40 hours or you get higher pay for each extra hour that you spend laboring away from your loved ones," said Julie Su, who is acting secretary at the U.S. Department of Labor (DOL) because her nomination is stalled in the U.S. Senate.
"I've heard from workers again and again about working long hours, for no extra pay, all while earning low salaries that don't come anywhere close to compensating them for their sacrifices," she said. "Today, the Biden-Harris administration is proposing a rule that would help restore workers' economic security by giving millions more salaried workers the right to overtime protections if they earn less than $55,000 a year. Workers deserve to continue to share in the economic prosperity of Bidenomics."
Informed by 27 listening sessions, the rule would ensure most salaried workers earning less than $1,059 per week get overtime pay after 40 hours; clarify which administrative, executive, or professional employees should be overtime exempt; automatically update the salary threshold every three years in line with earnings data; and restore overtime protections for U.S. territories.
"This proposal is a crucial step in creating a stronger, fairer economy."
"Once again, the Biden administration is listening to workers' voices by taking these much-needed steps to strengthen overtime protections," declared Rebecca Dixon, president and CEO of the National Employment Law Project. "Ensuring this proposed rule is finalized and implemented as soon as possible is essential because workers don't deserve to wait any longer for the benefits this rule will provide."
Economic Policy Institute president Heidi Shierholz—a former DOL chief economist—similarly praised the proposal, saying that "EPI is encouraged to see this important regulation move forward. The overtime threshold has not been properly updated for nearly 50 years, robbing millions of workers of their basic wage and hour rights under the Fair Labor Standards Act."
"Currently, a worker making just $36,000 a year can be required to work 50- or 60-hour workweeks with no additional pay," she noted. "This proposal would ensure that employers have 'skin in the game' when they ask these workers to work long hours. As a result, these workers will either get those extra hours back or they will get higher wages when they do work long hours—whether through salary increases or by earning time-and-a-half overtime pay. This proposal is a crucial step in creating a stronger, fairer economy."
Congressional Progressive Caucus (CPC) Chair Pramila Jayapal (D-Wash.) also applauded the DOL's move to "advance this key pillar of worker justice" while stressing that "it doesn't go far enough," leaving "too many behind when a larger increase to the threshold could give millions more families breathing room in their budgets at a time when they desperately need it."
The congresswoman highlighted the CPC's "long history of advocating for bold action" under then-President Barack Obama in 2014, 2015, and 2016, as well as in the caucus' 2022 and 2023 executive action agendas under Biden, who was Obama's vice president.
"Our caucus understands this is about basic fairness: People should be paid for every hour they work," Jayapal emphasized. "It is also about economic justice: Workers should not be forced to donate their time over 40 hours per week to their employers, especially for those who work at wealthy corporations that are raking in record profits."
"The CPC called for the overtime threshold to be raised to $80,000 per year, which would cover 55% of workers at one-and-a-half times their regular pay—and grant fair pay to 26 million new workers," she added. "We urge President Biden not to consider the job done with this proposed rule, and pursue a relentless commitment to fair overtime pay, which would be a powerful demonstration of his pro-worker commitment. We cannot rest until we've exhausted every option to ease the burden on working- and middle-class people."
The current threshold of $35,568 was previously raised from $23,660 in 2019 under then-President Donald Trump—the current front-runner for the 2024 GOP presidential nomination. With only a few longshot Democratic challengers, Biden is expected to face the Republican nominee next year.
The Associated Pressreported Wednesday that "the new rule could face pushback from business groups that mounted a successful legal challenge against similar regulation that Biden announced as vice president during the Obama administration, when he sought to raise the threshold to more than $47,000."
Publication of the administration's notice of proposed rulemaking kicks off a 60-day public comment period. Jessica Looman, principal deputy administrator at the DOL's Wage and Hour Division, said Wednesday that "public input is essential as we consider the needs of today's workforce and industry demands, and we encourage continued stakeholder input during the public comment period."
"We are committed to ensuring that all workers are paid fairly for their hard work," she said. "For too long, many low-paid salaried workers have been denied overtime pay, even though they often work long hours and perform much of the same work as their hourly counterparts. This proposed rule would ensure that more workers receive extra pay when they work long hours."

News