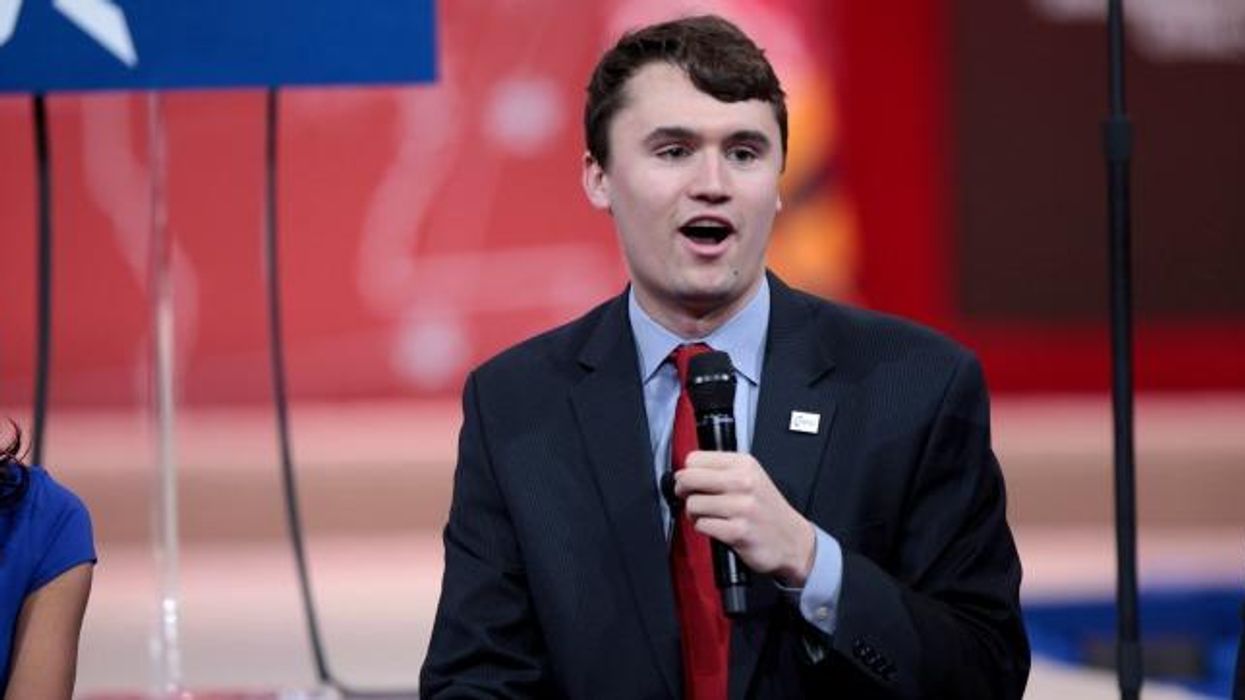 As the original shapers of right-wing media fade into history, Kirk seemingly hopes to raise his own profile in the conservative movement by leaning into increasingly hardcore far-right positions.
Rupert Murdochannounced on September 21 that he will be stepping down as chairman of Fox Corp. and News Corp. after a 70-year career poisoning global media with right-wing lies and hate. Fox is now in the hands of Lachlan Murdoch, whose track record at the company indicates he is even more grimly ideological than his father, serving as the main force backing Tucker Carlson's on-air white supremacy and pushing the network to support Donald Trump's 2020 election lies despite their financial consequences.
While Rupert Murdoch repeatedly made clear in his announcement that he does not intend to take his thumb entirely off the scale of his outlets, the question of who will now rise to prominence in the right-wing media ecosystem lingers. In just the last few years, the movement's founding fathers, including Roger Ailes, Rupert Murdoch, and Rush Limbaugh, have died or stepped away, leaving conservative media without a center of gravity. Lachlan Murdoch and other rising right-wing media figures are jockeying to lead the hate and misinformation machine into the next generation.
One of these figures is Turning Point USA's Charlie Kirk.
Since first appearing on the scene in 2012, when he had just barely graduated from high school, Kirk has built TPUSA into a reported $80 million media empire. The organization hosts numerous shows and has millions of followers across multiple social media platforms. Kirk himself is a Salem Radio host whose nationally syndicated program is broadcast in Limbaugh's old time slot.
Kirk has appeared at least 235 times on weekday Fox shows since 2018, though his last appearance was May 18, 2023, having since seemingly been blacklisted from the network.
TPUSA is purportedly an organization representing the next generation of conservative activists, with Kirk as their leading voice. But there is scant evidence that the group has a genuine connection with Gen Z, whose social and political attitudes are overwhelmingly liberal. An October 2021 internal presentation obtained by The Vergestated that only 15% of Turning Point's Instagram audience is actually student-aged. As the organization's own documentation states: "The content that is going out right now is completely missing our target audience." (TPUSA told The Verge that "the presentations in question contain multiple inaccuracies and erroneous data.")
As the original shapers of right-wing media fade into history, Kirk seemingly hopes to capture the attention of the next generation and raise his own profile in the conservative movement by leaning into increasingly hardcore far-right positions. On the very same day that Murdoch announced he was stepping down, Kirk took to his radio show and launched into a vile, racist attack on migrants on the southern border, declaring that a "foreign invasion" of "fighting-age young males who will end up raping many of your daughters."
He also specifically invoked and validated the white supremacist "great replacement" conspiracy theory.
"Obviously the Democrat Party supports this because of power," Kirk declared. "They smear us and slander us when we bring up the great replacement. The Castro brothers themselves have said that was the reason."
"You should be at fever-pitch anger," he concluded.
Kirk is only reflecting the lasting influence of Tucker Carlson, who brought the great replacement conspiracy theory to mainstream conservative audiences with the full backing of Lachlan Murdoch, who is now the sole chair of his family's global media empire.
But the Charlie Kirk of today would be unrecognizable to who he was yesterday. In his comprehensive history of the first 10 years of TPUSA, University of North Georgia rhetoric professor Matthew Boedy notes that as the organization has grown, Kirk has expressed increasingly extreme views, including on the topic of immigration.
In 2019, Kirk came under attack by the white nationalist "groyper" movement after he stated that "highly educated immigrants should get 'a green card' stapled to their U.S. college diplomas." This kicked off the so-called "groyper wars" in which followers of neo-Nazi Holocaust denier Nick Fuentes repeatedly confronted Kirk with racist and antisemitic dog whistles while he was on a speaking tour. Kirk ultimately penned an apologia on American Greatness, the same far-right blog that had launched the initial criticism.
Just recently, Fuentes bragged that his followers had infiltrated Turning Point USA and his one-time target had now adopted his messaging.
"I think in 2023, Charlie Kirk, all these others, they sound way more like me, today, than they sound like themselves four years ago," Fuentes said, before launching into an attack on Jewish people.
Kirk has also radicalized significantly against LGBTQ+ people.
In 2019, he posted a video of an exchange with an audience member labeled "CHARLIE KIRK TAKES DOWN ANTI-GAY EXTREMIST." In the video, the audience member condemned Kirk for accepting gay people in the conservative movement. Kirk defended himself and gay conservatives, asking, "What does what they do in their private life concern you so much?" and adding that if you do not embrace and love all people as Jesus did, "then you, sir, are not a conservative."
As Boedy points out, a TPUSA chapter guide from 2017 specifically instructs participants: "no talk about abortion, gay marriage, etc."
Since then, Kirk has become one of the most extreme voices singling out LGBTQ+ people for violence across the right-wing media.
But perhaps Kirk's biggest transformation has been on the role of religion.
Boedy tracks this transformation masterfully. As TPUSA was getting off the ground, Kirk criticized the conservative movement of decades past for evangelizing too much, claimed to promote right-wing values "through a secular worldview," and once told an audience that "he saw his job as the face of TPUSA as 'no different than' being a plumber or electrician, who likely don't tell everyone they met about their religion."
In 2021, Kirk launched the TPUSA Faith initiative, which he has used as a platform to increasingly lean into Christian nationalism. Since then, TPUSA Faith launched Freedom Life Church, a network of TPUSA-aligned congregations with the expressed goal "to change the trajectory of our nation by restoring America's biblical values."
In 2022, he declared, "There is no separation of church and state."
Kirk has also falsely claimed that the Founding Fathers based our system of government on the Book of Genesis, and speaks of the country as engaged in a "spiritual battle."
The Murdochs and Fox News are also directly responsible for helping Kirk launch his career. As TPUSA was just getting off the ground, Kirk started becoming a semi-regular guest on Fox News as the youthful face of opposing the Obama presidency, often hosted by Neil Cavuto. Kirk has appeared at least 235 times on weekday Fox shows since 2018, though his last appearance was May 18, 2023, having since seemingly been blacklisted from the network.
Like the rest of us, Charlie Kirk is getting older, but high school and college students are staying the same age. Conservative media across the board face an uphill battle if they want to win over Gen Z. So far, Kirk's strategic approach to inheriting the house that Rupert (and Rush) built has been to amplify the extremist fringes.
Jacina Hollins-Borges and Jack Wheatley contributed research to this piece.

Opinion