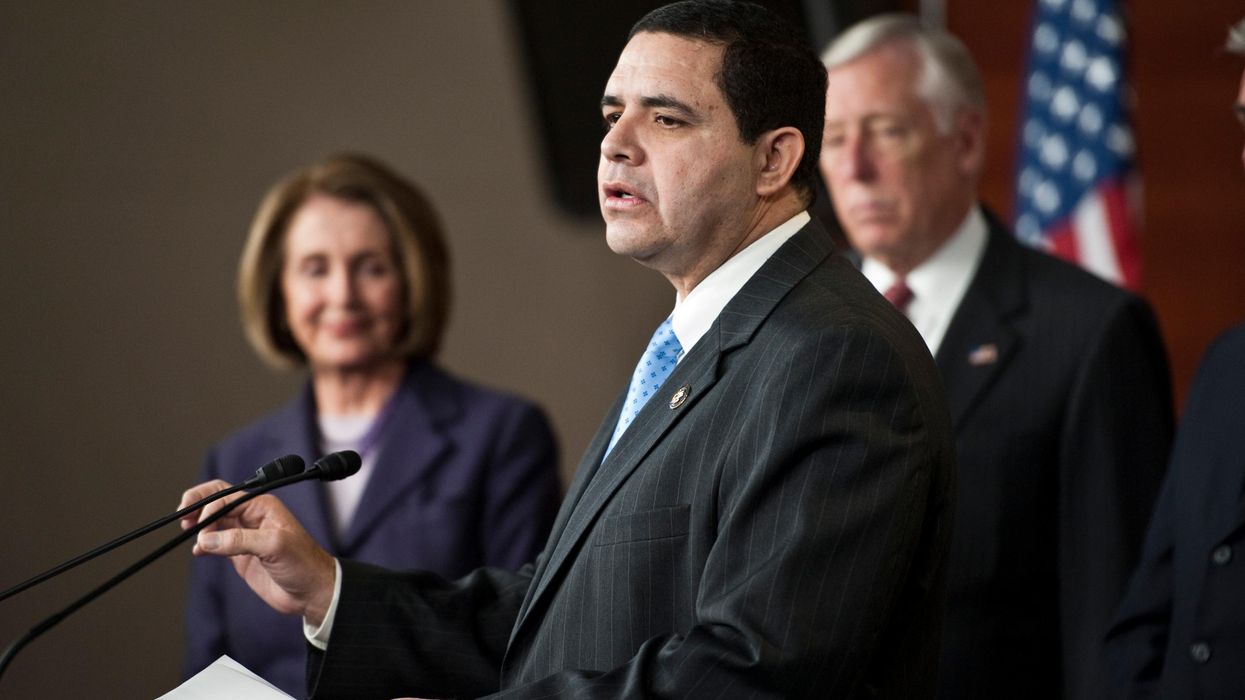 "It's galling to see leadership muster behind Cuellar, of all people at all times," said one advocate.
With well over a year before the 2024 election, and as a pro-choice immigration rights attorney is reportedly weighing a primary run, all four of the top Democratic leaders in the U.S. House on Thursday announced their support for anti-abortion rights Rep. Henry Cuellar in his reelection bid.
House Minority Leader Hakeem Jeffries (N.Y.), Democratic Caucus Chairman Rep. Pete Aguilar (Calif.), Minority Whip Rep. Katherine Clark (Mass.), and Assistant Democratic Leader Rep. James Clyburn (S.C.) all announced their endorsements of the right-wing Democrat, who has represented Texas' 28th district since 2005.
Former House Speaker Nancy Pelosi (Calif.) and former House Majority Leader Steny Hoyer (Md.) also voiced their support for Cuellar, who in addition to being the only anti-abortion rights Democrat in the House, has an "A" rating from the National Rifle Association indicating his anti-gun control views.
Wondering why the influential top Democrats are focusing on Cuellar's district at this point, advocate and political strategist Jen Bluestein called the leaders' move "galling" considering the ongoing Republican attacks on abortion rights across the country.
"If Cuellar's seen the light on women's freedom, he should say so," said Bluestein. "Loud enough for Texas women to hear."
The Texas Tribunenoted that Jessica Cisneros, a staunchly pro-choice progressive who came within 300 votes of Cuellar in the 2022 House primary and also challenged him in 2020, has not ruled out another primary run next year.
Last year's primary runoff between the two candidates came shortly after a draft opinion was leaked from the U.S. Supreme Court, indicating that the right-wing majority would soon overturn Roe v. Wade, as it did in June 2022.
Clyburn angered abortion rights advocates by stumping for Cuellar two days after the leak, telling reporters that as a "big-tent party," Democrats should welcome the congressman despite his views running counter to the party's agenda. He denounced progressives' objection to the Democrats' support for Cuellar as "sophomoric."
Rep. Alexandria Ocasio-Cortez (D-N.Y.), who was among the progressives who strongly supported Cisneros last year, said at the time that in the "extremely close race," Democratic leaders' decision to back Cuellar would "be the reason why" he won.
On Thursday, writer and Ventura County, California political candidate Heather Christena Schmidt tweeted that the Democrats' endorsement of Cuellar runs counter to the party's claim that it will fight for reproductive rights.
Politics1.comtweeted that the Democrats' announcement was "clearly designed to head off a third consecutive tough primary challenge from the left" before one is even announced.

News