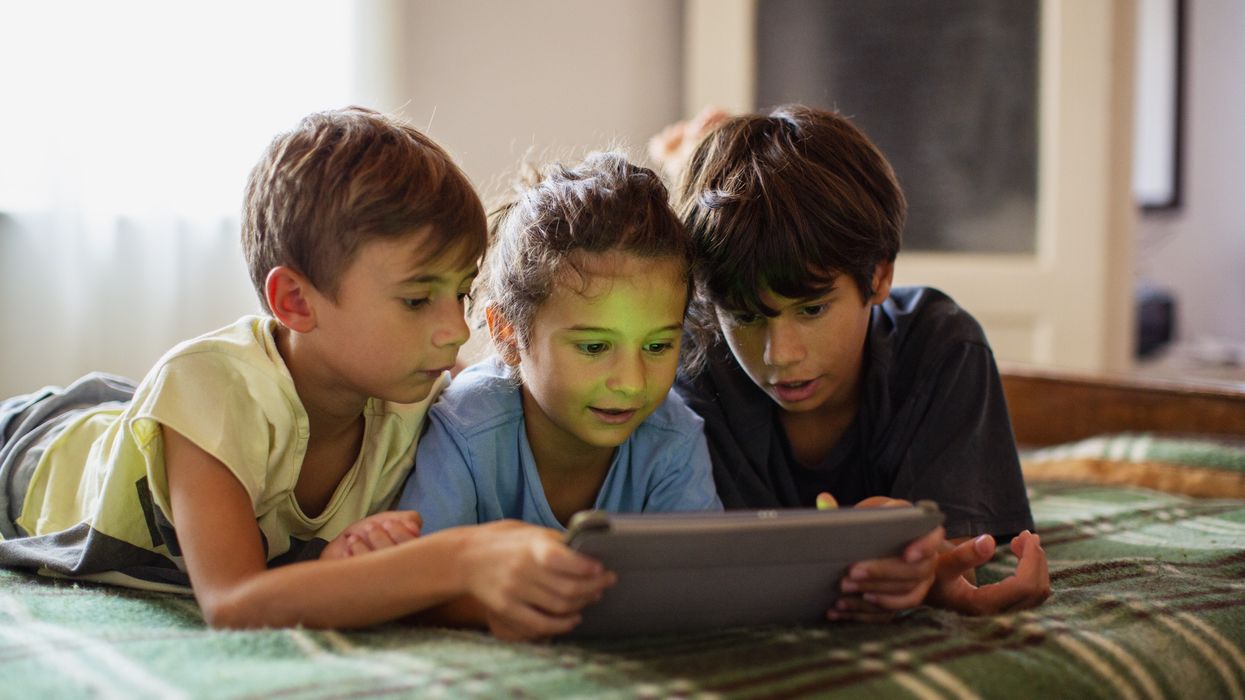 The White House also announced actions to protect children online, winning praise for the administration's "continued commitment to creating a safer, less exploitative digital media environment for young people."
As U.S. Surgeon General Dr. Vivek Murthy on Tuesday issued an advisory calling attention to "the growing concerns about the effects of social media on youth mental health," the White House unveiled federal actions to better protect children online.
"The most common question parents ask me is, 'Is social media safe for my kids?'," Murthy said in a statement. "The answer is that we don't have enough evidence to say it's safe, and in fact, there is growing evidence that social media use is associated with harm to young people's mental health."
"Children are exposed to harmful content on social media, ranging from violent and sexual content to bullying and harassment. And for too many children, social media use is compromising their sleep and valuable in-person time with family and friends," he continued. "We are in the middle of a national youth mental health crisis, and I am concerned that social media is an important driver of that crisis—one that we must urgently address."
Up to 95% of youth ages 13-17 use social media, and over a third do so "almost constantly," Murthy's advisory notes. While most platforms require users to be at least 13 years old, nearly 40% of children ages 8-12 also report using social media.
\u201cChildren and Screens applauds @Surgeon_General\u2019s leadership in advocating for a safety-first, evidence-based approach to children and #SocialMedia, and remains committed to urging policymakers and tech to enact better protections for #youth on social platforms.\u201d

— Children and Screens (@Children and Screens) 1684846635
"More research is needed to fully understand the impact of social media; however, the current body of evidence indicates that while social media may have benefits for some children and adolescents, there are ample indicators that social media can also have a profound risk of harm to the mental health and well-being of children and adolescents," the advisory warns.
"We must acknowledge the growing body of research about potential harms, increase our collective understanding of the risks associated with social media use, and urgently take action to create safe and healthy digital environments that minimize harm and safeguard children's and adolescents' mental health and well-being during critical stages of development," the document adds.
Along with detailing the benefits and pitfalls of young people using social media as well as the existing scientific research and which "critical questions remain unanswered," the advisory offers recommendations for policymakers, technology companies, researchers, parents and caregivers, and youth.
As The New York Timesreported Tuesday:
The advisory joins a growing number of calls for action around adolescents and social media, as experts probe what role it may play in the ongoing teen mental health crisis. Earlier this month, the American Psychological Association issued its first-ever social media guidance, recommending that parents closely monitor teens' usage and that tech companies reconsider features like endless scrolling and the "like" button.

The American Psychological Association was among top medical organizations that applauded Murthy's release, with Arthur Evans Jr., the group's CEO and executive vice president, saying that "we support the advisory's recommendations and pledge to work with the surgeon general's office to help build the healthy digital environment that our kids need and deserve."
The advisory was also welcomed by leaders at the American Academy of Family Physicians, American Academy of Pediatrics, American Medical Association, American Psychiatric Association, American Public Health Association, and National Parent Teacher Association.
"Social media use by young people is pervasive," said Susan Polan associate executive director of public affairs and advocacy at the American Public Health Association. "It can help them, and all of us, live more connected lives—if, and only if, the appropriate oversight, regulation, and guardrails are applied."
"Now is the moment for policymakers, companies, and experts to come together and ensure social media is set up safety-first, to help young users grow and thrive," Polan added. "The surgeon general's advisory about the effects of social media on youth mental health issued today lays out a roadmap for us to do so, and it's critical that we undertake this collective effort with care and urgency to help today's youth."
\u201cA notice of public health risk that has, for many decades, been most commonly associated with tobacco use has now been issued for social media. \n\nSocial Media Can Be a \u2018Profound Risk\u2019 to Youth, Surgeon General Warns\nhttps://t.co/GsPrxrdXxs\u201d

— Katie Day Good (@Katie Day Good) 1684852258
The White House on Tuesday announced actions at the departments of Commerce, Education, Health and Human Services, Homeland Security, and Justice "build upon" Murthy's advisory, including the creation of a task force as well as new regulations and resources.
President Joe Biden "has made tackling the mental health crisis a top priority, and he continues to call on Congress to pass legislation that would strengthen protections for children's privacy, health, and safety online," the White House said, noting that it is Mental Health Awareness Month.
"We applaud President Biden for today's executive actions and his continued commitment to creating a safer, less exploitative digital media environment for young people," said Josh Golin, executive director of the advocacy group Fairplay. "We are particularly excited by the plans to help schools use technology in ways that support students' learning and mental health."

"We urge Congress to follow the president's lead in putting the well-being of children ahead of Big Tech's profits by passing the Kids Online Safety Act and COPPA 2.0," Golin added, referring to bills also called KOSA and the Children and Teens' Online Privacy Protection Act.
Dozens of rights groups have expressed free speech and privacy concerns about KOSA along with three other bills backed by child safety advocates: the Cooper Davis Act, Eliminating Abusive and Rampant Neglect of Interactive Technologies (EARN IT) Act, and Strengthening Transparency and Obligation to Protect Children Suffering from Abuse and Mistreatment (STOP CSAM) Act.
When COPPA 2.0 was reintroduced earlier this month, Fight for the Future director Evan Greer—who has sounded the alarm about the other legislation—said that "we think federal data privacy protections should cover EVERYONE, not just kids, but overall this is a bill that would do some good and it does not have the same censorship concerns as bills like KOSA."

News