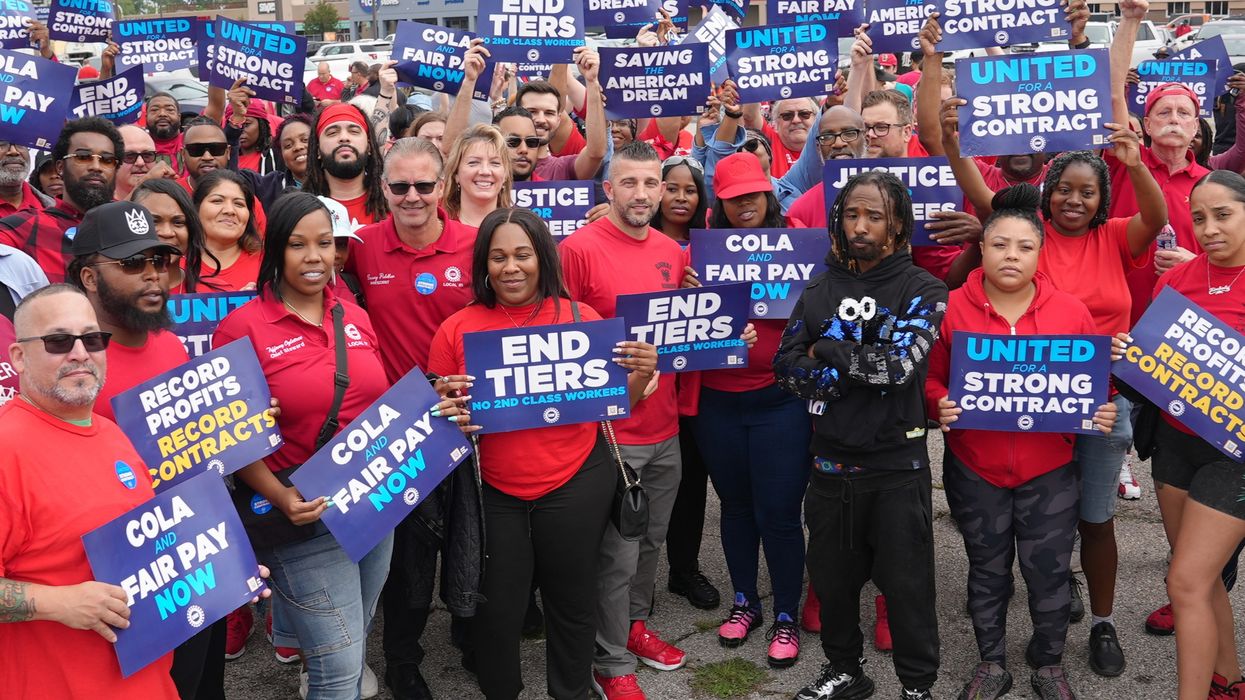 "Our message to the Big Three is simple: Record profits mean record contracts," said UAW president Shawn Fain.
Members of the United Auto Workers at General Motors, Ford, and Stellantis overwhelmingly voted to authorize a strike should negotiations for a new contract fail, the union announced Friday.
With some votes still left to be tallied, UAW said 97% of its participating members at the so-called Big Three automakers approved a strike if a deal can't be reached with management before the workers' current contract expires on September 14.
"Our union's membership is clearly fed up with living paycheck-to-paycheck while the corporate elite and billionaire class continue to make out like bandits," Shawn Fain, UAW's new president, said in a statement Friday. "The Big Three have been breaking the bank while we have been breaking our backs."
UAW is demanding a 40% pay raise for workers at the three automakers; the elimination of tiered wages and benefits; re-establishment of cost-of-living allowances, defined benefit pensions, and retiree healthcare; the right to strike over plant closures; increases in current retiree benefits; and more paid time off.
"Our members' expectations are high because Big Three profits are so high. The Big Three made a combined $21 billion in profits in just the first six months of this year," said Fain. "That's on top of the quarter-trillion dollars in North American profits they made over the last decade. While Big Three executives and shareholders got rich, UAW members got left behind. Our message to the Big Three is simple: Record profits mean record contracts."
Vincent Tooles, a worker at a Stellantis factory in Warren, Michigan, earns $20.60 per hour assembling Jeep Wagoneers. Tooles toldThe Washington Post he makes less hourly than his father did at the same company 20 years ago.
"What I would like to see change is just an increase in pay," he said. "I feel like we're the only industry probably in the country that has went down in pay over the last 30 years."
UAW said 147,000 members took part in the vote—46,000 at GM, 57,000 at Ford, and 44,000 at Stellantis, the parent company of 16 brands including Chrysler, Jeep, and Ram in the United States.
The UAW strike vote follows this week's ratification by an overwhelming majority of UPS Teamsters of a new contract—hailed by some as "historic" and slammed as a "sellout" by others—averting a potentially crippling strike. The UAW vote also comes as 85,000 Kaiser Permanente hospital and clinic workers are set to start voting Saturday on authorization of what could be the biggest healthcare strike in U.S. history over what advocates say are unfair labor practices.
News