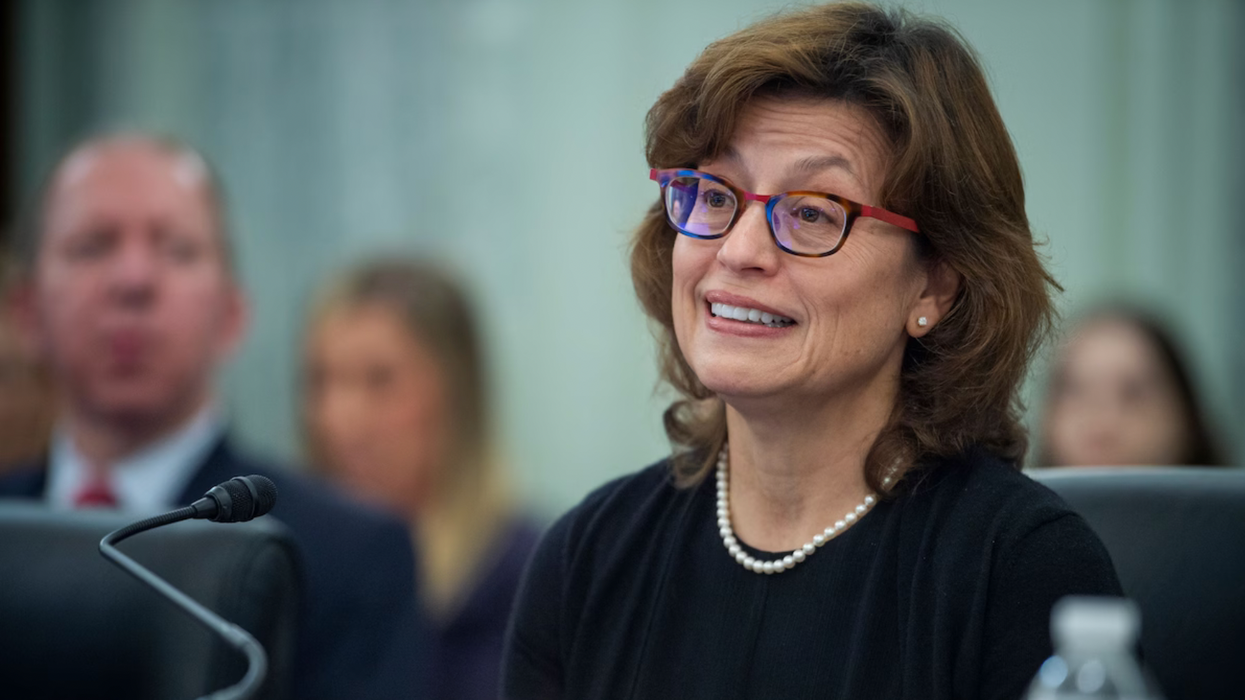 "We've waited for far too long for a fully functional FCC, and there's so much crucial work before the agency," said Jessica González of Free Press Action.
After nearly 1,000 days without a full panel of commissioners at the nation's top telecommunications regulator, the U.S. Senate on Thursday confirmed State Department policy adviser Anna Gomez to join the Federal Communications Commission.
Progressives expressed hope that the end of the deadlock will allow the FCC to swiftly reinstate net neutrality rules, end "digital redlining" by internet service providers (ISPs) that provide low-income communities with slower service for the same rates as wealthier customers, and take other steps to regulate the telecom industry fairly.
"We applaud the Senate for confirming Anna Gomez today, filling the final seat on the commission that's necessary to take action to restore net neutrality," said Maria Langholz, communications director for Demand Progress, referring to the Obama-era rules that kept ISPs from creating internet "fast lanes" for companies that could afford them and throttling other content. "Anna Gomez is eminently qualified to serve in this role, and will bring immense expertise."
As Common Dreamsreported in May when Gomez was nominated, the communications policy adviser has previously worked at the National Telecommunications and Information Administration, whose work addresses broadband and internet policy, in addition to lobbying work within the telecom industry.
U.S. Sen. Ed Markey (D-Mass.) said he was "proud" to have voted for Gomez, who he said will join a "Democratic majority that will make critical progress on the communications challenges communities across the country face."
"The challenges we face are too great for the FCC to face alone. We need laws on the books that empower regulators and protect consumers," said Markey. "I look forward to partnering with Chairwoman [Jessica] Rosenworcel, Commissioner [Geoffrey] Starks, and Ms. Gomez in our shared fight to undo the damage of the Trump-era FCC by restoring net neutrality protections and protecting consumers from another Republican assault on the free and open internet."
Gomez was confirmed six months after longtime consumer advocate Gigi Sohn withdrew her nomination for the commissioner seat following a smear campaign by telecom industry lobbyists and dark money groups which accused her of being insufficiently committed to expanding broadband in rural areas, among other claims.
After a deadlock that was the result of "concerted efforts by the phone, cable, and broadcast lobbies to hamstring the agency that oversees their businesses," said public interest group Free Press Action, "Gomez's confirmation restores the agency's full complement of commissioners and provides a tie-breaking vote on issues related to diversifying media ownership, promoting broadband affordability, and protecting the rights of internet users."
The group said Starks, who was renominated by President Joe Biden in May, must also be reconfirmed by the Senate by the end of the year or he'll be required to step down.

"We've waited for far too long for a fully functional FCC, and there's so much crucial work before the agency," said Jessica González, co-CEO of Free Press Action. "With Gomez now seated, the agency must start the process of reinstating its authority over broadband under Title II of the Communications Act. It must also complete its work to prevent digital discrimination and ensure that everyone in the United States has reliable and affordable broadband."
"The FCC has a mandate to increase the diversity of local media ownership and to ensure that broadband access is affordable, open, and reliable for all," she added. "We need all five FCC commissioners to get to work as soon as possible to achieve these laudable goals."
News