Senator Markey and Rep. Ocasio-Cortez Introduce Civilian Climate Corps for Jobs and Justice to Rebuild America
Puts 1.5 million Americans to work rebuilding America and strengthening nation's climate resiliency infrastructure.
WASHINGTON
Senator Edward J. Markey (D-Mass.) and Representative Alexandria Ocasio-Cortez (NY-14) today introduced the Civilian Climate Corps for Jobs and Justice Act, which establishes a Civilian Climate Corps (CCC) administered by the Corporation for National and Community Service within AmeriCorps. This legislation updates, modernizes, and expands the concept of the New Deal-era Civilian Conservation Corps: ensuring that all Americans who want to participate may do so, regardless of race, age, or gender; broadening the range of eligible projects; providing 21st century health and education benefits; deepening partnerships with unions; and preserving Tribal sovereignty.
A diverse and equitable group of 1.5 million Americans over five years will complete federally-funded projects that help communities respond to climate change and transition to a clean economy. Civilian Climate Corps work will reduce carbon emissions, enable a transition to renewable energy, build healthier and more resilient communities, implement conservation projects with proven climate benefits, and help communities recover from climate disasters.
"To combat the interlocking crises of the moment--climate change, racial injustice, a global pandemic, and income inequality--our government has an opportunity to equitably reimagine an idea from the past and tailor it to meet the present and the future," Senator Markey said. "The Civilian Climate Corps will provide an opportunity for millions of Americans from every walk of life to earn a good wage while serving their communities and training to transform our economy. Rebuilding and strengthening our neighborhoods--especially those that have been devastated by climate change and racist housing and health care policies--and supporting our labor forcemust be our highest priority in the months and years to come."
"The CCC would put 1.5 million young people to work strengthening our communities and preserving our lands - doing everything from remediating blight and maintaining trails to creating entirely new green spaces," Representative Ocasio-Cortez. "The program also provides the support needed to turn this work into a career path - including childcare, eldercare and tax-free educational grants to be used for student loan debt payments or higher education. Americans across the political spectrum support the CCC - now we need to ensure the program is funded at a scale to reach every community."
"The existential threat of climate change is our greatest challenge, but also our greatest opportunity to protect our natural heritage and build a just future for the generations to come,"
said Senator Bernie Sanders (I-Vt.).
"In the tradition of FDR's New Deal Civilian Conservation Corps - one of the most successful programs of the era that ensured jobs for millions of working people in maintaining our precious interior and conserving our wilderness - the Civilian Climate Corps for Jobs and Justice Act will create more than a million good-paying jobs, help us protect our natural resources, and move us forward in the fight against climate change. I am proud to work with my colleagues to see the CCC of our time renewed for the challenges ahead."
Original co-sponsors of this legislation in the Senate include Senators Alex Padilla (D-Cali.), Bernard Sanders (I-Vt.), Jeff Merkley (D-Ore.) and Kirsten Gillibrand (D-N.Y.)
Participants, or "corpsmembers," will receive education and training in coordination with local institutions, including labor unions, to facilitate career development in good union jobs. The corps will coordinate closely with existing local groups to help develop career pathways and union opportunities in new green sectors. Corpsmembers will receive compensation of at least $15 per hour, full health care coverage for participants and dependents, and support for critical services like transportation, housing and childcare. They will also be eligible for transformational tax-free educational grants of $25,000 per year of service (up to $50,000) to be used for student loan debt payments or higher education.
The Civilian Climate Corps will administer a large national service program and provide simplified and enhanced grants to scale up the existing network of over 130 local and state service and conservation corps. This unique combination of a federal program and partnerships with community organizations, all under the same umbrella, will leverage the network and local expertise of new and existing "Partner Corps" while at the same time rapidly developing a large number of service projects.
65 percent of voters
across the United States support the creation of the Civilian Climate Corps.
Support for the Civilian Climate Corps for Jobs and Justice Act:
"The Civilian Climate Corps Act is a model for bold, impactful governance to confront the climate crisis, and we applaud Senator Markey and Representative Ocasio-Cortez for their transformative vision to jumpstart a climate jobs revolution. A modern CCC would be uniquely positioned to supercharge our clean energy transition, prepare millions for good-paying careers, and strengthen American communities in every corner of the country. This proposal, which embraces Evergreen's recommendations for harnessing New Deal ambition for a 21st century CCC, ensures that the Corps will support working families, build community resilience, and lead a national workforce mobilization unseen since the New Deal era." --Jamal Raad, Executive Director, Evergreen Action
"The Civilian Climate Corps for Jobs and Justice Act forges a new, visionary era of civic collaboration in this country by empowering and employing Americans of all walks of life to rebuild and revitalize their communities. Right now, there are millions of us looking for good work, and so much good work that needs to be done. What if we ensured people had good jobs teaching, taking care of our elderly, and retrofitting hospitals, and expanding renewable energy instead of working a shitty job at Amazon making Jeff Bezos richer? Young people are ready and excited to get to work. That's why Sunrise is wholeheartedly supporting the CCC Act and will organize like hell to make sure it's passed as the first pillar of the
Green New Deal
." --
Varshini Prakash, Executive Director of Sunrise Movement
.
"From climate chaos, to rising
student debt
and economic inequality--the intersecting crises we face demand ambitious, equitable and creative solutions. Senator Markey's Civilian Climate Corps Act of 2021 would bring back a New Deal staple--this time with equity at its core--and put millions of young people to work ensuring that every single American family has access to clean air and water for generations to come. It's also really popular. Data for Progress polling finds that 65% of voters--including a majority of Democrats, a majority of Independents, and a plurality of Republicans--support the CCC."
-- Marcela Mulholland, Political Director at Data for Progress
"This visionary legislation will empower people across the country to get to work doing jobs that cut pollution and make our communities stronger. We urge Congress to pass it without delay." -- The Green New Deal Network
"Indivisible is thrilled to support the bold vision that Sen. Markey and Rep. Ocasio-Cortez have put forward with the introduction of the Civilian Climate Corps for Jobs and Justice Act. At a time when many communities are facing mass unemployment, racial injustice, and climate catastrophe, we need progressive solutions to overcome these crises. The Civilian Climate Corps rises to this challenge by creating a jobs program grounded in addressing the climate crisis, providing good jobs, and ensuring the program and jobs prioritize communities hit hardest by environmental injustice." -- Ann Clancy, Sr. Climate Policy Manager at Indivisible
"We commend Senator Markey's efforts to ensure action on climate is rooted in justice and equity. This legislation demonstrates that that country can address the climate crisis in a way that provides family-supporting jobs, health and educational benefits for underserved communities. "
Kirin Kennedy, Deputy Legislative Director at the Sierra Club
"The Civilian Climate Corps Act is the kind of bold legislation we need to meet the scale of the climate crisis. The Green New Deal hinges on a jobs and justice approach, and establishing a Civilian Climate Corps would be a big step forward in upholding a key pillar of the Green New Deal -- to provide green jobs that pay a livable wage, build pathways out of poverty, and transition to a green economy." -- Alexandra Rojas, Executive Director of Justice Democrats
"I am hopeful today to see the introduction of the Civilian Climate Corps bill. A program that creates good paying jobs by investing in people is but a small taste of what the Green New Deal can deliver. If we ensure that Black and Indigenous communities are prioritized for both the jobs and the environmental remediation, then we are moving towards true climate justice." -- Colette Pichon Battle, Esq., Executive Director of the Gulf Coast Center for Law & PolicyMovement for Black Lives Leadership Team
"Mid-Ohio Valley Climate Action is proud to endorse the Civilian Climate Corps for Jobs & Justice Act because we know that it's going to take all of us working together, with strong public investment, to begin to address the climate crisis. The climate crisis impacts every facet of life, so folks from all walks of life must come together with funding and resources provided by the federal government we fund to meet the greatest challenge humanity collectively has ever faced." -- Eric Engle, Chairman of Mid-Ohio Valley Climate Action
"In the face of our worsening climate crisis, we know we will need millions of workers across the country working on projects to both mitigate and adapt to our changing climate. The Civilian Climate Corps for Jobs and Justice Act will provide the backbone of that workforce, training workers to take on the jobs that are made necessary by the scale of this crisis. We look forward to working with Senator Markey and Representative Ocasio-Cortez to pass this legislation and to move us forward to truly confronting the climate crisis." --
Mitch Jones, Policy Director at Food & Water Watch
"This brings the Green New Deal home. It shifts the conversation from two degrees celsius and 13-figure budget bills to projects people can actually see and be a part of. This is our path to national unity--people from all walks of life standing in line at their local employment office, ready to roll up their sleeves and get to work on projects that will make their communities more resilient. We won't beat back climate denial and apathy by hurling statistics at our neighbors, we must demonstrate what we are fighting for. When people work together on real projects, they spend less time on abstract debates." -- Kaniela Ing, Climate Justice Campaigns Director.
"A Civilian Conservation Corps for Jobs and Justice would not only launch effective programs to combat the climate emergency, but would also inspire and train corps members toward lifelong advocacy for justice." -- Allen Johnson, Coordinator, Christians For The Mountains
"People across Iowa: Black, white & Latino, young and old, from our rural and urban areas alike, are ready to roll up our sleeves and get to work. For decades we have seen corporate consolidation send jobs and farms out of our towns and leave our communities crumbling. That's why we support the Civilian Climate Corps for Jobs and Justice Act - it is the kind of investment into jobs, infrastructure, and our communities that meets the scale of the problems we face." -- Barb Kalbach, a 4th Generation Family Farmer, nurse, and member of Iowa Citizens for Community Improvement
"The CCC rightly recognizes the importance of carbon-sequestering regenerative farming and ranching, urban farms and gardens, and local food systems, for climate mitigation and resilience. With food and farm workers drawing the lowest median wage of any sector, the CCC's $15/hour minimum wage and right to organize would be a significant step towards economic justice," -- Alexis Baden-Mayer, political director of the Organic Consumers Association and US representative of Regeneration International.
"The original New Deal CCC had an enormous impact on West Virginia. Many of their projects are still in use today and the countless West Virginians who built them were glad to get the work to support their families. This new Civilian Climate Corps will address this century's massive challenge of keeping our planet livable for future generations while again providing much needed jobs for communities that otherwise are being left behind." -- Gary Zuckett, Executive Director of WV Citizen Action
"The climate crisis demands that our government use all the tools available to invest in and transform our society for the better. This transition to a better future offers massive opportunities to address the intersecting nature of our environmental, economic, and social crises. Senator Markey's "Civilian Climate Corps for Jobs and Justice Act" is the kind of once-in-a-generation, planet-saving investment we need to confront the climate crisis and improve peoples' lives, livelihoods, and futures. As we transition off fossil fuels, we need more programs like the Civilian Climate Corps that create good, high-quality jobs with access to unions and support workers and communities that currently sit at the frontlines of pollution and the climate crisis." -- Ashley Thomson, Greenpeace USA Climate Campaigner
"With increased severity and frequency of storms, the US South is being disproportionately impacted by climate change. Hometown Action is already seeing these impacts first hand in rural Alabama. We're endorsing the Civilian Climate Corps as an important component of economic recovery to get Alabama's workers the good jobs they deserve to replace those in extractive, exploitative industries of the past. And so much of our current building stock and infrastructure is outmoded and suffering from deferred maintenance but a new CCC can be mobilized to improve the health, resiliency, and sustainability of our communities while mitigating the impacts of climate change." -- Kathleen Kirkpatrick, Climate & Strategic Initiatives Director, Hometown Action
"We thank Senator Markey (D-MA) and Congresswoman Ocasio-Cortez for their leadership in advancing 'The Civilian Climate Corps for Jobs and Justice Act.' The provisions of this act assist rural communities with addressing climate change while restoring economic opportunity by creating jobs, assisting farmers and ranchers, and supporting local and regional food systems. This approach is a win-win for rural America." -- Joe Maxwell, President of Family Farm Action
Everyone in our country should have access to dignified work, food for their families, clean air to breathe, and clean water to drink. But in the midst of this pandemic, too many people are struggling to pay rent and put food on the table, all while the wealthy few get richer. The Civilian Climate Corps will take significant steps towards addressing the crisis we face, by creating millions of jobs with good wages and making strong investments in under-resourced communities. Connecticut needs a Civilian Climate Corps!" -- Ann Pratt, Connecticut Citizens Action Group.
"AMC applauds the introduction of the Civilian Climate Corps for Jobs and Justice Act and Senator Markey's leadership to scale up the nation's service corps network. This kind of investment would develop the skills and workforce needed for projects that will create healthier and more resilient communities, improve equitable access to the outdoors, and take on some of today's most challenging needs to address climate change and make the clean energy transition." -- John Judge, President and CEO of the Appalachian Mountain Club
"The Civilian Climate Corps updates one of the New Deal's most successful programs to jump start a climate transition and dramatically improve economic opportunity and racial equity. The CCC is exactly the kind of bold and innovate program we need to both address the climate crisis and create badly needed good union jobs for everyone in the U.S. that wants to be part of the emerging green economy." -- Robert Kraig, Executive Director of Citizen Action of Wisconsin.
"The CCC is a huge win for the goals of the youth climate justice movement. By centering environmental justice, workers' rights, education, and renewable infrastructure, this bill will help us mitigate the climate crisis and build a safer, greener, more equitable future." -- Future Coalition
"Corazon Latino supports the Civilian Climate Corps for Jobs and Justice Act, recognizing it as a key equity-focused policy to protect Madre Tierra and to ensure healthier communities, a green economy, and community-focused career development while our nation transitions to clean energy. We applaud Sen.
Ed Markey
for driving this opportunity and bringing environment, social justice and labor rights into the heart of this Act." --
Felipe Benitez, founder and executive director of Corazon Latino
"Latinos and all frontline leaders are passionate and engaged in creating environmental liberation for our communities. The Civilian Climate Corps (CCC) creates opportunities for all to build healthier and resilient communities through democratic, youth-led decisionmaking and powerbuilding. By prioritizing frontline communities and historically underserved populations, leveraging local knowledge creating pathways into good union jobs, this legislation facilitates environmental justice and builds access to new green sectors. For Latinos and other communities of color, this is particularly crucial, given their under-representation in a number of clean energy job sectors." -- GreenLatinos
"The climate crisis requires big and bold government interventions and the Civilian Climate Corps is a clear example of how we can put people to work while addressing the issues that climate change will continue to create. Communities are already seeing drastic impacts from 100 year floods, creeping sea level rise, rampant wildfires, droughts and freak snow storms like what we saw in Texas this past February. The CCC plan gives us a blueprint to solving the interconnected crises of climate change, racial injustice and income inequality by giving millions of people the opportunity to earn a good wage while helping be part of solutions our communities desperately need." -- Dianne Enriquez, Campaign Manager for Climate and Housing at Center for Popular Democracy
This legislation is endorsed by
: Evergreen Action, Sunrise Movement, Data for Progress, Green Latinos, Green New Deal Network, Indivisible, Sierra Club, Service Employees International Union, Gulf Coast Center for Law & Policy, Movement for Black Lives, League of Conservation Voters,
350.org
, Association of Flight Attendants-CWA, Communications Workers of America, National Domestic Workers Alliance, Common Defense, People's Action, NDN Collective, United for Respect,
Center for Biological Diversity
, United We Dream Network, Grassroots Global Justice Alliance Hometown Action, Progressive Leadership Alliance of Nevada, Mid-Ohio Valley Climate Action, Food & Water Watch, Climate Justice Alliance, Christians For The Mountains, Iowa Citizens for Community Improvement, WV Citizen Action, Greenpeace USA, Labor Network for Sustainability, Justice Democrats, Appalachian Mountain Club, Working Families Party, Family Farm Action, Organic Consumers Association, Connecticut Citizens Action Group, Appalachian Mountain Club, Citizen Action of Wisconsin, Future Coalition, Corazon Latino, Rights & Democracy, Indigenous Environmental Network, and Center for Popular Democracy.
LATEST NEWS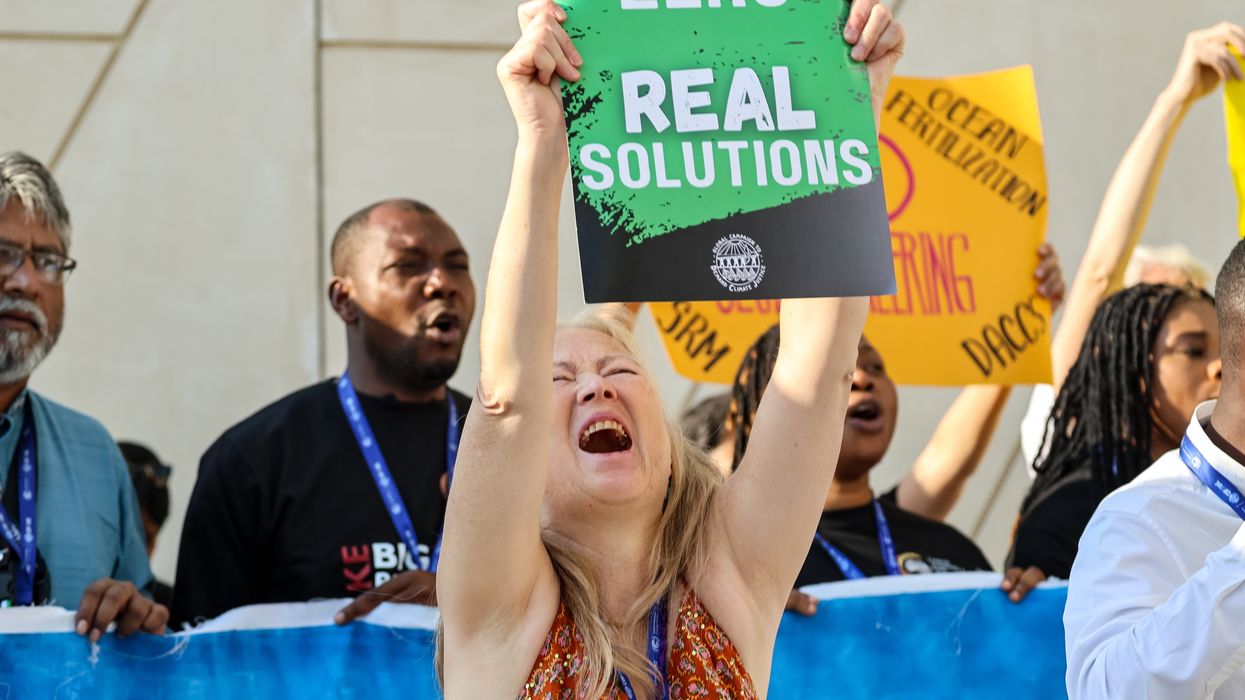 "The force with which the fossil fuel industry and their allies are coming to Dubai to sell the idea that we can 'capture' or 'manage' their carbon pollution is a sign of their desperation," said one advocate.

Leaders at the 28th United Nations Climate Change Conference in Dubai have claimed over the past week that the summit is centering issues that impact the Global South, but an analysis released Friday helped illustrate how difficult it's been for advocates from some of the most climate-impacted countries to make their case for far-reaching action—as the carbon capture and storage sector has far more representation at COP28 than many vulnerable nations.

The Center for International Environmental Law (CIEL) reported to The Guardian that at least 475 lobbyists representing carbon capture and storage (CCS) interests are attending COP28.
Many of the lobbyists represent companies that have developed CCS projects against the advice of climate and energy experts who say a phase-out of all fossil fuel emissions is needed to limit planetary heating to 1.5°C, or as close to it as possible.
More than 2,400 fossil fuel industry representatives are at the meeting, which is scheduled to end December 12. CCS has some of the most prominent representation at COP28, according to The Guardian.

"Thousands of fossil fuel lobbyists are roaming these halls alongside their peers, advancing dangerous distractions like carbon capture and storage... while communities enduring the greatest impacts from the climate crisis are having our voices silenced."

Representation for countries that are already facing climate catastrophes including prolonged drought, famine, and sea level rise has been dwarfed in comparison, with 366 people attending on behalf of Somalia, 79 representing Tonga, 56 representing the Solomon Islands, and just seven in attendance for Eritrea.
The CCS bloc also outnumbers Indigenous representatives by 50%, reported The Guardian.
"Thousands of fossil fuel lobbyists are roaming these halls alongside their peers, advancing dangerous distractions like carbon capture and storage, trying to block a fast, fair, forever fossil fuel phase-out—while communities enduring the greatest impacts from the climate crisis are having our voices silenced and our lives treated as a worthy sacrifice for profit," Blessed Chidhoni of the Global Campaign to Demand Climate Justice told the outlet.
Lili Fuhr, director of CIEL's fossil economy program, said COP28 has invited more than 470 lobbyists to speak out in favor of "the fossil fuel industry's lifeline and... their latest excuse and delay tactic."
As Common Dreams reported this week, a recent draft of the Global Stocktake that delegates are working to finalize showed how powerful fossil fuel-producing countries are pushing for an agreement that would allow "abated" emissions—those that are "captured" by CCS technology and stored underground or beneath the seabed or "utilized" to make fertilizers and other products.
"The force with which the fossil fuel industry and their allies are coming to Dubai to sell the idea that we can 'capture' or 'manage' their carbon pollution is a sign of their desperation," said Fuhr. "We must not let an army of carbon capture lobbyists blow a gigantic loophole into the energy package here at COP28."
As Common Dreamsreported in May, energy-intensive carbon capture technology would increase energy consumption at fossil fuel-fired plants by 20% while also worsening environmental injustice by subjecting people in the surrounding area to increased levels of smog, benzene, and formaldehyde pollution.

Critics say CCS is far from a solution to the fossil-fueled planetary heating crisis, as policymakers at COP28 have proposed setting up infrastructure capable of capturing just 1.2 gigatonnes of carbon emissions—only 3% of global emissions in 2022.
"CCS is an unproven technology and a dangerous distraction, which enables big polluters to keep destroying communities and the environment," said Climate Action Network International.

In an analysis last month, CIEL noted that the U.S. "is the epicenter of the global push for CCS, with a long history of using captured carbon dioxide for enhanced oil recovery and extraordinary subsidies for carbon capture."

"The accelerating efforts to build ever more dangerous, unnecessary, and expensive infrastructure offshore should be abandoned, and subsidies for CCS should be eliminated," said Steven Feit, CIEL's senior attorney and legal and research manager.

One major U.S. CCS project, Petra Nova, shut down in 2020 after capturing 3.8 million tons of carbon dioxide emissions in its first three years. Developers had projected it would capture 4.6 million tons.

Another project in Western Australia—the largest carbon capture and utilization/storage endeavor in the world, missed its capture targets by about 50% in the first five years, and The Guardianreported this year that emissions have now risen by 50%.
"CCS's track record is riddled with failures and warning signs about the technology's feasibility and safety," said Nikki Reisch climate and energy program director for CIEL. "CCS is a false promise that only helps to keep fossil fuel facilities running and oil and gas fields pumping."

News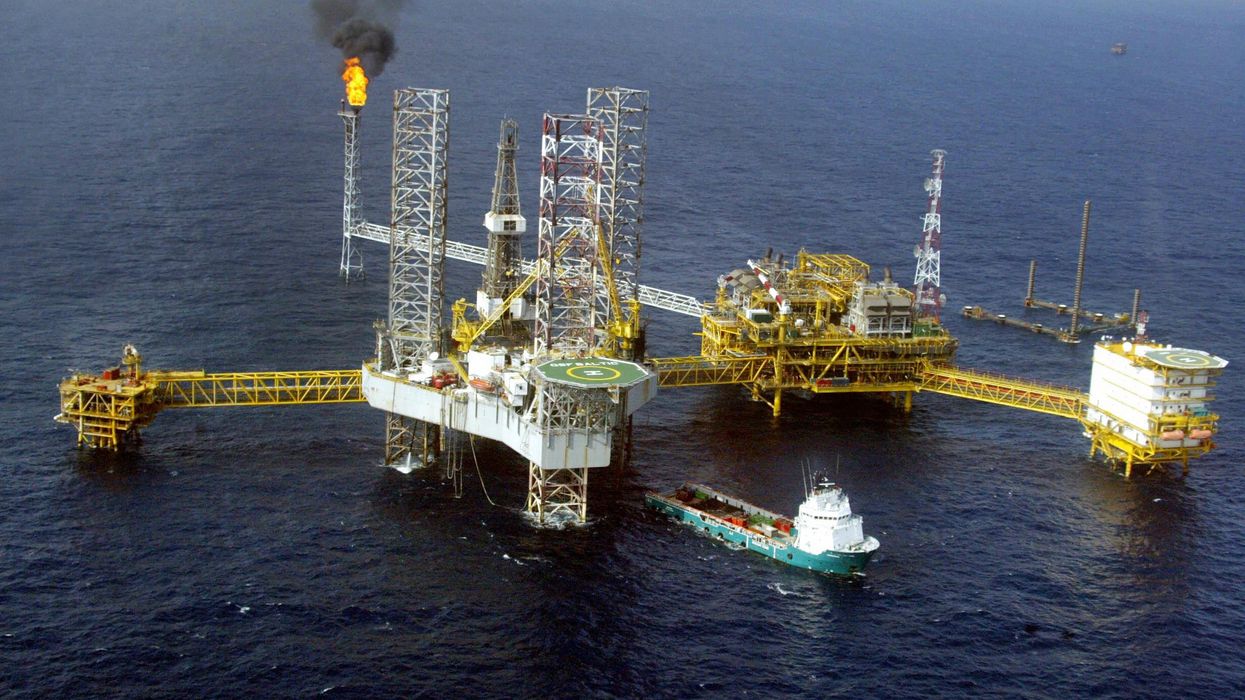 "If we are to truly start phasing out fossil fuels," said a report co-author, "we must tackle the economic and political weight of the fossil fuel majors."
Over a week into the United Nations Climate Change Conference, a pair of groups on Friday unveiled a detailed report to argue that taking control of fossil fuel companies is necessary to accelerate the renewable energy transition—and explaining exactly how to do it.
"The climate crisis is accelerating right before our eyes," reads the blueprint from 350.org and the Multinationals Observatory. "If we wish to minimize the global rise in temperatures, not only do we need to stop exploiting new fossil fuel deposits but we also need to reduce gas and oil production by 5% and coal by 8% every year until 2050."
The report—titled TotalEnergies: This Is What a Total Phaseout Looks Like—explains that "after decades of denial and overt obstruction, big oil and gas multinationals like TotalEnergies are now choosing to adopt a more subtle, and seemingly more constructive, narrative on the climate question. They've claimed to whoever would listen (mostly successfully when it comes to political leaders) that although they were definitely part of the problem, they were also part of the solution, if not the solution itself."
"As the climate crisis rages on, it is urgent that we dare to imagine a world without fossil fuels—and this must start with thinking through how to concretely reclaim control over fossil fuel giants."
Clémence Dubois, 350.org's associate director of global campaigns and coordinator of the report, used the U.N. summit as an example, noting Friday that "a record number of close to 2,500 fossil fuel lobbyists, including CEO of TotalEnergies Patrick Pouyanné, are at COP28 this year to push this version of the story."
Some world leaders have rejected Big Oil's claims—Christiana Figueres, former executive secretary of the U.N. Framework Convention on Climate Change, said this summer that "what the industry is doing with its unprecedented profits... has changed my mind" about companies being part of the solution—but many others continue to buy into it.
Fossil fuel giants have "hugely monopolized the climate action narrative—aiming to neutralize and undermine the arguments—while also managing to secure a large share of the funding to finance the development of the technological and market 'solutions' they're pushing," the report says. "They've also bought up the smallest players in the renewable and energy transition sector and are occupying more space in climate-related policies at a global level, within or around the margins of U.N. conferences. With an oil boss as president of COP28, we are witnessing the culmination of this process."
Abu Dhabi National Oil Company CEO Sultan Ahmed Al Jaber has long been a controversial pick for COP28 president but has come under fire recently for allegedly using his role to pursue oil and gas deals and falsely declaring on Sunday that "there is no science out there, or no scenario out there, that says that the phaseout of fossil fuel is what's going to achieve 1.5°C," a reference to the Paris agreement's more ambitious 2100 target.
Dubois asserted Friday that "as the climate crisis rages on, it is urgent that we dare to imagine a world without fossil fuels—and this must start with thinking through how to concretely reclaim control over fossil fuel giants that have become too harmful, and what that looks like."
Using TotalEnergies as a case study, the report stresses that the process "must be based on the following three foundations—a nonnegotiable, rapid exit from fossil fuels; the participation of TotalEnergies' employees to ensure a fair and inclusive transition (so no one is left behind); and finally, democratic conduct and supervision in conjunction with the scientific community, all affected stakeholders, and all citizens."
"Going down the route of regulation was often disappointing and ineffective," but "we could still consider pushing further down this road as a way of diverting the current trajectory of TotalEnergies, its partners, and those who fund its activities," the document notes. Doing so would involve serious climate, financial, and tax regulations; changes to lobbying policies and competition law; and price controls.
"Another complementary route to change would be to transform the company's strategic direction and governance from the inside, so that they reflect a wider set of interests and objectives that go beyond profitability and return on investment for shareholders, starting of course with a key goal of rectifying the climate crisis. This is what we could call TotalEnergies' democratization roadmap," the report details.
The publication then offers a third route—nationalization—stating that "there's no doubt that taking public control seems like the first crucial step in releasing TotalEnergies from the stranglehold of the financial markets, reducing its capacity for harm, and imposing a new trajectory to exit from fossil fuels in a transparent and democratic way."
Nationalizing the French multinational would require action from the nation's Parliament. The report points out that "this law could go beyond TotalEnergies to cover other French companies that own or exploit fossil fuel deposits and could include supplementary provisions to ban fossil fuel assets from being held as private property and forbid companies operating under French law from being involved in developing or exploiting new fossil fuel sources."
The document also acknowledges that national control "does not in itself guarantee democratic supervision and decisions that will lead the company in the 'right direction,'" especially "if the state itself is not democratic or does not have structures in place to democratically control and guide these public companies."
"Acquiring TotalEnergies is therefore only the first step," the document emphasizes, "and must be followed by at least two further steps—democratizing governance and operational management and, at least initially, transforming the company into a public, industrial, commercial institution with a clear mission to exit from fossil fuels."
"We cannot wait for fossil fuel companies to be willing to change by themselves."

The report also envisions a TotalEnergies takeover as part of a broader movement that could start at the European level and "then be gradually rolled out to private multinationals headquartered in North America and elsewhere to publicly owned oil companies, including some (like in Latin America) that have been public organizations with social objectives at different times in their history."
Report co-author and Multinationals Observatory co-founder Olivier Petitjean said Friday that "with this report, we want to open a debate on an idea which may seem radical but which is also, in a way, a truism: If we are to truly start phasing out fossil fuels, we must tackle the economic and political weight of the fossil fuel majors."
"We cannot wait for fossil fuel companies to be willing to change by themselves," Petitjean argued. "Global heating and its impacts are accelerating, just as war and pandemics have done, and this could be a trigger for change, with previously unthinkable scenarios quickly becoming credible or even unavoidable. We want to challenge political leaders to imagine them, and to implement them."

News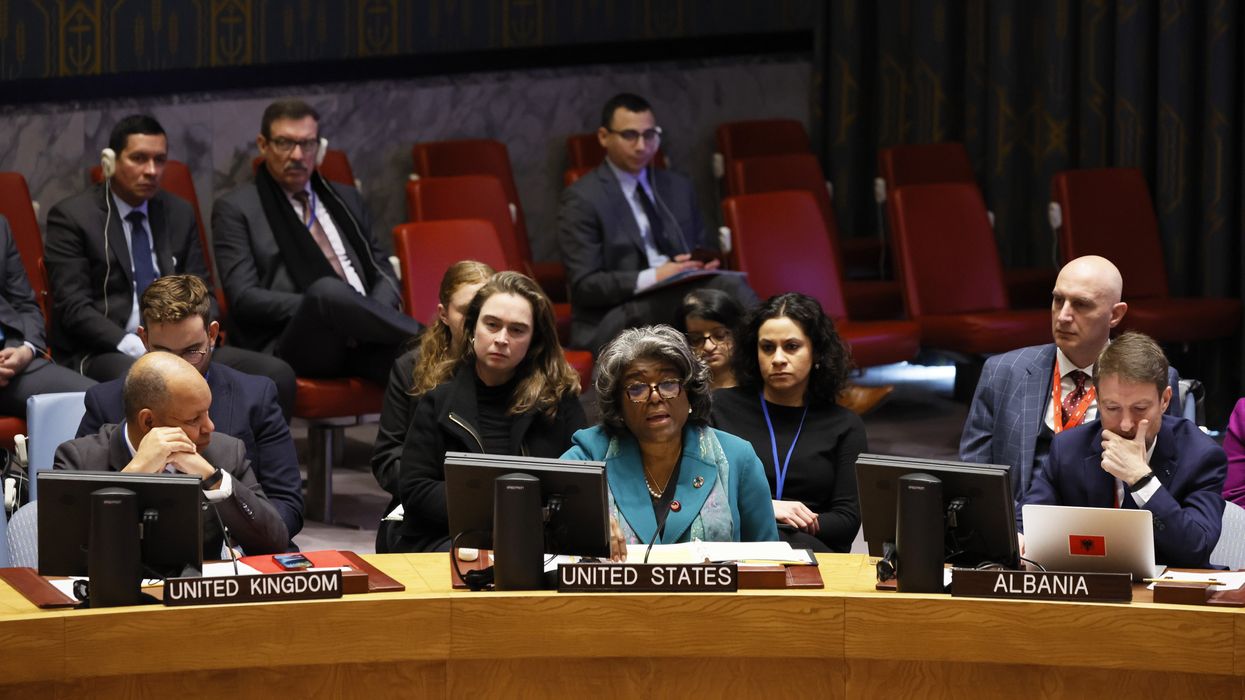 "Failure to act now, to enact a total cease-fire and end the siege, would be unforgivable," said the secretary-general of Médecins Sans Frontières International.
Ahead of an expected vote Friday evening, human rights advocates said there would be "no justification" for the U.S. to block a United Nations Security Council resolution calling for an immediate cease-fire in the Gaza Strip, where the humanitarian situation is becoming more grave by the hour as Israeli bombings and ground operations intensify.
The U.S.—one of five permanent Security Council members with veto power—has not explicitly threatened to veto the new resolution, which was put forth by the United Arab Emirates after U.N. Secretary-General António Guterres on Wednesday took the extraordinary step of invoking Article 99 of the U.N. Charter in an effort to spur the international body to action.
But Robert Wood, deputy U.S. ambassador to the U.N., toldReuters that the Biden administration doesn't support any additional Security Council resolutions on Gaza at this time.
A vote on the UAE-led measure is expected at around 5:30 pm ET on Friday, though some officials—including France's ambassador to the U.N.—have said the vote should be delayed.
"Every minute we wait, people are dying, the risks to global peace are multiplying."
Agnès Callamard, secretary-general of Amnesty International, said in a statement Thursday that the U.S. and other Security Council members "have a clear obligation under international law to prevent atrocities."
"There can be no justification for continuing to block meaningful action by the U.N. Security Council to stop massive civilian bloodshed, the complete collapse of the humanitarian system, and even worse horrors resulting from the breakdown of public order and massive displacement," said Callamard. "Moral clarity, global leadership, and the imperative duty to protect civilians must prevail with the immediate adoption of a cease-fire resolution."
"Every minute we wait, people are dying, the risks to global peace are multiplying," she added. "Selective application of international law must end. We simply don't have the time for procrastination, or political posturing."
Last month, the Security Council approved a resolution calling for "extended humanitarian pauses" in Gaza. The U.S., which is providing arms and political support for Israel's assault on the Palestinian territory, vetoed an earlier resolution, citing the absence of an explicit acknowledgment of Israel's right to defend itself. In October, the U.S. voted against a Russia-led resolution that called for a cease-fire.
U.N. Security Council resolutions are legally binding, but Israel—which is not a member of the body—regularly flouts them.

In addition to calling for an "immediate humanitarian cease-fire," the UAE resolution would reiterate the Security Council's "demand that all parties comply with their obligations under international law" and urge "the immediate and unconditional release of all hostages, as well as ensuring humanitarian access."
Christopher Lockyear, secretary-general of Médecins Sans Frontières International, said in a statement Friday that "failure to act now, to enact a total cease-fire and end the siege, would be unforgivable."

Speaking to the council on Friday, Guterres said that Gazans are "looking into the abyss" and implored members of the body to "spare no effort to push for an immediate humanitarian cease-fire, for the protection of civilians, and for the urgent delivery of life-saving aid."

"This is vital for Israelis, Palestinians, and for international peace and security," he added. "The eyes of the world—and the eyes of history—are watching."
The council's Friday meeting comes as nearly two million displaced Gazans are struggling to survive amid Israel's escalating offensive in the southern part of the territory. Access to uncontaminated water is becoming a luxury, infectious diseases are spreading in overcrowded shelters, the hospitals still functioning are treating wounded patients with inadequate supplies, and mass starvation is looming.
Marta Valdes Garcia, Oxfam International's humanitarian director, said Thursday that "our political leaders are failing—in abject weakness—to forge a cease-fire, which is the only possible humanitarian action that now really matters."
"The systemic, militarized chaos has overwhelmed the international humanitarian system," she added. "Our governments don't even have the smokescreen of humanitarianism to hide behind now as Israel carries out its campaign of collective punishment."
In a statement on Friday, UNRWA Commissioner-General Philippe Lazzarini, responsible for administering the United Nation's relief efforts inside the Gaza Strip, said his agency could not support its mission much longer if the Israeli assault is allowed to continue.
Citing a letter he sent to members of the U.N. General Assembly as well as the pending vote at the Security Council, Lazzarini said, "I urge all member states to take immediate actions to implement an immediate humanitarian ceasefire, enforce international law including the protection of civilians, U.N. staff, U.N. premises including shelters, medical facilities, and all civilian infrastructure and protect the prospects for a political solution vital to peace and stability and the rights for Palestinians, Israelis, the region and beyond."
"Calling for an end to the decimation of the lives of Palestinians in Gaza," he added, "is not a denial of the abhorrent attacks of 7 October in Israel. It is the opposite. It is a recognition of the equal rights of all people."
News