For Immediate Release
Contact:
Clare Fauke, Communications Specialist,,clare@pnhp.org
Doctors Prescribe Medicare-for-All: Single Payer Reform Endorsed by America's Largest Medical Specialty Society and Recommended in Open Letter from Thousands of Physicians
Advocates call the endorsement a "sea change" for the medical profession
WASHINGTON
Physicians for a National Health Program (PNHP) today welcomed the American College of Physicians' (ACP) endorsement of single-payer Medicare for All. The ACP, a national organization of 159,000 internists, is the largest medical specialty society and second-largest physician group in the U.S. after the American Medical Association (AMA).
The ACP announced its endorsement of Medicare for All in a special supplement to its official journal, the Annals of Internal Medicine, where the group also endorsed a "universal public choice" reform model.
The ACP endorsement coincides with the publication of an open letter signed by more than 2,000 physicians "prescribing" Medicare for All, an effort organized by advocates separately from the ACP. Among the "prescribers" are towering figures in American medicine, including Dr. Marcia Angell, former editor-in-chief of the New England Journal of Medicine; Dr. Bernard Lown, developer of the defibrillator; Dr. Paul Farmer, infectious disease expert and founder of Partners in Health; and Dr. Mary Bassett, former New York City Health Commissioner. The letter will appear as an advertisement in the New York Times the week of January 20.
Along with the ACP's position paper, the Annals of Internal Medicine published an editorial by PNHP co-founders Drs. Steffie Woolhandler and David Himmelstein. Drs. Woolhandler and Himmelstein, noting that organized medicine had opposed national health insurance for a century, called the ACP's new position "a sea change for the medical profession."
The ACP's endorsement of Medicare for All and the publication of the open letter reflects growing support for single-payer reform among physicians. Recent surveys have found that half of all doctors now favor national health insurance. Last June, the AMA's House of Delegates only narrowly defeated a resolution that would have rescinded its long-standing opposition to Medicare for All. Under pressure from Medicare for All supporters, the AMA then resigned from the dark money group Partnership for America's Health Care Future, which opposes single-payer reform.
"As physicians, we see daily the harm that our fragmented, private-insurance based system does to our patients," noted Dr. Adam Gaffney, President of PNHP and a pulmonary and critical care physician at Harvard Medical School and the Cambridge Health Alliance. "Patients go without the care they need, and physicians squander time and resources on wasteful billing and clerical tasks. Medicare for All would be a much better way -- for patients and doctors both."
According to Dr. Woolhandler, a Distinguished Professor at the City University of New York at Hunter College and Lecturer in Medicine at Harvard Medical School, "When we started PNHP, doctors who supported single-payer reform were considered radicals, and reporters likened us to 'furriers for animal rights'. Now we're squarely in the mainstream of the medical profession. More and more doctors have realized - often from talking to our Canadian colleagues - that single payer is the only way to cut insurers' paperwork and profits that siphon hundreds of billions annually from care in the U.S." Dr. Woolhandler is a Fellow of the ACP, but not an official spokesperson for that organization.
Physicians for a National Health Program is a single issue organization advocating a universal, comprehensive single-payer national health program. PNHP has more than 21,000 members and chapters across the United States.
LATEST NEWS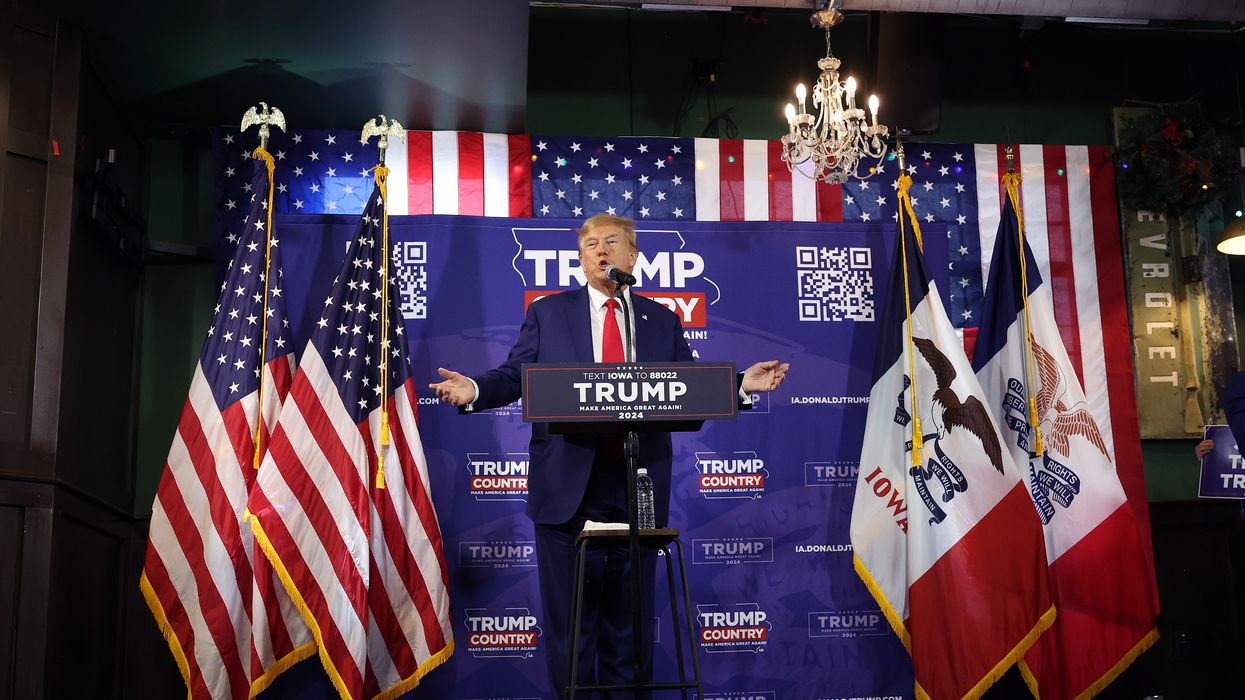 The former president's remarks came as his allies are reportedly preparing specific plans to wield the federal government to target political enemies, including journalists.

Amid mounting alarm over his authoritarian ambitions for a second term, former President Donald Trump said during a Fox News town hall on Tuesday that he would be a dictator only on "day one," pledging to unilaterally close the U.S.-Mexico border and accelerate fossil fuel drilling.
Trump's remarks came in response to a question from host Sean Hannity, who asked the former president if he would promise to never "abuse power as retribution against anybody."
"Except for day one," Trump replied. "I want to close the border and I want to drill, drill, drill... We're closing the border and we're drilling, drilling, drilling. After that, I'm not a dictator."
"The moment for resisting Trump is right now, not waiting until January 21, 2025."
President Joe Biden's 2024 campaign immediately highlighted Trump's comments, posting a clip on social media and saying in a statement that the former president "has been telling us exactly what he will do if he's reelected."
"Tonight he said he will be a dictator on day one," said Biden campaign manager Julie Chavez Rodriguez. "Americans should believe him."
Trump's remarks Tuesday were just the latest evidence that the former president is preparing to aggressively wield executive power and arms of the federal government to pursue a far-right agenda and target his political enemies if he wins another White House term next year.
The Washington Postreported last month that Trump and his allies "have begun mapping out specific plans for using the federal government to punish critics and opponents... with the former president naming individuals he wants to investigate or prosecute and his associates drafting plans to potentially invoke the Insurrection Act on his first day in office to allow him to deploy the military against civil demonstrations."
"Much of the planning for a second term has been unofficially outsourced to a partnership of right-wing think tanks in Washington," the Post noted. "Dubbed 'Project 2025,' the group is developing a plan, to include draft executive orders, that would deploy the military domestically under the Insurrection Act."
During a speech in New Hampshire last month, Trump promised to "root out" those he dubbed "radical left thugs that live like vermin within the confines of our country," a threat that critics likened to Nazi rhetoric.
The former president, who is currently facing more than 90 felony charges, also pledged that his administration would carry out "the largest domestic deportation operation in American history," revive the Muslim ban, slash taxes for the wealthiest even further, and accelerate pipeline approvals.
The New York Timesreported Tuesday that a Trump confidant who is "likely to serve in a senior national security role in any new Trump administration" threatened to "target journalists for prosecution if the former president regains the White House."
Kash Patel, who served as Trump's counterterrorism adviser on the National Security Council, said during an appearance on former Trump strategist Steve Bannon's podcast that "we will go out and find the conspirators, not just in government but in the media."
"Yes, we're going to come after the people in the media who lied about American citizens, who helped Joe Biden rig presidential elections—we're going to come after you. Whether it's criminally or civilly, we'll figure that out," Patel said. "We're actually going to use the Constitution to prosecute them for crimes they said we have always been guilty of but never have."
In a column published Tuesday, The Philadelphia Inquirer's Will Bunch expressed concern about what he described as the lack of mass mobilization against Trump's 2024 presidential campaign, given his openly fascistic threats and behind-the-scenes planning.
" Trump is back, and no one calls him a demagogue anymore—because that's too polite," Bunch wrote. "The 47th presidency he envisions is tyrannical, even dictatorial—siccing zealous MAGA prosecutors on his political enemies and the media, pardoning 2021's insurrectionists, mass detention camps for deporting migrants, and calling out troops to put down protests, perhaps as early as his Inauguration Day. And yet he is all but guaranteed the GOP nomination, and an even-money bet against President Joe Biden next fall."
"As I write this on Monday night, ' dictator' is a trending topic on X/Twitter. It could be trending nightly if the too-silent majority of Americans who believe in democracy don't take a more forceful stand," Bunch warned. "The moment for resisting Trump is right now, not waiting until January 21, 2025."

News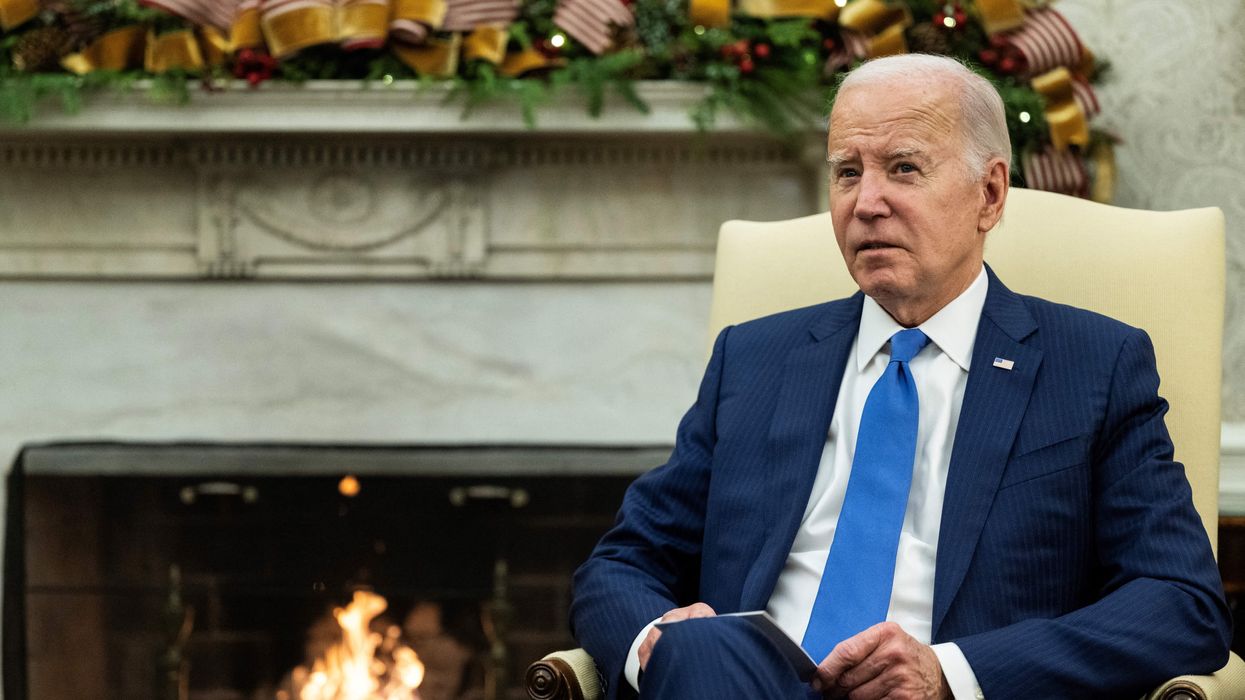 The interns sent a letter demanding that President Joe Biden support a permanent cease-fire.

Dozens of White House interns sent a letter late Tuesday urging President Joe Biden to demand a permanent cease-fire in Gaza, echoing the calls of a growing number of lawmakers, congressional staffers, administration officials, and ordinary Americans.
"We heed the voices of the American people and call on the administration to demand a permanent cease-fire," reads the letter, which is signed "40+ White House & [Executive Office of the President] Interns for Palestine."
"We are not the decision-makers of today, but we aspire to be the leaders of tomorrow, and we will never forget how the pleas of the American people have been heard and thus far, ignored," continues the letter, which was first reported by NBC News.
The interns' letter was made public hours after a Data for Progress survey showed that 61% of U.S. voters—including 76% of Democrats—want the Biden administration to call for a permanent cease-fire in the Gaza Strip, which is facing a devastating humanitarian crisis as Israel continues its bombardment of the territory and expands its ground offensive to the south after decimating much of the north.
"The pulverizing of Gaza now ranks amongst the worst assaults on any civilian population in our time and age."
While the Biden administration supported the temporary pause that ended last week, it has claimed that a permanent cease-fire would be a gift to Hamas, which carried out a deadly attack on southern Israel in early October.
Administration officials in recent days have pushed Israel to protect civilians in Gaza, but there's no evidence that the Israeli military has changed its indiscriminate approach. Early Tuesday, an Israeli airstrike reportedly hit a school housing displaced Gazans—killing at least 20 people—as Israeli forces invaded Khan Younis in southern Gaza.
"The pulverizing of Gaza now ranks amongst the worst assaults on any civilian population in our time and age," Jan Egeland, secretary-general of the Norwegian Refugee Council, said Tuesday. "Each day we see more dead children and new depths of suffering for the innocent people enduring this hell."
The White House interns, who did not sign their names to the letter likely out of fear of retaliation, expressed their horror at both the "brutal October 7th Hamas attack on Israeli civilians" and "the brutal and genocidal response by the Israeli government, funded by our tax dollars."
An Amnesty International investigation released earlier Tuesday found that the Israeli military used U.S.-made munitions to carry out airstrikes on two homes in Gaza in October, killing more than 40 members of two families—including 19 children.

"We urge the Biden-Harris administration to call for a permanent cease-fire now, a release of all hostages including Palestinian political prisoners, and to support a diplomatic solution that will put an end to the illegal occupation and the Israeli apartheid, in accordance with international law and for a free Palestine," the White House interns wrote.
News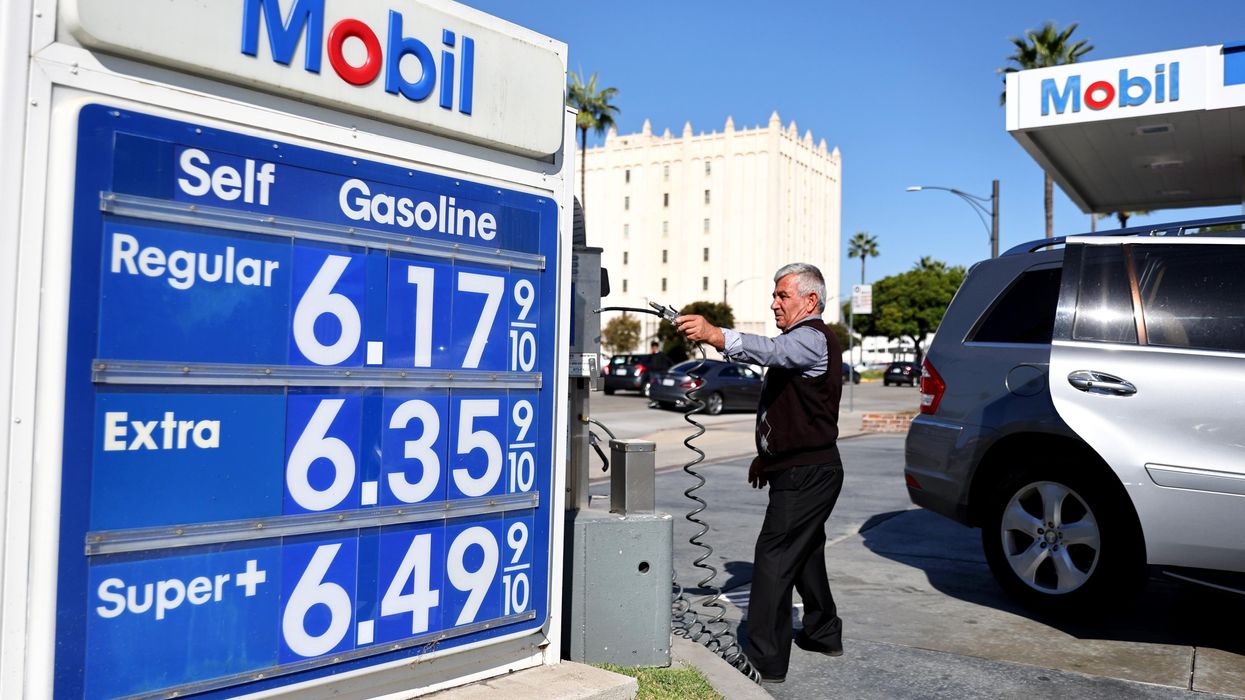 "The FTC is right to investigate Exxon's acquisition of Pioneer, which could raise prices at the pump and is aimed at keeping the U.S. reliant on fossil fuels," said one campaigner.
Amid outrage from climate campaigners and senators, the U.S. Federal Trade Commission is investigating fossil fuel giant ExxonMobil's proposed takeover of Pioneer Natural Resources, a regulatory filing revealed Tuesday.
Pioneer disclosed the FTC's request for more information about the pending merger, which Exxon announced in October.
U.S. Senate Majority Leader Chuck Schumer (D-N.Y.) said in a statement Tuesday: "Last month, I and 22 other senators urged the FTC to investigate Exxon's $60 billion proposed blockbuster merger with Pioneer. And today—they heeded my warning."
"Americans care a great deal about gas prices," Schumer stressed, "and if this merger were to go through it would most certainly raise gas prices for families across the country."
"This merger has all the hallmarks of harmful, anticompetitive effects. The FTC is right to investigate this merger to see if it would lead to higher gas prices or less competition," he added. "I look forward to following this investigation closely, and will encourage the FTC to block the deal if they find any antitrust laws are being violated."
Alex Witt of Climate Power, an advocacy group founded by the Center for American Progress (CAP) Action Fund, League of Conservation Voters, and Sierra Club, also welcomed the FTC's inquiry in comments to The Associated Press.
"Exxon publicly promised to reduce emissions, yet subsequently spent $60 billion acquiring another fossil fuel company—doubling down on their commitment to oil and gas and putting profits over people," Witt said. "The FTC is right to investigate Exxon's acquisition of Pioneer, which could raise prices at the pump and is aimed at keeping the U.S. reliant on fossil fuels."
A CAP report highlighted Tuesday that in hopes of continuing to profit off of the destruction of the planet, the fossil fuel industry is "undermining democratic functions to stem the tide of climate action" around the world.

That report and the heightened scrutiny of the possible merger come during the United Nations Climate Change Conference (COP28), where attendees are considering scientists' warnings that fossil fuels must be rapidly phased out to prevent more devastating global heating.
"This deal shows that Exxon is doubling down on fossil fuels and has no intention of moving towards clean energy," Jamie Henn, director of Fossil Free Media argued earlier this year. "Even after the hottest summer on record, Exxon is hellbent on driving the thermostat even higher."
News