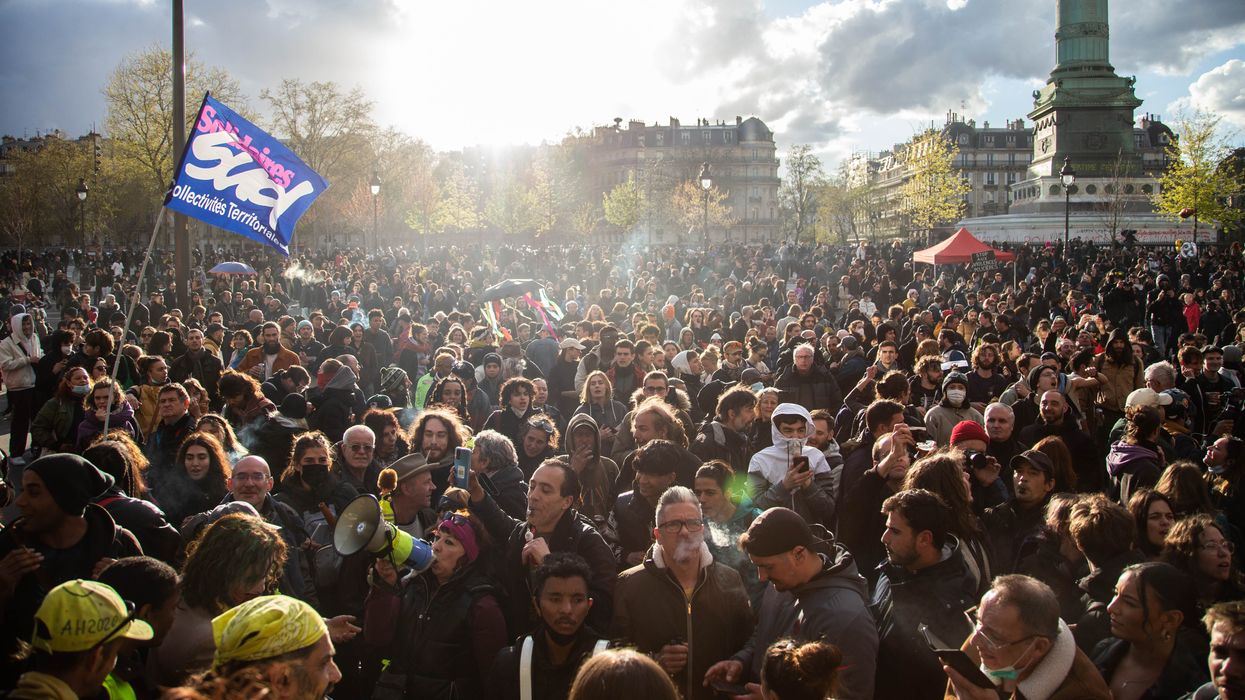 "As long as this reform isn't withdrawn, the mobilization will continue in one form or another," said one union leader.
Workers opposed to French President Emmanuel Macron's deeply unpopular plan to raise the nation's retirement age from 62 to 64 hit the streets Thursday in a final display of anger before the country's top court rules on the measure's constitutionality.
While thousands of people marched along the designated route in Paris, some protesters carrying lit flares diverged to the Constitutional Council, which is set to decide Friday whether to uphold Macron's proposed pension overhaul or rescind it partially or completely.
"They faced off with a large contingent of police deployed outside the building, where hours before the march got underway, other protesters had dumped bags of rubbish," Al Jazeerareported. "The rubbish piles were cleaned up but signaled the start of a new strike by rubbish collectors, timed to begin with the nationwide protest marches. A previous strike last month left the streets of the French capital filled for days with mounds of reeking refuse."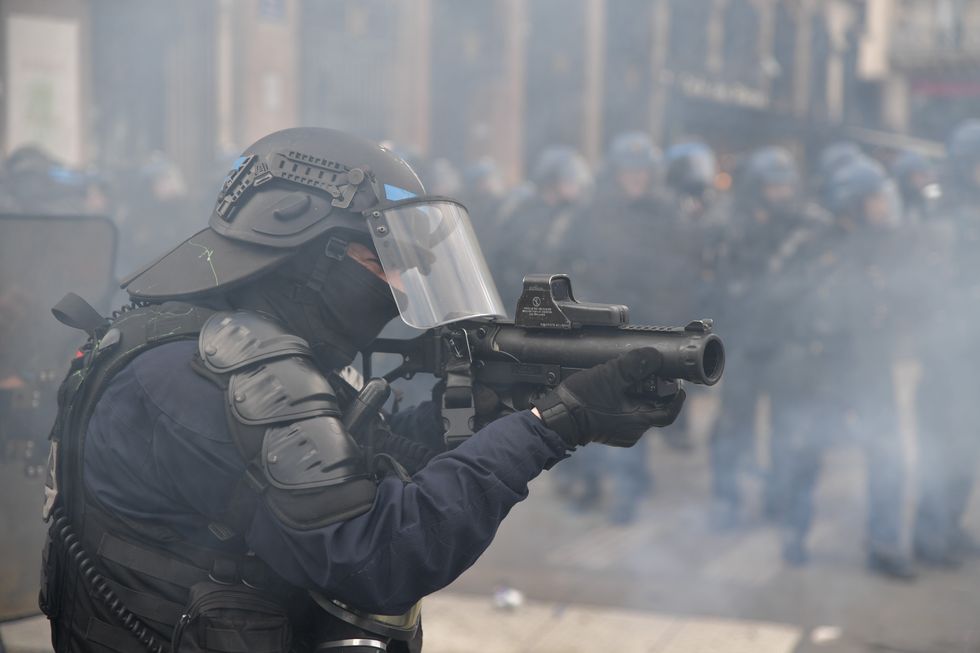 A police officer points a weapon at demonstrators during a protest against French President Emmanuel Macron's proposed pension overhaul in Paris on April 13, 2023.(Photo: Firas Abdullah/Anadolu Agency via Getty Images)
According toCNN, the French government has imposed a ban on protests near the Constitutional Council from Thursday night through Saturday morning.

Last month, Macron advanced his plan to increase the minimum eligible retirement age as well as the number of years one must work to qualify for full benefits through executive order, bypassing the National Assembly once it became clear that his legislative proposal did not have enough support to pass France's lower house. The Senate had already approved the bill, including it in a budget package that expedited the process.
The labor movement has been organizing weekly strikes and peaceful rallies since mid-January, and the president's blatantly anti-democratic move to circumvent a vote only intensified working-class fury. The government, meanwhile, has responded with an increasingly repressive crackdown.
Union leaders, who have implored workers to maintain pressure on the government, called for a 12th round of action on Thursday.
\u201cWow. Another massive anti-Macron protest on the streets of Paris, France today that Western corporate media are trying very hard to ignore.\u201d

— sarah (@sarah) 1681401665
Outside the capital, thousands of people also marched in Marseille, Toulouse, and other cities, including Nantes and Rennes, where a car was set ablaze.
"In Paris, banks and expensive stores secured their front windows with wooden boards but nevertheless, demonstrators broke into the headquarters of the French luxury group LVMH and set off firecrackers," Al Jazeera reported. "The authorities deployed 11,500 police officers, 4,200 of them in Paris alone."
Outside the LVMH building, union leader Fabien Villedieu toldCNN affiliate BFMTV that "if Macron wants to find money to finance the pension system, he should come here to find it."
\u201cThe strikes and protests in France haven\u2019t stopped.\n\nToday they stormed the headquarters of Louis Vuitton.\u201d

— Stop Cop City (@Stop Cop City) 1681401084
"The mobilization is far from over," General Confederation of Labor leader Sophie Binet said at a trash incineration site south of Paris where hundreds of protesters blocked garbage trucks.
"As long as this reform isn't withdrawn, the mobilization will continue in one form or another," Binet added.
The nine-member Constitutional Council is expected to issue a binding ruling by the end of Friday to "partially approve, fully accept, or reject" Macron's proposed changes, Al Jazeera noted. "On Tuesday and Thursday, left-wing lawmakers visited the council to urge them to completely ban the reform. They have argued that the government's unorthodox method of resorting to a budget law to pass a pension reform, as well as invoking controversial Article 49.3 of the Constitution to bypass a parliament vote, is grounds for it to be thrown out."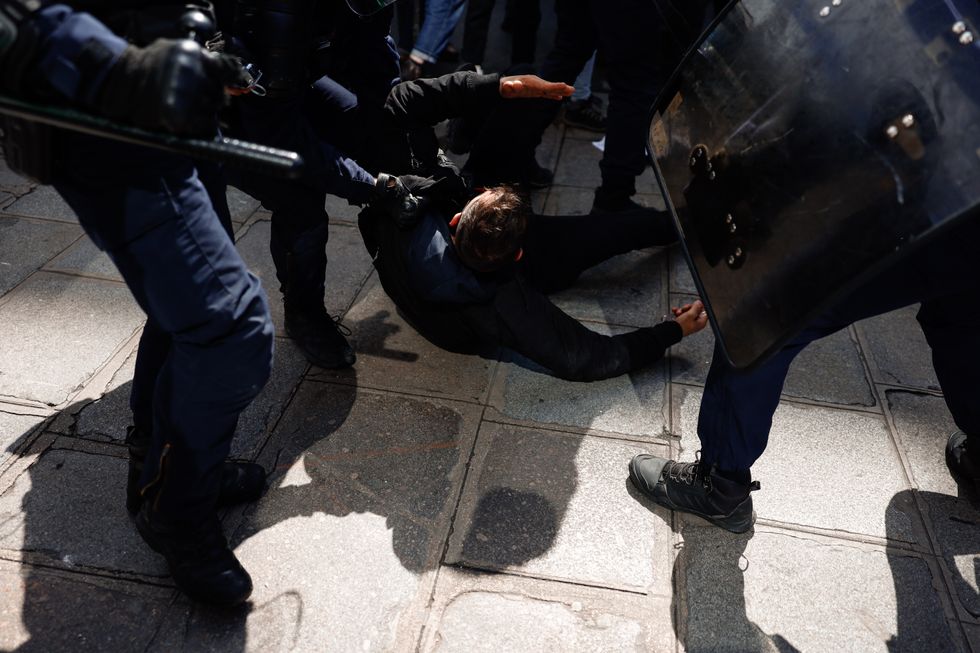 Police officers detain a man demonstrating against French President Emmanuel Macron's proposed pension overhaul in Paris on April 13, 2023.(Photo: Ameer Alhalbi/Getty Images)
Progressive legislators and union leaders have portrayed the left's struggle against Macron's pension attack as a struggle for democracy in France.
A poll released last week found that reactionary lawmaker Marine Le Pen—leader of the far-right National Rally party, the largest opposition force in Parliament—would beat Macron by a margin of 55% to 45% in a head-to-head rematch. The neoliberal incumbent defeated Le Pen in a runoff election last April, but the openly xenophobic and Islamophobic challenger has gained significant ground since their first matchup in 2017.
"Either trade unions win this, or it will be the far right," Villedieu said last week. "If you sicken people—and that is what's happening—the danger is the arrival of the far right."
Ahead of Thursday's protests, Paris Mayor Anne Hidalgo tweeted: "This reform is unjust and violent. The French have been asking for it to be withdrawn for months, the government has to hear them."
News