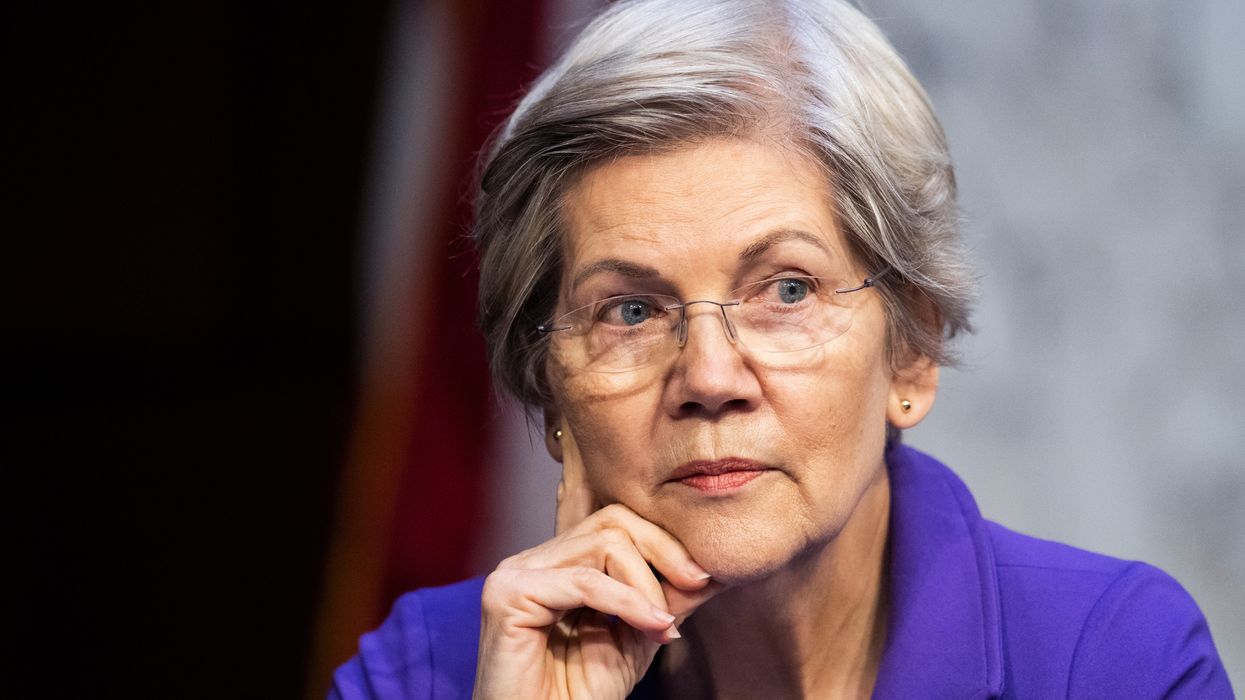 The senator also demanded a federal investigation into potential insider trading by executives.
U.S. Sen. Elizabeth Warren on Monday weighed in on the collapse of Silicon Valley Bank, taking to The New York Times' opinion section to offer her view on how the financial institution failed, while also looking ahead and detailing "what Washington must do—quickly—to prevent the next crisis."
Namely, the Massachusetts Democrat wrote, the federal government must ensure the bank's risky behavior isn't rewarded with bonuses and generous compensation for executives, and must determine whether insider trading tipped off Silicon Valley Bank (SVB) executives regarding their firm's impending failure last Friday.

Joining other progressives including Sen. Bernie Sanders (I-Vt.) and former Labor Secretary Robert Reich in noting that Republican lawmakers' push to roll back oversight and liquidity requirements allowed SVB to "load up on risk" and made it more vulnerable to failure, Warren pointed to the conduct of bank executives just before the Federal Deposit Insurance Corporation (FDIC) was forced to save the institution.
Just hours before the California-based firm collapsed on Friday, Warren wrote, "SVB executives were busy paying out congratulatory bonuses," estimated to be as high as $140,000 for managing directors, according toCNBC.
"If we are to deter this kind of risky behavior from happening again, it's critical that those responsible not be rewarded."
The bonuses were for work performed in 2022, when SVB was largely serving a small, wealthy subset of the U.S. population—"a concentrated group of tech companies with big deposits, driving an abnormally large ratio of uninsured deposits," Warren wrote.
Securities and Exchange Commission (SEC) filings also show that SVB CEO Greg Becker sold $2.27 million in bank stocks in late February and $1.1 million in stocks in January.

The bank took a risk by heavily concentrating its assets in a single industry, and then by investing a large share of the funds into long-term Treasury bonds "that promised good returns when interest rates were low," wrote Reich at Substack on Monday. When interest rates rose, the value of the bonds fell and "the gusher of venture capital funding to startup and tech companies slowed, because venture funds had to pay more to borrow money."

"As a result, these startup and tech companies had to withdraw more of their money from the bank to meet their payrolls and other expenses," Reich continued. "But the bank didn't have enough money on hand."

The business model used by SVB executives including Becker "was great for SVB's short-term profits, which shot up by nearly 40% over the last three years," wrote Warren. But with regulators forced to take over SVB and then on Sunday to dissolve Signature Bank—a New York-based institution also heavily tied to tech—to mitigate the damage done, she added, "now we know its cost."

As SVB executives were celebrating their bonuses Friday, "businesses and nonprofits with accounts at the bank [were left] alarmed that they wouldn't be able to pay their bills and employees," the senator wrote.

"SVB and Signature shareholders will be wiped out, but their executives must also be held accountable," she added. "Mr. Becker of SVB took home $9.9 million in compensation last year, including a $1.5 million bonus for boosting bank profitability—and its riskiness. Joseph DePaolo of Signature got $8.6 million. We should claw all of that back, along with bonuses for other executives at these banks. Where needed, Congress should empower regulators to recover pay and bonuses."

Morris Pearl, former BlackRock managing director and chair of the economic justice group Patriotic Millionaires, added that Becker and other executives should not be rewarded for failing "to foresee the consequences of the current market and the Federal Reserve interest rate hikes" as they "put tens of billions of dollars of risk on the shoulders of businesses and workers."

"SVB's incompetence in running their financial institution has led to a crisis impacting regular Americans," said Pearl. "Bankers always say that regulators get in the way of doing their jobs and making profits, but this is what happens when Congress takes them at their word and loosens regulations. Bank managers have an inherent conflict of interest regarding government oversight; they get the credit if things go well, and the FDIC takes the hit if things go south."
In addition to clawing back bonuses and exorbitant executive pay to ensure there are material consequences for SVB's mismanagement, Warren wrote at the Times, prosecutors should also "investigate whether any executives engaged in insider trading or broke other civil or criminal laws."
Rep. Ruben Gallego (D-Ariz.), who is running for Sen. Kyrsten Sinema's (I-Ariz.) Senate seat, echoed Warren's call.
"If we are to deter this kind of risky behavior from happening again," said Warren, "it's critical that those responsible not be rewarded."

News