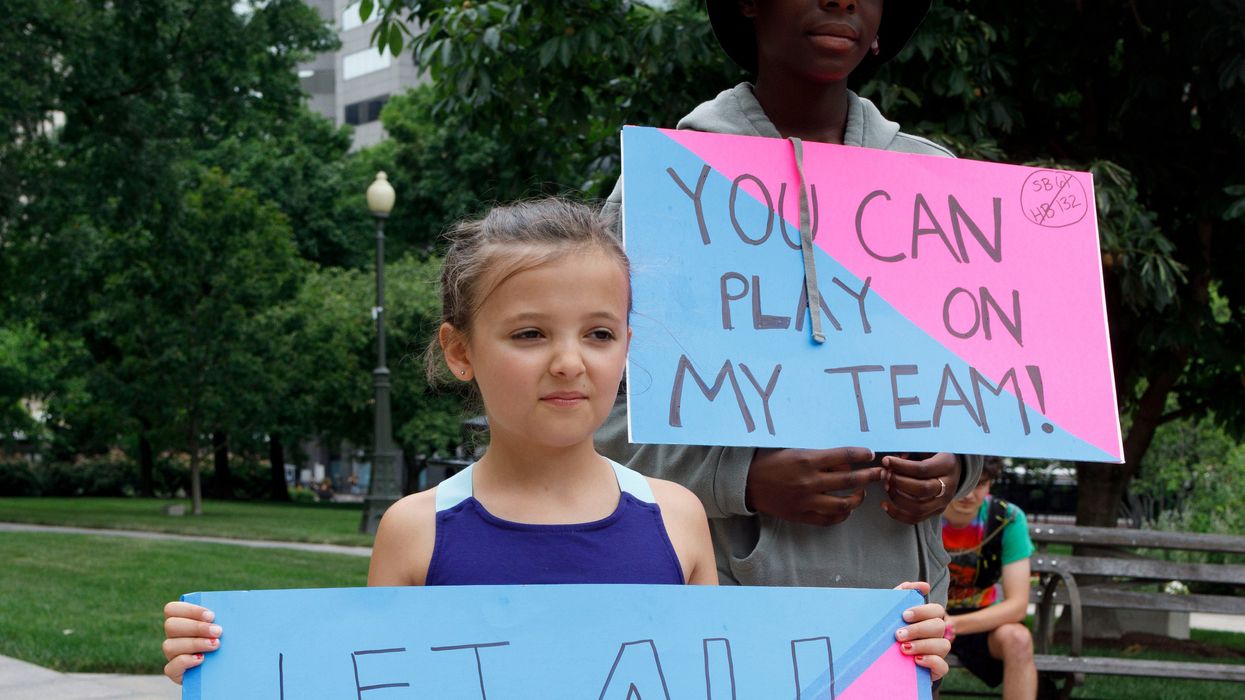 "Absolutely no reason for the Biden administration to do this," said Rep. Alexandria Ocasio-Cortez. "It is indefensible and embarrassing."
Rep. Alexandria Ocasio-Cortez on Thursday was among the progressives denouncing the Biden administration's newly proposed rules for transgender student athletes, which critics said would open the door to discrimination at all age levels despite the U.S. Department of Education's statement that "categorically" banning trans athletes from teams that align with their gender identity would be illegal under the rule.
Elementary age students would generally be permitted to play on sports teams according to their gender identity rather than their sex assigned at birth, but universities and K-12 schools would be given "flexibility to develop team eligibility criteria that serve important educational objectives, such as ensuring fairness in competition or preventing sports-related injury," according to the Education Department.
"Considerations may be different for competitive high school and college teams," which would be given discretion to limit participation of transgender students, the department said.
Ocasio-Cortez (D-N.Y.) called the proposed policy, a reversal of an executive order President Joe Biden signed on his first day in office in 2021, "indefensible and embarrassing," and urged the administration to promptly "walk this back."
\u201cAbsolutely no reason for the Biden admin to do this. It is indefensible and embarrassing.\n\nThe admin can still walk this back, and they should. It\u2019s a disgrace\u201d

— Alexandria Ocasio-Cortez (@Alexandria Ocasio-Cortez) 1680824478
Biden's earlier order said that under the U.S. Constitution children "should be able to learn without worrying about whether they will be denied access to the restroom, the locker room, or school sports," noting that Title IX of the Education Amendments of 1972 prohibits discrimination on the basis of gender identity or sexual orientation at schools that receive federal funding.

"To put it mildly, this is extraordinarily disappointing and a total reversal from a position the Biden administration has taken since Day One," said Slate journalist Mark Joseph Stern.
Some advocacy groups applauded the administration for prohibiting blanket bans on transgender athletes, with GLBTQ Legal Advocates and Defenders (GLAD) saying the rule "affirms the importance of giving transgender students the chance to play sports."
"The proposed rule prohibits the kind of categorical bans adopted in too many states that are hurting transgender students and that send a dangerous message to all students," said Jennifer Levi, senior director of transgender and queer rights at GLAD.
But Lambda Legal, which represented a transgender girl who the U.S. Supreme Court ruled Thursday should be permitted to play on her school's girls' cross country and track team for the time being, raised concerns that the so-called "flexibility" given to schools under the law would not "properly eliminate the discrimination that transgender students experience due to the pervasive bias and ignorance about who they are."
"These students must have full and equal chances to participate because participation in athletics provides many long-term benefits for young people, including important health benefits, and chances to develop leadership skills, discipline, and self-confidence," said Sasha Buchert, senior attorney at Lambda Legal. "Given the importance of the opportunity to participate in athletics to students' educational experience, we look forward to submitting comments and working with the administration to further remove those remaining bigotry-based barriers to full and equal participation by transgender youth."

Buchert toldThe New York Times that anti-transgender lawmakers "would absolutely seek to apply this across the board... whether we are talking about a 6-year-old playing soccer or someone playing varsity volleyball"—a fear that Florida Education Commissioner Manny Diaz confirmed as he told the newspaper, "This won't fly in Florida. We will never allow boys to play in girls' sports."
Emma Grasso Levine, Title IX policy and program manager for the Know Your IX project at Advocates for Youth, called on the Biden administration to ensure that, following a 30-day public comment period, "the final version of this Title IX regulation goes farther to eliminate discriminatory practices in schools."
"In alignment with Title IX's promise, it is the responsibility of the Biden administration to eliminate all transphobic, discriminatory barriers that are currently taking root in school policies," said Levine.
Alejandra Caraballo of the Harvard Law Cyberlaw Clinic said the proposed policy "is worse than [the Biden administration] doing nothing" about transgender sports bans.
\u201cThis is worse than doing nothing, it's spreading thin already extremely limited time by trans folks to have to deal with this bullshit. They are helping the anti-trans side and legitamizing their transphobic talking points.\u201d

— Alejandra Caraballo (@Alejandra Caraballo) 1680813951
The policy was proposed as at least 20 states have passed laws barring transgender students from playing on sports teams according to their gender identity, and right-wing lawmakers across the nation are seeking to bar transgender youths and adults from accessing gender-affirming healthcare, which medical experts say significantly reduces depression and suicidal ideation in transgender people.

News