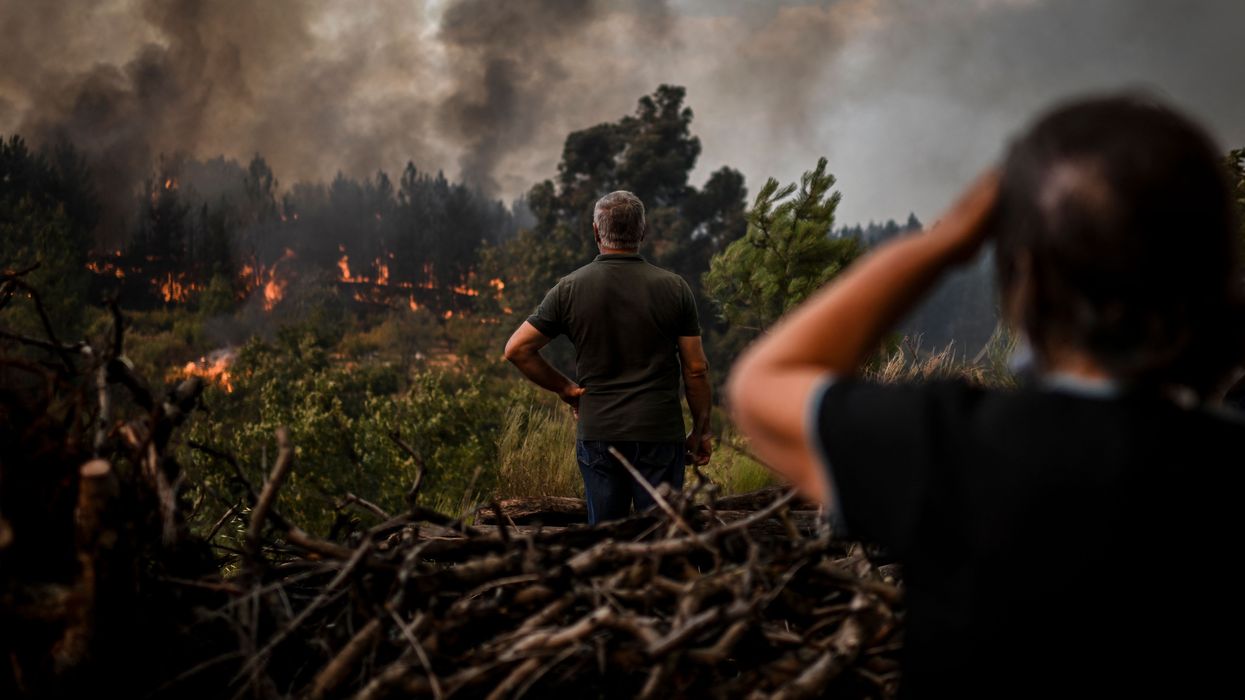 "We must move into warp-speed climate action now. We don't have a moment to lose," said United Nations Secretary-General António Guterres.
The head of the United Nations outlined a plan Monday to "super-charge" climate action after the Intergovernmental Panel on Climate Change released its most stark warning yet about the trajectory of planetary heating and its cascading impacts on ecosystems and the life they sustain.
"This report is a clarion call to massively fast-track climate efforts by every country and every sector and on every timeframe," said U.N. Secretary-General António Guterres, who argued the IPCC's findings show that "humanity is on thin ice—and that ice is melting fast."
"Today's IPCC report is a how-to guide to defuse the climate time bomb," Guterres added. "It is a survival guide for humanity. As it shows, the 1.5-degree limit is achievable. But it will take a quantum leap in climate action."
To achieve such a leap, the U.N. chief said it is imperative for governments to urgently work toward a number of benchmarks, including:

No new coal and the phasing out of coal by 2030 in OECD countries and 2040 in all other countries;
Ending all international public and private funding of coal;
Ensuring net zero electricity generation by 2035 for all developed countries and 2040 for the rest of the world;
Ceasing all licensing or funding of new oil and gas—consistent with the findings of the International Energy Agency;
Stopping any expansion of existing oil and gas reserves;
Shifting subsidies from fossil fuels to a just energy transition; and
Establishing a global phase-down of existing oil and gas production compatible with the 2050 global net zero target.
"By the end of COP28, I count on all G20 leaders to have committed to ambitious new economy-wide nationally determined contributions encompassing all greenhouse gases and indicating their absolute emissions cuts targets for 2035 and 2040," said Guterres, who is set to host a September summit aimed at building global support for bold climate action.
"Partial pledges won't cut it," Guterres said Monday. "We have never been better equipped to solve the climate challenge—but we must move into warp-speed climate action now. We don't have a moment to lose."
"This report is a clarion call to massively fast-track climate efforts by every country and every sector and on every timeframe."
Compiled by hundreds of top scientists from around the world, the IPCC's new report—like previous iterations—emphasizes that greenhouse gas emissions stemming from human activity "have unequivocally caused global warming" and that "continued greenhouse gas emissions will lead to increasing global warming."

"There is a rapidly closing window of opportunity to secure a liveable and sustainable future for all," the report states. "The choices and actions implemented in this decade will have impacts now and for thousands of years."
Warming beyond the Paris accord's most ambitious target of 1.5°C by century's end, the report warned, would expose ecosystems and societies to "greater and more widespread" consequences, including "increased wildfires, mass mortality of trees, drying of peatlands, and permafrost thawing, weakening natural land carbon sinks and increasing releases of GHGs."
The report cautioned that without dramatic emission cuts, the world could hit the 1.5°C warming threshold by "the first half of the 2030s." Earth has already warmed 1.1°C since the mid-19th century.
IPCC scientists estimated that global greenhouse gas emissions must be cut by 60% by 2035—compared to 2019 levels—to keep alive hopes of averting climate catastrophe.

Romain Ioualalen, global policy campaign manager at Oil Change International, said Monday that the new assessment "once more raises the alarms to code red."
"The United Nations secretary-general's response to the IPCC report makes it abundantly clear that the time when countries can pretend to be climate leaders while expanding oil and gas production is over," said Ioualalen. "This is why the Biden administration's reckless decision to approve the Willow oil project in Alaska deserves international condemnation."
"We commend Secretary-General Guterres for laying out clear expectations for all countries to ban new oil and gas projects immediately while charting a just and equitable transition away from fossil fuels and towards clean energy for all," Ioualalen continued. "This question must be at the heart of the secretary general's September summit and COP28."
News