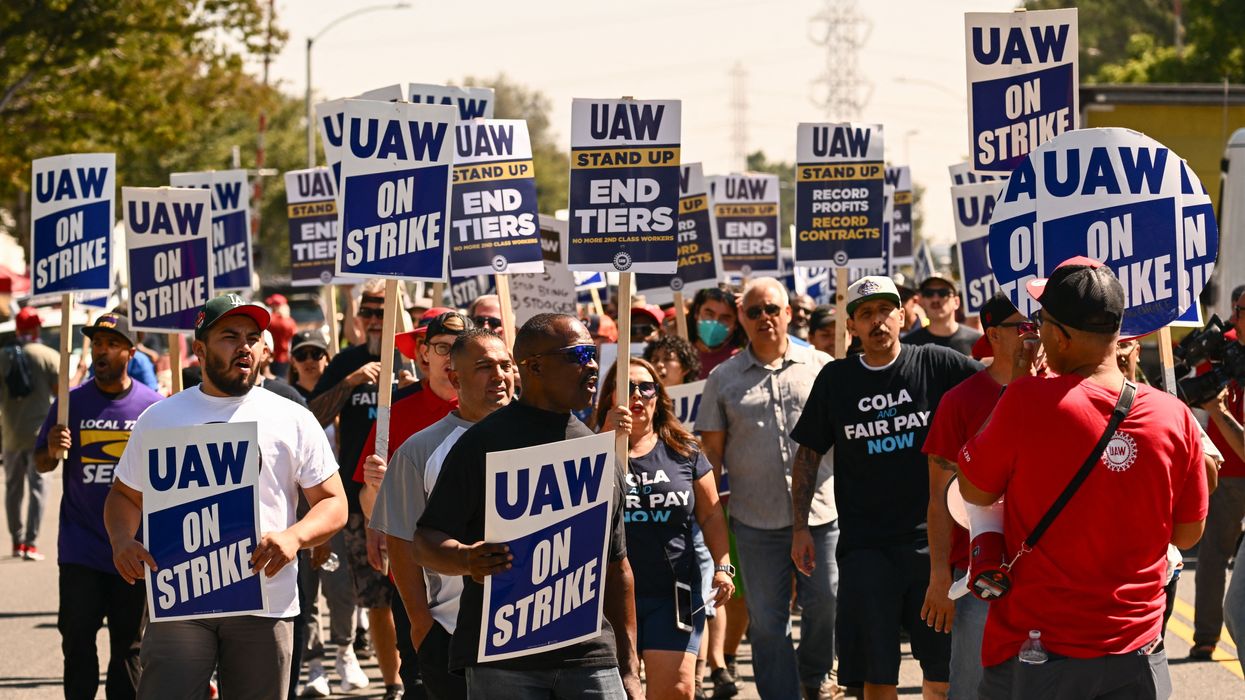 "What we win at the bargaining table depends on the power we build on the job," said United Auto Workers president Shawn Fain. "It's time to use that power."
The United Auto Workers expanded its strikes against Ford and General Motors on Friday, calling on nearly 7,000 additional members in Michigan and Illinois to walk off the job as the union looks to ramp up pressure on the companies to deliver stronger wage and benefit proposals.
The union opted not to expand its walkouts against Chrysler parent company Stellantis, citing progress in recent bargaining sessions on cost-of-living adjustments, the right to strike over plant closures, and other issues.
"Sadly, despite our willingness to bargain, Ford and GM have refused to make meaningful progress at the table," UAW president Shawn Fain said in a video update posted to social media on Friday. "To be clear, negotiations haven't broke down. We're still talking with all three companies, and I'm still very hopeful that we can reach a deal that reflects the incredible sacrifices and contributions our members have made over the last decade."
"But I also know that what we win at the bargaining table depends on the power we build on the job," said Fain. "It's time to use that power."
Friday's walkouts brought the total number of UAW members on strike at the Big Three U.S. car manufacturers to roughly 25,000—nearly double the number of workers who walked off the job on the first day of the strikes two weeks ago.
Survey data released earlier this week showed public support for the strikes has grown since their launch earlier this month. Last week, UAW members walked out at every General Motors and Stellantis parts distribution facility in the U.S.

As part of its "stand-up strike" strategy, the UAW is expected to continue steadily expanding its walkouts at strategic locations throughout the country in an effort to give negotiators more leverage to pursue the union's demands at the bargaining table.
"We will not be intimidated into backing down by the companies or scabs," Fain said Friday. "Our cause is just. Striking for a better future, to protect our communities, and to defeat corporate greed is not just our right, it's our duty."
"We will win. Our strategy is working," said Fain. "Our solidarity is the most powerful force in the world. When we stand together, united in the cause of social and economic justice, there's nothing we can't do."

News