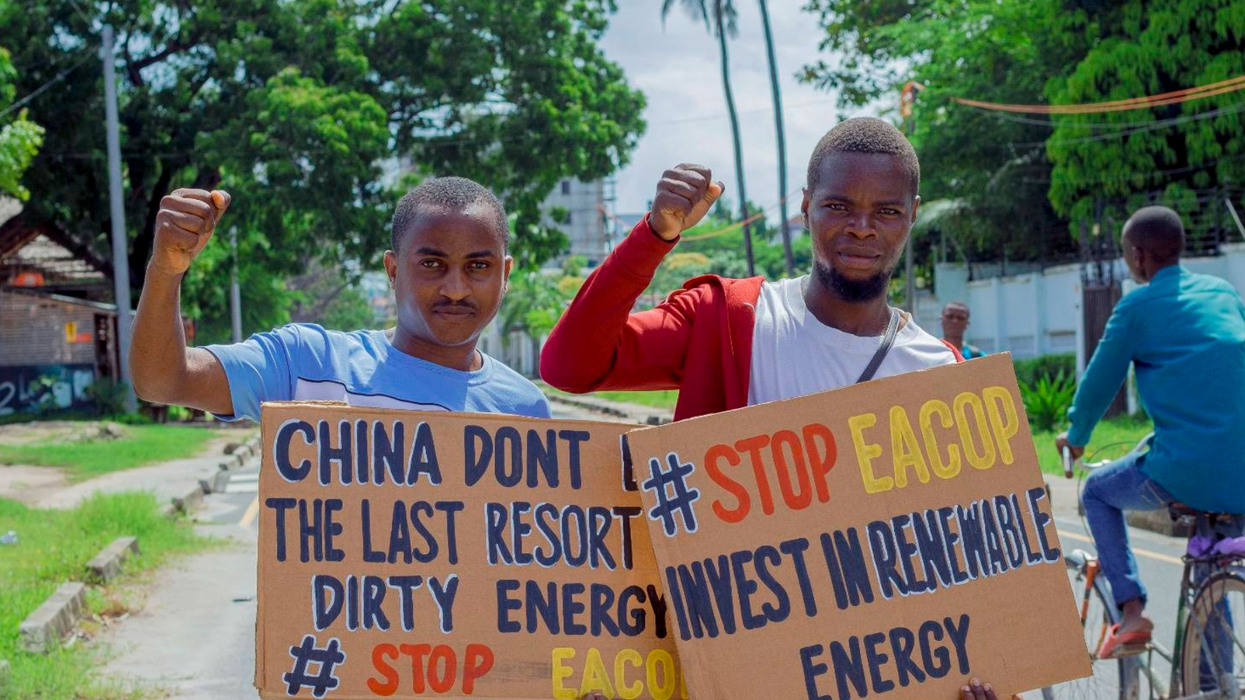 "The controversial EACOP project threatens pristine ecosystems, biodiversity hotspots, water resources, and community lands," said campaigners.
Campaigners assembled on Monday in four African countries and in Europe, rallying outside the headquarters of several Chinese financial institutions and embassies with one demand of Chinese officials: Withhold financing for the East African Crude Oil Pipeline.
The global campaign #StopEACOP has already helped push banks and insurers in North America, Europe, and Japan to refrain from getting involved in the project, which is being spearheaded by French multinational TotalEnergies and China National Offshore Oil Corporation.
Now, the state-owned China Export & Credit Insurance Corporation (SINOSURE), the Export-Import Bank of China (China Exim), and the Industrial and Commercial Bank of China (ICBC) are reportedly considering financially supporting the pipeline, which could lead to 379 million tons of fossil fuel emissions even as climate and energy experts warn there is no place for new gas and oil extraction on a pathway to limiting planetary heating to 1.5°C.

"Today, people stood united across borders to say this dangerous pipeline project must be stopped," said Zaki Mamdoo, #StopEACOP coordinator. "We urge SINOSURE, China Exim Bank, and the ICBC to listen to local communities and respect their rights, aspirations, and agency. By refusing to provide insurance or financing for EACOP, these entities must prove that they are not simply interested in profiting at the expense of Africa's well-being."
Organizers rallied at Chinese embassies in Dar es Salaam, Tanzania; Kampala, Uganda; Kinshasa, Democratic Republic of Congo (DRC); and Tshwane, South Africa. In London, United Kingdom, climate campaigners held a solidarity action outside the offices of SINOSURE and in Paris, France they rallied at the offices of the China Exim Bank and the ICBC.
The planned pipeline would run from Hoima, Uganda to Tanga, Tanzania, transporting oil from two oil fields and potentially connecting to oil blocks in the DRC.

"The controversial EACOP project threatens pristine ecosystems, biodiversity hotspots, water resources, and community lands," said #StopEACOP, as well as "contradicting global climate goals."
Campaigners had planned to deliver petitions opposing the 896-mile pipeline, as well as documents containing analysis of the socioeconomic and climate impacts of the project. According to #StopEACOP, the pipeline would run through the basin of Lake Victoria, which more than 40 million people depend on for food and water; displace landowners who say they have already faced threats and intimidation; and run through the habitats of endangered animals including lions, giraffes, roan antelopes, and sables.
#StopEACOP reported that officials at the embassies refused to receive the documents.
Organizers also denounced authorities for arresting seven advocates in Kampala.
"Every time activists and communities stand up to peacefully oppose EACOP in Uganda, they are brutalized and arbitrarily arrested," said Brian Atuheire, executive director of the African Initiative on Food Security and Environment (AIFE). "Today, seven young activists have been detained for peacefully protesting outside the Chinese Embassy in Kampala. Despite the repression, we remain resolute and have drawn strength and courage from the incredible show of solidarity from comrades worldwide."
Richard Senkondo, executive director for the Organization for Community Engagement, said any institution supporting EACOP "is perpetrating injustice."

"This pipeline will destroy our land and water—our very way of life," said Senkondo. "It poses a grave threat to the environment and the well-being and rights of our communities."
"We are united with allies around the world in our continued resistance against this harmful project," Senkondo added. "Instead of supporting such projects, we urge these Chinese institutions to be a true ally to the African continent by favoring the development of people-centered renewable energy to power Africa's future."
News