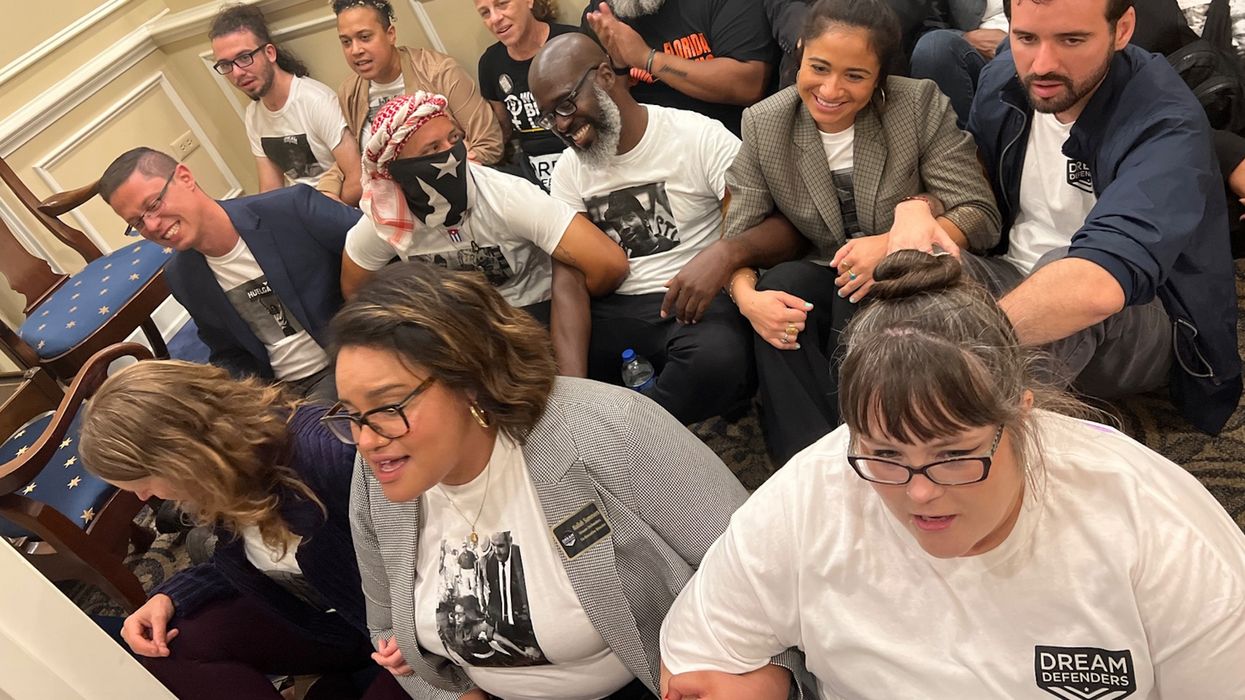 One group said the Republican governor's staff "is giving real Marie Antoinette vibes."
More than a dozen activists were arrested late Wednesday after occupying part of Republican Florida Gov. Ron DeSantis' office to protest his "fascist agenda," especially his support for a new anti-immigrant bill.
Protest organizers said 14 people were placed under arrest Wednesday evening. Earlier in the day, dozens of members of the Florida-based and youth-led Dream Defenders and allied groups including Florida Rising and Showing Up for Racial Justice had entered the lobby of DeSantis' office in Tallahassee, where around a dozen people sat and locked hands in front of the reception desk.
\u201cActivists protesting Gov. Ron DeSantis and his policies, who were holding a sit-in at his office, are being arrested.\u201d

— Douglas Soule (@Douglas Soule) 1683157317
The activists—who said they would not leave until they met with the governor and presumptive 2024 GOP presidential contender—were protesting a wide range of DeSantis' policies and actions, including his support for S.B. 1718, a bill passed by both houses of Florida's Legislature that would ban cities and counties from funding organizations that issue identification documents to people who enter the U.S. illegally.
The bill also bans businesses from accepting identification—including out-of-state driver's licenses—from such immigrants, and forces hospitals to record patients' immigration status upon admission.
\u201cFrom his Don't Say Gay bill to his 6-week abortion ban and now to his newest anti-immigrant bill, Ron DeSantis has made his fascist agenda crystal clear.\n\nWe won't stand for it and neither will the millions of young voters who're ready to punch back.\u201d

— Sunrise Movement \ud83c\udf05 (@Sunrise Movement \ud83c\udf05) 1683140591
Video posted on social media by Dream Defenders shows at least one of DeSantis' staffers eating chocolate cake in front of the demonstrators.

One protester is heard saying in the video that "they sittin' here eatin' cake while the people of Florida are in crisis."
Florida Planned Parenthood Action tweeted that "as always, the cruelty is the point with this administration."
\u201c@GovRonDeSantis\u2019s staff is giving Marie Antoinette vibes..\u201d

— Women's Voices SW Florida (@Women's Voices SW Florida) 1683140993
Florida Rising senior political adviser Dwight Bullard—a former Democratic state lawmaker—said in a statement that "Gov. DeSantis and Republican lawmakers have chosen to attack many of Florida's most vulnerable and historically marginalized communities with policies that attack who they are, who they love, and how and what they learn."
Showing Up for Racial Justice associate director Julia Daniel said that DeSantis "stokes division to try and make white people afraid, and I'm here to say that we will not be divided or tricked because we know that we are stronger when we stand together."

Common Dreamsreported last month that advocacy organizations issued a travel advisory for Florida, with one of the groups, Equality Florida, citing DeSantis' "passage of laws that are hostile to the LGBTQ+ community, restrict access to reproductive healthcare, repeal gun safety laws and allow untrained, unpermitted carry, and foment racial prejudice" in warning that the Sunshine State "may not be a safe place to visit or take up residence."
News