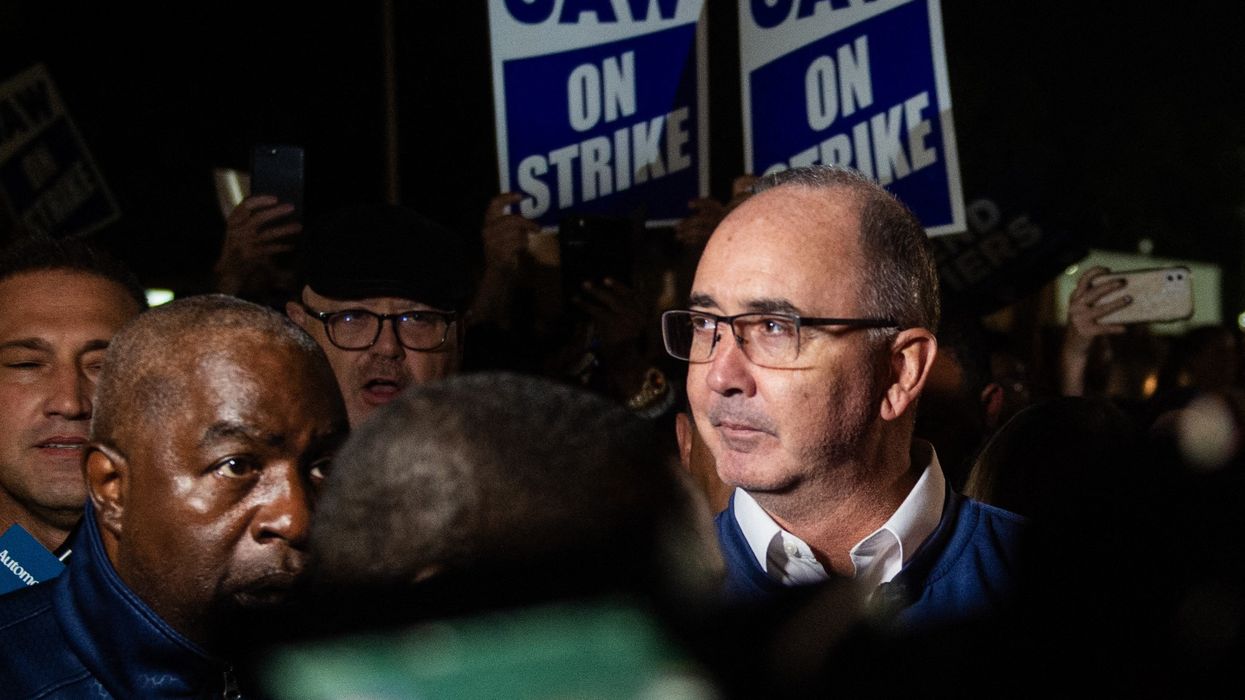 "We've been available 24/7 to bargain a deal that recognizes our members' sacrifices and contributions to these record profits," said UAW President Shawn Fain.
Days into a historic "Stand-Up Strike" at all three of the major U.S. car manufacturers, United Auto Workers President Shawn Fain said Monday evening that the union is getting ready to move into the next phase of its work stoppage strategy as the Big Three have made little progress in working to reach a fair deal with the bargaining unit's 145,000 members.
Fain, whose demands for wage increases to match the record profits of Ford, Stellantis, and General Motors (GM) have been deemed "frightening" by at least one corporate news anchor, addressed the union's members in a video posted to social media days after turning down an offer from Stellantis which would have provided a 21% raise for workers.
The company's offer amounted to less than half of what the UAW has demanded—a 36% raise% over course of the contract to reflect the rising cost of living and to match the raises that auto company CEOs have gotten over the last four years "while the companies have poured billions into stock buybacks and special dividends to enrich Wall Street," as Fain said.
"In the past four years the average price of a new car is up 34%," said the UAW leader. "You think UAW wages are driving that increase? Think again. Our pay has risen a mere 6% over the last four years. Due to inflation an autoworker today is making less in real wages than we made 20 years ago. That's why we have chosen to stand up... We told the Big Three that September 14 was a deadline and we meant it."
After about 12,700 workers at a GM plant in Missouri, a Stellantis facility in Ohio, and a Ford factory in Michigan started off the strike late last week, Fain said, the three companies now have a new deadline: Friday, September 22, after which more workers will be called to walk off the job and increase pressure on the Big Three unless executives make "serious progress."
"We've been available 24/7 to bargain a deal that recognizes our members' sacrifices and contributions to these record profits," said Fain, noting the companies have already earned over a quarter of a trillion dollars in North American profits in 2023 so far. "I have been clear with the Big Three every step of the way and I'm going to be crystal clear again right now... Autoworkers have waited long enough to make things right at the Big Three. We're not waiting around and we're not messing around."
Calling up local union chapters piecemeal instead of shutting down plants across the Big Three en masse "is the only way this strategy works," Fain added. "We're going to keep hitting the company where we need to when we need to."

The strategy could help preserve the UAW's $825 million strike fund, University of Michigan-Flint economics professor Chris Douglas told WSMH in Flint on Monday, while affecting the Big Three's profits rapidly, since assembly plants are being targeted.
In addition to paying striking workers $500 per week, the union is now paying 2,600 workers at non-striking plants who were temporarily laid off last week by GM and Ford.

Fain did not say which locals may be called to join the strike on Friday, but urged all UAW members to "keep showing the companies that you are ready to join the strike if necessary."
In addition to a pay raise that reflects company profits, the union has demanded better retirement benefits, a four-day workweek, and an end to a tiered pay structure in which new employees earn less.
"This is our generation's defining moment," he told members, "so be ready to stand up."

News