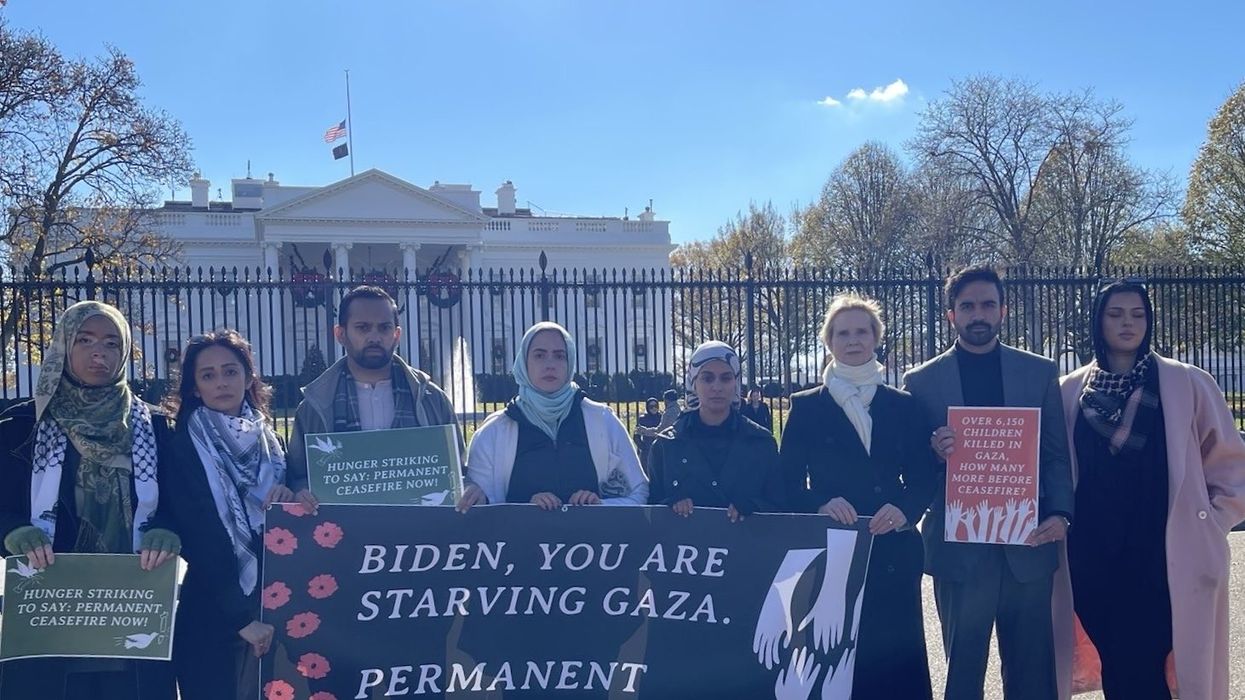 "As the mother of Jewish children whose grandparents are Holocaust survivors, I have been asked by my son to use my platform," said actor and activist Cynthia Nixon.
As Israel and Hamas on Monday agreed to extend their temporary pause of fighting in the Gaza Strip, advocacy group leaders, U.S. state lawmakers, and actor and activist Cynthia Nixon were among those who launched a hunger strike demanding a permanent cease-fire in Washington, D.C. outside the White House.
"As the mother of Jewish children whose grandparents are Holocaust survivors, I have been asked by my son to use my platform to project as loudly as possible that 'never again' means never again for everyone," said Nixon, one of more than 260 artists who signed a letter asking U.S. President Joe Biden and Congress to call for a cease-fire in Gaza.
"As an American, I am here to demand that our president stop funding the mass killing and starvation of thousands of innocent Palestinians, the majority of whom are children and women," she continued. "President Biden must use this moment to negotiate a permanent cease-fire that will bring all the hostages and political prisoners home and start to lay the foundation for a lasting peace."
"Palestinians in Gaza deserve to be grieved and it's astonishing that we even have to say this, but Palestinians in Gaza deserve to live."
Other supporters of the five-day hunger strike include Palestinian organizer and activist Linda Sarsour, Delaware state Rep. Madinah Wilson-Anton (D-26), Oklahoma state Rep. Mauree Turner (D-88), Virginia state Rep. Sam Rasoul (D-11), Adalah Justice Project (AJP), the American-Arab Anti-Discrimination Committee, Democratic Socialists of America, Dream Defenders, IfNotNow, the Institute for Middle East Understanding, Jewish Voice for Peace, and the U.S. Campaign for Palestinian Rights (USCPR).
"By every measure, this moment is the greatest loss of life and devastation in the history of the Palestinian people," said Iman Abid-Thompson, director of advocacy and organizing at USCPR. "We have been calling on Congress and President Biden to demand a total cease-fire since the beginning of October. While we welcome the 48 statements of support from members of Congress who have called for a total cease-fire, it is not enough. Time is of the essence."
"We know that Congress and President Biden could have called for a cease-fire weeks ago, but they haven't," she added. "We have all watched the destruction of Gaza and seen entire families, every generation, buried in mass graves. We cannot escape the images of children laying lifeless and in pieces. We are haunted by the dead and the living, and we will never forget what we have witnessed."

Since the October 7 Hamas-led attack that killed around 1,200 Israelis, Israel's retaliatory war on Gaza has killed over 14,850 Palestinians, including at least 6,150 children, and devastated civilian infrastructure in the besieged enclave. Both sides agreed to a four-day cease-fire that began Friday and have since exchanged hostages taken by Hamas last month and Palestinians imprisoned by Israel.

On Monday, Majed Al-Ansari, a spokesperson for the Qatari Ministry of Foreign Affairs, confirmed the two-day extension of the truce on social media. The Associated Pressreported that "Israel will resume its operations with 'full force' as soon as the current deal expires if Hamas does not agree to further hostage releases, government spokesperson Eylon Levy told reporters."'
Hunger strike supporter Rana Abdelhamid, an ex-New York congressional candidate, stressed that "a temporary cease-fire is not enough. Israel has made it abundantly clear that it has no intention of stopping its bombing of Gaza as long as it enjoys the full backing of the U.S. government. We will not allow the Biden administration to continue to fund the killing and starvation of Palestinians with impunity. We need a permanent cease-fire to save lives, and we need it now."

In the wake of Hamas' attack last month, Biden affirmed his "unwavering" support for Israel—currently controlled by the most far-right government in its history—and asked Congress for $14.3 billion for the war effort, on top of the $3.8 billion in annual military assistance that the country gets from the United States.
The Interceptreported Saturday that Biden has also asked Congress to lift most restrictions on Israel's access to a U.S. stockpile of weapons there, which "would essentially create a free-flowing pipeline to provide any defense articles to Israel," according to Josh Paul, a former U.S. State Department official who resigned over arms transfers to the country.
"Our government should not be supporting the mass murder of tens of thousands of Palestinians in Gaza," AJP director of strategy and communications Sumaya Awad declared Monday. "No one is spared by Israel's bombs, not journalists, not doctors, not children and NICU babies."
"As a Palestinian, as an American, and as a mother, I am on hunger strike to demand that President Biden call for a permanent cease-fire," she said. "Without a lasting cease-fire, Israel will continue the unfolding genocide in Gaza. Palestinians in Gaza deserve to be grieved and it's astonishing that we even have to say this, but Palestinians in Gaza deserve to live."

News