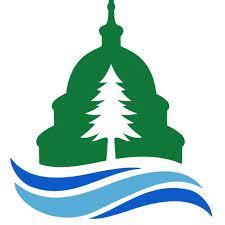 For Immediate Release
Contact:
Kirsten Stade (202) 265-7337
EPA's Jackson Has Checkered Chromium Record
New Jersey Tenure Marked by Stifling Health Warnings on Deadly Substance
WASHINGTON
Three days before Christmas, EPA Administrator Lisa Jackson promised
swift action on the presence of hexavalent chromium (or chromium-6, the
substance made famous by Erin Brockovich in California) in drinking
water after meeting with 10 U.S. Senators. During her tenure as the
top environmental official in New Jersey, however, Jackson stalled or
minimized health warnings on chromium-6, including those from her own
staff, according to materials posted today by Public Employees for
Environmental Responsibility (PEER).
Despite being seemingly
taken by surprise by the Environmental Working Group findings of
chromium in drinking water, from her very first until her last days as
Commissioner of the New Jersey Department of Environmental Protection
(DEP) from 2005 to 2008, Jackson wrestled with increasingly dire
scientific findings that raised big questions about how protective her
department's policies were, including -
A DEP risk
assessment that found current New Jersey standards for chromium 6 in
soil are more than 200 times laxer than needed to protect public health.
While this assessment was about soil, it pointed to risks from
ingestion in water and recommended review of stomach cancer rates near
contaminated sites. That assessment has yet to be translated into
standards;
A DEP scientist-whistleblower who revealed state
sampling data showing that individual cancer risks from continued
presence of airborne chromium may be as high as 1 in 10 at some sites
the state has declared to be clean. Nonetheless, Commissioner Jackson
lifted the moratorium on chromium cleanups, thus allowing more
inadequate site remediations to proceed;
A 2008 DEP health
assessment that found heightened risks of lung cancer from exposure to
airborne chromium in the Jersey suburbs of the New York metropolitan
area; and
Newspaper exposes documenting that scientific fraud
by consultants and improper industry influence led to relaxed DEP
cleanup standards for chromium, saving corporate polluters hundreds of
millions of dollars in reduced cleanup costs.
None of
these developments were met with substantive reforms, however. "For
years Lisa Jackson has reacted to blaring chromium alarms as if each one
was news to her," stated PEER Executive Director Jeff Ruch, pointing to
cities like Garfield. "Thousands of people in New Jersey remain as
vulnerable to chromium risks as they ever were." Compounding the problem
was that Jackson and her top deputies took actions to cut off the flow
of new scientific information rather than addressing underlying risks,
such as -
Abolishing the DEP Division of Science &
Research which produced the chromium risk assessments and replacing it
with an advisory body with industry representation;
Removing the
DEP whistleblower, Zoe Kelman, from chromium-related assignments and
denying her meaningful work. Kelman eventually resigned in disgust; and
Issuing
"gag" orders prohibiting scientists from disclosing agency data to any
outside parties "until it is ready for public distribution."
"Chromium
in water is a concern but it is also of concern in the air and soil.
We need a comprehensive national response to chromium in all media,"
added Ruch. "Our fear is that we will see the New Jersey pattern of
promises but no follow-through repeated at EPA."
###
View the 12/22/10 Lisa Jackson statement on chromium
Peruse delayed 2009 DEP chromium risk assessment
Look at Jackson lifting chromium site work moratorium
Examine 2008 airborne chromium risk warning
Revisit DEP chromium whistleblower isolated by Jackson
Read unanswered PEER letter to Jackson on DEP whistleblower
See Jackson chromium-inspired gag order
Review industry influence on chromium limits in New Jersey
Public Employees for Environmental Responsibility (PEER) is a national alliance of local state and federal resource professionals. PEER's environmental work is solely directed by the needs of its members. As a consequence, we have the distinct honor of serving resource professionals who daily cast profiles in courage in cubicles across the country.
LATEST NEWS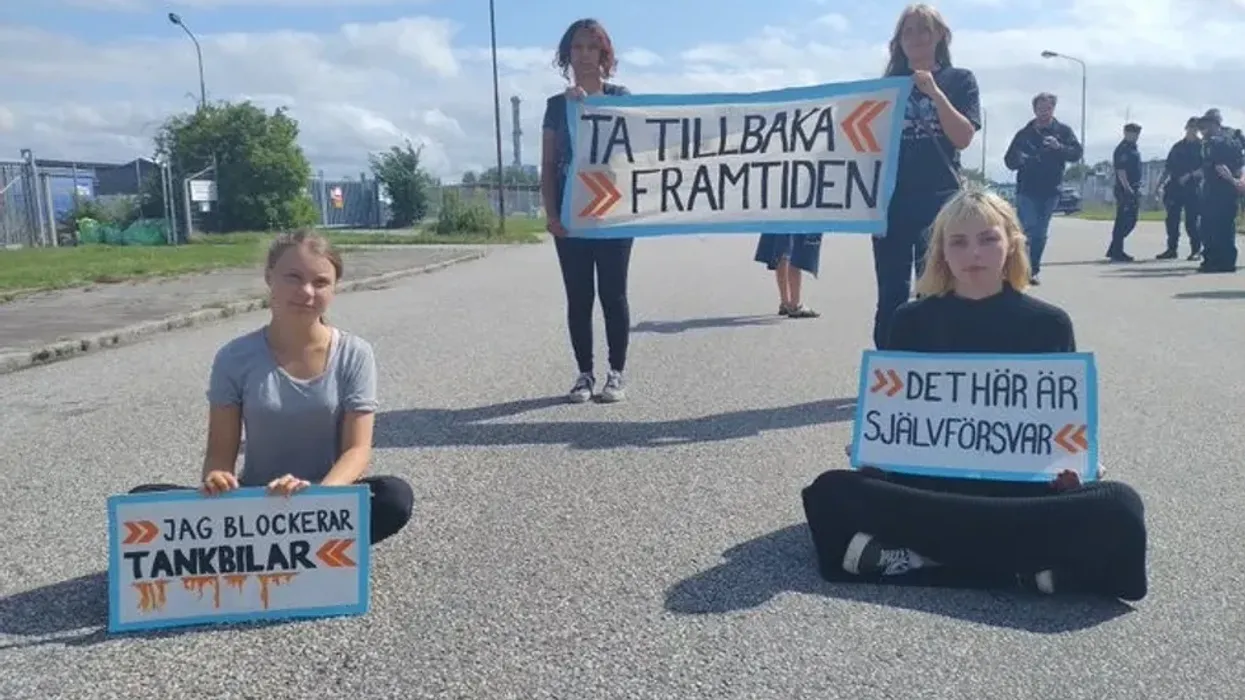 The Swedish climate activist has been charged for a second time for failing to obey police orders.
Swedish climate activist Greta Thunberg was charged for a second time on Friday for not leaving a protest near an oil terminal after police ordered her to do so.

The new charge comes less than two months after Thunberg, who launched the School Strike for Climate movement five years ago in August, was convicted for the same offense. If convicted again, Reuters reported, she could face up to six months in prison.
"It is absurd that those who act in line with science should pay the price for it," Thunderg told journalists the day of her first conviction on July 24, as Reuters reported at the time.
"We know we can't save the world by following the rules, because the rules have to change."
Thunberg was first arrested on June 19 for blocking the road that oil trucks take into Sweden's Malmö harbor to reach the oil terminal there. She acted with the Swedish group Ta Tillbaka Framtiden, or Reclaim the Future.
Thunberg pleaded not guilty to the charges from the June protest, arguing that she disobeyed the police out of necessity to stop the climate crisis, as Reuters reported.
"I believe that we are in an emergency that threatens life, health, and property. Countless people and communities are at risk both in the short term and in the long term," she told the court.
At the time of the trial, the media was also reporting on people fleeing extensive wildfires in Greece, Reclaim the Future pointed out on social media.
However, the court convicted her and fined her a total of $244, BBC News reported.
Hours later, Thunberg and 15 other Reclaim the Future activists returned to Malmö to block traffic, the group said. Police removed them once again.
"We know we can't save the world by following the rules, because the rules have to change," Thunberg said at the time, in a quote shared by Reclaim the Future on social media.
It is for this second protest that Thunberg is being charged now.
"The protest was unauthorized and led to traffic being blocked. The young woman refused to obey police order to leave the site," prosecutor Isabel Ekberg said, as The Local.Se reported. "This is therefore a case of refusal to comply."
Disobeying police orders caries a maximum sentence of six months in prison. While prosecutor Charlotte Ottesen thought such a sentence unlikely after Thunberg's first charge, Reuters said the sentence could be steeper after her second.
Thuberg's second trial is scheduled for September 27.
News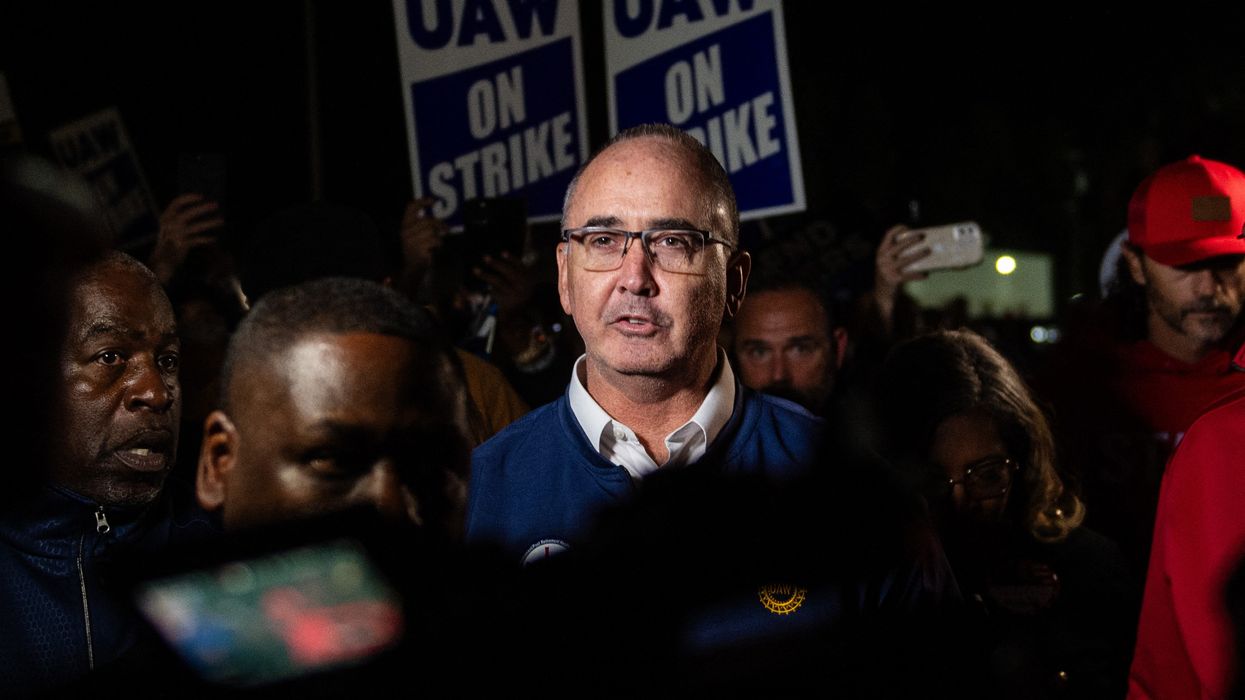 "The CEOs gave themselves 40% pay increases in the last four years alone," United Auto Workers president Shawn Fain said from the picket line. "And they want to call us greedy."
Forty percent.
It's a figure that United Auto Workers president Shawn Fain cited repeatedly in the run-up to the union's historic strike against the Big Three U.S. car manufacturers as he called attention to the exorbitant compensation of the companies' top executives.
Over the past four years, the CEOs of General Motors, Ford, and Stellantis have seen their total pay jump by 40% while the wages of the companies' ordinary employees have risen by just 6%. The Economic Policy Institute observed earlier this week that autoworker wages across the U.S. have fallen by 19.3% since 2008.
Last year, the CEOs of the Big Three automakers received staggering pay packages, fueling workers' ongoing push for better wages and benefits. Ford's Jim Farley took home around $21 million, Stellantis' Carlos Tavares pocketed nearly $25 million, and General Motors' Mary Barra—the highest-paid of the group—brought in roughly $29 million.
Barra has received more than $200 million in compensation since becoming GM's CEO in 2014.

"We've went backwards in the last 16 years—backwards—while the CEOs gave themselves 40% pay increases in the last four years alone," Fain said from a picket line in Michigan early Friday. "And they want to call us greedy."
"UAW members see the CEO pay disparity as a measurement of how they are undervalued."
The contrast between CEO and worker pay at the large, profitable automakers is striking.
The shareholder advocacy nonprofit As You Sow, which tracks CEO-to-worker pay gaps at U.S. companies, noted Friday that Ford's chief executive made 281 times as much as the company's median worker last year.
The gap was even larger at General Motors, where Barra was paid 362 times more than the automaker's median employee in 2022.
In a CNN interview on Friday, Barra insisted it is fair that General Motors is only offering its workers a 20% pay increase over the course of a four-year contract after she got a 34% compensation boost over the past four years.
Rosanna Landis Weaver, director of wage justice and executive compensation at As You Sow, said in a statement Friday that "as a consequence of out-of-control executive compensation, shareholders are now faced with striking workers at a critical juncture as these companies transition to EV production."
"UAW members see the CEO pay disparity as a measurement of how they are undervalued," said Weaver. "Skyrocketing CEO pay is linked to worker dissatisfaction and lower profits, making excessive pay a distinct material risk that shareholders must take seriously."
Progressive lawmakers who have expressed solidarity with the UAW's fight for a fair contract have also condemned runaway executive compensation and declining worker wages.
"The Big Three auto companies have already raked in $20 billion in profits this year. Their CEOs make millions. They can afford to pay their employees a living wage," Rep. Jamaal Bowman (D-N.Y.) wrote on social media Friday. "I'm standing with UAW as they start their strike. We got you!"
In an appearance on MSNBC Thursday night, Sen. Bernie Sanders (I-Vt.) noted that "over the last 20 years, real wages for automobile workers have gone down by 30% when you account for inflation" as CEO pay has risen.
"I really applaud the courage of Shawn Fain and the workers at the UAW for standing up and saying: 'You know what? Enough is enough,'" Sanders added. "No one thinks that three people on top should own more wealth than the bottom half of American society. That CEOs are making 400 times more than their workers—that's not what this country is supposed to be about. That's what the UAW is telling the American people, and I think there's massive support for what they're trying to do."

According to the Economic Policy Institute, CEO compensation at the top publicly traded companies in the U.S. grew by 1,460% between 1978 and 2021 while typical worker pay grew by just 18.1%.
Robert Reich, the former U.S. labor secretary, argued in a blog post Thursday that the combination of "humongous executive pay packages," massive automaker profits, low wages for hourly employees, and tiered pay systems that harm newer workers have increased "the likelihood of a long strike."
"CEO pay at the Big Three is out of sight," Reich noted. "Overall, CEO pay rose 40% over the last four years. And that's not counting all the other executive salaries under the CEOs that have been ratcheted upward as CEO pay has gone through the roof."
News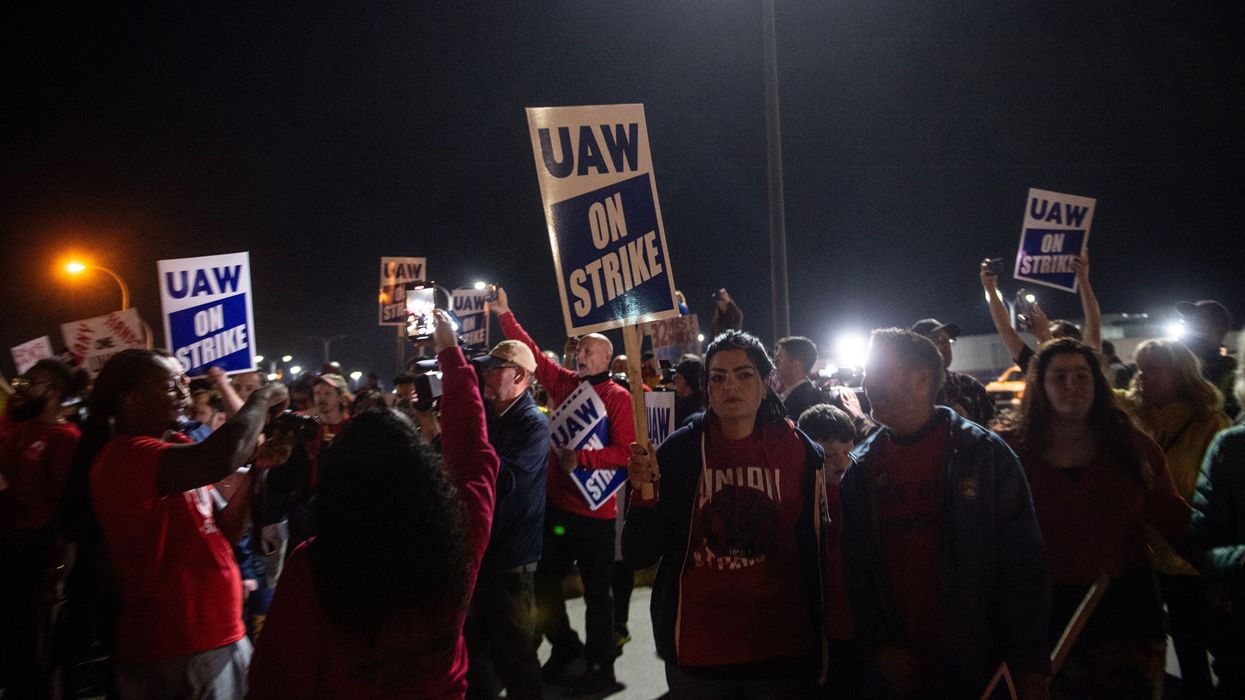 "The money is there, the cause is righteous, the world is watching, and the UAW is ready to stand up," said Shawn Fain, the union's president.
The United Auto Workers union kicked off historic strikes against the Big Three U.S. car manufacturers early Friday morning after the companies failed to meet workers' demands for adequate pay increases and benefit improvements.
The initial wave of strikes hit select Ford, General Motors, and Stellantis facilities, with the union deploying a tactic it has described as a " stand-up strike."
UAW members at General Motors' Wentzville Assembly in Missouri, Ford's Michigan Assembly, and Stellantis' Toledo Assembly in Ohio were the first to walk off the job on Friday, and additional locals will be called on to strike in the coming days as negotiations continue.
Those who remain on the job will be working under an expired collective bargaining agreement, though they still have status quo protections.
The labor actions mark the first time the UAW has ever gone on strike against all three major automakers simultaneously.
"We've been working hard, trying to reach a deal for economic and social justice for our members," UAW president Shawn Fain said in a speech late Thursday, just ahead of the midnight strike deadline. "We have been firm. We are committed to winning an agreement with the Big Three that reflects the incredible sacrifice and contributions UAW members have made to these companies."
"The money is there, the cause is righteous, the world is watching, and the UAW is ready to stand up," Fain added. "This is our defining moment."
The companies' latest publicized offers to the UAW included raises of up to 20% over the course of a four-year contract, but the proposals thus far have fallen well short of the union's demands on wages, cost-of-living adjustments, retiree benefits, and other key issues.

Ford CEO Jim Farley, who brought in nearly $21 million in total compensation last year, told CNN that the UAW's push for a near-40% wage increase would "put us out of business," a claim that Fain dismissed as a "joke."
"The cost of labor for a vehicle is 5% of the vehicle," Fain said from the picket line outside Ford's Michigan Assembly plant. "They could double our wages and not raise the prices of vehicles, and they would still make billions of dollars. It's a lie like everything else that comes out of their mouths."
Between 2013 and 2022, according to an Economic Policy Institute analysis released this week, the Big Three automakers saw roughly $250 billion in total profits—an increase of 92%—and the companies' CEOs received a 40% pay increase. The automakers also rewarded shareholders with $66 billion in dividend payouts and stock buybacks.
U.S. autoworkers' wages, meanwhile, have declined by over 19% since the car industry's 2008 crisis, during which workers gave up cost-of-living adjustments and other benefits to help keep the major automakers afloat.
"As a single parent, I'm working paycheck to paycheck," Adelisa LeBron, a striking Ford worker, toldThe Washington Post. "I love the way Shawn is fighting for us, how he's not going to settle."
In his address late Thursday, Fain urged locals that are not currently on strike to "keep organizing" to "show the companies you are ready to join the stand-up strike at a moment's notice."
"This strategy will keep the companies guessing," he said. "It will give our national negotiators maximum leverage and flexibility in bargaining. And if we need to go all out, we will. Everything is on the table."
On Friday evening, the UAW is planning to hold what Fain dubbed a "mass rally" outside of a Ford building in downtown Detroit, where U.S. Sen. Bernie Sanders (I-Vt.) is expected to appear.

"We must show the world that our fight is a righteous fight," said Fain.
News
Independent, nonprofit journalism needs your help.
Please Pitch In
Today!