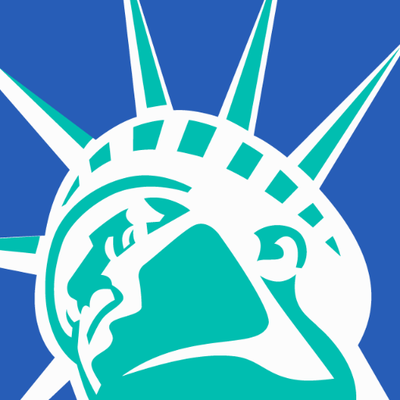 For Immediate Release
January, 12 2010, 04:35pm EDT
Contact:
Bryan Buchanan (202) 454-5108
On His Way Out, Corzine Dismisses Public Call for New Direction on American Trade Policy, Vetoes Reform Bill
New Jersey Governor Rejects Bill Passed by State Legislature That Would Safeguard State's Regulatory Authority From Trade Agreements
WASHINGTON
New Jersey
Gov. Jon Corzine on Monday vetoed cutting-edge legislation that would
have safeguarded job-creation programs, Buy America/Buy New Jersey
procurement preferences and renewable source energy policies from being
undermined by trade agreements. The Jobs, Trade and Democracy Act
required a vote by the state Legislature before the state could be
bound by federal government officials to conform state policies to the
non-trade regulatory constraints imposed through certain trade
agreements. The bill was designed to ensure that the practice and
principles of American democracy, from federalism to checks and
balances, are safeguarded in this era of globalization, Public Citizen
said.
The New Jersey
bill Corzine vetoed dovetails with the federal Trade Reform
Accountability Development and Employment (TRADE) Act, which provides
for improved state-federal consultation on trade agreement matters.
That bipartisan legislation has 133 co-sponsors in the U.S. House of
Representatives, including New Jersey congressional Reps. Robert Andrews, Rush Holt, Frank Pallone, Donald Payne, Steve Rothman and Chris Smith.
"It's hard to
understand why Gov. Corzine would oppose the efforts of people in New
Jersey as well as state and local officials nationwide who are
demanding new accountability over federal trade negotiators so they do
not negotiate away states' abilities to create jobs using smart
procurement policies and regulate health, energy and other services,"
said Lori Wallach, director of Public Citizen's Global Trade Watch
division. "How New Jersey chooses to spend its taxpayers' dollars to
pursue local economic development or design policies to make health
care affordable should be decided by New Jersey citizens through their
democratically elected Legislature with approval by their governor -
not imposed top-down by foreign trade pacts."
The
legislation (S. 1802), which passed the New Jersey General Assembly in
May (61-13-3) and the state Senate in December (32-6), would have
required state legislative approval of federal government requests in
order for New Jersey to be bound to conform its policies to the
non-tariff provisions of future trade agreements, including these
agreements' service sector, procurement and investment rules. Today's
trade agreements have drastically expanded scopes, which include the
imposition of new constraints on non-trade policies over which state
and local governments traditionally have had jurisdiction, such as
those affecting environmental protection, financial service regulation,
land use and economic development, access to affordable healthcare and
medicines, and more. State and local officials have increasingly become
aware that today's "trade" agreements are invading the non-trade policy
space reserved for state officials through an insidious sort of
international pre-emption. Five other states - Hawaii, Maine, Maryland,
Minnesota and Rhode Island - have recently enacted legislation similar
to that which Corzine vetoed.
The New Jersey
legislation was in part a response to past attempts by the U.S. Trade
Representative's (USTR) office to obtain blanket sign-on from state
governors to bind their states' laws to comply with procurement policy
constraints included in an array of trade agreements with several dozen
countries - including agreements that had not yet been negotiated.
Given that the setting of state procurement policy is typically a
function of the legislative branch, the past practice of federal
officials binding state procurement laws to comply with trade pact
restrictions without consulting state legislatures has been highly
controversial. During the Bush administration, the USTR also rebuffed
state legislators' requests simply to be given notice when the USTR
requested that governors bind their states to trade pact procurement
provisions.
Corzine's veto
defies growing public opposition to current U.S. trade agreement
policies following fair trade election sweeps. In 2006 and 2008, 72
congressional incumbents who supported the North American Free Trade
Agreement (NAFTA)/World Trade Organization (WTO) trade pact model were
replaced by fair traders who rejected these failed policies and
advocated improvements.
"Gov. Corzine
rejected the voters' call for a new approach to trade policy by
choosing not to reclaim from overreaching 'trade' agreement
requirements the ability to promote New Jersey's social, environmental
and economic development goals," said Sarah Edelman, state and local
program coordinator for Public Citizen's Global Trade Watch
division. "Creating new, orderly avenues for state legislatures to
decide if and when their regulatory space will be constrained by U.S.
trade policy would help ensure we can obtain the benefits of both a
healthy federalist democracy and trade."
Since the
passage of NAFTA and the WTO, the United States has seen its trade
deficit balloon from less than $100 billion to $700 billion, five
million manufacturing jobs sent offshore and median real wages remain
flat - even as worker productivity has soared. Meanwhile, scores of
domestic non-trade laws have been challenged before foreign tribunals
established under the "trade" pacts, including state laws on zoning,
toxics and mining.
READ the bill.
LEARN more about state and local governments' actions regarding international trade agreements.
Public Citizen is a nonprofit consumer advocacy organization that champions the public interest in the halls of power. We defend democracy, resist corporate power and work to ensure that government works for the people - not for big corporations. Founded in 1971, we now have 500,000 members and supporters throughout the country.
(202) 588-1000
LATEST NEWS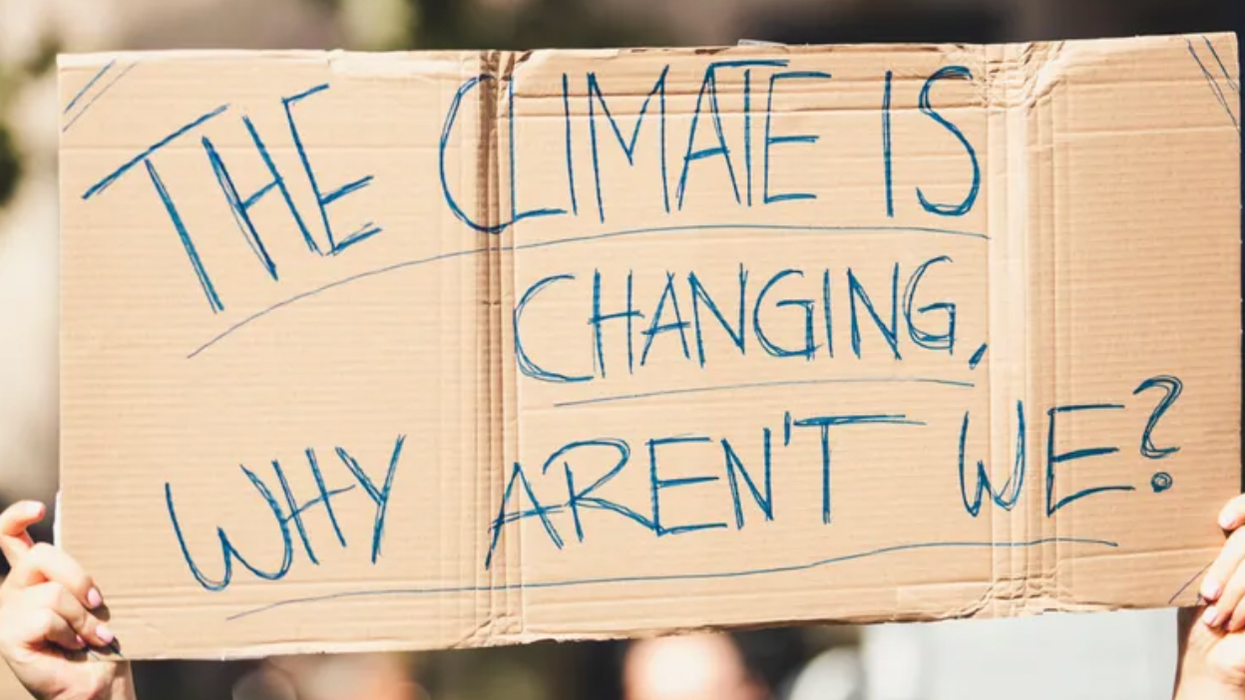 "In order to be equipped for a warmer world, we have to anticipate changes, get the affected parties on board, and take advantage of local knowledge," said one researcher.
Scientists at the University of Hamburg in Germany argued Wednesday that meeting the 2015 Paris climate agreement's goal of limiting planetary heating to 1.5°C is "currently not plausible"—but warned that despairing over climate "tipping points" risks taking attention away from "the best hope for shaping a positive climate future... the ability of society to make fundamental changes."
The Hamburg Climate Futures Outlook assessed the planetary impacts of several "physical processes that are frequently discussed as tipping points." These include the melting of sea ice in the Arctic and glaciers at the North and South Poles; the weakening of the Atlantic Meridional Overturning Circulation (AMOC), the system of ocean currents that carries warm water upward into the North Atlantic; and "dieback" in the Amazon rainforest, in which rising temperatures would dry out trees and eventually change the forest landscape into a savanna, releasing billions of tons of stored carbon.
Those scenarios "are serious developments," said researchers at the university, but the melting of ice "will have very little influence on the global temperature until 2050." The weakening of AMOC and Amazon dieback will have a "moderately" greater influence on global temperatures.
"Human agency has a large potential to shape the way climate futures will evolve."
"By extrapolating current trends," reads the study, "permafrost thaw and Amazon Forest dieback are expected to release somewhat more than one year's worth of today's anthropogenic CO2 emissions between now and 2050. Thus, the contributions of these two processes to the remaining carbon budget are small. Since both will only moderately affect the global surface temperature, we deduce that they also only moderately inhibit the plausibility of attaining the Paris agreement temperature goals."
Such tipping points "could drastically change the conditions for life on Earth," but for experts, progressive politicians, and campaigners who share the goal of limiting planetary warming to 1.5°C—or as close to that as possible—"they're largely irrelevant," said Jochem Marotzke, a study co-author and professor at the university's Cluster of Excellence "Climate, Climatic Change, and Society" (CLICCS).
In other words, The Hillexplained, "Keeping global warming below 1.5°C—the goal set in the Paris agreement—is implausible for social reasons, not technical ones."
The researchers also examined 10 "drivers of social change" including media, United Nations climate policies, transnational initiatives, climate regulations, climate litigation, knowledge production, consumption patterns, corporate responses, fossil fuel divestment, and climate and social movements like the global Fridays for Future movement and Extinction Rebellion.
\u201cTo analyze the scenario, we assess 10 social drivers and 6 physical processes using our integrated CLICCS Plausibility Assessment Framework.\u201d

— CEN Uni Hamburg (@CEN Uni Hamburg) 1675248518
With fossil fuel companies continuing to make long-term investments in oil and gas extraction even as they announce pledges to reach net-zero carbon emissions, and rampant consumption of carbon-intensive goods showing no sign of slowing down, the study says, corporate responses and consumption patterns "continue to undermine the pathways to decarbonization, let alone deep decarbonization."
A number of social drivers including social movements, climate regulations, and fossil fuel divestment were found to currently "support decarbonization, but not deep decarbonization by 2050," which is needed to attain the 1.5°C goal.
"There are promising reforms underway, especially at the E.U. level," reads the report, adding that "general and ongoing public interest in and focus on climate policies" is an "enabling condition" that could help strengthen global movements and ramp up pressure on policymakers.
The researchers' assessment of the 10 social drivers demonstrates "that human agency has a large potential to shape the way climate futures will evolve," tweeted CLICCS. "However, human agency is strongly shaped by injustices and social inequalities, which inhibit social dynamics toward deep decarbonization by 2050."
The study identified how human actions can help shift the current trajectory "toward deep decarbonization," including:
The election of governments committed to climate action in countries including Australia, Brazil, Chile, Germany, and the U.S.;
More engagement and influence of individuals and organizations with strong and independent climate science journalism, to help support societal mobilization for climate action; and
Proactive communication from everyone interested in a more productive public debate on climate action based on social consensus.
"In order to be equipped for a warmer world, we have to anticipate changes, get the affected parties on board, and take advantage of local knowledge," said Anita Engels of the Center for Earth System Research and Sustainability at University of Hamburg. "Instead of just reacting, we need to begin an active transformation here and now."
News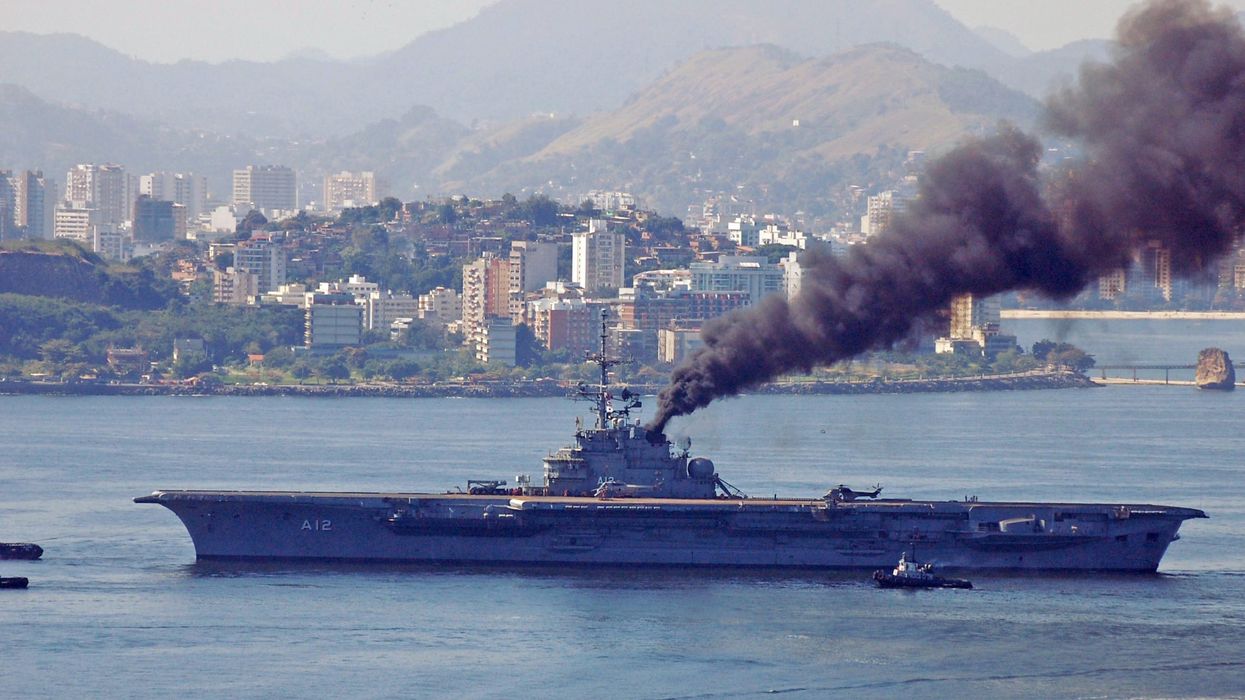 Intentionally sinking the vessel "would equate to a state-sponsored environmental crime," said one shipbreaking expert.
The former flagship of Brazil's navy—an ex-French aircraft carrier built in the late 1950s that environmentalists estimate contains hundreds of tons of highly carcinogenic chemicals—will be scuttled at sea after being denied permission to be scrapped in Turkey, Brazilian naval officials said on Wednesday.
The NAe São Paulo (A-12), an 870-foot Clemenceau-class carrier first commissioned by the French navy in 1963 as the Foch, will be sunk using explosives about 217 miles off Brazil's coast in the country's exclusive economic zone at a depth of around 16,000 feet, Brazilian Environmental Minister Marina Silva said after a federal judge denied a government request to stop the sinking on environmental grounds.
"Given its deteriorating floating condition and the inevitability of uncontrolled sinking, there is no other option but to jettison the hull and sink it in a planned way," Brazil's navy said of the ship in a statement, according to Reuters.
Silva, and many environmentalists, did not want to sink the vessel, which contains an unknown quantity of toxic substances. French authorities said they believed there were 45 tons of asbestos—a common fire retardant at the time of the carrier's construction—onboard, although experts said the figure is likely higher.
"We're talking about a ship containing both hazardous materials and valuable materials—it's supposed to be brought into the territory of Brazil and managed in an environmentally sound way."
Basel Action Network (BAN), a Seattle-based NGO that works to stop the export of toxic waste to developing nations, estimates the São Paulo contains around 300 tons of highly carcinogenic polychlorinated biphenyls (PCBs).
Under pressure from environmental groups including BAN, Turkish authorities last September rescinded permission for the São Paulo to be towed to Turkey for scrapping after Brazilian officials could not provide a satisfactory list of toxic substances aboard the carrier.

BAN executive director Jim Puckett said that abandoning the São Paulo at sea would be an act of "gross negligence," as well as a violation of three international environmental conventions.
"We're talking about a ship containing both hazardous materials and valuable materials—it's supposed to be brought into the territory of Brazil and managed in an environmentally sound way," Puckett toldTime. "You can't just sink it."
Nancy Wallace, director of the U.S. National Oceanic and Atmospheric Administration's marine debris program, concurred.
"Anytime there's a vessel that's left at sea, the first thing to think about is toxic chemicals, which can be very impactful to wildlife," Wallace said.
In a statement last month, Ingvild Jenssen, founder and executive director of NGO Shipbreaking Platform, asserted that "intentionally sinking this toxic aircraft carrier would equate to a state-sponsored environmental crime."

Brazil purchased the vessel from France for $12 million in 2000, and the São Paulo served as the Brazilian navy's flagship until it was decommissioned in 2018.
In a late twist, earlier this week a Saudi business group offered the equivalent of $6 million for the São Paulo's hull—three times the offer made by the Turkish shipyard that had tried to acquire the ship.

Puckett argued the vessel is simply too valuable to be scuttled.
"It's got millions of dollars worth of steel to be recycled, which far outweighs the cost of managing those hazardous materials," he contended. "I've never seen such a valuable ship being deliberately sunk."
News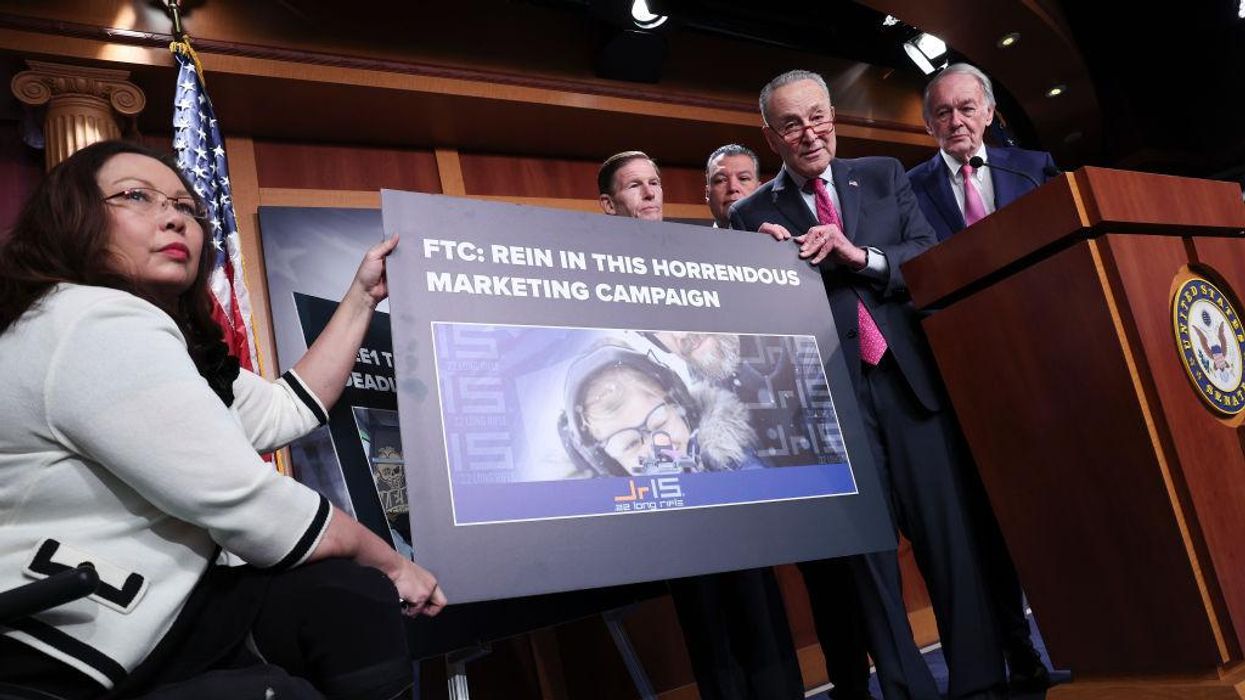 "A junior version of the AR-15 has no place in a kid's toy box," the U.S. senator argued, calling the gun industry's advertising of a weapon for children "shameful, irresponsible, and dangerous."
U.S. Sen. Ed Markey on Thursday introduced legislation to outlaw the marketing of firearms to children amid growing outrage from federal lawmakers, gun violence prevention advocates, and parents over a weapon for kids inspired by the AR-15.
The Massachusetts Democrat's Protecting Kids From Gun Marketing Act would direct the Federal Trade Commission (FTC) to create rules to "prohibit any manufacturer, dealer, or importer, or agent thereof, from marketing or advertising a firearm or any firearm-related product to a minor in a manner that is designed, intended, or reasonably appears to be attractive to a minor."
The bill would also empower state attorneys general and private individuals to take legal action for violations of the rules.
"Imagine the public outcry if the alcohol or tobacco industries introduced child-friendly versions of their adult products."

The proposal follows recently renewed criticism of Illinois-based WEE1 Tactical for its JR-15. After coming under fire last year for branding that featured pacifier-sucking baby skulls with gun sights for eye sockets, the gunmaker scrapped the images and now says the firearm represents "a great American tradition," a "small piece of American freedom," and "American family values."
Markey led a May 2022 a letter calling on the FTC to investigate WEE1 Tactical for unfair or deceptive marketing tactics and last week, in the wake of a series of mass shootings, he joined a press conference during which senators repeated that demand.
"I am once again calling on the FTC to step up and use its authority to crack down on gunmakers who market their deadly weapons to America's youth," he said last week. "The deceptive and deadly marketing behind the 'JR-15' is grotesque and reflects the depth of the gun industry's moral depravity."
Markey also took aim at WEE1 Tactical's gun on Thursday, declaring that "a junior version of the AR-15 has no place in a kid's toy box."
"America's gun violence epidemic is claiming tens of thousands of lives each year as gunmakers, dealers, and vendors alike continue to put sales over safety by targeting kids with advertising of a deadly weapon," he said. "It's shameful, irresponsible, and dangerous. The FTC must act immediately to prohibit the marketing of these weapons to children, a step that could save lives."
\u201cLast May, I led my colleagues in urging the @FTC to investigate the marketing of the highly lethal JR-15 to children. Shortly after, WEE1 Tactical went dark. But now, a few weeks after a 6-year-old shot his teacher, they're back on the market. It's sickening and it has to stop.\u201d

— Ed Markey (@Ed Markey) 1675107799
The legislation is co-sponsored by Sens. Richard Blumenthal (D-Conn.), Bob Casey (D-Pa.), Tammy Duckworth (D-Ill.), Dick Durbin (D-Ill.), Dianne Feinstein (D-Calif.), Mazie Hirono (D-Hawaii), Chris Murphy (D-Conn.), Alex Padilla (D-Calif.), Jack Reed (D-R.I.), Elizabeth Warren (D-Mass.), and Sheldon Whitehouse (D-R.I.).
The bill is also supported by the organizations Brady, Everytown, Giffords, March For Our Lives, and the Violence Policy Center—whose executive director, Josh Sugarmann, said that "few Americans are aware that there is an ongoing, coordinated effort by the gun lobby and firearms industry targeting America's children and teens. Imagine the public outcry if the alcohol or tobacco industries introduced child-friendly versions of their adult products."
Giffords federal affairs director Adzi Vokhiwa stressed that "the gun industry's deceptive and reckless marketing practices have real consequences: Our nation's gun violence epidemic is worsening while the gun industry's profits soar. Promoting weapons to young people is especially heinous considering that guns are now the number one cause of death for children."
"It's time for Congress to take a stand and defend young peoples' lives against an immoral industry practice."
Just over a month into 2023, at least 154 children across the United States have been killed by gun violence and another 364 have been injured so far, according to the Gun Violence Archive. Last year, the totals were 1,675 and 4,479, respectively.
"There's no world in which deadly firearms manufacturers should advertise guns to children," said Zeenat Yahya, policy director, March for Our Lives, which was formed by students after the 2018 high school shooting in Parkland, Florida.
"Unsecured access to guns has killed far too many children and young people over the years," Yahya continued. "The very idea that gun manufacturers want to take advantage of young people by targeting young people who aren't even old enough to drive with ads that sell deadly weapons is sickening."
"It's time for Congress to take a stand and defend young peoples' lives against an immoral industry practice," she added, "and we're pleased to stand with Sen. Markey and our congressional partners in the introduction of this bill."

News
SUPPORT OUR WORK.
We are independent, non-profit, advertising-free and 100%
reader supported.