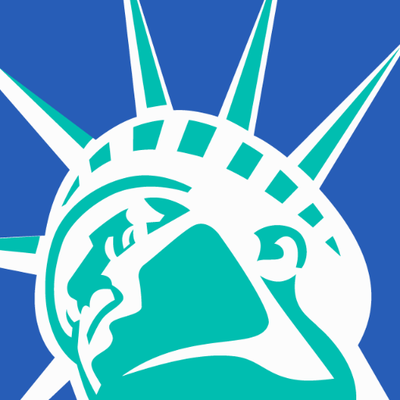 For Immediate Release
Contact:
Phone: (202) 588-1000
Supreme Court to Decide Whether Citizens Can Effectively Challenge Illegal Government Rules
Administration Seeks to Shield Logging, Drilling and Off-Road Vehicle Use on Forest Service Lands from Public Review
WASHINGTON
The U.S. Supreme Court is set to
decide whether the public can effectively challenge illegal government
regulations and, in the process, will decide whether citizens have a
voice in the management of national forests.
On Oct. 8, the high court will hear
a case that started out as an important challenge to the Bush
administration's weakening of the public's right to weigh in on major
decisions impacting our national forests. The case began when
conservation groups successfully challenged federal regulations issued
in 2003 that eliminated the public's ability to comment on and appeal
U.S. Forest Service actions such as commercial timber sales, oil and
gas development and off-road motorized vehicle use. The victory has
been upheld on appeal and the administration's request for a rehearing
was denied.
However, the U.S. Supreme Court
granted the government's request to review the case - not on whether
the limitations on public participation were permissible, but on a much
larger issue that could make it virtually impossible for citizens to
effectively challenge any regulation (not just environmental) issued by
a federal agency. The Bush administration is arguing that the courts
generally lack authority to hear cases brought by public interest or
citizens' groups that challenge federal regulations, and that even if a
court can hear such a case, it can't set aside a regulation nationwide,
but only within its local jurisdiction.
"Right now, timber and mining companies are calling all
the shots. Average citizens deserve a voice in how their forests are
managed and how their tax dollars are spent," said Sierra Club
representative Aaron Isherwood. "By creating financial and logistical
hurdles, the Bush administration is silencing citizens."
"The government knows that the
public interest community's resources are limited, and that its
position would allow unlawful government action - whether a timber sale
or deprivation of personal rights - to go unchecked in most instances,"
stated lead attorney Matt Kenna from the Western Environmental Law
Center. "Citizens must obey the law; there is no reason why
governments should be allowed to continue violating the law once their
actions are found to be unlawful." Kenna will present the case to the
Supreme Court.
The case, Summers v. Earth Island Institute,
has garnered significant interest. State government, academic and
public interest groups have filed amicus briefs siding with
conservation groups. The timber and building industries have filed
amicus briefs joining the government's argument that a nationwide
set-aside of an illegal regulation should be available only to
plaintiffs with an economic interest at stake.
"Obviously, that is a nonsensical
and self-serving position," stated Jim Bensman of Heartwood. "This
case is about whether or not the public has a right to be involved in
the most important decisions that affect our public lands. The number
one priority for the Bush administration has been to reduce public
accountability, and this has been especially true when it comes to
logging on our National Forests."
"Limiting justice to those who profit off our National
Forests is against everything this country stands for," said Ara
Marderosian of the Sequoia ForestKeeper. "One of the oldest rights
recognized by our courts is the public's right to protect its natural
resources - which are owned by all - not just those who would earn a
buck destroying them."
If the government prevails in this
case, the lower court ruling would be set aside, breathing new life
into the Bush administration's regulations that eliminated the public's
ability to comment on and appeal major U.S. Forest Service actions such
as commercial timber sales, oil and gas development and off-road
motorized vehicle use.
As stated by Marc Fink, an attorney
with the Center for Biological Diversity: "This case is the latest
attempt by the Bush administration to limit public involvement and
close the courthouse door to those harmed by bad Forest Service
decisions."
"Public Citizen is assisting in this case because it
could have an enormous impact not only in environmental cases, but also
in public interest litigation generally," Public Citizen attorney Scott
Nelson said. "If the Court were to side with the government, it would
significantly impair the ability of public interest organizations and
ordinary citizens to hold government agencies accountable when they
issue rules that are unlawful."
Attorney Matt Kenna of the
Western Environmental Law Center is presenting the case on behalf of
Heartwood, Sierra Club, Center for Biological Diversity, Sequoia
ForestKeeper and Earth Island Institute, along with attorney Scott
Nelson of Public Citizen.
Background (For extensive case history, visit www.westernlaw.org)
The Bush administration
unsuccessfully tried to create a backlash against conservationists and
the original ruling by holding up permits for minor activities such as
nut-gathering, mushroom-picking and hunting expeditions for people with disabilities, blaming
it on the ruling. The administration even went so far as to say the
ruling would prevent the cutting of the Capitol Christmas Tree. As
noted in a 2005 Washington Post editorial, after the judge made
clear that the Forest Service was again acting illegally, this case
"should lead to more questions about the real motives of the agency
that allegedly protects the nation's forests." (The Washington Post, Forest Service Sulk, editorial, 10/24/05)
Organizations Involved
The Center for Biological Diversityis
a national nonprofit conservation organization with more than 180,000
members and online activists dedicated to the protection of endangered
species and wild places.
Heartwoodis
a network of grassroots organizations and individuals dedicated to the
preservation of forest ecosystems and biological diversity in the
eastern United States.
Public Citizen is a national, nonprofit consumer
advocacy organization based in Washington, D.C. For more information,
please visit www.citizen.org. Through its Litigation Group and the Alan Morrison Supreme Court Assistance Project,
Public Citizen provides aid to individuals and public interest groups
litigating before the Supreme Court of the United States.
Sequoia ForestKeeperis
a nonprofit conservation organization with world-wide membership and
on-the-ground activists dedicated to protecting Sequoia National
Forest, where this case originated.
Founded by John Muir in 1892, Sierra Clubis
the nation's oldest and largest grassroots environmental organization.
The Sierra Club's mission is to explore, enjoy and protect the planet.
The Western Environmental Law Centeris
a nonprofit public interest law firm that works to protect and restore
western wildlands and advocates for a healthy environment on behalf of
communities throughout the West.
Public Citizen is a nonprofit consumer advocacy organization that champions the public interest in the halls of power. We defend democracy, resist corporate power and work to ensure that government works for the people - not for big corporations. Founded in 1971, we now have 500,000 members and supporters throughout the country.
(202) 588-1000
LATEST NEWS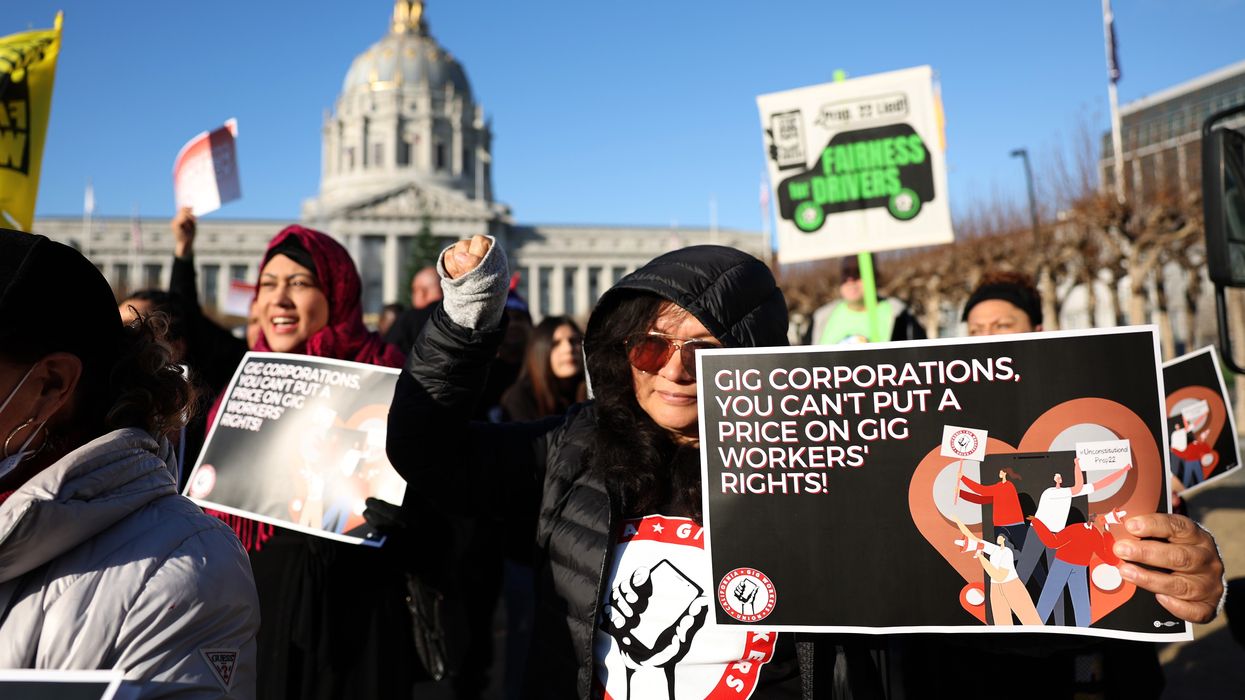 But "the oligarchs are dancing in the streets tonight," said one law professor as talk among worker advocates turned to a likely appeal before the state Supreme Court.
Labor advocates on Tuesday decried the California appellate court largely upholding Proposition 22, the industry-backed 2020 state ballot measure allowing app-based ride and delivery companies to classify their drivers as independent contractors—which is serving as a template for legislation to deny basic worker rights, benefits, and protections in other states.
The 1st District Court of Appeals on Monday rejected Alameda County Superior Court Judge Frank Roesch's 2021 ruling that Prop 22 was unconstitutional, a decision viewed at the time as a major blow to gig economy companies such as Uber, Lyft, DoorDash, and Instacart whose business models rely upon minimizing frontline worker compensation by categorizing drivers as independent contractors instead of employees. Independent contractors are not entitled to unemployment insurance, health insurance, or recompensation for business expenses.
"The oligarchs are dancing in the streets tonight," tweeted Veena Dubal, a professor at the University of California College of the Law, San Francisco.
David Huerta, president of the California branch of the Service Employees International Union (SEIU)—which led a 2021 lawsuit challenging Prop 22 and is expected to appeal Monday's decision to the California Supreme Court—said in a statement that "when gig companies can spend over $200 million to pass a law that violates our state's constitution instead of investing in workers, it's clear that California needs better safeguards for our democracy."
"And now, the fast food industry and oil industry are copying the gig industry's playbook—attempting to boost their profits by hijacking the ballot referendum process and overturning laws that give workers a voice on the job and protect the health of our communities," he added.
Meanwhile, Uber chief legal officer Tony West called the ruling "a victory for app-based workers and the millions of Californians who voted for Prop 22" and claimed that the law gives drivers and couriers "new benefits while preserving the unique flexibility of app-based work."
Prop 22's passage in November 2020 with nearly 59% of the vote was the culmination of what was by far the most expensive ballot measure in California history. App-based companies and their backers outspent labor and progressive groups by more than 10 to 1, with proponents pouring a staggering $204.5 million into the "yes" campaign's coffers against just $19 million for the "no" side.
Had voters rejected Prop 22, gig companies would have been compelled to pay drivers the state minimum wage, and provide healthcare, paid sick leave, overtime pay, and reimbursement for some of the work-related expenses that claim a significant share of drivers' income.
Instead, app-based companies are required to pay frontline workers 120% of the state minimum wage—currently $15.50 per hour—but only while driving and not during the waiting that constitutes a significant amount of their workday. The companies must also offer a health stipend to drivers who work more than 15 hours a week—again, only actual driving hours count—and cover the cost of workplace injuries.
The experience of Daryush Khodadadi-Mobarakeh—who drives 35-40 hours a week for Uber, Lyft, and DoorDash—is typical of many app-based drivers.

According to CalMatters labor reporter Grace Gedye:
Khodadadi-Mobarakeh, who is a leader with the California Gig Workers Union, said his pay has consistently decreased since he began working in 2014, including after Prop 22 went into effect. Now it takes him about 12 hours to make the same amount he used to earn in eight hours before Prop 22, he said. And he doesn't receive the health stipend; he didn't bother trying to sign up, he said, because he gets insurance through his wife and his understanding is that you need to be on your own insurance to get the reimbursement.
A May 2021 Instacart survey found that just 12% of its shoppers—the workers who fill and deliver customer orders—said they worked enough weekly hours to qualify for the health stipend, and of those people, only a quarter applied for and received the benefit.
Prop 22's passage inspired the introduction of similar legislation in other states. In Massachusetts, Lyft gave a record $14.4 million to a coalition established to fund a prospective 2022 state ballot measure to keep ride-hailing and delivery app drivers classified as independent contractors.
The Massachusetts Supreme Judiciary Court ultimately blocked the measure from appearing on the 2022 ballot, arguing that app-based companies went too far by including language meant to protect them from liability when their drivers get in accidents by classifying them as "not an employee or agent."
News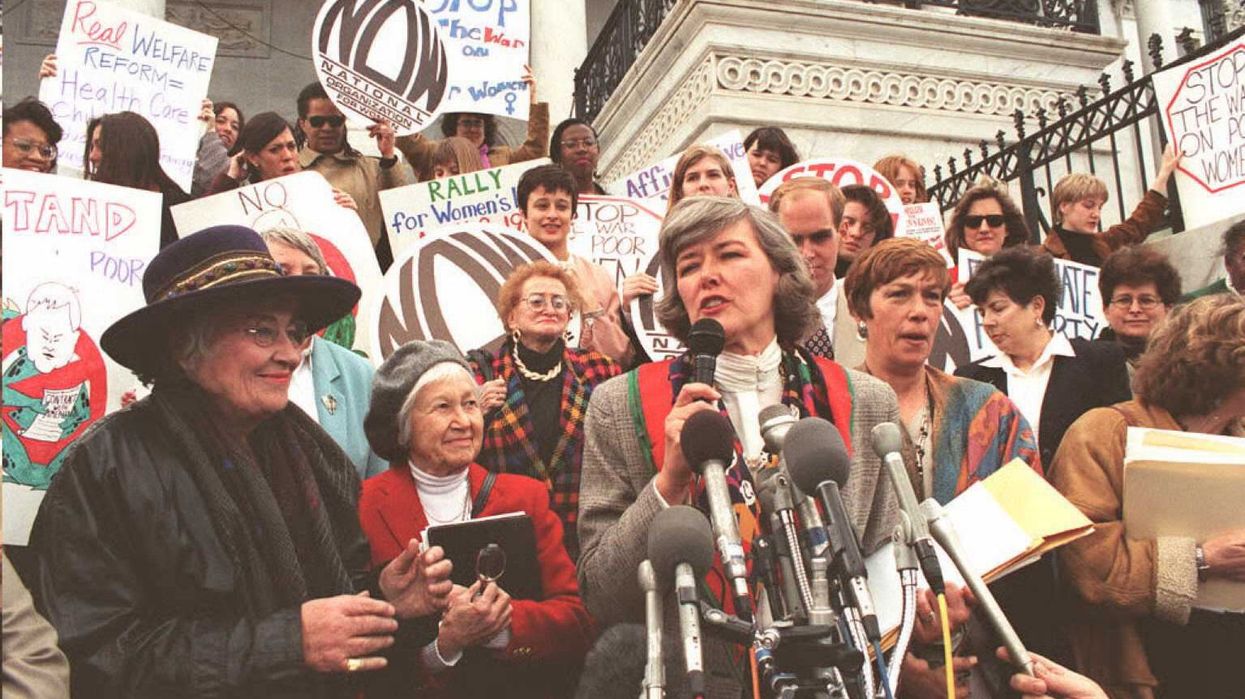 "A pioneer for women's rights, Rep. Schroeder spoke up for Colorado in D.C. for over two decades, defying odds and making her mark," said one lawmaker.
Progressive lawmakers were among those mourning the death of former U.S. Rep. Patricia Schroeder, who served in the House for 24 years and pushed for legislation to protect the jobs of parents, control military spending, and expand healthcare for low-income people. She died in Celebration, Florida on Monday at age 82.
Schroeder first ran for Congress in 1972, representing the Denver area and centering her grassroots campaign largely on her opposition to the U.S. war in Vietnam.

She was one of just 14 women in the House when she took office and was the first woman to serve on the House Armed Services Committee, on which she sat for her entire legislative career.

Upon being named to the committee, Schroeder recalled being ordered by Chairman F. Edward Hébert, a right-wing Democrat from Louisiana, to share a seat with African-American Rep. Ron Dellums (D-Calif.), saying that Hébert told the newly elected lawmakers that they were "only worth half the normal member."
She had previously been told by a dean at Harvard Law School, where she earned a law degree in 1964, that she and the other 14 women in her class had "taken this position from a man."
She was undaunted by the sexism she encountered, and used her position on the Armed Services Committee to regularly call for arms control and reduced military spending. Schroeder aimed to reform the committee that she said acted too frequently as the Pentagon's "lap dog."

The congresswoman was also well known for leading the fight for women's rights in the workplace, pushing for the passage of the 1978 Pregnancy Discrimination Act, which prohibited employers from firing women because they were pregnant. Fifteen years later, she helped pass the Family and Medical Leave Act of 1993 to ensure people wouldn't lose their jobs for taking time off work to care for a newborn or other family member.
Other legislation she played a crucial role in passing included the Violence Against Women Act of 1994; the National Child Protection Act of 1993, which established a background check system for childcare providers; and the Breast and Cervical Cancer Mortality Prevention Act of 1990, which provided screenings for lower-income women.

In 1995, Schroeder joined Bernie Sanders, then an Independent member of the House representing Vermont, in rising to oppose the comments of Rep. Duke Cunningham (R-Calif.). Cunningham uttered a slur as he attacked the two lawmakers for supporting gay Americans who served in the military and told Sanders, "Sit down, you socialist!"
Schroeder retorted with a "parliamentary inquiry," asking, "Do we have to call the gentleman a gentleman if he's not one?"

On Tuesday, Sanders tweeted that Schroeder "was not only a friend but an extraordinarily effective congresswoman who, in so many ways, led the way in opening up opportunities for women."
"Former Congresswoman Pat Schroeder was a fearless champion for women's rights," said Rep. Alexandria Ocasio-Cortez(D-N.Y.). "Her work has inspired countless women in politics and government, and we hope to continue to uphold her legacy."
Newly elected progressive Reps. Maxwell Alejandro Frost (D-Fla.) and Jasmine Crockett (D-Texas) also expressed appreciation for Schroeder's legacy.
"A pioneer for women's rights, Rep. Schroeder spoke up for Colorado in D.C. for over two decades, defying odds and making her mark," said Crockett. "Last night we lost a giant—but Pat Schroeder's legacy and work lives on!"
News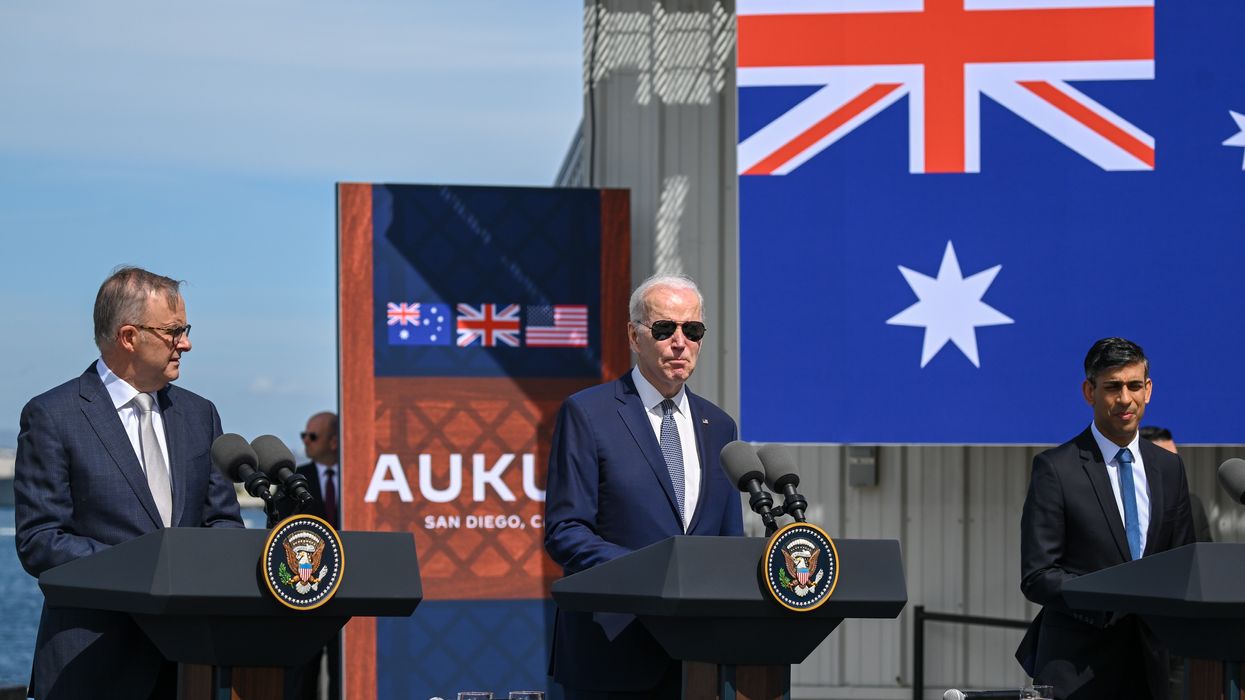 Beijing called on Australia, the U.K., and the U.S. "to abandon the Cold War mentality and zero-sum games, honor international obligations in good faith, and do more things that are conducive to regional peace and stability."
China accused Australia, the United Kingdom, and the United States of threatening peace in the Pacific region after leaders of the so-called AUKUS military partnership unveiled further information about their plan to expand the reach of Washington's nuclear-powered submarine technology.
"The latest joint statement from the U.S., U.K., and Australia demonstrates that the three countries, for the sake of their own geopolitical interests, completely disregard the concerns of the international community and are walking further and further down the path of error and danger," Chinese foreign ministry spokesperson Wang Wenbin said at a Tuesday press conference.
Eighteen months after AUKUS was established, Australian Prime Minister Anthony Albanese, U.K. Prime Minister Rishi Sunak, and U.S. President Joe Biden met Monday in California, where they announced details about the yearslong collaboration.
Following roughly a decade of training from the U.S. and U.K. navies, Australia is set to purchase three Virginia-class submarines propelled by enriched uranium by the "early 2030s," pending U.S. congressional approval. After the initial deal, Canberra will have the option to obtain two additional vessels, which are valued at $3 billion each and capable of launching cruise missiles.
"The sale announced on Monday is part of a long-term, multi-stage plan destined to make Australia a full partner in fielding top-secret U.S. nuclear technology previously shared only with the U.K.," Al Jazeerareported. "Meanwhile, Australia and Britain will start building a new submarine model with U.S. technology and support, with the U.K. expected to deliver its first home-built nuclear submarine by the late 2030s. Australia is set to deliver those new vessels to its navy by the early 2040s."
As the news outlet noted, the trilateral agreement also "includes a commitment to cooperate on building artificial intelligence capabilities, hypersonic weapons, and other advanced technologies."
Although China received only a passing reference on Monday, AUKUS is widely seen as a U.S.-led effort to contain Beijing's growing economic, military, and diplomatic power. Chinese officials, global peace activists, and the U.K. Labour Party have denounced the military pact as an escalation of a "new Cold War" against China.
Speaking Monday from the Naval Base Point Loma in San Diego, Biden described the moment as "an inflection point in history, where the hard work of enhancing deterrence and promoting stability is going to affect the prospect of peace for decades to come."
Albanese, meanwhile, thanked the U.S. for sharing its nuclear propulsion technology for "the first time in 65 years and only the second time in history."
For his part, Sunak argued that "Russia's illegal invasion of Ukraine, China's growing assertiveness, and [the] destabilizing behavior of Iran and North Korea" make it "more important than ever that we strengthen the resilience of our own countries," adding: "Ultimately, the defense of our values depends, as it always has, on the quality of our relationships with others."
Wang's statement came after the Chinese mission to the United Nations condemned the deal on Twitter:
The nuclear submarine cooperation plan released today by AUKUS is a blatant act that constitutes serious nuclear proliferation risks, undermines [the] international non-proliferation system, fuels arms races, and hurts peace and stability in the region.

The irony of AUKUS is that two nuclear weapons states who claim to uphold the highest nuclear non-proliferation standard are transferring tons of weapons-grade enriched uranium to a non-nuclear-weapon state, clearly violating the object and purpose of the NPT [Non-Proliferation Treaty].

Such a textbook case of double standard will damage the authority and effectiveness of the international non-proliferation system. We urge the trio to honor their obligations as members of the NPT and respond to the [concerns] of the international community.
According toThe Guardian: "Biden rejected the accusation, saying the submarines would be 'nuclear-powered, not nuclear-armed.' Penny Wong, Australia's foreign minister, said the Chinese criticism was 'not grounded in fact.'"
Australia has long maintained that it is not looking to acquire nuclear weapons or build its civil nuclear capacity and intends to abide by the NPT.
But critics of AUKUS worry that it "could still indirectly spur the proliferation of weapons" by setting "a dangerous precedent for countries to exploit a loophole in the NPT," The Guardianexplained when the alliance was created in September 2021. The NPT allows countries without atomic bombs, such as Australia, "to build nuclear-powered submarines, and to remove the fissile material they need for the submarine reactors from the stockpile monitored by the global watchdog, the International Atomic Energy Agency, opening up the possibility it could be diverted to making weapons."
The joint statement issued by Biden, Sunak, and Albanese on Monday says that the U.S., U.K., and Australia "continue to consult with the International Atomic Energy Agency to develop a non-proliferation approach that sets the strongest precedent for the acquisition of a nuclear-powered submarine capability."
Wang called this claim "pure deception" and accused the three countries of "coercing" the IAEA into providing its endorsement.
Mao Ning, another Chinese foreign ministry spokesperson, urged the trio "to abandon the Cold War mentality and zero-sum games, honor international obligations in good faith, and do more things that are conducive to regional peace and stability."
Biden said Monday that he expects to speak soon with Chinese President Xi Jinping.
But Wang declared Tuesday that Beijing does not want to "communicate for the sake of communicating." Instead, he said, "the U.S. side should come forward sincerely, with practical actions to promote China-U.S. relations."
Relations between Washington and Beijing have deteriorated in recent months, hitting their lowest point in decades.
Last August, visits by then-U.S. House Speaker Nancy Pelosi (D-Calif.) and other members of Congress to Taiwan (the Republic of China, or ROC) chilled numerous channels of communication. Beijing—along with most of the international community, including Washington since the 1970s—considers the breakaway province to be part of the People's Republic of China (PRC).
In a departure from more than four decades of "One China" policy—in which the U.S. recognizes the PRC as the sole legal government of China and maintains informal relations with the ROC while adopting a position of "strategic ambiguity" to obscure how far it would go to protect Taiwan—Biden has vowed on multiple occasions to use military force in response to a Chinese invasion of the island.
In addition to the AUKUS nuclear submarine deal, the U.S. announced last October that it is preparing to deploy up to six nuclear-capable B-52 bombers to northern Australia, where they would be close enough to strike China.
After Washington shot down a Chinese ballon that entered U.S. air space last month, Beijing refused to take a call from U.S. Secretary of Defense Lloyd Austin, and U.S. Secretary of State Antony Blinken canceled his long-awaited trip to China.
As The Associated Pressreported Tuesday, Xi told Chinese lawmakers last week that "Western countries led by the United States have implemented all-round containment, encirclement and suppression of China, which has brought unprecedented grave challenges to our nation's development."
"On the Legislature's closing day Monday, Xi said it was necessary to modernize the armed forces and 'build the people's army into a great wall of steel' that protects China's interests and national security," AP reported. "Xi also reiterated China's determination to bring Taiwan under its control by peaceful or military means amid rising concern abroad over a possible attack on the island Beijing claims as its own territory."
China must "resolutely oppose interference by external forces and Taiwan independence separatist activities, and unswervingly promote the process of reunification of the motherland," said Xi.
Amid growing concerns that Washington's increasingly hostile approach to Beijing could spiral into a full-blown military conflict, progressive advocacy groups have argued that "nothing less than the future of our planet depends on ending the new Cold War between the United States and China."
News
SUPPORT OUR WORK.
We are independent, non-profit, advertising-free and 100%
reader supported.