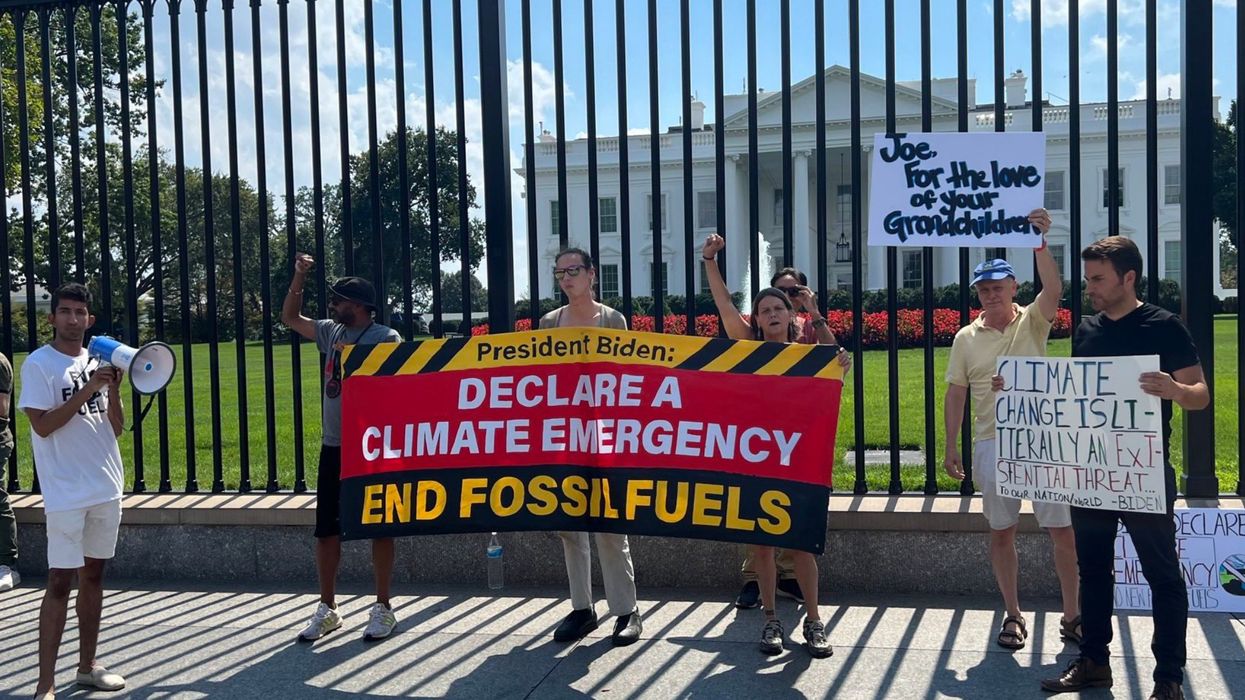 "Our constituents are counting on the federal government to use all tools at our disposal to save our planet."
Progressive U.S. House Democrats on Thursday led an urgent call for President Joe Biden's administration to phase out fossil fuel production on federal lands by the end of the decade and codify such a phaseout in new rules being drafted by executive agencies.
"With ever greater concern about the dire state of the climate emergency, we write to urge you to phase out oil and gas production on federal lands and waters by 2030," the 31 lawmakers—led by Congressional Progressive Caucus Chair Pramila Jayapal (D-Wash.) and Rep. Rashida Tlaib (D-Mich.)—wrote in a letter to the president.
The legislators' letter, which comes ahead of this weekend's March to End Fossil Fuels in New York and next week's United Nations Climate Ambition Summit in the city, adds:
Climate disasters are increasing in frequency and severity. Wildfire flames and smoke are forcing communities to evacuate across the country. Sea-level rise is shrinking coastal areas and dismantling infrastructure. Hurricanes are becoming stronger, devastating entire communities, and headlines of record-breaking heat and cold are starting to become normal. July was the hottest month in recorded history. The climate crisis is here now and causing widespread death and destruction.
Noting that nearly a quarter of U.S. greenhouse gas emissions are generated from federal lands, the letter stresses that "it is still possible to keep international climate commitments and limit warming to 1.5° C," the Paris agreement's more ambitious objective.
Parties to the Paris agreement are set to gather in Dubai this November for the U.N. Climate Change Conference (COP28).
"If we are to reach this goal, however, we must continue to turn our current climate trajectory around in the next couple of years," the lawmakers asserted. "To do this we must pair the historic investment in climate in the Inflation Reduction Act with strong administrative actions such as a phase-down of fossil fuel production on public lands. Our constituents are counting on the federal government to use all tools at our disposal to save our planet."
The legislators' letter is backed by 125 climate and environmental advocacy groups, including the Center for Biological Diversity, Friends of the Earth U.S., Food & Water Watch, Oxfam America, 350.org, Greenpeace USA, RootsAction, GreenLatinos, Unitarian Universalists for Social Justice, and Rainforest Action Network.
"If President Biden is looking for a way to keep his promise to end drilling on federal lands, Reps. Jayapal, Tlaib, and their 29 colleagues have provided it," Gladys Delgadillo, a climate organizer at the Center for Biological Diversity, said in a statement. "The federal fossil fuel program is a profound threat to life on Earth, and it's totally within President Biden's control. There's not a single good reason for it to still exist in 2030."
The lawmakers' letter came on the same day Democratic U.S. lawmakers and climate activists gathered on Capitol Hill in Washington, D.C. for a Rally to End Fossil Fuels. Speaking at the event, Sen. Jeff Merkley (D-Ore.) called the climate emergency "the most important issue facing humanity."
"But here's the ugly and brutal truth: Right now humanity is failing," he added.

On Wednesday, nearly 400 scientists called on Biden to act on the demands of the March to End Fossil Fuels, which include halting new drilling permits and repealing authorization of the Willow project and Mountain Valley Pipeline, phasing out drilling on federal lands, declaring a climate emergency, and ensuring a just transition to renewable energy sources.

News