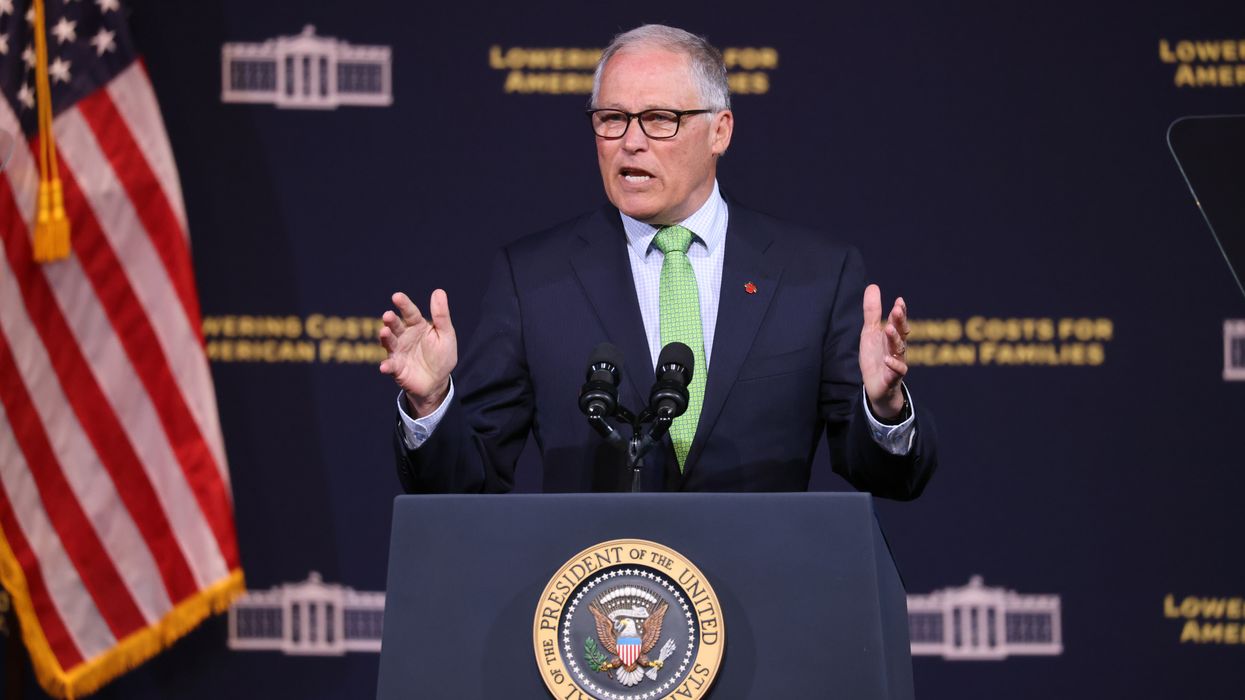 "This irresponsible decision will have implications on the health and well-being of communities, as well as lasting impact on generations to come," warned one campaigner.
Elected officials and environmental advocates in the Pacific Northwest on Thursday condemned U.S. regulators for greenlighting a Canadian company's fracked gas pipeline expansion project despite the fossil fuel-driven climate emergency.
The Federal Energy Regulatory Commission (FERC) approved TC Energy's Gas Transmission Northwest (GTN) XPress Project, which would upgrade compressor stations in Kootenai County, Idaho; Sherman County, Oregon; and Walla Walla County, Washington.
"Today's decision by FERC flies in the face of what is morally and economically necessary to protect our communities from the worsening impacts of climate change," declared Democratic Washington Gov. Jay Inslee. "The federal government has finally begun making tremendous climate investments under the Inflation Reduction Act, but this decision essentially digs the hole deeper and locks in long-term capital investments that prevent us from reaching our national and state goals."
Along with Inslee, political opponents of the project include Democratic Oregon Gov. Tina Kotek; U.S. Reps. Earl Blumenauer (D-Ore.), Pramila Jayapal (D-Wash.), and Andrea Salinas (D-Ore.); and U.S. Sens. Maria Cantwell (D-Wash.), Jeff Merkley (D-Ore.), Patty Murray (D-Wash.), Alex Padilla (D-Calif.), and Ron Wyden (D-Ore.).
"Expanding this fossil fuel pipeline for 50 years—until 2073—saddles our children and their children with climate harm and fossil fuel costs," Inslee warned. "This fight isn't over. I'm thankful for the aligned efforts of Gov. Kotek, our senators, and our West Coast attorneys general to make clear why this pipeline is a dangerous detour on our path away from fossil fuels. We are more resolved than ever to keep this pipeline from increasing fossil fuel use."
Advocacy groups are also determined to prevent the expansion.
"FERC failed to listen to senators, governors, state attorneys general, tribes, and the public in its rubber stamp of unnecessary fracked gas in the Northwest," stressed Columbia Riverkeeper staff attorney Audrey Leonard. "The commission's decision violates the public interest and common sense, and we will file a petition for rehearing challenging this project."
"Since the analysis for this project was published, two major TC Energy pipelines have failed, causing safety hazards and spilling fossil fuel," Leonard noted. "If this were to happen in dry, rural, fire-prone lands or in the residential areas where TC Energy's GTN pipeline is located, it would be catastrophic."
Satya Austin-Opper of 350 Deschutes in Oregon stressed that "the GTN Xpress proposal would lock in a huge new influx of fracked gas for decades at the very moment that our communities are experiencing accelerated climate change impacts such as frequent drought and summers of smoke."
"And this pipeline runs right through our community," Austin-Opper continued, also noting the company's recent history. "I'm worried about how devastating the impact would be if the pipeline were to fail, which is certainly a possibility given the unsafe track record of TC Energy's other aging pipelines."
Oil Change International U.S. program co-manager Allie Rosenbluth argued that "with this decision to approve the GTN Xpress expansion, the Biden administration is again failing on its promises to protect environmental justice communities and the climate."
The FERC decision follows a historically hot summer that led United Nations Secretary-General António Guterres to caution that "climate breakdown has begun" and the European Copernicus Climate Change Service's announcement earlier this month that 2023 is on track to be the warmest year ever recorded.

"Any expansion of fossil fuels is incompatible with a livable future," Rosenbluth asserted. "Oregon and Washington must continue to rise to the challenge and safeguard the health and well-being of communities and the climate by challenging FERC's approval of this unnecessary and dangerous gas expansion."
Leaders from Physicians for Social Responsibility (PSR) in both states also highlighted the health impacts of the project.
"FERC's alarming decision to approve the GTN Xpress Project blatantly disregards concerns from community advocates and hundreds of health professionals in Oregon and within our region," said David De La Torre of Oregon PSR. "This irresponsible decision will have implications on the health and well-being of communities, as well as lasting impact on generations to come."
"As wildfires and extreme heat events continue to increase in frequency, straining health services and the well-being of Oregonians, it is imperative that we not continue to approve proposals that accelerate the climate crisis," he added. "We don't need more fracked gas being pumped through our state and communities."

News