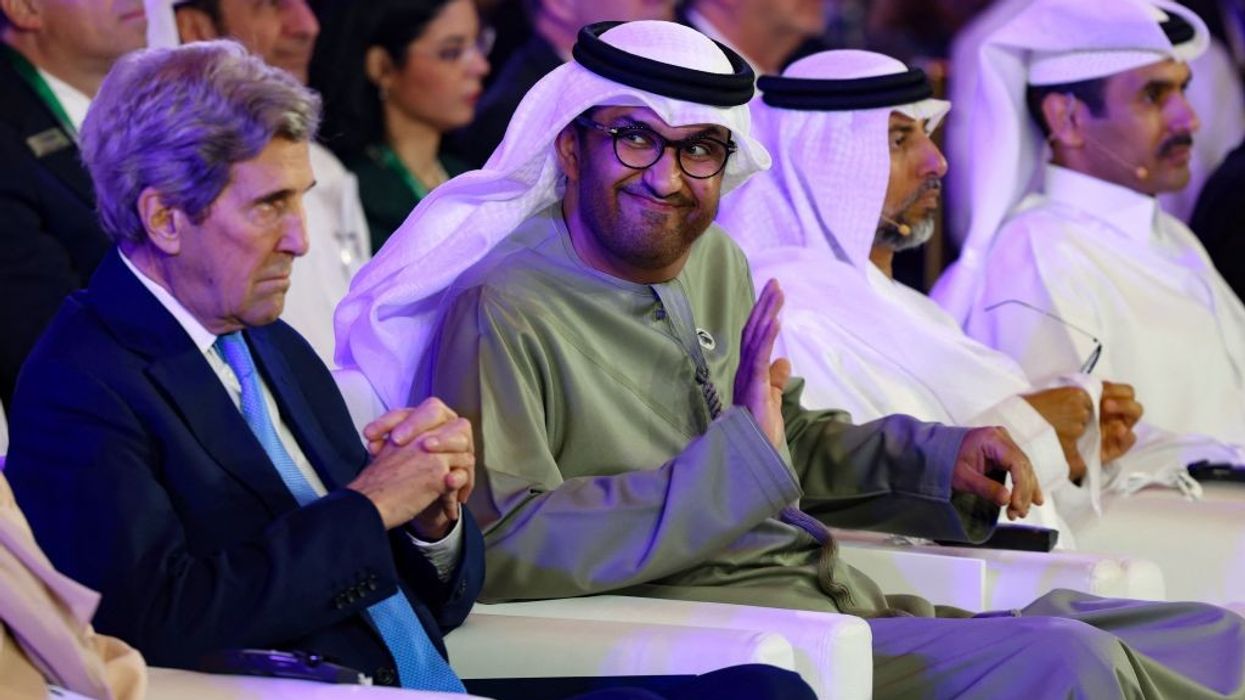 "This is the problem with 'bringing everyone to the table,'" said one critic. "Don't invite the wolf to dinner."

Calls for United Nations officials to name a new president of the annual global climate summit intensified on Tuesday as new reporting showed that people allied with Sultan Ahmed al-Jaber, president of this year's Conference of the Parties, submitted edits to his Wikipedia page in an effort to disguise his fossil fuel interests and make him appear committed to meeting the Paris climate agreement's goals.
The Guardian and the Center for Climate Reporting (CCR)reported that a number of users, including some who were paid by energy companies linked to al-Jaber, have recently edited his page of the online encyclopedia amid mounting criticism of the Abu Dhabi National Oil Company (ADNOC) CEO's appointment to lead the summit (COP28).
One anonymous user disclosed that they were being paid by ADNOC as they suggested Wikipedia editors remove a reference to a $4 billion oil pipeline deal al-Jaber signed in 2019 with investment firms BlackRock and KKR, saying the agreement was one of several "unnecessary details" included in al-Jaber's page.

The same user asked editors to replace a paragraph addressing al-Jaber's work with ADNOC—the world's 12th-largest oil company by production—and its juxtaposition with his role as the United Arab Emirates' climate envoy with a reference to ADNOC's investment in "carbon capture and green fuel technologies."
The head of marketing for COP28, Ramzi Haddad, was identified by CCR as the owner of a Wikipedia user account called Junktuner, which edited al-Jaber's page to include a quote from a Bloomberg editorial that said the ADNOC executive "is precisely the kind of ally the climate movement needs."
\u201cThe President of the COP28 conference is an Oil CEO. And now, the head of marketing for COP28 has been editing the COP28 Wikipedia articles to greenwash his reputation.\n\nDoes anyone else see the huge conflict of interests here?\u201d

— Greenpeace UK (@Greenpeace UK) 1685464017
Haddad's edit prompted a reprimand from a Wikipedia administrator, who wrote, "The nature of your edits, such as the one you made to 2023 United Nations Climate Change Conference, gives the impression you have an undisclosed financial stake in promoting a topic."

U.S. Sen. Sheldon Whitehouse (D-R.I.), who co-organized a letter signed by more than 130 U.S. and European Union lawmakers last week demanding al-Jaber be removed from his position as COP28 president, said Tuesday that the new reporting is the latest indication that the U.N. should "rethink how to run these very important forums."
"It's not surprising that COP28 is trying to burnish al-Jaber's green credentials, but the fact remains that as an oil executive he is also overseeing a lot of damage to the planet," Whitehouse told CCR.
Masdar, a UAE government-owned clean energy company where al-Jaber is chairman of the board and a former CEO, also paid a user who promoted the COP28 president's work at the firm. Those edits were submitted a day after al-Jaber's appointment was made public in January.

Caroline Lucas, a member of British Parliament who represents the Green Party, told CCR the revelations show "oil companies and their CEOs are taking greenwash to a whole new level," by not only "seizing control" of the global summit but also attempting to control narratives about al-Jaber, whose current company is expanding its fossil fuel production.
"It shows the brutal clampdown on the freedom of expression is in full swing months before the conference has even begun," Lucas said.
COP28 is scheduled for November. Al-Jaber was named president of the meeting weeks before the Intergovernmental Panel on Climate Change released its latest report on the climate crisis, promoting calls to phase out coal production by 2030 in Organization for Economic Cooperation and Development countries, ensure net-zero emissions from electricity generation by 2035 for wealthy countries, and cease all funding and licensing of new oil and gas development.
Filmmaker Charles Kriel said the greenwashing of public information regarding al-Jaber by his associates shows "the problem with 'bringing everyone to the table'" at a meeting about the climate emergency.
\u201cThis is the problem with \u201cbringing everyone to the table\u201d. Big Oil and authoritarians play the long game, and will operate an agenda of mission creep. Rather, ID the bad guys and put them out of business. Don\u2019t invite the wolf to dinner. Same for tech. https://t.co/qV4af3TBC8\u201d

— Dr Charles Kriel (@Dr Charles Kriel) 1685431256
Julia Steinberger, a professor of societal challenges of climate change at the University of Lausanne in Switzerland, said the latest news must push other climate envoys, including John Kerry in the U.S., to demand that al-Jaber step down.
"Sultan al-Jaber," she said, "is being exposed so clearly as an agent of the fossil fuel industry, whose main purpose is to prevent effective climate action."
News