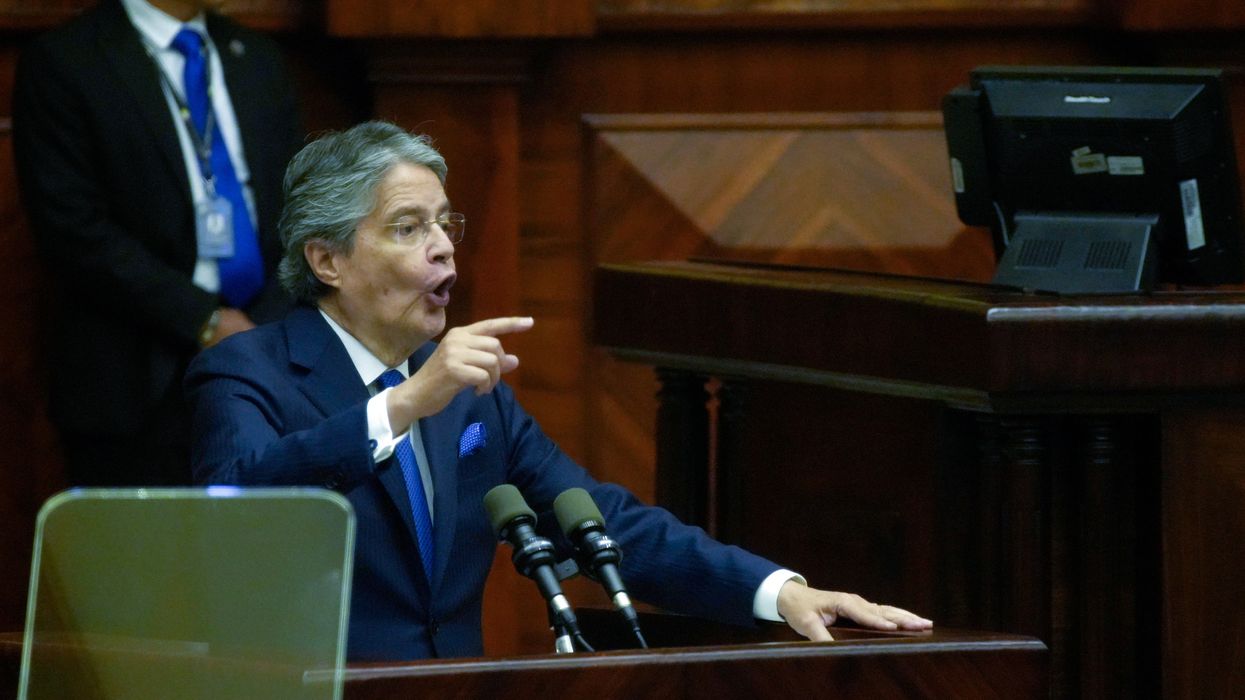 The head of the Andean nation's largest Indigenous rights group accused President Guillermo Lasso of launching a "cowardly self-coup" and pushing the country toward an "imminent dictatorship."

Days before Ecuadorian lawmakers were expected to vote on removing him from office, Guillermo Lasso, Ecuador's deeply unpopular right-wing president, dissolved the country's National Assembly, a move progressive critics called a bid to avoid impeachment.
For the first time ever, Lasso invoked Article 148 of the Ecuadorian Constitution, which gives presidents the power to dissolve the legislature under certain circumstances, including legislative overreach and a "severe political crisis and domestic unrest."
The move, popularly known as "muerte cruzada"—"the death cross"—will allow Lasso to rule by decree for six months. It came a day after the president defended himself before lawmakers during an impeachment trial for allegedly turning a blind eye toward embezzlement.
"Not having the necessary votes to save himself from his imminent dismissal, Lasso launched a cowardly self-coup with the help of the police and the armed forces, without citizen support, becoming an imminent dictatorship," Leonidas Iza, head of the Confederation of Indigenous Nationalities of Ecuador (CONAIE), the country's largest Indigenous rights group, said in denouncing the move.
As Will Freeman, Latin America specialist at the Council on Foreign Relations, explained last week:
The impeachment process originated in a scandal that erupted in January 2023. That month, Ecuadorian journalists denounced members of Lasso's inner circle for allegedly mismanaging public companies and maintaining ties to Albanian mafia groups that have come to dominate Ecuador's lucrative cocaine trafficking routes. The journalists say their information came from a police investigation, although Ecuador's attorney general has claimed the source material was doctored.

After the journalists published leaked audio clips corroborating aspects of their story, one top government appointee, Hernan Luque, became a fugitive from justice. Another businessman allegedly connected to the ring, Rubén Cherres, was found murdered. In March, a majority of Ecuador's National Assembly asked to start impeachment proceedings. Ecuador's Constitutional Court partially granted the request, allowing a vote on the corruption allegations to move forward.
Ousting Lasso from office would require the votes of 92 of the National Assembly's 137 members. The motion to proceed with the impeachment process received 88 votes.
Lasso denies both the corruption allegations and accusations that he dismissed lawmakers in order to derail the impeachment.
"Ecuador needs a new political and social pact that will allow it to get out of the political crisis in which it finds itself," Lasso said during a mandatory nationwide television and radio address, according to teleSUR. "We must move towards a solution that offers hope to families and puts an end to a useless and irrational confrontation."
Article 148 stipulates that the National Electoral Council (CNE) must call presidential and legislative elections within seven days of lawmakers' dismissal, although the electoral process is allowed to take up to six months.
The CNE came under fire during the 2021 presidential election—in which Lasso, a former banker, defeated progressive economist Andrés Arauz—for trying to prevent Arauz from running by, among other things, banning his political party and then outlawing another party he tried to form.
Arauz wanted to have progressive former Ecuadorian President Rafael Correa as his running mate, but the CNE banned him from the ticket. Electoral officials also blocked the Arauz campaign from using Correa's voice or image—but allowed Arauz's opponents to depict the former president in a negative manner.
Correa—who argued that what Lasso is doing is "illegal"—looms large during the current crisis. Although the former president fled Ecuador rather than face trial for what he claims are baseless corruption charges, he still controls the largest bloc of National Assembly lawmakers.
Lasso wasted no time in exercising his new powers.
"Starting today, the national government will issue decrees that will comply with the mandate that you gave me," he said during his address to the public. "I have signed a first decree to reduce taxes on families. It will be sent to the Constitutional Court for its review."
The president promised that "public services will operate normally," and that "the armed forces and the police continue to guarantee security."
As Lasso spoke, state security forces surrounded the National Assembly building to block anyone from entering or leaving the legislature, teleSURreported.

Nelson Proaño, head of the Ecuadorian military's Joint Command, delivered a brief Wednesday morning address to the nation in which he endorsed Lasso's invocation of Article 148.
"Therefore, it is subject to a constitutional norm and must be fully and completely respected by all citizens," Proaño asserted. "I wish to remind Ecuadorians that the armed forces and the National Police are obedient and nondeliberative institutions and we fulfill our mission strictly abiding by the Constitution."
Freeman wrote last week that "Ecuador is likely headed for a period of increased instability."
"Given the acute challenges Ecuador is already facing—from surging crime to mass migration to a weak economy—that is something ordinary Ecuadorians can hardly afford," he added.

News