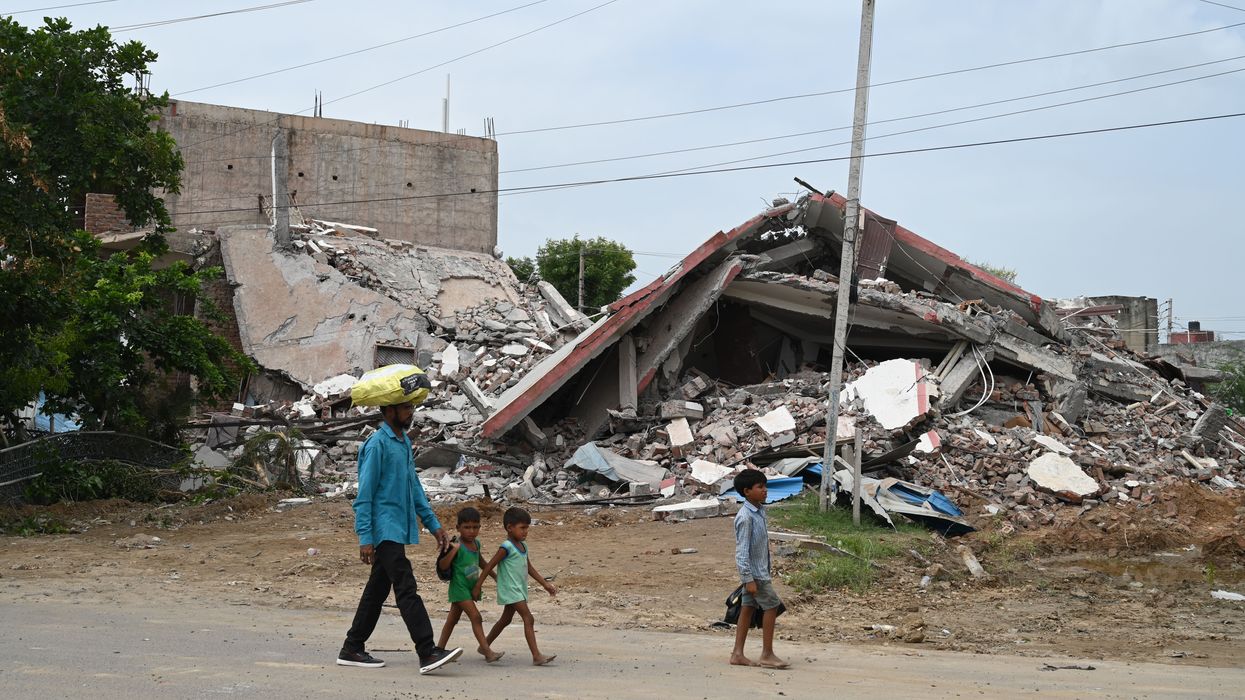 The tribunal's order to stop razing buildings comes amid escalating deadly violence perpetrated primarily by far-right Hindu supremacists against Muslims and other minorities.

An Indian high court on Monday ordered a halt to the destruction of Muslim homes and businesses in a district of Haryana state by the right-wing Bharatiya Janata Party-led government, acts the tribunal suggested are "an exercise in ethnic cleansing."
Justices G.S. Sandhawalia and Harpreet Kaur Jeewan of the Punjab and Haryana High Court in Chandigarh issued a notice to the BJP-led Haryana state government stating that no demolitions could be carried out in the Nuh and Gurugram districts unless proper legal procedures are followed, The Hindureported.
"Apparently, without any demolition orders, the law and order problem is being used as a ruse to bring down buildings without following the procedure established by law," the justices wrote. "The issue also arises whether the buildings belonging to a particular community are being brought down under the guise of [a] law and order problem and an exercise of ethnic cleansing is being conducted by the state."
According to the Hindustan Times, authorities in Nuh have demolished more than 750 homes, businesses, and roadside shacks belonging to or occupied by Muslims since last week, when violence flared after a Hindu religious procession there was reportedly pelted with stones allegedly thrown by Muslims from structures the government said were illegally built.
Four people including two police officers were killed in subsequent clashes, with more than 60 others injured.

Residents of Nuh—the majority of whom are Muslim—toldAl Jazeera that participants in the procession, which was organized by the Hindu nationalist group Vishwa Hindu Parishad and its youth wing, the Bajrang Dal, carried sticks, swords, and guns, and chanted hateful slogans while marching through Muslim neighborhoods.
A video in which notorious Hindu vigilante Mohit Yadav—a Bajrang Dal member who is accused of murdering two Muslim men earlier this year after they allegedly killed a cow—has been cited by Indian media as a catalyst for the bloodshed in Nuh.

Violence quickly spilled over into adjacent areas, including Gurugram—a finance and technology hub bordering the capital New Delhi—where a Hindu mob torched a mosque and killed its deputy imam. Far-right Hindu supremacist groups aligned with the BJP have been pushing to end Friday prayers in Gurugram.
The death and destruction in Nuh and Gurugram come amid rising religious and ethnic violence in the world's most populous nation.
Late last month, an Indian Railways security guard was arrested after he allegedly shot and killed a colleague and three passengers aboard an intercity train near Mumbai. The shooting suspect, Chetan Singh, posted a video on social media in which he is carrying a rifle and standing next to a bloody body.

"If you want to live and vote in Hindustan, I am telling you, it's only Modi and Yogi," Singh said, referring to India, its BJP Prime Minister Narendra Modi, and Yogi Adityanath, the BJP chief minister of Uttar Pradesh, India's most populous state.
"The genie of hate is now out of the bottle and it will take a lot of collective effort to put it back in."
Modi has come under fire for his silence in the face of weeks of interethnic bloodletting between the Metiei and Kuki peoples in the northeastern state of Manipur. The prime minister faces a parliamentary vote of no confidence over the matter, which he will all but certainly defeat given the legislature's BJP majority.

Following the train killings, Jairam Ramesh, a senior leader of the opposition Indian National Congress party, placed the blame for the "hate and violence" on BJP leaders including Modi.
"The genie of hate is now out of the bottle and it will take a lot of collective effort to put it back in," Ramesh wrote in a social media post condemning "the politics of prejudice and polarization of the BJP."
In 2020, more than 50 people—most of them Muslims—were shot, stabbed, slashed, beaten, and burned to death by rampaging Hindu mobs reacting to a peaceful demonstration by Muslims protesting a discriminatory citizenship law passed by the BJP government.
Far-right Hindu extremists allied with Modi—an adherent of Hindutva, or "Hinduness," a political ideology condemned by critics as supremacist—have for years called for a genocide of India's Muslims, who make up about 14% of the country's 1.4 billion people.
Last year, Gregory Stanton, a genocide scholar and founder of the advocacy group Genocide Watch, warned that "genocide could very well happen in India."

News