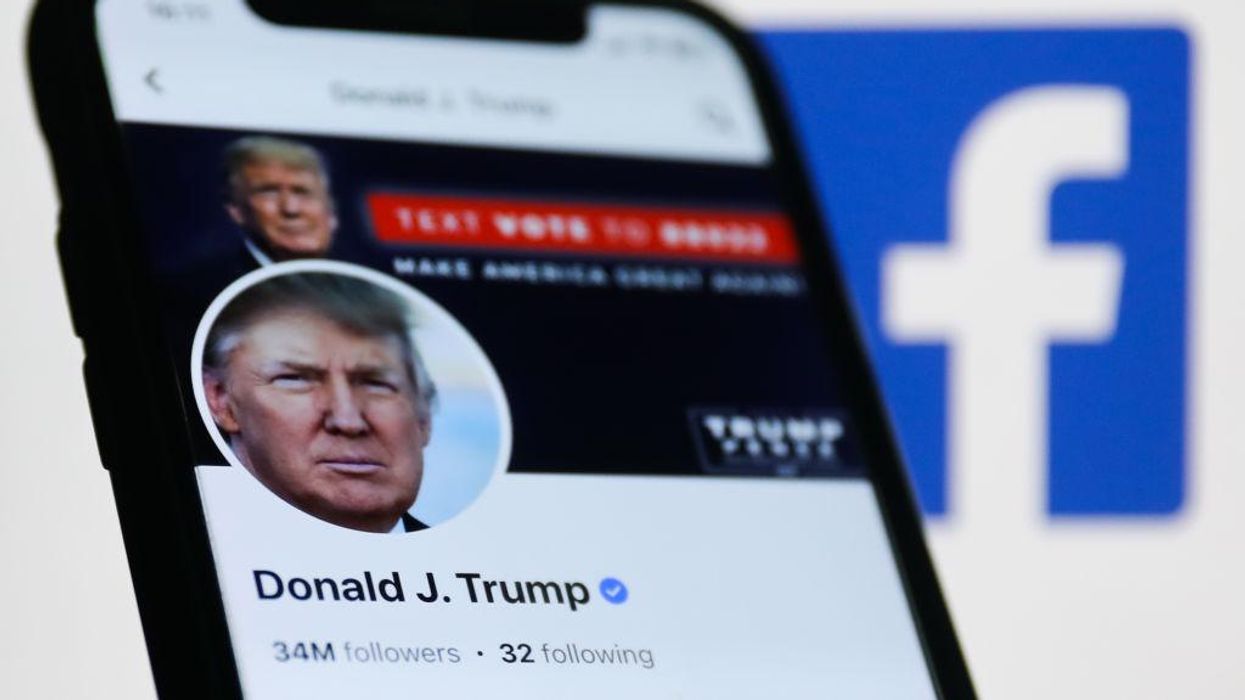 By obsessing about the former president's online status, warns one digital rights advocate, "we are utterly missing the point."
Fight for the Future director Evan Greer argued Wednesday that the battle over whether former President Donald Trump should be banned from major social media platforms like Facebook is "a huge distraction" from broader Big Tech conversations that are urgently needed.
"Discussions about online content moderation and what policies are needed to ensure human rights, free expression, and safety are some of the most important and consequential societal debates in human history," Greer said in a statement. "When we center these debates about specific moderation decisions, especially ones involving high-profile, wealthy, politically powerful individuals like Donald Trump, we are utterly missing the point."
Greer's comments came as free speech advocates and Trump critics faced off over Meta's decision to allow the twice-impeached former president back on Facebook and Instagram. Trump, who is now seeking the GOP's 2024 presidential nomination, was suspended from both platforms—and others—after his supporters attacked the U.S. Capitol attack on January 6, 2021.
"We need to... instead focus on putting in place transformative policies based in human rights, and regulations that strike at the root of Big Tech giants' harm."
Meta global affairs president explained Wednesday that his accounts will be reinstated in the coming weeks "with new guardrails in place to deter repeat offenses." The move was blasted by groups including Common Cause, Free Press, Media Matters for America, and the NAACP, while others—including some Trump adversaries—agreed with the ACLU that "this is the right call. Like it or not, President Trump is one of the country's leading political figures and the public has a strong interest in hearing his speech."
Greer, meanwhile, echoed some of the warnings from Big Tech experts two years ago, when tech giants began banning Trump—a serial liar who ultimately launched his own platform called Truth Social, which strongly resembles Twitter.
The digital rights advocate pointed out that Trump "doesn't need social media to spread his hateful ideas. He has access to the mainstream press, who religiously cover his every move. And he can afford to hire public relations firms, pay for advertising, and leverage his notoriety and influence to gain attention, something he has shown himself to be uniquely good at."
"The Donald Trumps of the world are not the people most impacted by deplatforming, censorship, and overreaching moderation," Greer stressed. "It is the most marginalized who are the most censored online. Arab and Muslim folks living outside the U.S. routinely have their posts erroneously censored and their accounts unjustly banned by hamfisted 'anti-terrorism' filters used by most of the largest platforms."
"LGBTQ content creators, sex workers, and sexual health educators face constant deplatforming, debanking, and demonetization," she continued. "Abortion rights organizations consistently encounter obstacles placing online ads, and have seen an uptick in unjust account suspensions and post removals in the wake of the overturning of Roe v. Wade."
According to Greer:
By allowing the former president to remain the center of attention in world-changing debates about content regulation, free speech, and the harms of Big Tech, we're helping him accomplish his vile goals of silencing and oppressing the most vulnerable. We need to move past circular discussions over specific moderation decisions impacting high-profile elites, and instead focus on putting in place transformative policies based in human rights, and regulations that strike at the root of Big Tech giants' harm. Passing a privacy law would do way more to slow the viral spread of hateful content and disinformation than keeping Trump off of any specific platform. Enacting antitrust reforms would do far more to protect our democracy from Trump and his ilk than banning any one account.

Let's refuse to let Trump derail the conversations we need to have. Let's keep fighting for policies that lead not just to the type of internet we want to have, but the type of world we want to live in: a world where everyone has a voice, and decisions that impact our lives are made transparently and democratically, rather than in closed-door corporate meetings.
However, even modest legislation to rein in Big Tech seems unlikely in the second half of President Joe Biden's first term, with the U.S. House of Representatives now narrowly held by Republicans and after two years of Democrats controlling Congress but failing to advance relevant bills—which many critics largely blame on Senate Majority Leader Chuck Schumer (D-N.Y.).
News