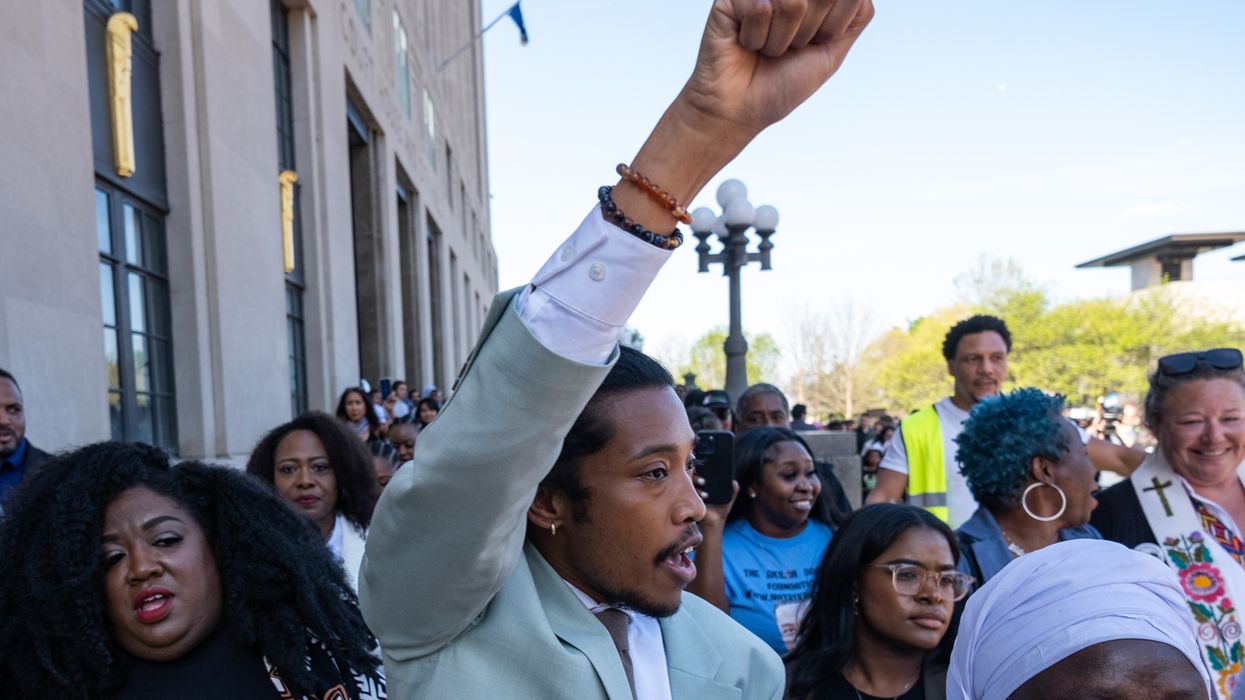 "The world is watching Tennessee," the lawyers wrote, adding that any retributive action would be unconstitutional and "require redress."
Ahead of the Nashville Metropolitan Council voting Monday to reappoint Tennessee Rep. Justin Jones to the state House of Representatives, attorneys for him and ousted Rep. Justin Pearson warned Republican legislators not to further retaliate against the pair.
The letter from the six attorneys, including former U.S. Attorney General Eric Holder, to Tennessee House Speaker Cameron Sexton (R-25) came after Republicans in the chamber voted last Thursday to expel Jones (D-52) and Pearson (D-86) over their protest in support of gun control after the Covenant School shooting in Nashville.
The missive also follows Pearson saying in a televised interview that he has "heard that people in the state Legislature and in Nashville are actually threatening our Shelby County commissioners to not reappoint me, or they're going to take away funding that's in the government's budget for projects that the mayor and others have asked for."
The GOP state lawmakers expelled Jones and Pearson "not for any criminal or unethical act, but for merely exercising their constitutional rights," the Democrats' lawyers wrote. "In so acting, the House Republicans not only wrongfully stripped these representatives of their rights as duly-elected legislators but also disenfranchised the voters they were elected to represent."
"Their partisan expulsion was extraordinary, illegal, and without any historical or legal precedent," the attorneys continued. "The House must not now compound its errors by further retributive actions."
\u201cIt\u2019s been the honor of my life to serve District 86 as their State House Representative. I want nothing more than to serve again & I\u2019m thankful that Scott Crosby @burchporter is representing us alongside @brotherjones_ & @EricHolder. May we continue to build this Movement! #TN3\u201d

— Justin J. Pearson (@Justin J. Pearson) 1681148544
Should the Metro Nashville Council and Shelby County Commission vote to reinstate Jones and Pearson, the letter states, "such reappointment must lead to the full and immediate restoration of their rights as members of the House."
They "should be promptly sworn back in as members of the General Assembly and granted the same benefits, rights, duties, and liberties as any other member," the letter asserts. "That includes, but is not limited to, returning their parking and badge access to the state Capitol, which was cut off before their expulsion, restoring their benefits, including healthcare, which was immediately cut off upon expulsion, returning their status on committees, and being allowed to, in all manners, conduct legislative business the same as any other member."
"The world is watching Tennessee," the letter declares. "Any partisan retributive action, such as the discriminatory treatment of elected officials, or threats or actions to withhold funding for government programs, would constitute further unconstitutional action that would require redress."
In a statement Monday evening, Tennessee House Majority Leader William Lamberth (R-44) and Republican Caucus Chairman Jeremy Faison (R-11) said that "should any expelled member be reappointed, we will welcome them. Like everyone else, they are expected to follow the rules of the House as well as state law."
Jones returned to the House for Monday's evening session, fist raised.

News