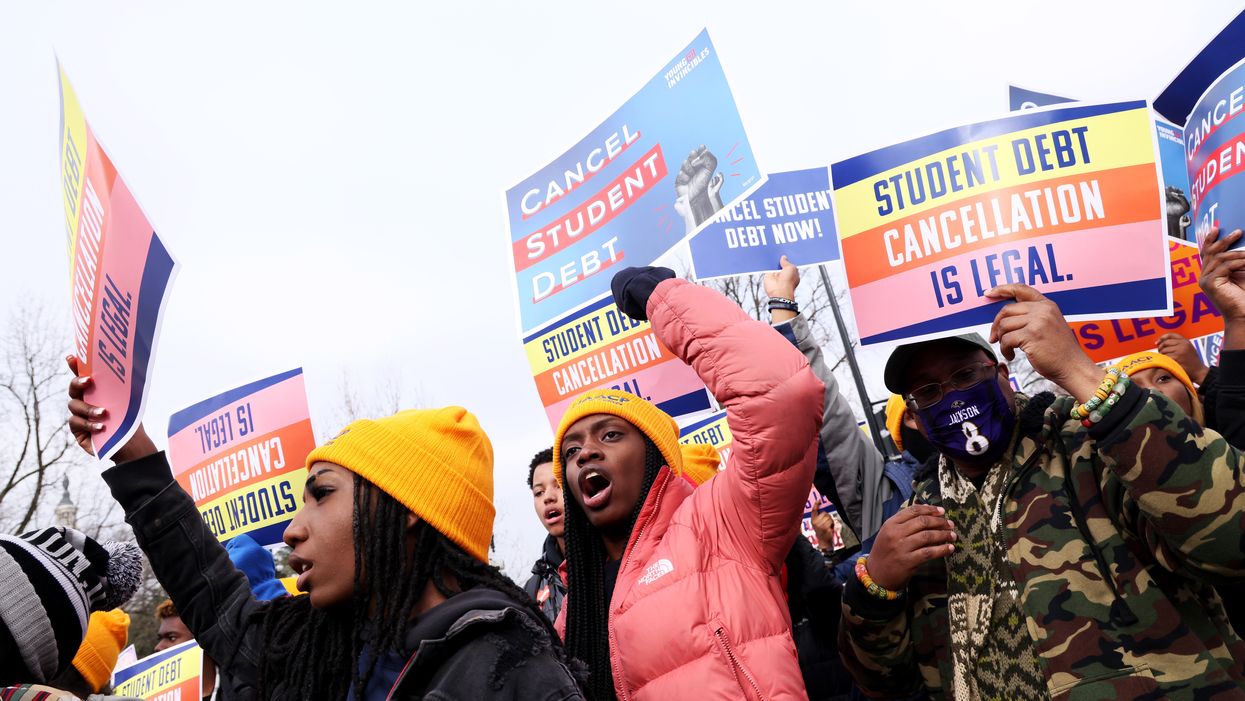 "The Biden administration needs to actually discharge this debt immediately before more lawsuits or judicial bullsh*t happens," said the Debt Collective.
A federal judge in Michigan has rejected an effort by a pair of right-wing think tanks to stop the Biden administration from canceling the student debt of roughly 804,000 borrowers who have been making payments on their loans for more than two decades.
In an 18-page decision on Monday, U.S. District Judge Thomas L. Ludington of the Eastern District of Michigan—a George W. Bush appointee—ruled that the Cato Institute and the Mackinac Center for Public Policy lacked standing to challenge the Biden administration's move, which is expected to automatically wipe out close to $40 billion in federal student loan debt—a small fraction of the $1.6 trillion in outstanding federal student loan debt in the U.S.
Mike Pierce, executive director of the Student Borrower Protection Center, wrote in response to the ruling that the lawsuit "was the last barrier to debt relief for more than 800,000 people who had been in debt for decades."
"These borrowers were cheated by predatory companies like Navient and failed by gross mismanagement by [the U.S. Department of Education]," Pierce added. "This is long-delayed justice."
As I'm reading this, I'm struck by just how thorough & devastating this opinion is for @CatoInstitute and @MackinacCenter.

This is an opinion by a Republican-appointed judge hand-picked by the plaintiffs.

He can barely hide his disdain for Cato and Mackinac wasting his time. pic.twitter.com/lAEfRai0S0
— Mike Pierce (@millennial_debt) August 14, 2023
The lawsuit by Cato and the Mackinac Center targeted the Biden administration's recently announced changes to the income-driven repayment (IDR) program, which bases monthly student loan payments on borrowers' income and makes borrowers eligible for debt cancellation after around 20 years of qualifying payments.
The program has long been plagued with issues, failing to deliver promised relief for borrowers. A report published last year by the Government Accountability Office (GAO) found that a tiny percentage of eligible borrowers actually had their debt canceled under the program.
On Monday, President Joe Biden announced that his administration has begun the process of discharging the student loan debt of 804,000 borrowers who have been in repayment for more than 20 years.
"Because of errors and administrative failures of the student loan system that started long before I took office, over 804,000 borrowers never got the credit they earned, and never saw the forgiveness they were promised—even after making payments for decades," Biden said.
The Debt Collective, a group that has implored the Biden administration to use its legal authority to cancel all outstanding federal student loan debt immediately, welcomed the Michigan judge's ruling.
"This is good—but we've seen this playbook before," the debtors' union wrote. "The Biden administration needs to actually discharge this debt immediately before more lawsuits or judicial bullsh*t happens."
The decision comes weeks before federal student loan repayments, which were paused during the Covid-19 pandemic, are set to resume for the first time in over three years.
On September 1, student loan interest will restart, followed by the resumption of payments in October. The Consumer Financial Protection Bureau has warned that millions of borrowers could struggle to make their payments once the pause is lifted.
The debt ceiling deal that the Biden White House reached with House Republicans in May cemented the end of the student loan payment freeze. Shortly after Biden signed the deal into law, the U.S. Supreme Court's right-wing majority struck down the administration's plan to cancel up to $20,000 in federal student loan debt for tens of millions of borrowers.

News