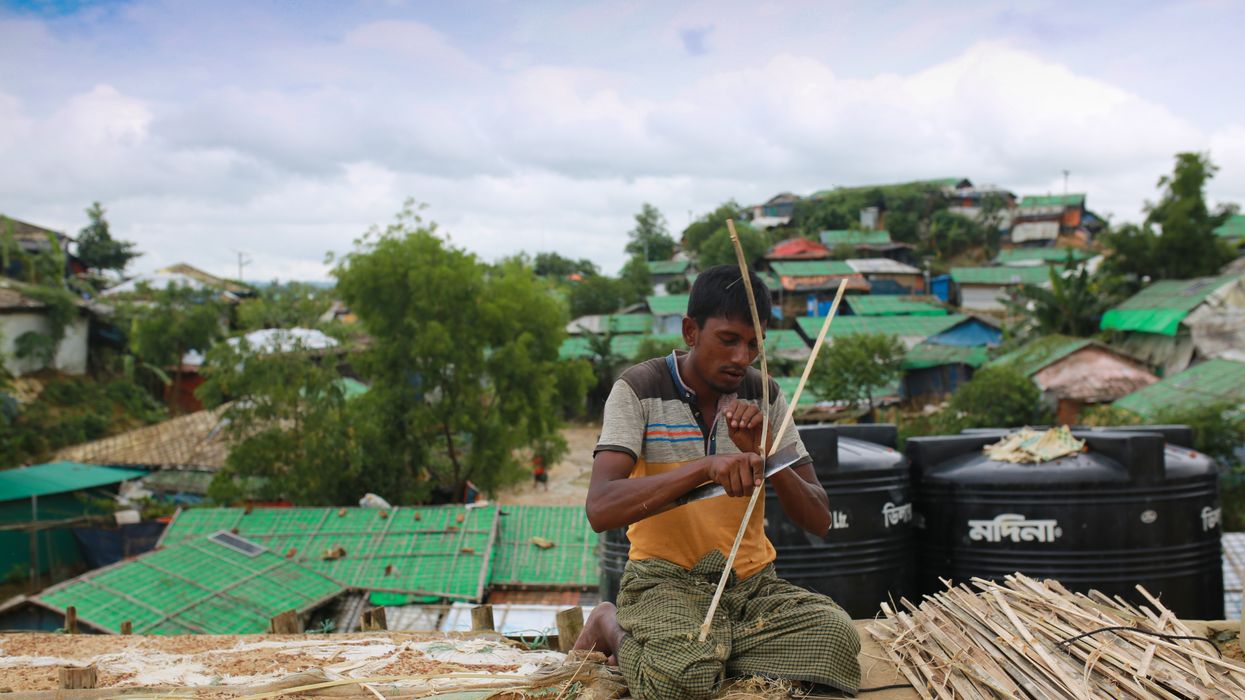 "This is a near worst-case scenario for one of the most storm surge flood vulnerable regions in the world," one scientist warned. "I hate to say it but we're looking at a potential mass casualty event."
Officials in Bangladesh and Myanmar are preparing Friday to evacuate hundreds of thousands of people as a tropical storm turbocharged by the fossil fuel-driven climate crisis strengthens in the Bay of Bengal.
Cyclone Mocha is forecast to intensify further before making landfall on Sunday between western Myanmar and the Bangladeshi city of Cox's Bazar, home to the world's largest refugee camp. Roughly 1 million Rohingya people forced to flee Myanmar amid the country's ongoing genocide against them live in the highly exposed district.
"This is a very, very scary storm," tweeted environmentalist and author Bill McKibben, pointing to its severity and current path.
"The government of Bangladesh needs to develop an inclusive evacuation plan."
The evacuation of more than 500,000 people from the Bangladeshi coast "is expected to start Saturday with 576 cyclone shelters ready to provide refuge to those who are moved from their homes," The Associated Pressreported, citing government administrator Muhammad Shaheen Imran.
Bangladesh, a delta nation with more than 160 million residents, is already prone to extreme weather disasters, and that's increasingly the case as the warming Indian Ocean generates more intense and longer-lasting cyclones as well as heavier rainfall.
The impoverished Rohingya refugees living in Cox's Bazar are especially vulnerable to the incoming storm, and it's unclear how many, if any, of them are included in the Bangladeshi government's evacuation plans.
United Nations Refugee Agency spokesperson Olga Sarrado toldReuters that preparations are underway for a partial evacuation of the camp, if necessary. The World Health Organization is also setting up nearly three dozen mobile medical teams and 40 ambulances, along with emergency surgery and cholera kits for the camp.
\u201cCyclone Mocha has me very concerned. Everyone along the Bangladesh-Myanmar coast needs to be on alert. This is a near-worst case scenario for one of the most storm-surge flood vulnerable region in the world. I hate to say it but we\u2019re looking at a potential mass casualty event.\u201d

— Nahel Belgherze (@Nahel Belgherze) 1683834677
"Still reeling from a devastating fire in March that destroyed more than 2,600 shelters and critical infrastructure, over 850,000 refugees risk losing their homes and livelihoods," the International Rescue Committee (IRC) warned in a statement. "Strong wind, heavy rains, and subsequent flash floods and mudslides could destroy shelters, community centers, and health clinics, depriving thousands of essential services and humanitarian aid."

"In preparation, more than 3,000 Rohingya refugees have been trained to respond to flooding and mudslides," said the IRC, which is "scaling up its emergency response in Cox's Bazar." According to the organization: "Three mobile medical teams will be deployed to remote areas in the camps and communities to provide emergency medical treatment. Additionally, a mobile protection unit designed for emergency settings will offer protection services to vulnerable groups such as women, girls, the elderly, and those with disabilities."
IRC Bangladesh director Hasina Rahman lamented how "time and again, we have seen the devastating impact of extreme weather events in Cox's Bazar. Since 2017, countless shelters, schools, health clinics, and safe spaces for survivors of gender-based violence have been decimated as a result of floods and mudslides, as well as preventable tragedies such as the fire in March this year."
"As a low-lying country with major cities in coastal areas, Bangladesh is particularly vulnerable to climate change, which makes annual weather events—such as cyclones—more intense and frequent," said Rahman. "The impacts—loss of life, destroyed crops, challenges to livelihoods, damage to homes and infrastructure—are often borne by the people and communities who have contributed least to the climate crisis: Bangladesh, for example, emits less than 1% of global CO2 emissions."
While a rapid and just clean energy transition and other far-reaching transformations are needed to mitigate the causes of global warming, developing nations like Bangladesh cannot "cope with continued weather shocks without support that addresses the effects of climate change, such as early warning systems, anticipatory action, improving infrastructure to protect against flooding, and investment into climate adaptation," Rahman noted.
"It is crucial to fortify shelters and critical infrastructure," Rahman continued. "This involves using durable construction materials to strengthen community facilities like child-friendly spaces, learning facilities, and mosques, which serve as safe points during emergencies."
"Additionally, the government of Bangladesh needs to develop an inclusive evacuation plan in collaboration with U.N. agencies, humanitarian organizations, and the refugee and host communities," she stressed. "The plan should prioritize access to emergency shelters, ensuring family unity, and the protection of vulnerable groups, including women, children, the elderly, and individuals with disabilities."
The U.N.'s International Organization for Migration (IOM) observed that "last year, the camps escaped devastation from the Bay of Bengal cyclone Sitrang, which killed 35 people, displaced over 20,000, and caused over $35 million in damages in other parts of the country."
Cyclone Mocha, the first to form in the bay this year, "strengthened Friday into the equivalent of a category 1 Atlantic hurricane and is moving north at 11 kilometers per hour (7 miles per hour)," CNNreported, citing the Joint Typhoon Warning Center. "The storm's winds could peak at 220 kph (137 mph)—equivalent to a category 4 Atlantic hurricane—just before making landfall on Sunday morning."
India's Meteorological Department on Friday projected that "a storm surge of up to 2.5 meters (8.2 feet) was likely to inundate low-lying coastal areas in the path of the cyclone at the time of landfall," including Cox's Bazar, the outlet noted.
To assist refugees and local host communities as they brace for Cyclone Mocha, IOM said that it "is strengthening camp infrastructure, preparing for medical emergencies, and supporting volunteers in cyclone preparedness."
The U.N. Office for the Coordination of Humanitarian Affairs (OCHA) also expressed "grave concerns" about the storm's potential impacts on "already vulnerable and displaced communities" in neighboring Myanmar, where a military junta rules.
"Of particular worry is the situation facing 232,100 people who are displaced across Rakhine. Many of the [internally displaced person] camps and sites in Rakhine are located in low-lying coastal areas susceptible to storm surge," said OCHA. "The suffering of more than a million displaced people and other communities in the northwest is also expected to worsen over the coming days as the ex-cyclone moves inland bringing heavy rain. Displaced people in the northwest are already living in precarious conditions in camps, displacement sites, or in forests often without proper shelter."
In May 2008, Cyclone Nargis inundated Myanmar, killing more than 138,000 people, uprooting 800,000, and affecting 2.4 million.
"Extreme weather hazards will occur more frequently due to climate change in the years ahead. The linkages between climate change, migration, and displacement are increasingly pressing worldwide," IOM pointed out. "To avert, mitigate, and address displacement linked to climate disasters and strengthen people's resilience," the U.N. agency urged policymakers around the world "to implement sustainable climate adaptation, preparedness, and disaster risk reduction measures."
Despite knowing that extracting and burning more coal, oil, and gas will exacerbate the deadly effects of the climate emergency, profit-hungry fossil fuel executives are still planning to expand drilling with the continued support of many governments.
While COP27 delegates agreed to establish a loss and damage fund—after failing to commit to phasing out the fossil fuels that are causing so much harm—previous efforts to ramp up climate aid from the Global North to the Global South have fallen far short of what's needed due to the stinginess of wealthy countries, especially the United States.
News