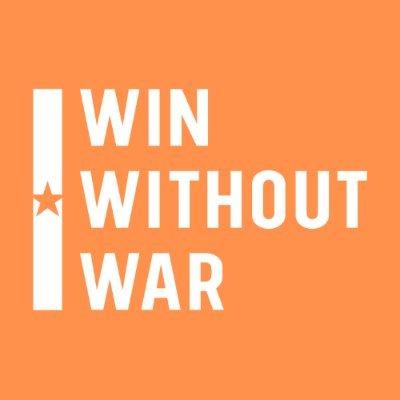 For Immediate Release
Contact:
Phone:,(202) 232-3317,Email:,info@winwithoutwar.org
Coalition Decries Keeping Thousands of US Troops in Afghanistan as a "Tragic, Futile Flip Flop"
President Obama: Not the President Who Ended a War but Who Made War Endless
WASHINGTON
The Win Without War coalition criticized President Obama's decision to reverse course and keep thousands of US troops in Afghanistan, calling the decision a "tragic and futile flip-flop."
"Today's announcement by the President is a tragic and futile flip-flop that will ensure that America's longest war will drag on for years to come," said Win Without War's Advocacy Director, Stephen Miles, following today's announcement that President Obama will keep 5,500 U.S. troops in Afghanistan through 2017.
"We have tried fighting our way to peace in Afghanistan for 14 years now. We did not succeed with 100,000 US troops, and we will not succeed with 5,500 troops. Until we fundamentally shift our approach in Afghanistan, we will never see the conflict end.
"For far too long, American men and women have fought, bled, and died in a fight that has no military solution. The human cost of this war is even greater for the people of Afghanistan. President Obama's announcement comes just days after the U.S. military bombed a Doctors Without Borders hospital in Kunduz. The deaths of the doctors, nurses, and patients at the hospital have shocked our collective conscience, yet they are just one example of why U.S. military intervention is not the answer."
"Unfortunately, President Obama has apparently decided that he no longer wants to be the president who ended war, but the president who made war endless."
Win Without War is a diverse network of activists and organizations working for a more peaceful, progressive U.S. foreign policy. We believe that by democratizing U.S. foreign policy and providing progressive alternatives, we can achieve more peaceful, just, and common sense policies that ensure that all people--regardless of race, nationality, gender, religion, or economic status--can find and take advantage of opportunity equally and feel secure.
LATEST NEWS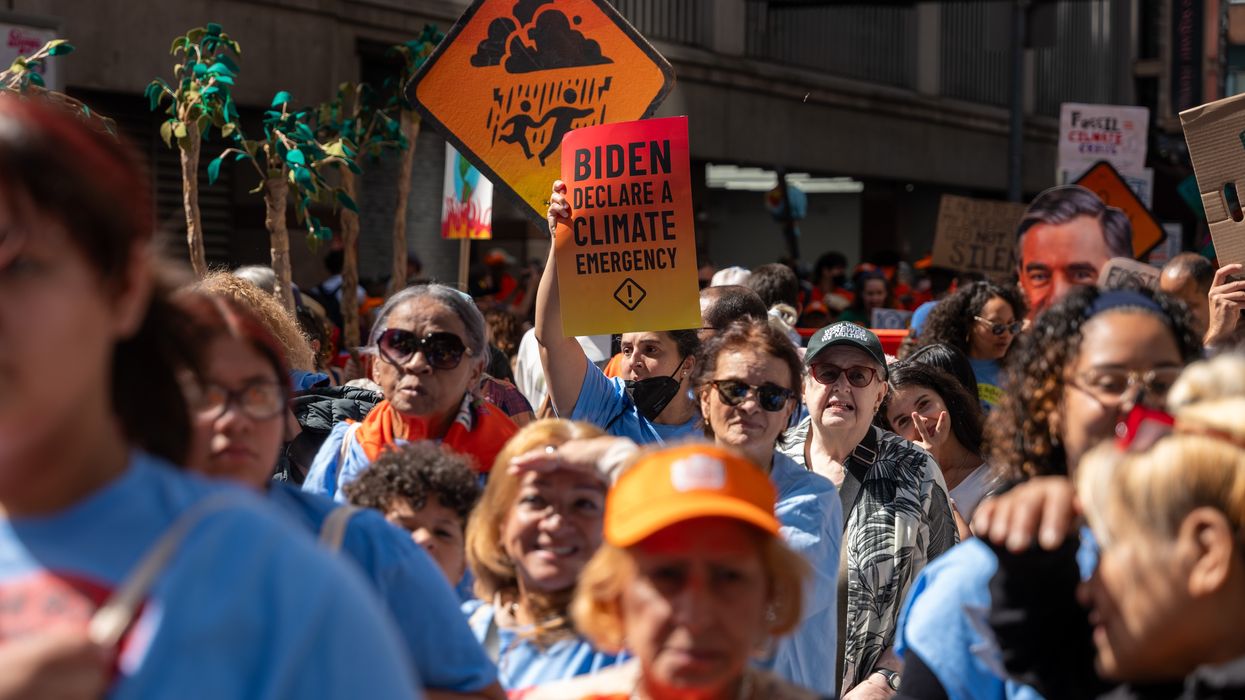 "It's time for Biden to declare a climate emergency and phase out the fossil fuels killing people and wildlife around the world."
Tens of thousands poured into the streets of New York City on Sunday for the largest climate mobilization in the U.S. in years, with organizers and marchers telling President Joe Biden to stop approving planet-wrecking fossil fuel projects and start doing everything in his power to accelerate the nation's renewable energy transition.
Campaigners expressed outrage that Biden has refused to declare a national climate emergency and is planning to skip United Nations Secretary-General António Guterres' Climate Ambition Summit on Wednesday.

"It's unbelievable that Biden is sitting on the sidelines when he's got more power than anyone on Earth to end deadly fossil fuels," said Jean Su, energy justice director at the Center for Biological Diversity. "Cowering in a corner is not a credible climate plan from the world's largest oil and gas producer. It's time for Biden to declare a climate emergency and phase out the fossil fuels killing people and wildlife around the world."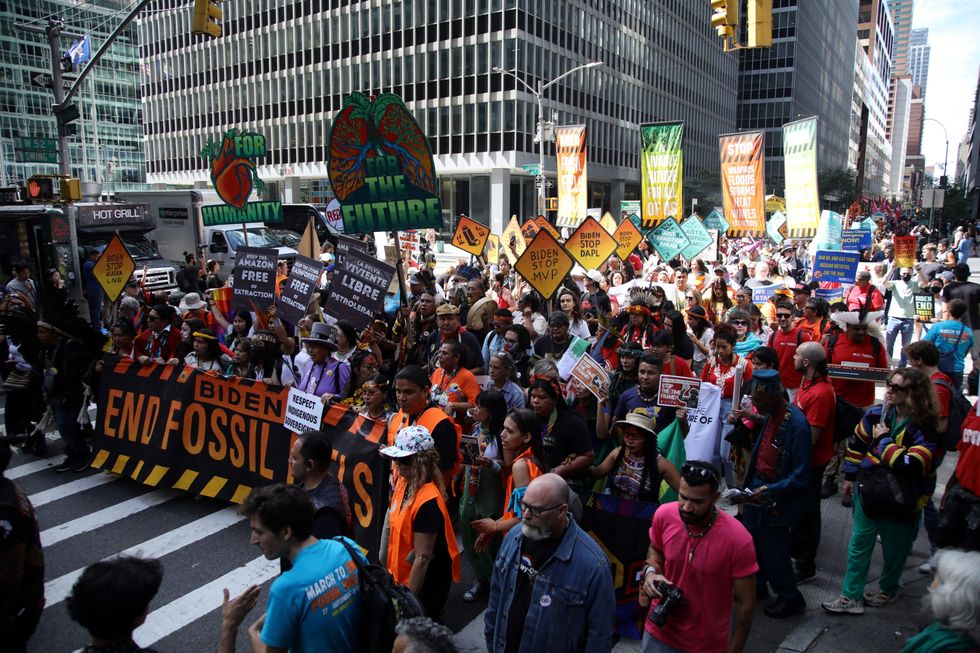 (Photo: Leonardo Munoz/AFP via Getty Images)
Sunday's march, which organizers say more than 75,000 people attended, comes at the tail-end of a scorching summer characterized by fossil fuel-driven extreme weather catastrophes across the globe.
Despite such disasters, the Biden administration has continued to approve major fossil fuel initiatives such as the Mountain Valley Pipeline in Virginia and West Virginia and the Willow drilling project in Alaska. Scientists have made clear that fossil fuel expansion is incompatible with critical emissions targets.

"We are so clearly in a fucking climate emergency. Why won't Biden declare it?" asked NASA climate scientist Peter Kalmus.
A climate emergency declaration would unlock a number of key presidential authorities, enabling Biden to halt U.S. crude oil exports, cut off oil and gas drilling in federal waters, and block investments in overseas fossil fuel projects, among other actions.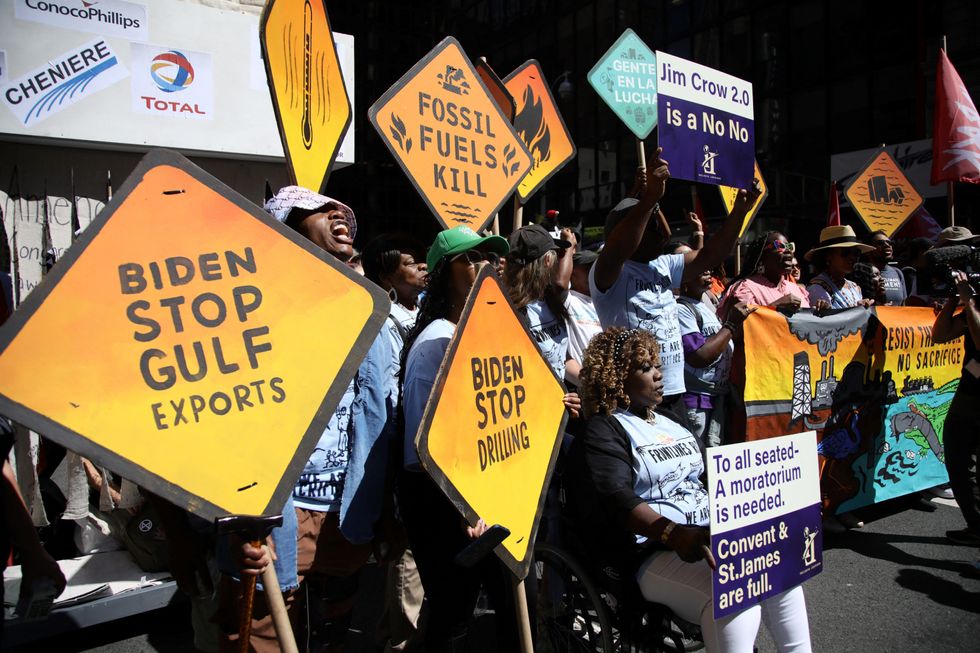 (Photo: Leonardo Munoz/AFP via Getty Images)
Progressive U.S. lawmakers joined marchers in the New York City streets on Sunday. Rep. Jamaal Bowman (D-N.Y.) delivered a fiery speech demanding a climate "revolution" and denouncing oil and gas subsidies, which surged to a record $7 trillion worldwide last year.
Bowman also noted that Congress continues to "give almost a trillion dollars a year to our military-industrial complex, which is the number one contributor to carbon emissions in the world."
Bowman was one of 31 U.S. lawmakers who signed a recent letter urging Biden to "phase out oil and gas production on federal lands and waters by 2030."
The mass demonstration in New York City followed hundreds of protests across the globe over the past several days in the run-up to the Climate Ambition Summit, which is aimed at pushing world leaders to develop sufficiently bold plans to phase out fossil fuels as greenhouse gas concentrations continue to hit new records year after year.

Protests are set to continue throughout the coming week ahead of the U.N. General Assembly and the Climate Ambition Summit.
"For decades scientists have warned us about the urgency of phasing out fossil fuels—and the extreme weather events of this year show us how deadly serious the climate crisis is, here and now," said Matt Leonard, director of the Oil and Gas Action Network. "This week, thousands of people are taking action in New York to pressure President Biden and Wall Street to end the era of fossil fuels—not one more pipeline approval, not one more drilling permit, not one more dollar to Exxon or Chevron."
Romain Ioualalen, global diplomacy manager at Oil Change International, added that "the global call to put an end to the fossil fuel era must be heard by world leaders meeting in New York for the Climate Ambition Summit next week."
"We've had enough false promises, greenwashing, and half-measures," said Ioualalen. "Countries must deliver by coming to the Summit with clear plans to immediately end oil and gas expansion and policies for a fast and fair phase out of all fossil fuels."

Youth advocates who have been vocal in urging Biden to take sweeping climate action showed up in large numbers on Sunday, holding signs that read "I Didn't Vote for Fires & Floods" and "End Fossil Fuels."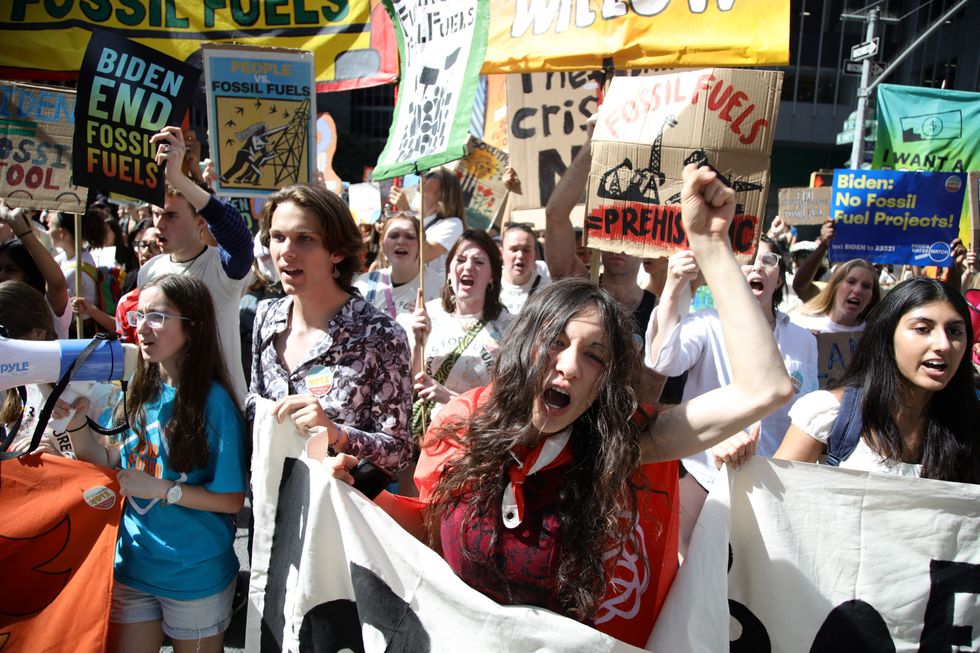 (Photo: Leonardo Munoz/AFP via Getty Images)
"Thousands of youth marched today to send a clear message to President Biden: we are watching," said Noa Greene-Houvras of Fridays for Future NYC. "We are watching you approve pipelines, and we are watching as you delay declaring a climate emergency. We are watching as the Weather Channel repeats the same terrifying message, that this year, this week, this day, is the hottest ever recorded."
"We are watching our futures disappear, because how can we be the next president or author or scientist on a dying planet?" Greene-Houvras added. "We are watching communities suffer, poisoned by fossil fuel companies that know exactly what they are doing. We are waiting for your leadership, and the leadership of the U.S. on the global stage, to change this, to start acting like this is the emergency you say it is. We, the youth, are watching and waiting and we will not back down on our future, our health, or our communities."
News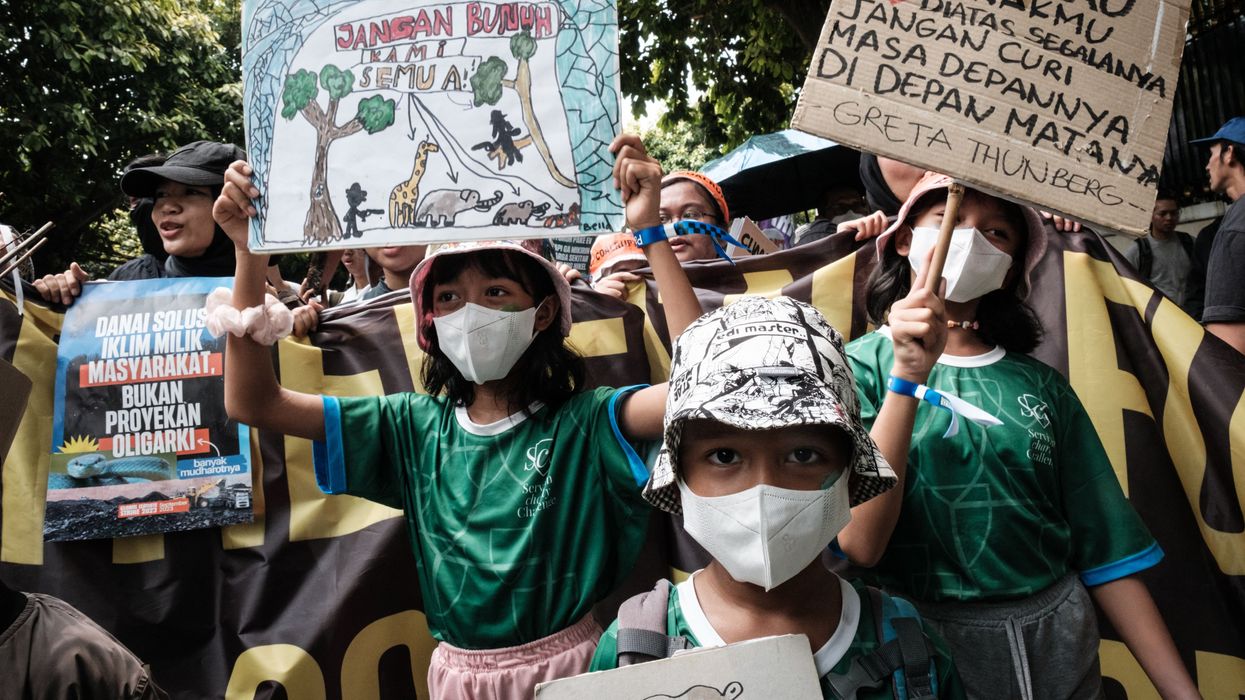 "We deserve a world free from fossil fuels."
Climate activists are closing out the hottest summer on record with hundreds of demonstrations worldwide, all blaring a unified message: "End fossil fuels."
From Indonesia to Uganda to the United Kingdom to the United States, climate campaigners young and elderly, scientists, human rights advocates, and other defenders of the planet have taken to the streets this weekend or are planning to do so on Sunday, a mass mobilization that comes ahead of United Nations Secretary-General António Guterres' Climate Ambition Summit in New York City on Wednesday.
On Sunday afternoon, the city is set to see the largest climate protest in the U.S. in years, with tens of thousands expected to join a march calling on President Joe Biden to declare a climate emergency and do everything in his power to phase out fossil fuel extraction.
"We deserve a world free from fossil fuels," organizers declared before Sunday's march, which is set to kick off at 1:00 pm ET. "This is our chance, and Biden's opportunity, to break free from fossil fuels and build a just and safe future."
The United States is the world's largest historical emitter of planet-warming greenhouse gases, and a recent report identified the country as " planet-wrecker-in-chief" over its continued support for fossil fuel expansion at home and abroad. The nation has been hit by a record 23 billion-dollar extreme weather events so far this year.
Biden, who has come under fire for approving massive drilling projects in Alaska and elsewhere, is expected to skip Wednesday's Climate Ambition Summit.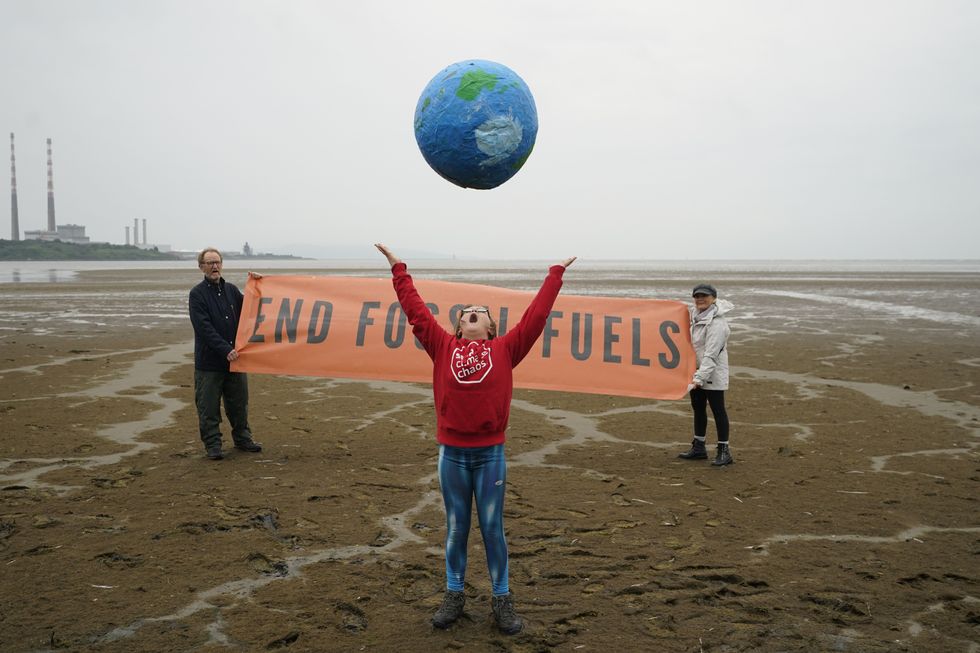 (Photo: Niall Carson/PA Images via Getty Images)
The New York City march will cap off a weekend of global climate action held at the tail-end of a summer marred by catastrophic extreme weather, from devastating wildfires in Hawaii and Greece to massive flooding in Libya and China.
Thousands of people have been killed across the globe by extreme weather this year.
"We've experienced a summer of painful evidence that we are living in the midst of a climate crisis," organizer Eric Weltman told a local New York media outlet on Saturday.
In the face of intensifying climate breakdown and government inaction, activists around the world have ramped up their protests and civil disobedience outside of government buildings and corporate offices in recent days.

"In Quezon City in the Philippines [on Friday], activists lay in front of the Department of Environment and Natural Resources in protest and held signs demanding fossil fuels—from coal to natural gas—be phased out," The Guardianreported. "In Sweden, climate activists gathered in front of Parliament, just next to the Royal Palace where Sweden's King Carl XVI Gustaf was celebrating his 50th anniversary on the throne. Their chants about 'climate justice' could be heard in the palace courtyard as the king watched the changing of the guard during the golden jubilee celebrations."
The Intergovernmental Panel on Climate Change (IPCC) has estimated that more than a third of Earth's population currently lives in areas "highly vulnerable" to climate chaos, a fact that was magnified this year as much of the globe faced weather disasters made far more likely by the continued burning of fossil fuels.
A comprehensive U.N. report published earlier this month found that world governments are nowhere close to holding emissions to levels necessary to keep warming within limits set by the Paris climate accord nearly a decade ago.

Agnès Callamard, secretary-general of Amnesty International, warned that "this generation faces a worsening climate catastrophe, with devastating consequences for human rights, but too many leaders in positions of power today are doing too little to avert this disaster, and even reneging on existing promises."
"We call on governments and corporations to act now to safeguard everyone's right to a healthy environment by bringing a rapid end to the current era of fossil fuel dependency, swiftly and fairly transitioning to renewable energy sources, and ending energy poverty," said Callamard.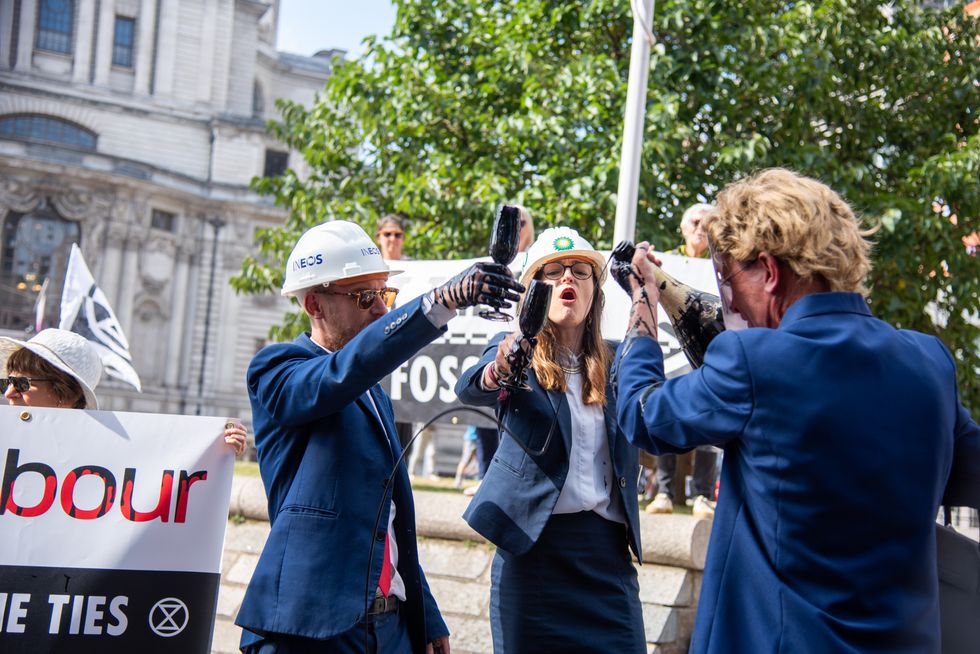 (Photo: Loredana Sangiuliano/SOPA Images/LightRocket via Getty Images)
Fossil fuel giants, meanwhile, are thriving—and ditching their previous vows to curb emissions, barreling ahead with more planet-wrecking oil and gas production.
While profits have dipped this year amid falling global gas prices, the world's leading fossil fuel companies raked in a combined $219 billion last year, spurring growing calls for legal action against the destructive industry.
On Friday, California became the largest economy in the world to file suit against major oil and gas companies.
"Against the backdrop of a harrowing year, with millions of people experiencing devastating climate impacts, the painful reality of the climate crisis is clear," said Rachel Cleetus, policy director of the Climate and Energy Program at the Union of Concerned Scientists. "It's well past time to stop putting the profits of fossil fuel companies ahead of the wellbeing of people and the planet."
News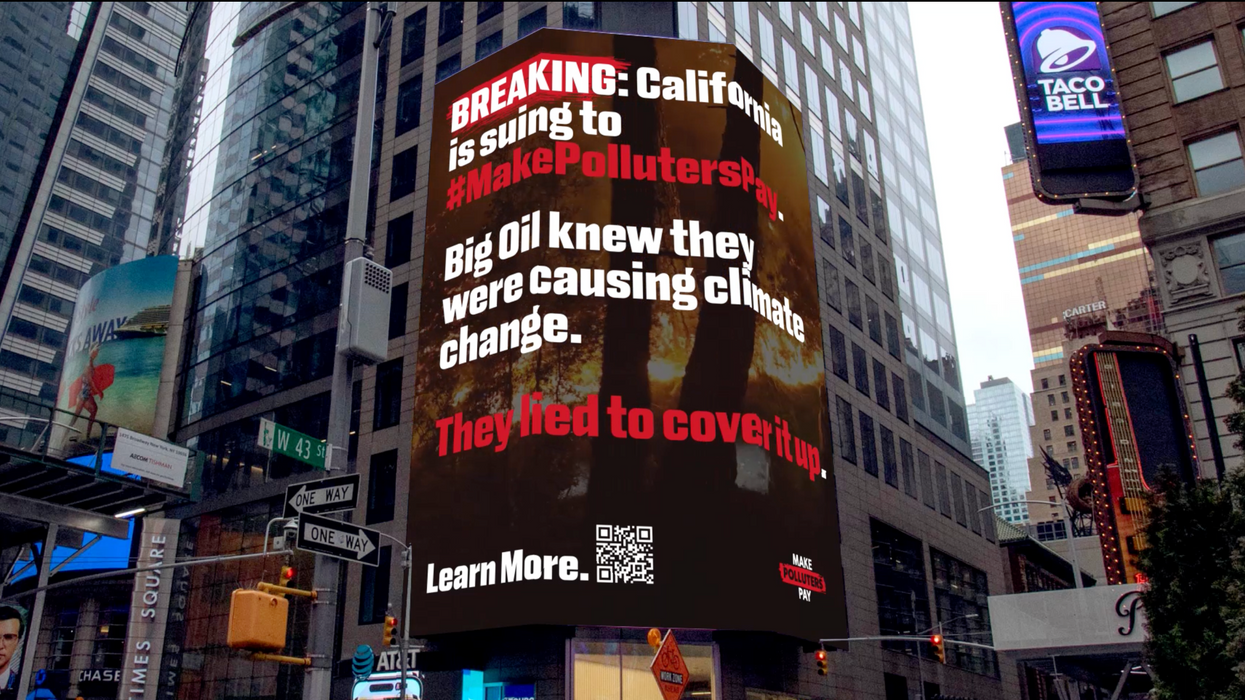 "It's time to come together and finally hold the fossil fuel industry accountable for the damage they've done."
Shortly after California sued five fossil fuel giants over their decades of climate deception and damage, activists on Saturday announced the launch of a new campaign aimed at pressuring the Biden Justice Department and state attorneys general across the U.S. to join the growing legal fight against Big Oil.
The "Make Polluters Pay" campaign is set to formally kick off Monday with a billboard display in Times Square and a six-figure digital ad buy designed to build public support for lawsuits against leading oil and gas firms, which knew about the link between their products and climate change long before they publicly acknowledged it.
"Climate change isn't just a tragedy, it's a crime," said Jamie Henn, founder of Fossil Free Media, one of the groups behind the new campaign. "Fossil fuel companies knew, they lied, and now it's time to make them pay. Right now, billions of us around the world are experiencing the impacts of the climate crisis firsthand. It's time to come together and finally hold the fossil fuel industry accountable for the damage they've done."
Dozens of U.S. counties, cities, and states have sued fossil fuel companies in recent years over the destruction wreaked by oil, gas, and coal projects, which remain a dire threat to global efforts to limit planetary warming and prevent the kinds of catastrophic weather events the world has seen in recent months from becoming even more intense and deadly.
On Friday, California became the largest economy in the world to take legal action against the fossil fuel industry, suing ExxonMobil, Shell, BP, ConocoPhillips, Chevron, and the American Petroleum Institute for engaging in a "multidecade, ongoing campaign to seek endless profits at the expense of our planet."
The new pressure campaign, modeled after the national effort to inform the public about the threat of tobacco, hopes to push other states—and U.S. Attorney General Merrick Garland—to follow in California's footsteps.
"Knowingly wrecking the climate is criminal," Leah Qusba of Action for the Climate Emergency (ACE) said in a statement. "Make no mistake—they will pay for losses and damages."
The campaign is set to launch ahead of United Nations Secretary-General António Guterres' Climate Ambition Summit on Wednesday.
The summit, billed as a "no-nonsense" effort to generate more aggressive action plans to phase out planet-warming energy, will be preceded by hundreds mass demonstrations across the globe imploring U.S. President Joe Biden and other world leaders to "end fossil fuels."
The protests will culminate in the "March to End Fossil Fuels" in New York City on Sunday afternoon.

"Big Oil owes us for the lives and livelihoods lost to climate change-linked extreme weather, illness, and death," said Alex Witt, the senior adviser for oil and gas at Climate Power. "The industry's C-suite has known for decades the horrific impact oil and gas have on the climate, and they kept drilling. That's not just negligent; it's reprehensible."
"The tide has turned against Big Oil," Witt added, "and they know it."
News
Independent, nonprofit journalism needs your help.
Please Pitch In
Today!