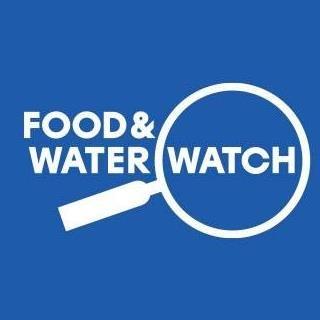 For Immediate Release
August, 13 2013, 02:01pm EDT
Contact:
Seth Gladstone – sgladstone[at]fwwatch[dot]org, 718.943.8063
Fracking-Harmed Residents Demand Reopening of EPA Poisoned Water Investigations
Action Comes on Heels of Report Showing EPA Officials Ignored Evidence from Philadelphia Office Finding Pollution in Dimock Drinking Water
WASHINGTON
Pennsylvania residents and activists personally harmed by the hazards of fracking gathered today at EPA headquarters in Washington, D.C. to call for the reopening of the investigation into drinking water contamination in Dimock, PA. A recent report in the Los Angeles Times revealed that EPA officials in Washington chose to close an investigation of Dimock drinking water despite evidence gathered from agency investigators based in Philadelphia that found "significant damage to the water quality," from poisonous contamination likely caused by fracking. The EPA PowerPoint Presentation was released last Monday on DeSmog blog by investigative journalist Steve Horn. Evidence of drinking water contamination due to fracking was similarly ignored by the EPA in Pavillion, Wyoming and Weatherford, Texas. The resident-activists delivered more than 50,000 petitions to new EPA Administrator Gina McCarthy calling on her to reopen investigations in Dimock, PA as well as in Pavillion, WY and Weatherford, TX. They are also calling on EPA to provide safe drinking water to residents while these investigations recommence.
"For years now, I have had to live with toxic, poisoned fracked water in my home," said Ray Kemble, a former gas industry employee turned whistleblower and an affected Dimock area resident. "When EPA finally stepped in and tested my water, I thought 'Thank God. Someone is finally here to help us.' But then it became apparent to those of us on the ground that they were playing politics. EPA officials literally told us officially that our water was safe to drink but then told us off-the-record not to drink it. Now the truth is out and we want justice."
In 2010, the Pennsylvania Department of Environmental Protection concluded that a fracking well drilled by Cabot Oil and Gas Corporation was responsible for methane contamination of a large aquifer in Dimock, PA resulting in the contamination of the drinking water of 19 families. The PA DEP enacted a fracking moratorium in the area and promised to build a water line from a nearby town to the residents. Then they rescinded that promise leaving Dimock residents to fend for themselves.
During the next few years, Cabot Oil and Gas paid for water deliveries to the residents and then abruptly stopped December 2011. Residents and advocates demanded the EPA and the federal government step in and in January 2012, the EPA commenced water deliveries while conducting its own investigation into groundwater contamination caused by drilling and fracking operations. In the summer of 2012, the EPA concluded its investigation and stated that Dimock's water wasn't contaminated from drilling and fracking operations, however the Los Angeles Times now reports that internal documents show regional EPA staff members said the exact opposite. Staff members warned their superiors that several wells had been contaminated with methane and substances such as manganese and arsenic, most likely from local gas drilling and fracking.
"I helped sound the alarm and called EPA when Cabot Oil and Gas stopped water deliveries to outspoken residents in Dimock, PA," said Craig Stevens, a resident from the neighboring town of Silver Lake Township, who has also been adversely been affected by fracking operations in the region. "The people in this country deserve better then this. These fracking corporations should not be allowed to cause citizens harm and then have the federal government cover up the water contamination. Enough is enough. We aren't going away until we have law, order and safe drinking water."
Residents argue this isn't the first time the EPA has stepped back from connecting the evidence from its own studies of water contamination to unconventional gas drilling and fracking operations. Dimock's story is emblematic of a troubling pattern in EPA groundwater investigations related to fracking.
In late-2010 in Weatherford, Texas, after evaluating samples from a water well near drilling and fracking operations, the Environmental Protection Agency believed the situation was so serious that it issued a rare emergency order that said at least two homeowners were in immediate danger from a well saturated with flammable methane. More than a year later, the agency rescinded its mandate and refused to explain why. However, in an Associated Press story that later emerged, the EPA had scientific evidence against the driller, Range Resources, but changed course after the company threatened not to cooperate with a national study about hydraulic fracturing. In response to this threat and industry pressure, regulators set aside an analysis that concluded the drilling could have been to blame for the contamination.
More recently, the EPA abandoned the fracking study in Pavillion, WY, which found benzene, a known carcinogen, at 50 times the level that is considered safe. However, even with this evidence, the EPA stepped away from this study and instead handed it over to the state of Wyoming, whose lead politicians have repeatedly vocally supported fracking. Worse, the research will be funded by EnCana, the very company whose drilling and fracking operations may have caused the groundwater contamination.
"The purpose of the EPA is to protect all Americans from the types of health and safety hazards fracking so obviously caused in Dimock and elsewhere," said Emily Wurth, director of water programs at Food & Water Watch, the organization that led the petition collection effort. "It's time for Gina McCarthy and the EPA to do its job and stand up for public health, not continue wilting under pressure from the oil and gas industry to simply maintain the dangerous status quo."
Food & Water Watch mobilizes regular people to build political power to move bold and uncompromised solutions to the most pressing food, water, and climate problems of our time. We work to protect people's health, communities, and democracy from the growing destructive power of the most powerful economic interests.
(202) 683-2500
LATEST NEWS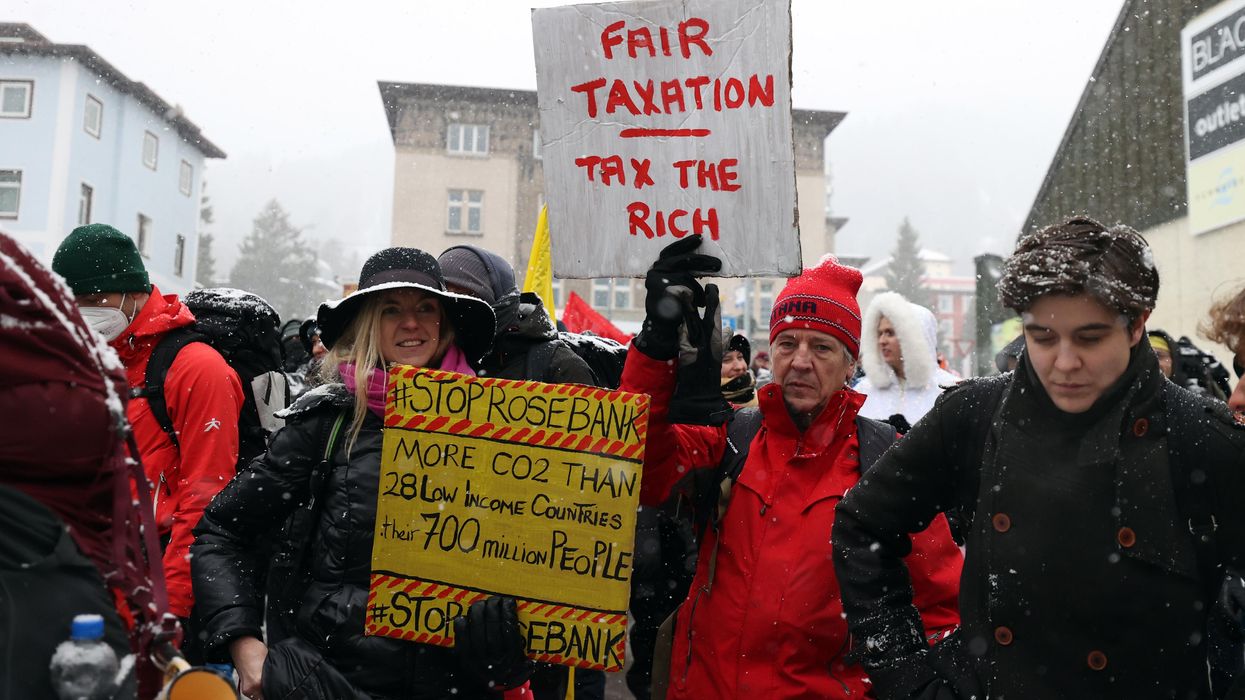 Billionaires have seen their wealth skyrocket over the past two years, adding roughly $2.7 billion per day to their fortunes while ordinary people struggle to afford basic necessities.
As the world's corporate and political elite convened in Davos, Switzerland for the first winter World Economic Forum in three years, an analysis published Monday by Oxfam International found that the global rich have captured nearly two-thirds of all wealth generated since 2020—a period marked by a devastating pandemic, worsening costs of living crises, and continued fallout from the climate emergency.
In a new report titled Survival of the Richest, Oxfam shows that the top 1% worldwide grabbed $26 trillion of the $42 trillion in new wealth created, close to twice as much as the bottom 99% of the global population.
Billionaires, in particular, have seen their wealth explode since 2020, adding around $1.7 million to their net worth for every $1 in wealth gained by a person in the bottom 90% of the global income distribution. According to Oxfam, billionaires' fortunes have grown by an average of $2.7 billion per day since 2020.
Meanwhile, nearly 2 billion workers across the globe likely saw inflation rise at a faster pace than their wages, resulting in a real pay cut that has increased poverty, hunger, and other hardships.
"While ordinary people are making daily sacrifices on essentials like food, the super-rich have outdone even their wildest dreams," said Gabriela Bucher, executive director of Oxfam International. "Just two years in, this decade is shaping up to be the best yet for billionaires—a roaring '20s boom for the world's richest."
Oxfam's report also spotlights how corporations have taken advantage of crises such as pandemic-induced supply chain woes and Russia's war on Ukraine to drive up prices for consumers around the world, making it more difficult for billions of people to afford basic necessities.
The analysis finds that at least 95 food and energy corporations more than doubled their profits in 2022, bringing in $306 billion in windfall profits and dishing out 84% of it to their shareholders.
"The Walton dynasty, which owns half of Walmart, received $8.5 billion over the last year," Oxfam notes. "Indian billionaire Gautam Adani, owner of major energy corporations, has seen this wealth soar by $42 billion (46%) in 2022 alone. Excess corporate profits have driven at least half of inflation in Australia, the U.S., and the U.K."
"Forty years of tax cuts for the super-rich have shown that a rising tide doesn't lift all ships—just the superyachts."
To combat skyrocketing inequality produced by excess corporate profits and the disproportionate wealth gains of the ultra-rich—who also contribute far more to the climate crisis than the rest of humanity—Oxfam argues that governments around the world should institute "a systemic and wide-ranging increase in taxation" targeting billionaires who often pay astonishingly low tax rates.
The new report cites the example of Tesla CEO Elon Musk, who—according to Internal Revenue Service documents obtained by ProPublica—paid a true tax rate of just over 3% between 2014 and 2018.
By comparison, Oxfam observes, "Aber Christine, a flour vendor in Uganda, makes $80 a month and pays a tax rate of 40%."
The aid group's report makes clear that Musk is hardly alone among billionaires in reaping massive wealth gains—much of it unrealized stock appreciation—while paying little tax.
"Every billionaire is a policy failure," the report says. "The very existence of booming billionaires and record profits, while most people face austerity, rising poverty, and a cost-of-living crisis, is evidence of an economic system that fails to deliver for humanity. For too long, governments, international financial institutions, and elites have misled the world with a fictional story about trickle-down economics, in which low tax and high gains for a few would ultimately benefit us all. It is a story without any basis in truth."
It's unclear whether the Davos summit—dominated by individuals and corporations committed to preserving and growing their wealth—will feature discussion of anything close to the tax policy that Oxfam recommends. Specifically, the group calls on policymakers to "permanently increase taxes on the richest 1%... to a minimum of 60% of their income from both labor and capital, with higher rates for multi-millionaires and billionaires."
Oxfam also urges governments to "tax the wealth of the richest 1% at rates high enough to significantly reduce the numbers and wealth of the richest people, and redistribute these resources. This includes implementing inheritance, property, and land taxes, as well as net wealth taxes."

Taxation is not mentioned in an overview of the World Economic Forum's central topics.
In a statement, Bucher said that "taxing the super-rich and big corporations is the door out of today's overlapping crises."
"It's time we demolish the convenient myth that tax cuts for the richest result in their wealth somehow 'trickling down' to everyone else," said Bucher. "Forty years of tax cuts for the super-rich have shown that a rising tide doesn't lift all ships—just the superyachts."
News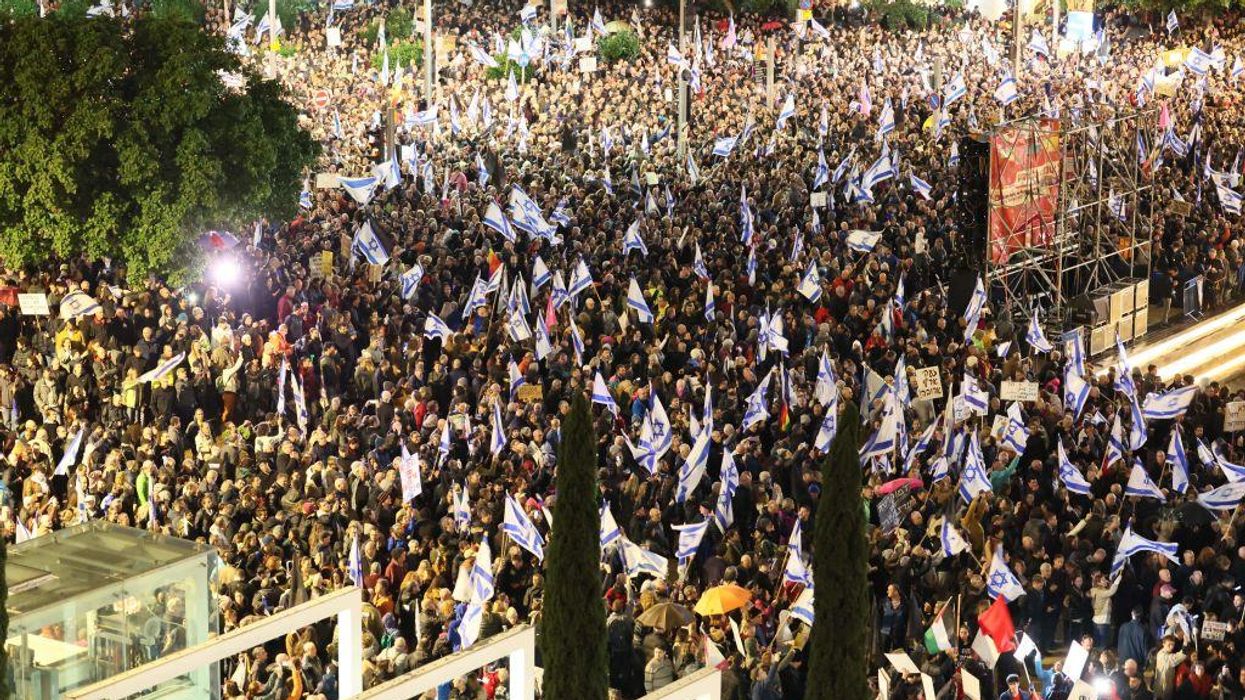 Over 100,000 marched in Tel Aviv against the government, in one of the biggest protests in Israel in many years
Tens of thousands of Israelis marched in central Tel Aviv and in two other major cities on Saturday night, protesting far rightwing PM Benjamin Netanyahu's plan to overhaul the legal system and weaken the Supreme Court — undermining democratic rule just weeks after his election.
Despite cold, rainy weather, marchers, many covered with umbrellas, held Israeli flags and placards saying "Criminal Government," "The End of Democracy," and "We Are Preserving Our Shared Home." Netanyahu was guilty of a "legal putsch," read another.
Critics say Netanyahu's would cripple judicial independence, foster corruption, set back minority rights, and deprive Israel's court system of credibility.
Netanyahu and his ultranationalist security minister Itamar Ben-Gvir ordered police to take tough action if protesters displayed Palestinian flags at Saturday's protest. Social media footage showed a number of Palestinian flags on display in defiance of Netanyahu.
"Elections do not give anyone the power to destroy democracy itself," said former Justice Minister Tzipi Livni as she addressed the protest in Tel Aviv, adding that Israel's far-right government is "carrying out a political takeover of the country and waging a war against its democratic institutions."
"Spilled poison, lies, slandering one's brother, marking as an enemy anyone who thinks differently. [They are doing] everything so that we crumble from the inside and weaken as a society before the big attack," she said.
"We will stop you, and we will not compromise because democracy in Israel, our freedom and our rights are not political trade," Livni said. "They can call us traitors, but we are the ones who protect the motherland from them. They can threaten handcuffs – we are not afraid," she said.
News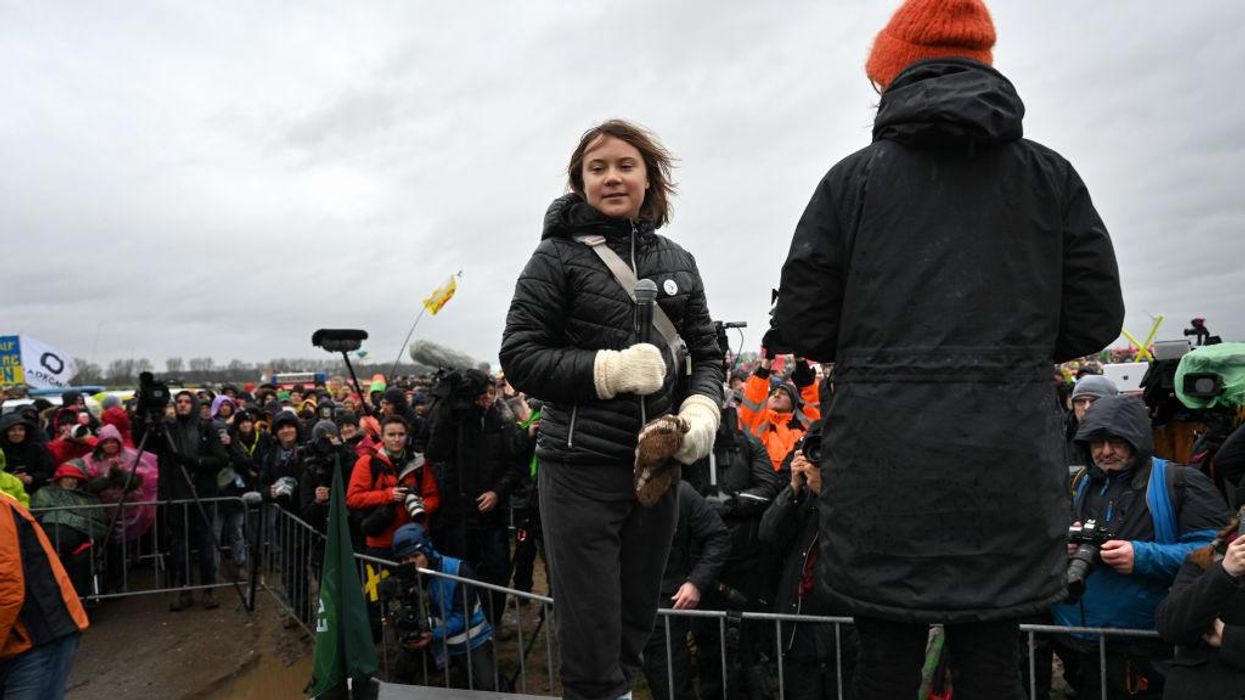 Greta Thunberg criticized Germany's Green Party on Saturday for supporting the demolition of the village of Lützerath
Thousands of people demonstrated in a pouring rain on Saturday protesting the clearance and demolition of a village in western Germany that is due to make way for the expansion of the coal mine Garzweiler.
Swedish climate activist Greta Thunberg joined the demonstrators as they protested the clearance of Luetzerath, walking through the nearby village of Keyenberg. Protesters chanted "Every village stays" and "You are not alone."
Activists from climate action groups including Fridays for Future, Extinction Rebellion and Last Generation came from across the country to join the protest.
Thunberg criticized Germany's Green Party on Saturday for supporting the demolition of the village of Lützerath.
German outlet dpa reported:
Making deals with fossil fuel corporations such as energy giant RWE – which has bought the site of Lützerath for mining – "show where their priorities are", Thunberg said of the Greens, who form part of Germany's coalition government, in an interview with dpa.
Leading Green politicians such as Economy Minister Robert Habeck have defended the demolition of Lützerath, arguing that the coal below is needed to maintain energy security in the current crisis.
"The coal that is in the ground here will not lower prices immediately. Anyone who thinks like that is simply out of touch with reality," Thunberg said.
The Greens are also in power in the state of North-Rhine Westphalia, where the village of Lützerath has become the latest flashpoint for activists opposed to the government's continued use of coal.
During a visit to Lützerath Friday afternoon, 20-year-old Thunberg said it was "horrible to see what's happening here."
"We expect to show what people power looks like, what democracy looks like. When governments and corporations are acting like this, destroying the environment, putting countless people at risk, the people step up," she said.
The climate activist also referred to "outrageous ... police violence" occurring at the site.
Thunberg held up a sign that read, "Keep it in the ground."
Sara Ayech, Global Campaign Lead for Climate at Greenpeace International said Saturday: "We're in 2023, in the middle of a climate crisis, and while destroying a village to expand one of the biggest carbon bombs in Europe should be considered criminal, it is still legal. Fossil fuel companies' influence is so powerful that the ones considered criminals now are the ones fighting for climate justice. It is time to hold fossil fuel companies accountable."
Environmentalists say bulldozing the village to expand the Garzweiler mine would result in huge amounts of greenhouse gas emissions.
The local and national governments, both of which include the Green party, made a deal with fossil fuel giant RWE last year allowing it to destroy the village in return for a promise to end coal use by 2030, rather than 2038.



News
SUPPORT OUR WORK.
We are independent, non-profit, advertising-free and 100%
reader supported.