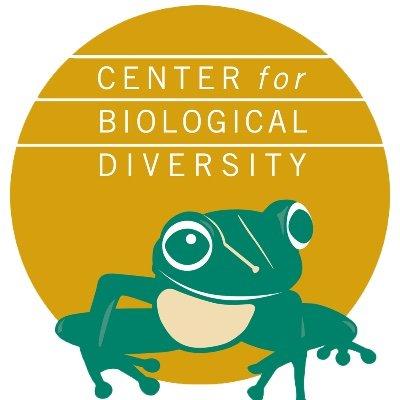 For Immediate Release
June, 14 2012, 03:27pm EDT
Contact:
Tel: (520) 623.5252,Email:,center@biologicaldiversity.org
Lawsuit Challenges Second Massive Newhall Ranch "Village"
Sprawling Development in Floodplain Would Devastate Wildlife Habitat, Hurt Cultural Resources
LOS ANGELES
Five public-interest groups sued Los Angeles County in superior court on Wednesday over its approval of permits for the second phase of the sprawling Newhall Ranch development -- Mission Village. The Newhall Ranch development, conceived in the 1980s as one of the largest single residential development projects ever contemplated in California, is archaic and out of step with contemporary urban planning.
The project is intended to eventually include 60,000 housing units -- the size of a mid-size city -- including development in the floodplain along the Santa Clara River, the last mostly free-flowing river left in Los Angeles County. The sprawling project threatens endangered species and natural areas and will bury many of the river's tributaries.
The lawsuit -- brought by the California Native Plant Society, Center for Biological Diversity, Friends of the Santa Clara River, Santa Clarita Organization for Planning the Environment (SCOPE) and Wishtoyo Foundation and its Ventura Coastkeeper program -- challenges the legality of the county's approval process in order to protect the rare plant, animal, cultural resources and water quality.
The plan approved by the county on May 15 will develop open space that is home to endangered species in and along the Santa Clara river; eliminate habitat for the highly endangered San Fernando Valley spineflower; harm California condor habitat; and unearth and desecrate American Indian burial sites, sacred places and cultural natural resources.
"Decades have passed, planning principles have shifted and improved, and yet the county has failed to incorporate contemporary planning principles into this dinosaur of a project," said David Magney with the California Native Plant Society. "As a result, rare plants, including the San Fernando Valley spineflower, are going to be needlessly bulldozed and replaced by more strip malls, parking lots and houses no one can afford."
"It's unimaginable that L.A. County is so reckless with the last free-flowing river in the region," said Ron Bottorff with the Friends of the Santa Clara River. "Southern California has paved over and lost all but 3 percent of its historic river woodlands, yet these are resources are key to protecting our precious water."
The Santa Clara River Valley is home to a great diversity of very rare species, among them the unarmored threespine stickleback fish, California condor, least Bell's vireo, southwestern willow flycatcher, California red-legged frog, arroyo toad, southern steelhead trout and San Fernando Valley spineflower. Wildlands of the Santa Clara River provides a full accounting of rare environmental resources of this precious landscape.
"Developing in endangered species habitat pushes rare plants and animals to the brink of extinction," said Ileene Anderson, a biologist with the Center for Biological Diversity. "These days, smart planning protects them instead of destroying their habitat."
Los Angeles County approved an overall plan for the Newhall Ranch development more than a decade ago. Approval of this second phase, called Mission Village, follows just months after the county approved the first phase, Landmark Village. Northern Los Angeles County is already plagued by high foreclosure rates and thousands of permitted housing units that have not been built. Financial bankruptcy by the development's previous investors cost California's public pension fund more than $970 million of state employees' retirement. New investors are out-of-state hedge fund managers with no interest in California's rich natural legacy.
"Before a single house has been built, Newhall Ranch has already cost California's taxpayers and workforce, including the county's own staff, nearly a billion dollars of lost pension funds," said Lynne Plambeck, president of the Santa Clarita Organization for Planning the Environment. "Although the state will never recover any of the largest single loss ever suffered by CalPERS, and will spend millions more in public monies to build roads, bridges and other infrastructure to serve this project, the county has once again endorsed this same development that will threaten the region's water supply, worsen air pollution and cause further gridlock on our highways."
"The project will impart irreversible impacts to the ecological integrity and water quality of the Santa Clara River watershed and Ventura's coastal waters, harming the wellbeing of watershed residents and visitors for years to come," said Jason Weiner, associate director and staff attorney for the Wishtoyo Foundation's Ventura Coastkeeper Program.
"The impacts to hundreds upon hundreds of our burial sites, and natural cultural resources such as the California condor that are such a vital component of our culture and religious practices, will be devastating and irreversible," said Mati Waiya, a Chumash ceremonial elder and executive director of the Wishtoyo Foundation.
"Mission Village contains a former oil field now proposed for housing. Project information on toxic contamination was substantially changed at the very last minute just prior to the county's approval," said attorney Dean Wallraff. "Tetrachloroethene (PCE) contamination was discovered on the old oil field but the public was not given a chance to review any of this data in the review process, which is a violation of law."
At the Center for Biological Diversity, we believe that the welfare of human beings is deeply linked to nature — to the existence in our world of a vast diversity of wild animals and plants. Because diversity has intrinsic value, and because its loss impoverishes society, we work to secure a future for all species, great and small, hovering on the brink of extinction. We do so through science, law and creative media, with a focus on protecting the lands, waters and climate that species need to survive.
(520) 623-5252
LATEST NEWS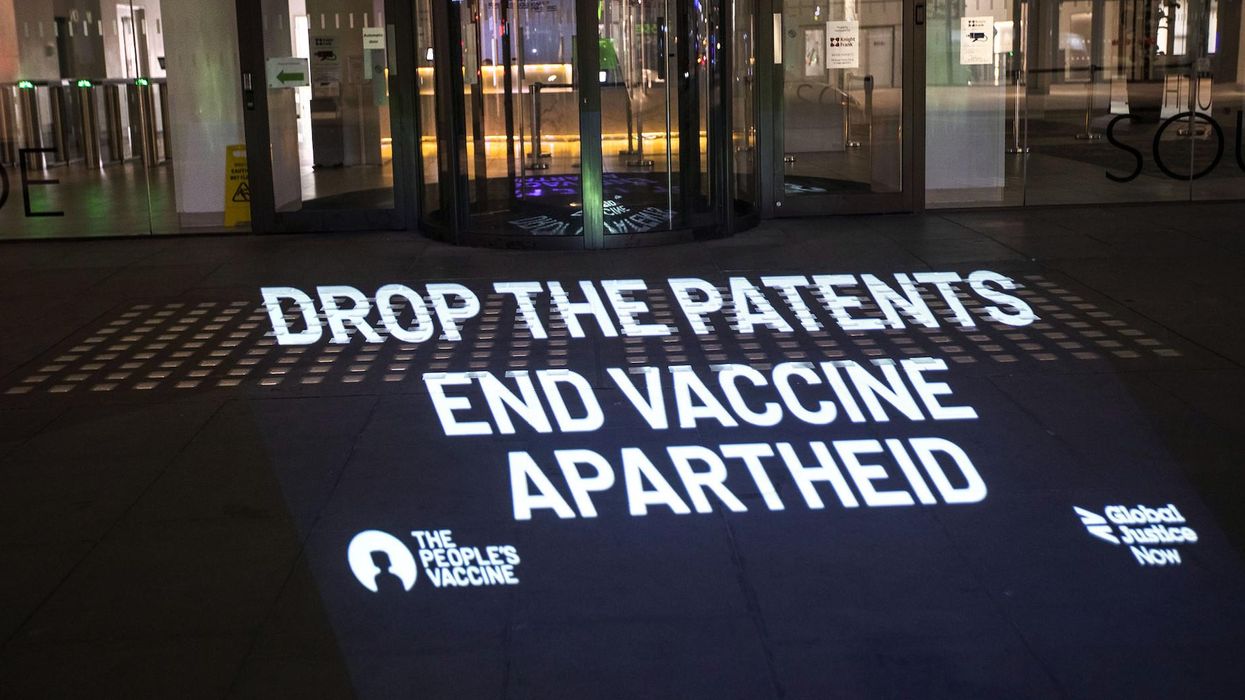 "At a time when online mobilizations were one of the few forms of protest available to the public, Twitter was seemingly asked to shield the powerful from criticism," said one campaigner. "That should worry all those who care about accountability."
Drugmaker BioNTech and the German government pushed Twitter to "hide" posts by activists calling on Big Pharma to temporarily lift patents on Covid-19 vaccines—a move which would have given people the Global South greater access to the lifesaving inoculations, a report published Monday by The Intercept revealed.
Twitter lobbyist Nina Morschhaeuser "flagged the corporate accounts of Pfizer, BioNTech, Moderna, and AstraZeneca for her colleagues to monitor and shield from activists," according to The Intercept's Lee Fang. An email from Morschhaeuser said the German Federal Office for Information Security also contacted Twitter on behalf of BioNTech, whose spokesperson, Jasmina Alatovic, asked the social media giant to "hide" activist tweets targeting her company's account for two days.
Morschhaeuser, meanwhile, requested that colleagues track the hashtags #PeoplesVaccine—a movement for the temporary lifting of patent protections—and #JoinCTAP, a reference to the World Health Organization's Covid-19 Technology Access Pool. Morschhaeuser further warned that the advocacy group Global Justice Now shared an online signup form for a December 2020 People's Vaccine Day of Action.
"The allegations in this article suggest that government and industry tried to silence legitimate criticism during a crisis," Maaza Seyoum, Global South convener at the People's Vaccine Alliance, said in a statement Monday. "At a time when online mobilizations were one of the few forms of protest available to the public, Twitter was seemingly asked to shield the powerful from criticism. That should worry all those who care about accountability."
\u201c\ud83d\udce2 REACTION: German government and @BioNTech_Group asked Twitter to censor vaccine equity critics.\n\nNew #TwitterFiles piece by @lhfang shows how they worked to silence activists demanding a #PeoplesVaccine\n\nRead our reaction: https://t.co/VyaSBIbWnS\n\n1/\u201d

— The People's Vaccine (@The People's Vaccine) 1673889107
Global Justice Now director Nick Dearden also noted the troubling timing of BioNTech's censorship request during a period of global pandemic lockdowns.
"To try and stifle digital dissent during a pandemic, when tweets and emails are some of the only forms of protest available to those locked in their homes, is deeply sinister," he told The Intercept.
Fang writes:
It is not clear to what extent Twitter took any action on BioNTech's request. In response to Morschhaeuser's inquiry, several Twitter officials chimed in, debating what action could or could not be taken. Su Fern Teo, a member of the company's safety team, noted that a quick scan of the activist campaign showed nothing that violated the company's terms of service, and asked for more examples to "get a better sense of the content that may violate our policies."
But it shows the extent to which pharmaceutical giants engaged in a global lobbying blitz to ensure corporate dominance over the medical products that became central to combating the pandemic. Ultimately, the campaign to share Covid vaccine recipes around the world failed.
While U.S. President Joe Biden in 2021 heeded activists' calls and joined most of the Global South in backing a Trade-Related Aspects of Intellectual Property Rights (TRIPS) waiver at the World Trade Organization, most rich nations—including Germany—oppose the policy and have, along with Big Pharma, fought to thwart it.

"If the German government wants to show that it is now willing to side with public health over private profit, it must change its approach to pandemic response," Seyoum asserted. "That means backing efforts at the World Trade Organization to improve access to generic Covid-19 medicines and treatments, supporting the World Health Organization's mRNA Hub in South Africa, and standing up to corporate interests in negotiations over a Pandemic Treaty."
News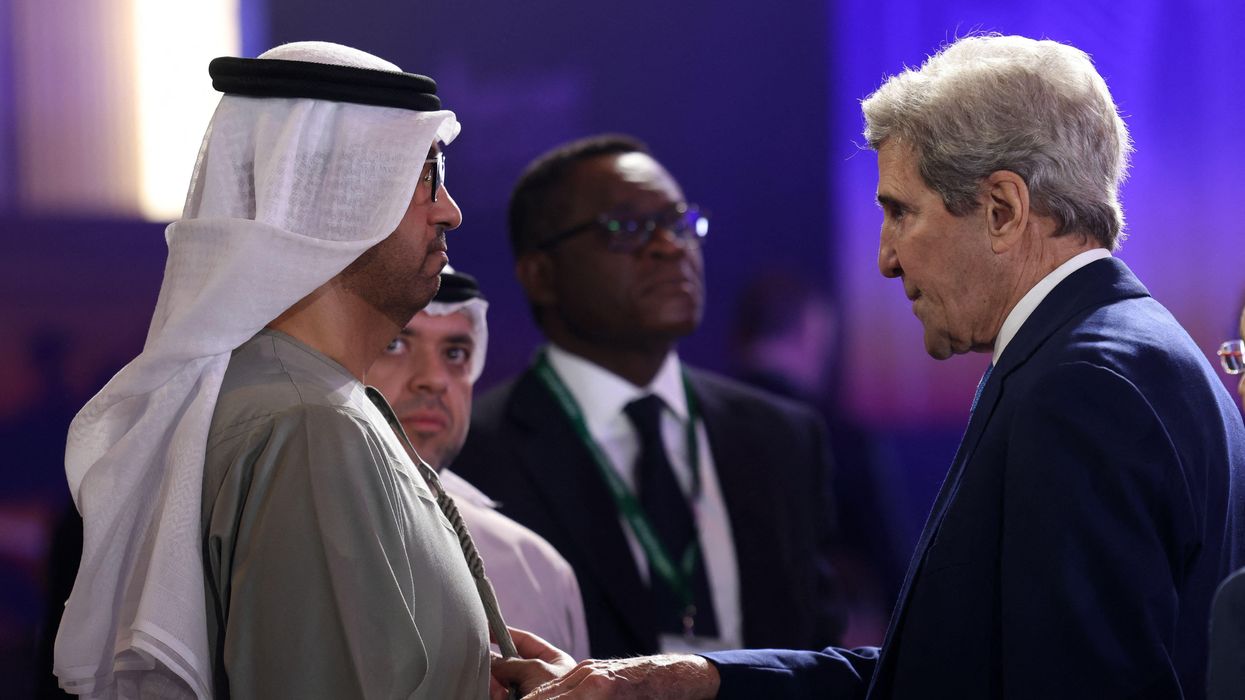 Critics rebuke U.S. climate envoy for calling Sultan al-Jaber a "terrific choice."
Progressives on Monday reacted with outrage and disbelief after U.S. climate envoy John Kerry backed the appointment of Sultan al-Jaber to lead the the United Nations' annual conference on the climate emergency, saying the CEO of the United Arab Emirates' state-run oil company was not only qualified to preside over the summit, but that his background strengthened the case for his presidency.
As Common Dreamsreported last week, the UAE named al-Jaber as president of the 28th United Nations Framework Convention on Climate Change (COP28), scheduled to begin in November—a decision that was met with scorn from campaigners as al-Jaber is heads the Abu Dhabi National Oil Company (ADNOC) and a renewable energy firm in which ADNOC holds a 24% stake.
"I think that Dr. Sultan al-Jaber is a terrific choice because he is the head of the company. That company knows it needs to transition," Kerry told the Associated Press Sunday, despite the fact that scientists and advocates across the globe have also known for decades that policymakers must lead a rapid transition away from oil and gas-generated energy. "He knows—and the leadership of the UAE is committed to transitioning."
Advocates have warned that the UAE has not made clear how it plans to reach its stated goal of being carbon neutral by 2050, especially as it plans to increase production of crude oil by a million barrels per day.
The UAE is expected to become "the third largest expander of oil and gas production" between 2023 and 2025 as ADNOC embarks on the second-largest expansion of oil production of any company in the world, locking in more than 2.7 gigatonnes of CO2 emissions.
But when asked by Sky News Arabia about whether al-Jaber would have a conflict of interest at the conference, where leaders are expected to be pushed to take significant emissions-reduction steps, Kerry dismissed the concern.
"That's a first blush, very simplistic way to look at this," Kerry said, adding that "the only way we will meet this crisis and protect our citizens and build an economy for the future, is by reducing emissions."
Putting the ADNOC executive—who is also the UAE's climate enjoy and minister of industry and technology—in charge of COP28 drew comparisons from Progressive International leader Yanis Varoufaki to naming "a jihadist to oversee religious tolerance" or "a Nazi to oversee racial harmony."
"What could go wrong?" labor historian Erik Loomis asked sardonically.

\u201cJeffrey Dahmer placed to oversee anti-cannibalism commission. \n\nhttps://t.co/D7Yyz2MMAw\u201d

— Erik Loomis (@Erik Loomis) 1673888060
COP28 will follow the two most recent international climate conferences, held in Glasgow, Scotland and Sharm el-Sheikh, Egypt, where hundreds of fossil fuel lobbyists were in attendance and policymakers failed to hammer out a final agreement requiring countries to phase out oil, coal, and gas extraction.
Kerry toldSky News Arabia that the UAE was not "involved in changing" the outcome of the COP26 and COP27 talks.
The former secretary of state acknowledged that there would be "a level of scrutiny" aimed at al-Jaber's appointment.
"And I think that's going to be very constructive," he told the AP. "It's going to help people, you know, stay on the line here. I think this is a time, a new time of accountability."
Acknowledging Kerry's negotiating of the Paris climate agreement in 2015—which despite its many flaws and shortcomings represents the strongest global pact ever reached on the issue—Leo Roberts of the climate think tank E3G said on social media that the U.S. politician's endorsement of el-Jaber represents "a really rather spectacular fall from grace."
News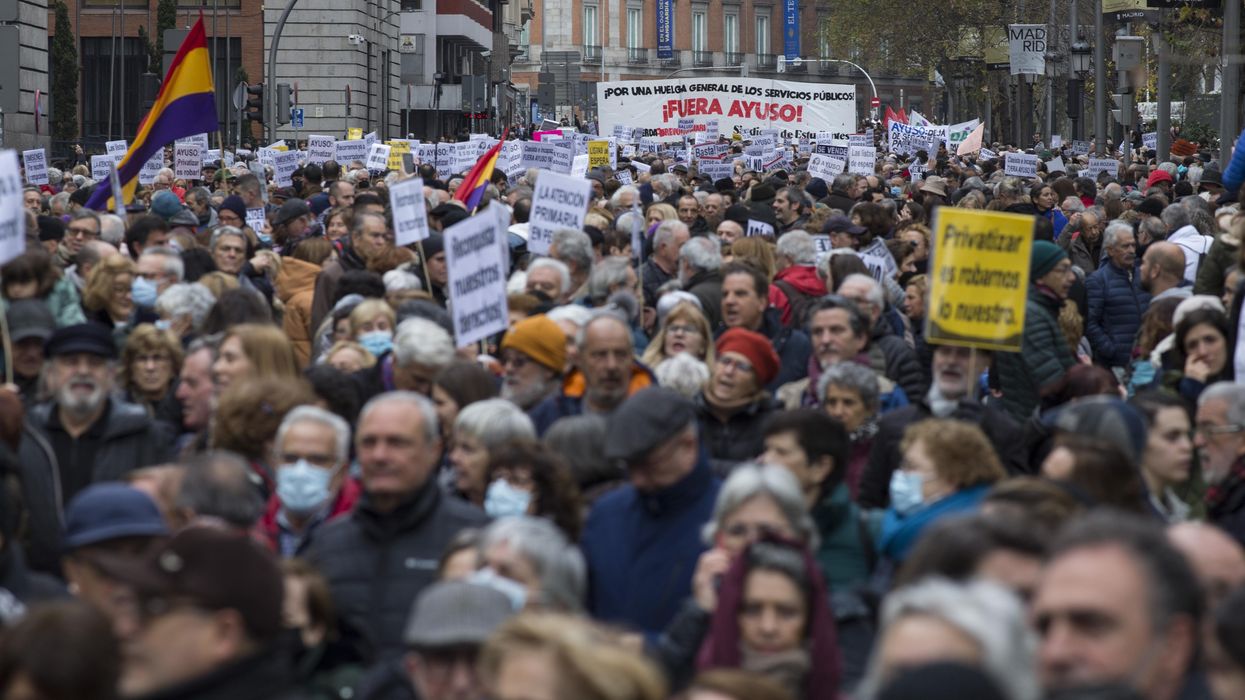 "I am Ayuso's plan for the emergency ward," said one demonstrator dressed as the Grim Reaper.
Tens of thousands marched in Madrid, Spain on Sunday to stop the right-wing regional government's ongoing attack on the public healthcare system.
"Cutting public health is criminal!" demonstrators chanted as they held placards against the push for privatization and cuts.
\u201cTens of thousands of health workers took to the streets of Madrid on Sunday to lodge their protests against what they consider an erosion of public health infrastructure.\n\nhttps://t.co/asGkvSgAle\u201d

— DW Europe (@DW Europe) 1673869377
According to the Associated Press:
Carrying homemade signs with slogans that translated into English as "S.O.S. Public Healthcare" snd "Stop Privatization," the marchers clamored against staff shortages and criticized what they consider the favoritism shown by regional authorities toward private health care providers.

The event was the latest in a series of protest actions, including strikes, by Madrid's public health workers against the capital region's government, which is led by Popular Party heavyweight Isabel Ayuso.

The unions that organized Sunday's demonstration said Madrid spends the least amount per capita on primary health care of any Spanish region even though it has the highest per capita income. They claim that for every 2 euros spent on health care in Madrid, one ends up in the private sector.

"We have about 40 or 50 patients per day and can give them about six minutes each," Ana Encinas, a doctor who has worked in primary care in the nation's capital for 37 years, toldReuters. "The problem is that they do not allow us to give proper care to patients."
One protester in the crowd—led by doctors, nurses, labor groups, and other defenders of public health—was dressed as the Grim Reaper and held a sign that said: "I am Ayuso's plan for the emergency ward."

News
SUPPORT OUR WORK.
We are independent, non-profit, advertising-free and 100%
reader supported.