For Immediate Release
August, 25 2011, 04:08pm EDT
Kucinich Continues to Build Opposition to Free Trade Agreements
WASHINGTON
Congressman Dennis Kucinich is continuing to build opposition to the three pending free trade agreements with Korea, Panama and Colombia Congress is expected to vote on in the fall. He sent a letter to his colleagues today highlighting the role that multinational corporations have played in outsourcing American jobs.
According to a recent article in The Washington Post, between the period of 2000 and 2009, multinational corporations cut 2.9 million American jobs while at the same time, adding 2.4 million overseas.
Yesterday, Congressman Kucinich sent a letter to General Electric's Chairman and CEO Jeffery Immelt calling for him to resign from his position as head of the President's Council on Jobs and Competitiveness following reports that, in exchange for short-term profit, GE is sending advanced technology to China that was originally created by NASA.
The full text of the Representatives letter to colleagues follows:
August 22, 2011
Dear Colleague:
As Congress prepares to consider three pending free trade agreements (FTAs) in the fall, I commend your attention to a recent article in The Washington Post highlighting the role of multinational corporations in outsourcing thousands of American jobs overseas. Many of the same corporations are now asking for tax-breaks on investments made overseas, claiming that they will use that money to invest in the U.S. economy.
Companies like General Electric (GE), whose President and CEO acts as the head of the Administration's Council on Jobs and Competitiveness, are actively pursuing policies that outsource U.S.-developed technology - and U.S. jobs - abroad, while skirting domestic taxes. Since September 2011, GE has cut one-fifth of its U.S. workforce while at the same time increasing overseas employment.
While free trade agreements are being touted as good for job creation, the data since the passage of the North American Free Trade Agreement proves otherwise. According to the article, "multinationals cut 2.9 million jobs in the United States and added 2.4 million overseas between 2000 and 2009." The FTAs we are expected to vote on in the Fall are expected to continue the pattern of outsourcing U.S. jobs, not creating them. The Economic Policy Institute estimates that over 210,000 jobs may be lost or displaced as a result of the Korea and Colombia FTAs.
Since 2001, the U.S. has lost 5.3 million jobs in the manufacturing sector as a result of the United States' trade deficit. In June, the U.S. trade deficit rose to its highest in three years to $53.1 billion. At this rate, the annualized trade deficit could exceed $600 billion.
We ought to be promoting fair trade deals that create jobs instead of providing more incentives to American companies to ship more jobs overseas. I urge you to join me in opposing the Korea, Colombia and Panama FTAs when they come up for a vote later this year.
Sincerely,
/s/
Dennis J. Kucinich
Member of Congress
Dennis Kucinich is an American politician. A U.S. Representative from Ohio from 1997 to 2013, he was also a candidate for the Democratic nomination for president of the United States in 2004 and 2008.
LATEST NEWS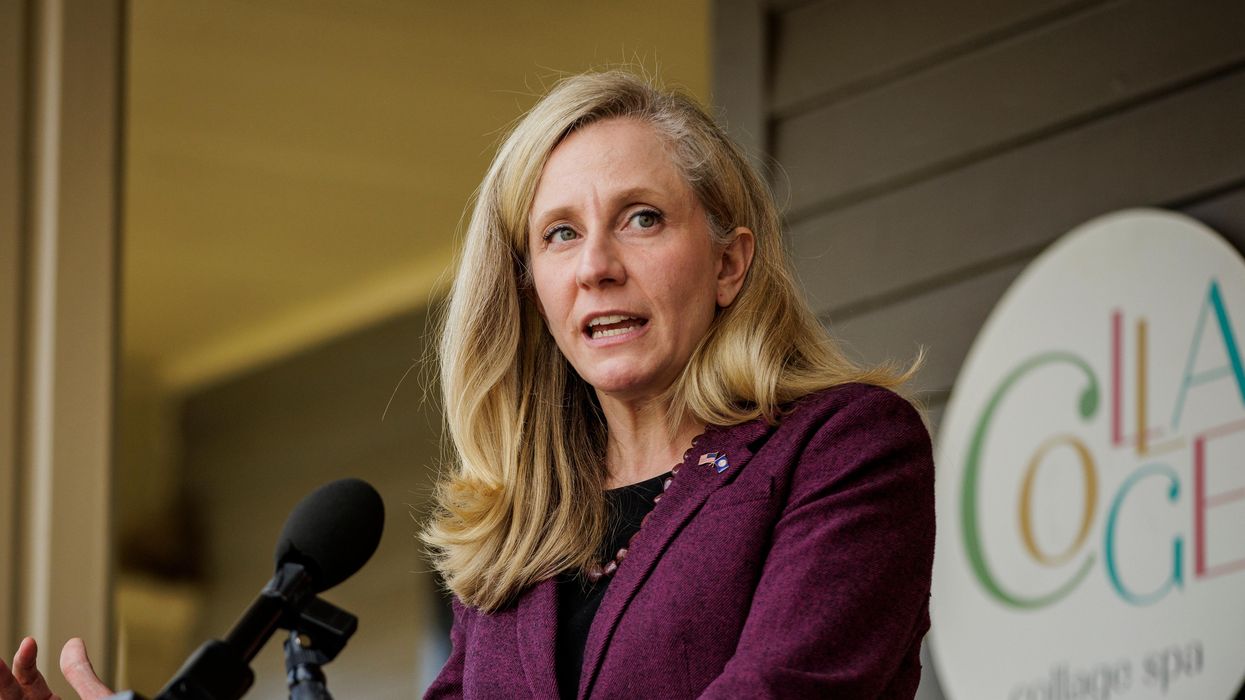 "Looks like the Blue Dogs are on their last leg," said one progressive. "It's a new day."
The Democratic Party's conservative Blue Dog Coalition has been slashed in half due partially to a disagreement within its ranks over efforts to attract more members, Politico reported on Tuesday, with a number of corporate lawmakers insisting on preserving the Blue Dogs' "longstanding legacy" and name despite its reputation as a "Southern 'boys' club'."
U.S. Reps. Abigail Spanberger (D-Va.), Ed Case (D-Hawaii), David Scott (D-Ga.), Brad Schneider (D-Ill.), Lou Correa (D-Calif.), and Mike Sherrill (D-N.J.) all left the coalition earlier this month after the 15 members held a secret-ballot vote on changing the group's name to the Common Sense Coalition.

The name change, the departing members argued, would help the group to recruit more lawmakers as it has reached an all-time low, 16 years after the Blue Dog alliance was forced to impose a cap on its membership to keep it at 20% of the Democratic caucus.
Despite the group's large roster during the George W. Bush and Obama administrations, a spokesperson for the Blue Dogs claimed Tuesday that they "have never prioritized having a large coalition" and are focused on what they refer to as "fiscally-responsible policies [and] ensuring a strong national defense."
"With a narrow majority governing the House, even a smaller group of members focused on getting things done for the American people on these issues can and will play a vital role," Andy LaVigne, the group's executive director, told Politico.
A desire to remain insular instead of appealing to a broader group of Democrats is "exactly the charge you'd expect centrists to lob at progressives," said Nick Field of Decision Desk HQ.
\u201cThe head of the Blue Dogs literally saying he'd rather his group stay small and pure than expand; exactly the charge you'd expect centrists to lob at progressives https://t.co/Y2qsTAmnjn\u201d

— Nick Field (@Nick Field) 1674571327
While the Blue Dog Coalition has long claimed to represent "mainstream American values" and the "commonsense, moderate voice of the Democratic Party," the group's contraction in recent years has coincided with the steady growth of the progressive "Squad" in the U.S. House and a wealth of evidence that the majority of Democratic voters are not aligned with the Blue Dogs' longtime push of austerity policies.
The Blue Dogs—both those who are staying in the coalition and those who are leaving—have attacked progressive policies as unrealistic and divisive.
Meanwhile, the informal Squad, whose members do not accept corporate PAC donations and are proponents of a Green New Deal, Medicare for All, and other bold policy proposals, has grown to include lawmakers from states including Texas, Florida, Pennsylvania, and Missouri since the group's first four members were elected in 2018. Around 10 lawmakers are now part of the Squad, which started with Reps. Alexandria Ocasio-Cortez (D-N.Y.), Rashida Tlaib (D-Mich.), Ilhan Omar (D-Minn.), and Ayanna Pressley (D-Mass.), and their influence has been made clear across the party as more than 70 Democrats in the 118th Congress have sworn off corporate PAC contributions.
While policies pushed by the Squad are broadly popular, the dwindling Blue Dog Coalition includes the last remaining Democrats who oppose abortion rights and marriage equality. The members who stayed after this month's vote include Reps. Sanford Bishop (D-Ga.), Mike Thompson (D-Calif.), Josh Gottheimer (D-N.J.), Jared Golden (D-Maine), Henry Cuellar (D-Texas), Jim Costa (D-Calif.), and Vicente Gonzalez (D-Texas). Rep. Wiley Nickel (D-N.C.) has not confirmed whether he'll stay or go.
The departure of nearly half of the coalition suggests that the Blue Dogs "are on their last leg," tweeted Lindsay Owens, executive director of the economic justice group Groundwork Collaborative.
\u201cLooks like the Blue Dogs are on their last leg. It's a new day.\u201d

— Lindsay Owens, PhD (@Lindsay Owens, PhD) 1674570306
With the splintering of the conservative group, said Sam Shirazi, a civil rights attorney and commentator on politics in Spanberger's state of Virginia, "the long decline of the Blue Dog coalition continues."

News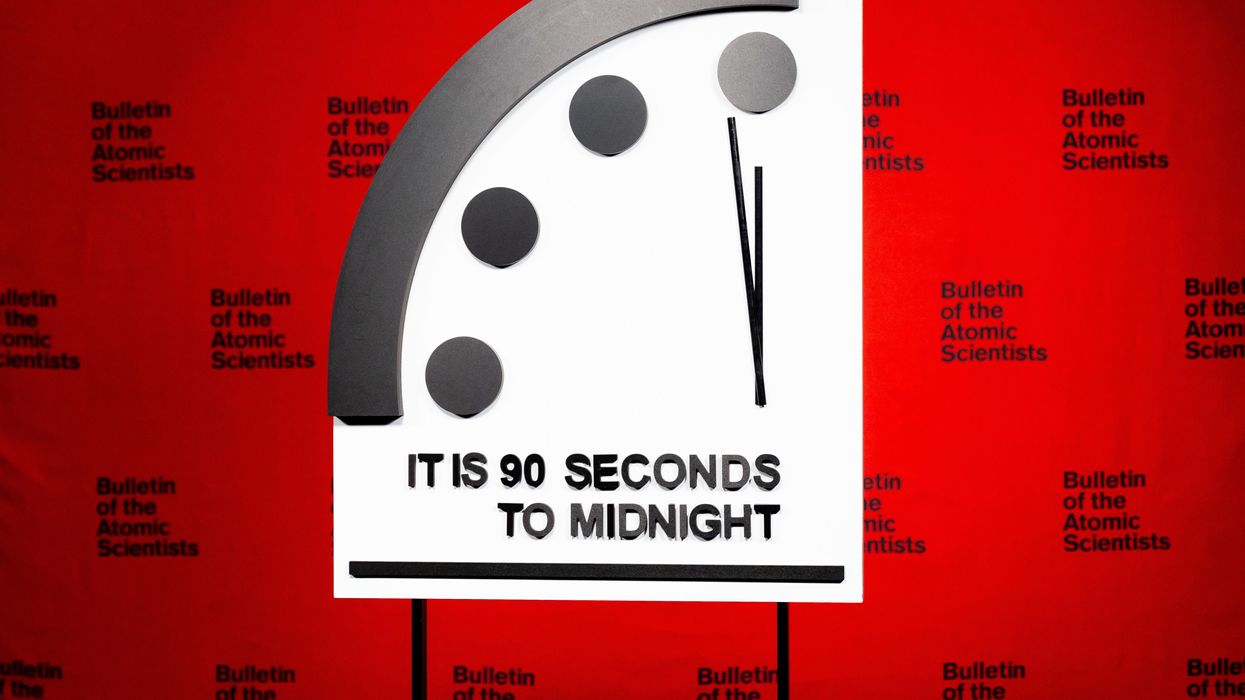 "The Doomsday Clock is sounding an alarm for the whole of humanity," said the Elders chair. "We are on the brink of a precipice. But our leaders are not acting at sufficient speed or scale to secure a peaceful and liveable planet."
"We are living in a time of unprecedented danger, and the Doomsday Clock time reflects that reality."
That's what Bulletin of the Atomic Scientists president and CEO Rachel Bronson said in a statement Tuesday about the historic symbol being set at 90 seconds to midnight, or global catastrophe, after three years at 100 seconds to midnight.

As the bulletin's annual statement explains, the clock—created in 1947—has reached its current position due to "an exceedingly dangerous nuclear situation," largely from Russia's war on Ukraine; inadequate global action to tackle the climate emergency; a "daunting array" of biological threats, exemplified by the Covid-19 pandemic; and "disruptive" technologies enabling the spread of disinformation.
"90 seconds to midnight is the closest the clock has ever been set to midnight, and it's a decision our experts do not take lightly," Bronson noted. "The U.S. government, its NATO allies, and Ukraine have a multitude of channels for dialogue; we urge leaders to explore all of them to their fullest ability to turn back the clock."
Watch the full announcement:

While the nearly yearlong Russian invasion—with fighting over a nuclear power plant and thinly veiled threats of using weapons of mass destruction—is a primary reason humanity is now closer than ever to apocalypse, experts from across the globe emphasized that it's far from the only threat.

The Elders chair Mary Robinson, a former president of Ireland and U.N. High Commissioner for Human Rights, stressed that "the Doomsday Clock is sounding an alarm for the whole of humanity. We are on the brink of a precipice. But our leaders are not acting at sufficient speed or scale to secure a peaceful and liveable planet."
"From cutting carbon emissions to strengthening arms control treaties and investing in pandemic preparedness, we know what needs to be done," she said. "The science is clear, but the political will is lacking. This must change in 2023 if we are to avert catastrophe. We are facing multiple, existential crises. Leaders need a crisis mindset."
News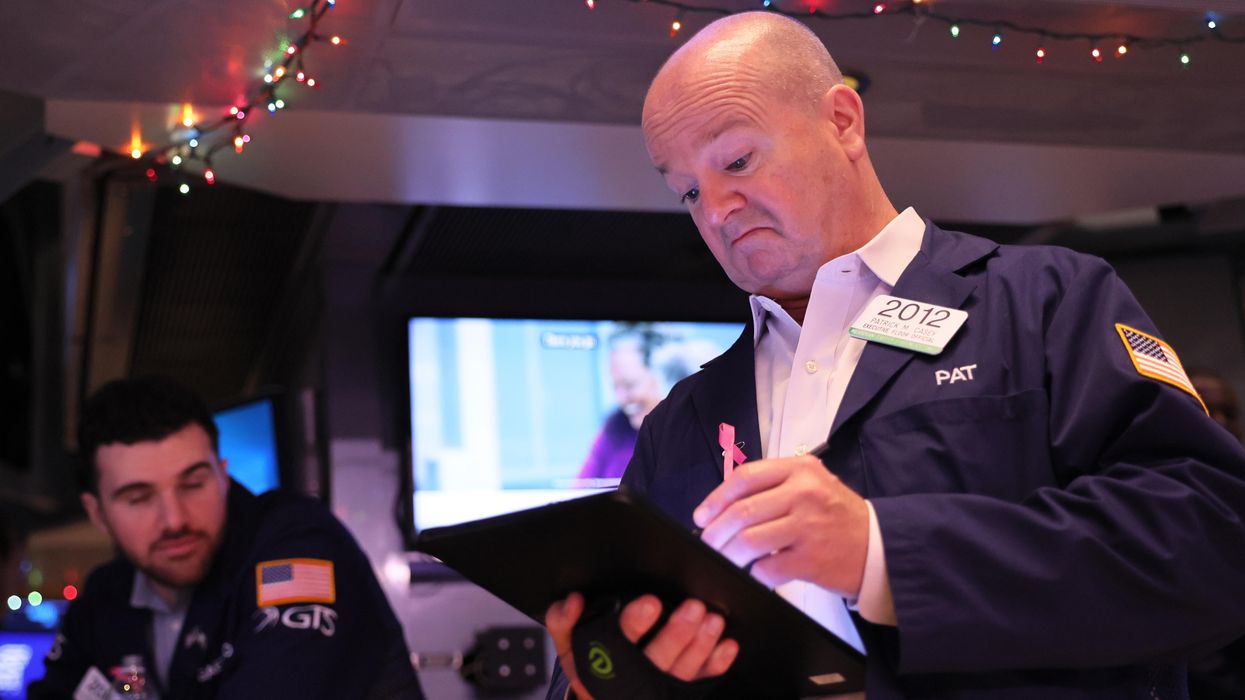 One pro-worker coalition called Amazon's recent job cuts "sacrificial symbols for Wall Street."
Amazon, Microsoft, Google, and other major tech companies have moved in recent days to lay off tens of thousands of employees, slashing jobs across the board amid mounting fears of a Fed-induced recession.
But the sweeping job cuts—more than 18,000 at Amazon, 10,000 at Microsoft, and 12,000 at Google—were apparently not enough to satisfy ultra-rich investors, some of whom have taken large stakes in tech companies with the intention of forcing layoffs and other cost-cutting as a way of boosting profits.
"The decision to cut 12,000 jobs is a step in the right direction, but it does not even reverse the very strong headcount growth of 2022," billionaire hedge fund manager Christopher Hohn wrote in a January 20 letter to Google CEO Sundar Pichai.
"I believe that management should aim to reduce headcount to around 150,000," Hohn added, urging the tech behemoth to slash tens of thousands of additional jobs.
Elliott Management, a large U.S. investment firm, recently opened a multibillion-dollar position in the software giant Salesforce, which announced earlier this month that it will be cutting roughly 10% of its workforce—around 8,000 jobs.
Bloombergreported Monday that Salesforce "will probably be urged by activist investors" such as Elliott "to cut more jobs, make changes to the board, and spin off big acquisitions in search of greater profit."
"Investors greeted the news Sunday that Elliott had taken a multibillion-dollar stake by sending shares up 3.1% Monday to close at $155.87—the highest price since the company announced co-Chief Executive Officer Bret Taylor's departure on November 30," Bloomberg added.
The shares of other tech companies staged similar rallies in the wake of layoff announcements. The music streaming company Spotify announced Monday that it is cutting 6% of its global workforce—and the firm's stock surged as a result.
Facebook parent company Meta and Google parent company Alphabet also saw their stocks rise following their layoff announcements, which were met with outrage by employees and labor organizations.
"In one email, Alphabet executives took away the livelihoods of 12,000 of our coworkers," the Alphabet Workers Union tweeted Monday. "They are now being forced to find jobs along with the 200,000 other tech workers laid off in the last 14 months."
Some Google employees didn't realize they were laid off until they arrived at the office and found that their access badges were deactivated.

The Athena Coalition, an alliance of local and national groups representing U.S. workers, called Amazon's job cuts and the company's decision to shut down its AmazonSmile charity donation program "sacrificial symbols for Wall Street, exposing again the world's second-wealthiest company's indifference to workers and all people."
\u201cAmazon layoffs, the zombie facilities they've built and promised to fill with jobs that never came, its closing of AmazonSmile charity donations are all sacrificial symbols for Wall Street, exposing again the world's 2nd wealthiest company's indifference to workers and all people\u201d

— Athena Coalition (@Athena Coalition) 1674235577
On top of the tech layoffs, the online furniture retailer Wayfair said last week that it plans to slash 1,750 jobs, news that sent the company's share price more than 20% higher. Days later, JPMorgan analysts upgraded the stock, sparking another rally.
"Wall Street loves layoffs," Sarah Anderson, director of the Global Economy Project at the Institute for Policy Studies, tweeted Monday.
Whether the spate of Big Tech layoffs signals more pain to come for the broader U.S. economy or is largely the product of industry-specific challenges remains to be seen, but the job cuts have heightened anxiety about the labor market as a whole as the Federal Reserve continues to raise interest rates, explicitly targeting workers and their wages.
Though the U.S. unemployment rate remains at historically low levels, hiring has slowed in recent months and wage growth has cooled substantially, intensifying calls for the Fed to stop raising rates.
"Awful to see these mass layoffs happening—and to realize it's a deliberate political choice by the Fed to provoke a recession, for political and cultural reasons," progressive strategist Robert Cruickshank wrote last week. "These layoffs didn't have to happen, and people should be furious at the federal government for not stopping it."
News
SUPPORT OUR WORK.
We are independent, non-profit, advertising-free and 100%
reader supported.