Need for New Affordable Housing Urgent as New Report Points to Bleak Market for Low Income Renters
Rental vacancy rates are declining, rents are increasing, and low cost rental units are disappearing from the nation's housing stock. These are among the findings of The State of the Nation's Housing: 2011, a report of the Joint Center for Housing Studies of Harvard University released here today.
The annual State of the Nation's Housing report summarizes and analyzes recent trends and emerging issues in the nation's rental and homeownership housing markets, and discusses what might be expected in the coming year.
NEW YORK
Rental vacancy rates are declining, rents are increasing, and low cost rental units are disappearing from the nation's housing stock. These are among the findings of The State of the Nation's Housing: 2011, a report of the Joint Center for Housing Studies of Harvard University released here today.
The annual State of the Nation's Housing report summarizes and analyzes recent trends and emerging issues in the nation's rental and homeownership housing markets, and discusses what might be expected in the coming year.
This year's report shows that between 2003 and 2009, the number of renters with very low incomes (below 50% of area median) jumped from 16.3 million to 18.0 million. Meanwhile, the number of housing units that were affordable to households at that level, in adequate condition and not occupied by higher income renters, fell from 12.0 million to 11.6 million. The affordable housing shortage for this group thus widened sharply from 4.3 million to 6.4 million units.
At the same time, despite the net addition of 2.6 million rentals to the nation's housing stock, the number of units with rents of $400 or less in 2009 inflation-adjusted dollars fell from 6.2 in 1999 to 5.6 million in 2009. By 2009, nearly 12 percent of the low-cost rentals that existed in 1999 had been lost--twice the share lost among units renting for $400-799, and four times the share lost among units renting for $800 or more. Many of the low-cost rental units that remain are in older, distressed buildings.
Sheila Crowley, President and CEO of the National Low Income Housing Coalition, was among those speaking at the press event at which the report was to be released. Ms. Crowley noted that the dire housing situation for low income people the report highlights presents the federal government with an opportunity to act.
"If only every Member of Congress would take the time to read this report, perhaps some would rethink the reckless insistence that the federal budget deficit be solved with cuts in spending only. This report reinforces the position that programs that help low income Americans, including low income housing assistance, should be off the table in deficit reduction negotiations. Moreover, increased investment in the production and rehabilitation of housing that is affordable for low income families would relieve the shortage of affordable homes and put millions of homebuilders back to work," said Ms. Crowley in prepared remarks.
NLIHC, with a coalition of over 5,500 organizations from around the country, supports funding for the National Housing Trust Fund as the solution to the severe housing challenges outlined in the JCHS report.
The State of the Nation's Housing: 2011 is embargoed until 11 am June 6, and will be available at: https://www.jchs.harvard.edu/
The National Low Income Housing Coalition is dedicated solely to ending America's affordable housing crisis. Established in 1974 by Cushing N. Dolbeare, NLIHC educates, organizes and advocates to ensure decent, affordable housing within healthy neighborhoods for everyone. NLIHC provides up-to-date information, formulates policy and educates the public on housing needs and the strategies for solutions.
LATEST NEWS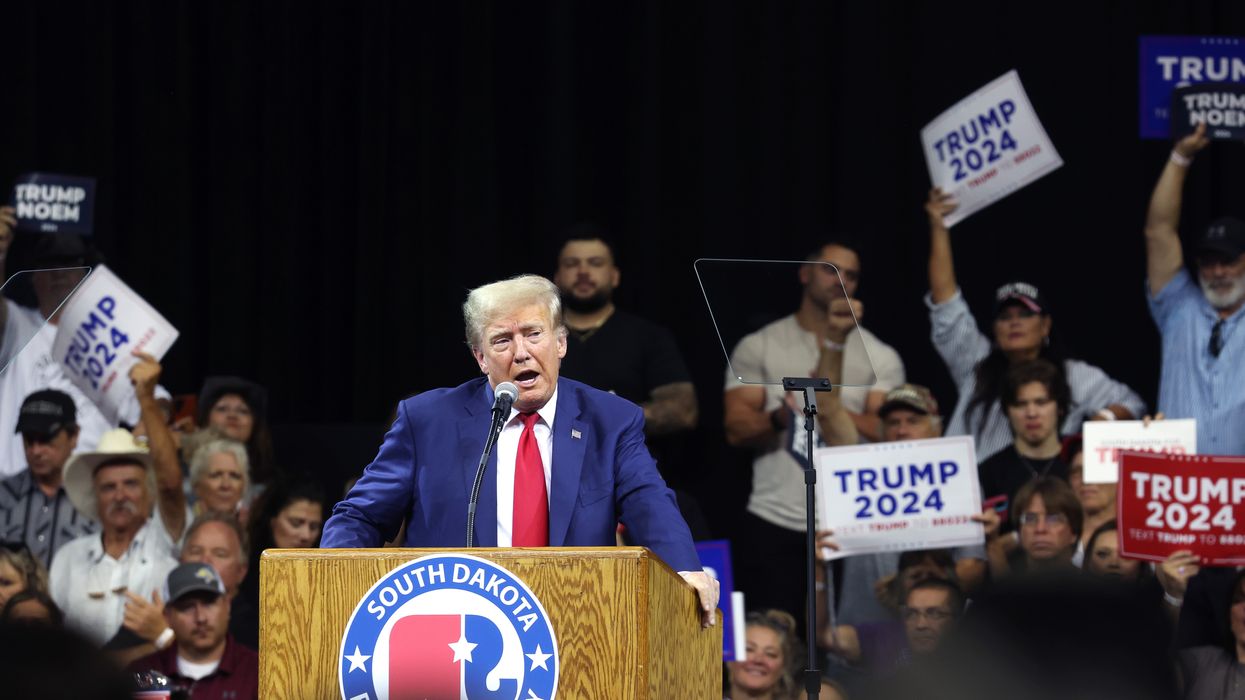 Legal experts dismissed the move, which comes after the judge rejected an attempt by the GOP ex-president and current presidential candidate to delay the trial until 2026, after the 2024 election.
Former U.S. President Donald Trump's legal team on Monday asked the judge overseeing his federal election interference case—stemming from his efforts to overturn the 2020 results and him provoking the January 6, 2021 insurrection—to recuse herself, citing comments she made during cases involving some of his supporters who stormed the Capitol.
"The recusal motion was a risky gambit by Mr. Trump's legal team given that the judge, Tanya S. Chutkan, will have the initial say about whether or not to grant it," The New York Timesnoted. "Mr. Trump's lawyers have tried this strategy before, attempting—and failing—to have the judge overseeing his state felony trial in Manhattan step aside."
Along with those two cases, Trump faces an election interference case in Georgia and second federal case that, like the one overseen by Chutkan, is spearheaded by Special Counsel Jack Smith due to his presidential campaign. Trump remains the front-runner in the GOP's 2024 primary race despite being indicted four times this year.
A grand jury indicted Trump in the federal election case early last month, hitting him with what one watchdog group called his "most significant charges yet." His attorneys pushed for a 2026 trial—well after next year's election—but Chutkan, an appointee of former President Barack Obama who was randomly assigned to the case, scheduled it for March 4, 2024.
"Judge Chutkan has, in connection with other cases, suggested that President Trump should be prosecuted and imprisoned. Such statements, made before this case began and without due process, are inherently disqualifying," Trump's lawyers argued in the Monday motion. "Although Judge Chutkan may genuinely intend to give President Trump a fair trial—and may believe that she can do so—her public statements unavoidably taint these proceedings, regardless of outcome."
The motion points out that during a December 2021 hearing for Robert Palmer, Chutkan said: "Mr. Palmer—you have made a very good point, one that has been made before—that the people who exhorted you and encouraged you and rallied you to go and take action and to fight have not been charged... So you have a point, that the people who may be the people who planned this and funded it and encouraged it haven't been charged, but that's not a reason for you to get a lower sentence."
The filing adds that during an October 2022, the judge told another defendant, Christine Priola:
This was nothing less than an attempt to violently overthrow the government, the legally, lawfully, peacefully elected government by individuals who were mad that their guy lost. I see the videotapes. I see the footage of the flags and the signs that people were carrying and the hats they were wearing and the garb. And the people who mobbed that Capitol were there in fealty, in loyalty, to one man—not to the Constitution, of which most of the people who come before me seem woefully ignorant; not to the ideals of this country; and not to the principles of democracy. It's a blind loyalty to one person who, by the way, remains free to this day.
Responding to Trump's motion on social media, University of Alabama law professor Joyce Vance, who is also an NBC News and MSNBC legal analyst, said Monday that it is "unsurprising that he would do this" but it "seems unlikely to succeed."
"The case for refusing Judge [Aileen] Cannon in Florida would be far stronger and so far, the [government] has not chosen to bring it," Vance added of the Trump appointee overseeing the other federal case, which involves classified documents.
Stephen Gillers, a legal ethics professor at New York University School of Law, reached a similar conclusion.
"I understand why Trump would like another judge, and I understand why Trump would like another venue," Gillers told The Washington Post, "but nothing I've heard—including the fact that Judge Chutkan has sentenced harshly other January 6 defendants—would warrant a recusal."
"Things such as what is said or done within the four corners of a case before her as a judge cannot be a basis for recusal because she's doing her job," he continued. "That's what judges do."
Some legal scholars and advocacy groups argue that regardless of the results of the four criminal cases, the 14th Amendment to the U.S. Constitution disqualifies Trump from holding office again because he incited an insurrection. A watchdog and lawyers for six Republican and unaffiliated Colorado voters filed a related lawsuit last week.
News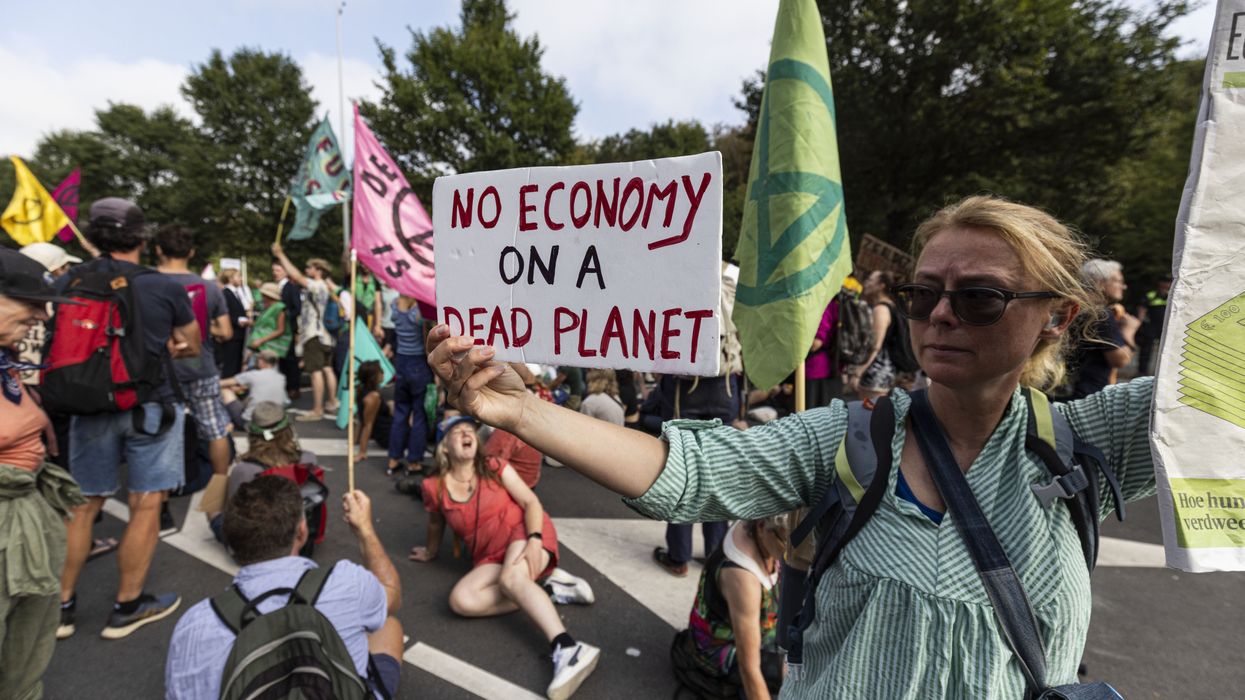 "When we the people use our collective power we can win," said one campaigner.
"September 15-17, 2023. Everywhere."
Those are the dates and location of the international mobilization against fossil fuels set to take place this coming weekend, and the last word is hardly an exaggeration as organizers with the Global Fight to End Fossil Fuels report that more than 400 actions, marches, rallies, and other events have already been registered around the world.
More than 780 organizations have endorsed the day of action—up from 500 less than a week ago—and millions of participants are expected to rally from Cape Town, South Africa to Manila, Philippines and Lahore, Pakistan, as well as in dozens of cities and towns across the United States, the largest emitter of greenhouse gases in history.

The protests are scheduled just before the United Nations Climate Ambition Summit, taking place on September 20 in New York, where groups including the NAACP, Sierra Club, and Sunrise Movement are supporting the March to End Fossil Fuels on September 17.
More than 10,000 people are expected to march in New York to demand that U.S. President Joe Biden end federal approvals for new fossil fuel projects like the Willow drilling project in Alaska and phase out oil and gas drilling in federal lands and waters; declare a climate emergency to unlock resources to accelerate the transition to renewable energy; and provide a just transition that creates millions of green jobs while supporting people who have worked in the fossil fuel industry.

"President Biden is in an unparalleled position to lead the world toward cleaner, less polluting energy options and eliminate the dependence on dangerous fossil fuels," said organizers of the New York march. "If he takes action, he will protect our health, boost our economy, and tackle the climate crisis head-on."

The March to End Fossil Fuels is backed by advocates including author Naomi Klein, 350.org co-founder Bill McKibben, actor and Third Act leader Jane Fonda, and lawmakers including U.S. Sen. Ed Markey (D-Mass.) and Rep. Rashida Tlaib (D-Mich.).

On Monday, scientists including Lucky Tran of the March for Science and biologist Sandra Steingraber announced that 300 climate experts had signed their letter to Biden reminding him that "a broad scientific consensus exists" that fossil fuel extraction must be drawn down immediately to keep global heating below 1.5°C.
The scientists plan to release the letter with all signatures ahead of Sunday's march.
The global mobilization—and the Climate Ambition Summit, where leaders of countries that emit the most heat-trapping gases will be expected to present updated plans to reduce their emissions and phase out fossil fuels—comes after a summer in the Northern Hemisphere in which numerous temperature records were broken.
As Common Dreamsreported last week, U.N. Secretary-General António Guterres warned that "climate breakdown has begun" when U.S. scientists found the summer was the hottest on record. Scientists have said that extreme weather events such as wildfires in Canada and heatwaves in the U.S. and Europe in recent months would not have happened without human-caused planetary heating.
Tasneem Essop, executive director of Climate Action Network, emphasized that popular uprisings against the fossil fuel industry and the politicians that continue to support it have found success, such as the campaign that pushed Ecuadorians to vote against drilling in the Yasuní National Park in the Amazon last month.

"July 2023 was the hottest month in recorded climate history," said Essop. "The unparalleled, deadly climate disasters sweeping the world seem to leave polluters unfazed. Historical emitters like Norway, the U.K., and the USA are announcing new fossil fuel projects even as floods, fires, and heatwaves take over our lives. We take inspiration from recent victories in the Yasuní region with the referendum to stop oil drilling."
"When we the people use our collective power we can win," Essop added. "Let our resistance against fossil fuels in September send a loud message to the fossil fuel industry and their supporters that their time is up."
Outside of the U.S., more than 3,000 people are expected to join the Pakistan Climate March in the southern Sidh province; 100,000 are expected to join a march in Abuja, Nigeria; and 3,000 are expected to march near Malacañang Palace in Manila.

"We demand a phaseout of fossil fuels now," said Farooq Tariq, secretary-general of Kissan Rabita Committee in Pakistan. "The fossil fuel industry and its supporters bear responsibility for the climate crisis and perpetuate a predatory and destructive economic system that harms both people and the planet."
News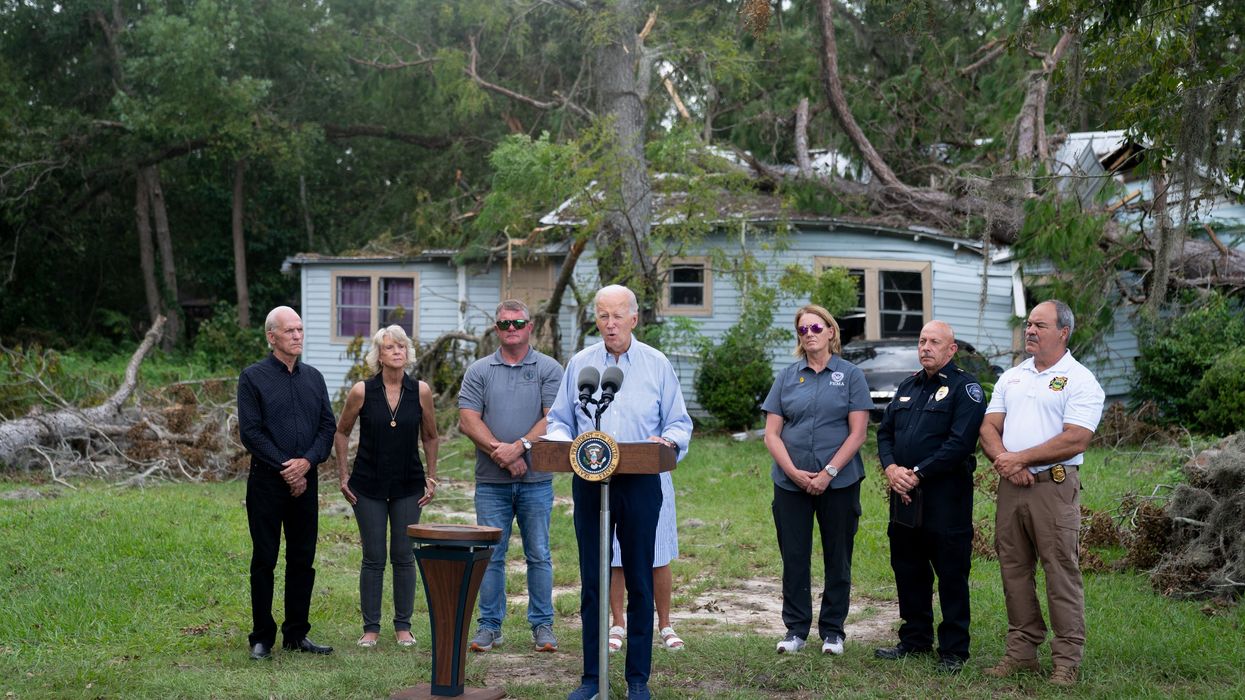 One expert said the events "affirm what millions of people around the country already know—the climate crisis is a deadly and expensive reality today."
As a historically hot summer nears its end, U.S. government scientists on Monday announced that the nation endured 23 separate weather and climate disasters that caused at least $1 billion in damage from January to August—setting a new annual record with four months of the year left.
The previous record was set in 2020, with a year-end total of 22. This year's billion-dollar disasters so far include 18 severe storms, two flooding events, one tropical cyclone, one wildfire, and one winter storm. The final figure for 2023 could rise, not only because it's just September, but also because some calculations still need to be finalized, including for Tropical Storm Hilary and a Southern and Midwest drought.
The National Oceanic and Atmospheric Administration (NOAA) said that this year's events collectively "caused 253 direct and indirect fatalities and produced more than $57.6 billion in damages." Since the federal agency began tracking billion-dollar disasters in 1980, there have been 371 such events, with the total cost topping $2.615 trillion.
Additions to this year's total since NOAA's previous update a month ago include the deadliest U.S. wildfire in over a century, which devastated the Hawaiian island of Maui in early August, and Hurricane Idalia, which made landfall in Florida late last month.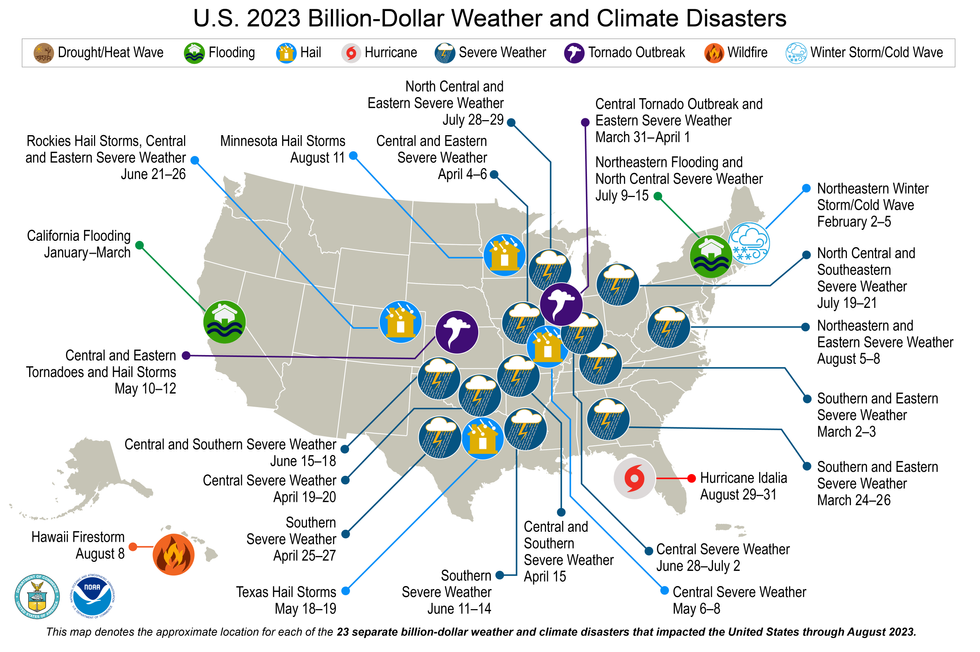 Responding to the news from NOAA, Rachel Cleetus, policy director and lead economist at the Union of Concerned Scientists' Climate and Energy Program,
said
that "these record-breaking numbers, during a year that is on track to be one of the hottest ever, are sobering and the latest confirmation of a worsening trend in costly disasters, many of which bear the undeniable fingerprints of climate change."
"They affirm what millions of people around the country already know—the climate crisis is a deadly and expensive reality today," Cleetus continued. "Our choices about where and how we build and develop are also putting more people and property in harm's way. Without sharp cuts to heat-trapping emissions and robust investments in climate resilience, the human and economic toll of these kinds of disasters will mount in years to come. The year is far from over, with the busiest part of the hurricane season just getting underway, making it likely that these numbers will climb further."
Along with the disaster figure, NOAA announced that the United States saw its ninth-warmest August in the 129-year record. For a few states—Florida, Louisiana, and Mississippi—it was the hottest August recorded. It was also Texas' second-hottest and Alaska's third-hottest August.
This year also featured the nation's 15th-hottest meteorological summer—or June through August—on record, with Louisiana enduring its warmest summer and Florida and Texas seeing their second-warmest summers. Florida, Louisiana, and Mississippi also all endured their hottest January-August period, while it was the second-warmest in Alabama, Delaware, Georgia, Maryland, and Massachusetts.
NOAA's findings follow revelations last week that at the global level, this summer has been the hottest ever recorded and in 2022, greenhouse gas concentrations, sea level, and ocean heat content hit record highs.
As Cleetus noted, they also follow a Federal Emergency Management Agency (FEMA) request for "Congress to urgently allocate additional money for disaster aid as it's slated to run out of funds this month."
"This kind of a dire situation is likely to happen year after year as climate change worsens," she warned. "It's imperative that U.S. policymakers invest much more in getting out ahead of disasters before they strike rather than forcing communities to just pick up the pieces after the fact. While recent legislation like the Inflation Reduction Act and the Infrastructure Investment and Jobs Act include some funding for climate resilience, it's grossly insufficient given the scale of the national challenge we face."
"Congress and the Biden administration also must ensure funds are reaching the communities disproportionately affected by climate harms, including low-income communities and communities of color," she added. "The science is clear that adapting to runaway climate change is an impossible feat so we must also sharply curtail the use of fossil fuels that are driving the climate crisis."
The NOAA report and response come ahead of the United Nations Climate Action Summit in New York City beginning September 20 as well as COP28, the next U.N. conference for parties to the Paris agreement, which is set to be hosted by the United Arab Emirates this November.
Recent disasters and extreme heat leading up to both summits have fueled demands for more ambitious efforts from the international community—but particularly rich countries that have largely created the climate emergency—to ditch oil and gas. With eyes on the NYC meeting, activists are planning a September 17 March to End Fossil Fuels in the city and hundreds of related events across the United States.
The NYC march's demands for U.S. President Joe Biden are to stop federal approvals for new fossil fuel projects and repeal permits for "climate bombs"; phase out oil and gas drilling on public lands and waters; declare a climate emergency; and provide a just transition.
News
Independent, nonprofit journalism needs your help.
Please Pitch In
Today!