For Immediate Release
Contact:
Ed Shelleby (202) 662-3602
Marian Wright Edelman Testimony at House Committee on Energy and Commerce Hearing
Children's Defense Fund President Warns House Tri-Committee Some Children May Be Worse Off Under Discussion Draft
WASHINGTON
Today, Children's Defense Fund President Marian Wright Edelman
testified at the House Committee on Energy and Commerce hearing about
the House Tri-Committee Comprehensive Health Reform Discussion Draft.
Excerpts from her testimony are included below.
To view the submitted testimony in its entirety visit, www.childrensdefense.org/healthreformtestimony
"The Comprehensive Health Reform Discussion Draft takes
strong steps towards quality health reform for millions of
Americans-but I am concerned that under your proposal children don't
get their fair share of needed reform, and rather than being better off
than they are now, some are at risk of being worse off.
"I strongly recommend that you amend your draft bill to
address the three critical areas for improvement that I stated earlier
in my testimony: a national eligibility floor for children at 300
percent of the Federal Poverty Level; comprehensive health and mental
health benefits for all children, building on what children now get in
Medicaid; and a simplified system of enrollment so that all children
who are eligible will be enrolled. These are essential to ensuring that
children truly benefit from health reform."
For more information about the Children's Defense Fund, visit www.childrensdefense.org.
The Children's Defense Fund (CDF) is a non-profit child advocacy organization that has worked relentlessly for 35 years to ensure a level playing field for all children. We champion policies and programs that lift children out of poverty; protect them from abuse and neglect; and ensure their access to health care, quality education, and a moral and spiritual foundation.
LATEST NEWS
"Investing in teachers is investing in our kids," said one educator. "Investing in our kids is investing in New Zealand's future."

An estimated 50,000 New Zealand educators walked off the job Thursday to demand better pay, improved working conditions, and more government support amid a worsening cost-of-living crisis and a teacher shortage that has left many questioning their future in the profession.
The one-day nationwide strike, spearheaded by the Post Primary Teachers' Association (PPTA) and New Zealand Educational Institute (NZEI), kicked off after the trade unions rejected the Labour government's offers on pay, benefits, and other issues as inadequate to meet the needs of educators who have been under massive strain since the coronavirus pandemic began three years ago.
"I'm striking because the early years are the most important for our children," said kindergarten teacher Virginia Oakly, who joined tens of thousands of her fellow educators at Thursday's demonstrations.
"I'm striking because our kindergarten teachers currently don't have enough sick leave," Oakly added. "We know that it's one of the highest sectors in the country to suffer from illness and that has been made worse with Covid-19. We also can't get enough relievers to cover those absences because of the pay cap that doesn't recognize their experience and knowledge."
The New Zealand strike is part of a growing global wave of labor actions as teachers, nurses, transit workers, and others revolt against government austerity and pay that has lagged behind inflation, which remains elevated around the world.
The Guardianreported Thursday that New Zealand teachers "have so far turned down three pay rise offers from the government of 3%, and say they want 15% or more to continue their work."

In a report released late last year, the United Nations Educational, Scientific and Cultural Organization (UNESCO) found that "six out of 10 countries pay primary school teachers less than other professionals with similar qualifications."
"This criterion is particularly evident in high-income countries," UNESCO noted. "In five out of six countries in this group, primary school teachers earn less than other comparable professionals."

As part of their push for higher pay and better conditions, teachers in the U.K. are currently on the second day of a two-day strike, and tens of thousands of Los Angeles teachers are planning a three-day walkout beginning next week.
Last month, around 100,000 teachers took to the streets of Lisbon, Portugal to demand "respect for our profession."
New Zealand teachers, who have been engaged in contract negotiations with the government for nearly a year, echoed that call on Thursday.
"Teachers are crying out for a better work-life balance and to be recognized as the professionals that we are," said Maiana McCurdy, an Auckland primary school teacher. "As a mother, I'm striking because I want to know that my child's teacher is going to have the support they need to manage the increasingly difficult challenges that our tamariki are coming into the classroom with."
In an op-ed for The New Zealand Herald ahead of Thursday's walkouts, science and math teacher Peter Wills wrote that "we're striking so your kids can have teachers with the time to create great lessons for your children."
"Investing in teachers is investing in our kids," Wills added. "Investing in our kids is investing in New Zealand's future."

News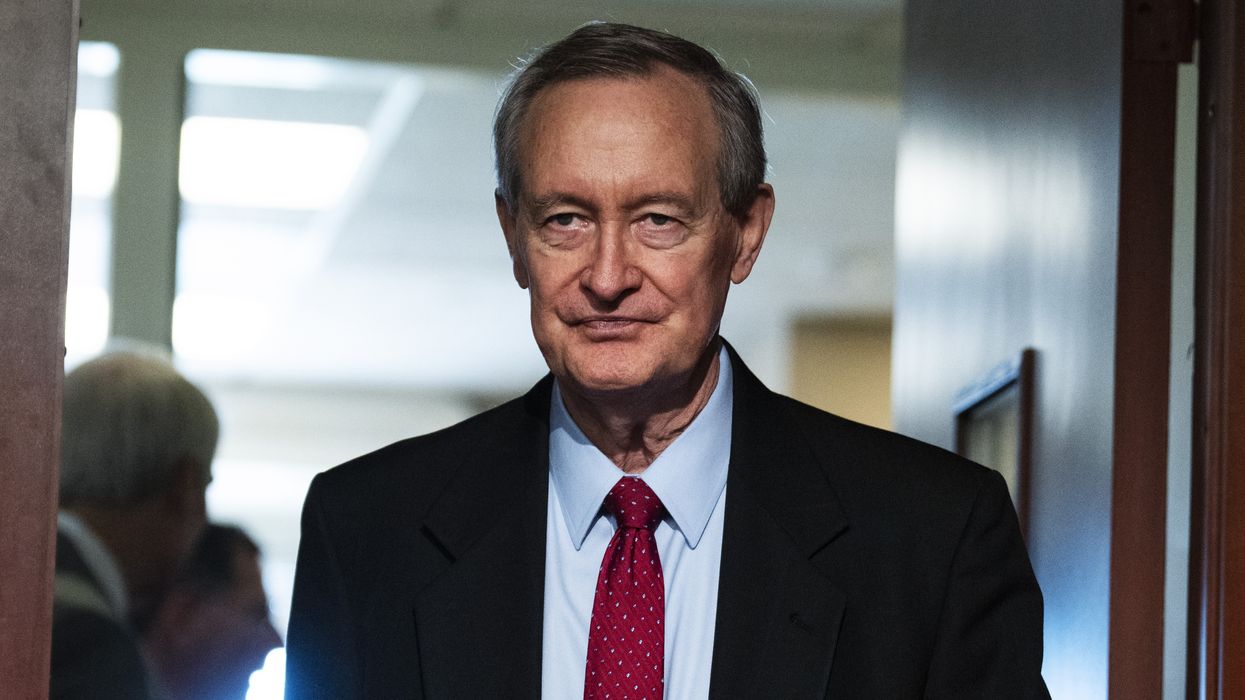 "You have to be hard-core committed to mindless free-market fundamentalism—or truly in thrall to your donors—to insist there's no need for new regulations after Silicon Valley Bank," said one critic.
Republican Sen. Mike Crapo, the lead author of a 2018 bank deregulation law that weakened key guardrails designed to prevent another financial crisis, insisted this week that there is "no need" to impose more strict rules following two of the largest bank collapses in U.S. history.
"There is no need for regulatory reform," said Crapo, who chaired the Senate Banking Committee when Congress passed the 2018 law despite vocal warnings from experts that it would destabilize the banking sector. Dozens of Democrats supported the measure.
In a Fox Business appearance on Tuesday, the Idaho Republican deflected blame for the failures of Silicon Valley Bank and Signature Bank, both of which were in the category of firms that saw regulatory relief thanks to the 2018 law.
"The fact is that President Biden—through all of the spending that he did in the last Congress and the last two years—has driven inflation up to the point where wage earners have to get a 14.8% wage increase just to hold even with this kind of inflation," said Crapo. "And when the Fed responded to push interest rates up, that's what caused a liquidity crisis for these two banks."
While analysts agree that the Fed's aggressive interest rate hikes are at least partly to blame for the collapse of SVB and Signature Bank, they also argue that the 2018 law's removal of enhanced capital requirements and stress tests for banks with between $50 billion and $250 billion in assets—reforms implemented by the post-financial crisis Dodd-Frank Act—also played a significant role.
"You have to be hard-core committed to mindless free-market fundamentalism—or truly in thrall to your donors—to insist there's no need for new regulations after Silicon Valley Bank," wrote Robert Weissman, the president of Public Citizen. (Crapo received more than $880,000 in donations from the securities and investment industry between 2017 and 2022, according to OpenSecrets.)
In effect, the 2018 law ( S.2155) removed the "systemically important" designation and the associated regulations from SVB and Signature Bank—a change that didn't stop the Fed and the Biden administration from rushing in to backstop the financial system and prevent "contagion" after the firms collapsed.
"Congress gave regulators permission to take their eyes off of these mid-sized regional banks."
SVB's announcement last week that it sold its bond portfolio at a major loss and was trying to raise funds led venture capitalists to advise startups—SVB's primary clientele—to withdraw their money, setting off a bank run that ultimately resulted in the firm's failure and takeover by regulators.
"The federal government then stepped in to guarantee the deposits, a dramatic move designed to prevent the panic from spreading to other banks," HuffPost's Arthur Delaney noted Wednesday. "But this kind of intervention... was not supposed to be necessary. The enhanced prudential standards under Dodd-Frank include liquidity requirements that would have automatically covered Silicon Valley Bank if Congress hadn't relaxed the law in 2018."
As former FDIC attorney Todd Phillips toldThe Washington Post earlier this week, "Congress gave regulators permission to take their eyes off of these mid-sized regional banks."
Hilary Allen, a law professor at American University, similarly observed that the 2018 law "did indeed reduce regulatory requirements for banks like Silicon Valley Bank."
"While it is impossible to say categorically that legislative rollback equals the bank's collapse," Allen added, "it does seem that it made it more likely."
The Fed, as then-central bank governor Lael Brainard lamented in 2019, proceeded to take the Republican-authored law and run with it, further weakening safeguards against financial chaos.
"I see little benefit to the banks or the system from the proposed reduction in core resilience that would justify the increased risk to financial stability in the future," Brainard said in a statement at the time.
On Tuesday, dozens of lawmakers led by Sen. Elizabeth Warren (D-Mass.) and Rep. Katie Porter (D-Calif.) introduced legislation that would repeal the section of the 2018 law that relaxed regulations for banks with less than $250 billion in assets.
In a floor speech, Warren said that "both SVB and Signature Bank suffered from a toxic mix of poor risk management and weak supervision."
"If Congress and the Federal Reserve had not rolled back key provisions of Dodd-Frank, these banks would have been subject to stronger liquidity and capital requirements to help withstand financial shocks," Warren continued. "These threats never should have been allowed to materialize. Now, we must prevent them from occurring again by reversing the dangerous bank deregulation of the Trump era."
News
"The East Palestine disaster raised significant questions about rail safety," Sen. Elizabeth Warren said in response to the approval of Canadian Pacific's acquisition of Kansas City Southern. "Allowing this merger is a mistake."
U.S. federal regulators on Wednesday approved the first major railroad merger in more than two decades, a move that follows the East Palestine rail disaster and that critics warned would reduce competition, raise prices, cost jobs, and threaten safety.
The Surface Transportation Board (STB) approved Canadian Pacific Railway Limited's proposed $31 billion acquisition of Kansas City Southern Railway Company, a merger that will create a single railroad linking Canada, the United States, and Mexico. The agency said the merger will take roughly 64,000 truckloads off the road and add more than 800 union jobs.
"The decision includes an unprecedented seven-year oversight period and contains many conditions designed to mitigate environmental impacts, preserve competition, protect railroad workers, and promote efficient passenger rail," STB said, adding that it "also anticipates the merger will result in improvements in safety and the reduction of carbon emissions."
"Shame on STB for disregarding both the administration and the rail workers who know all too well that corporate consolidation leads to a more dangerous rail industry."
However, opponents of the deal pointed to the East Palestine, Ohio disaster and other recent railroad accidents, which they said underscored the need for a more cautious approach to consolidation.
"The merger brings the total number of Class 1 railroads to six, down from over 100 just a few decades ago," the progressive news site More Perfect Unionnoted on Twitter. "Corporate consolidation in the railroad industry compromises safety and risks lives by prioritizing profits and cutting corners to reduce costs."
"Despite concerns from small towns and suburban Chicago cities, the STB ruled, based on data provided by industry, that the only community and environmental impacts of the merger would be an increase in noise," More Perfect Union continued.
"The Biden administration has taken a strong antitrust stance by blocking the $3.8 billion JetBlue-Spirit merger and urging the STB to do the same for Canadian Pacific-Kansas City Southern (CP-KCS), citing the need to promote competition in the railroad industry," the outlet said.
"Shame on STB for disregarding both the administration and the rail workers who know all too well that corporate consolidation leads to a more dangerous rail industry," More Perfect Union added. "The last thing we need is another merger right now."
U.S. Sen. Elizabeth Warren (D-Mass.)—who earlier this month wrote to STB Chair Martin Oberman asking the agency to reject the merger—similarly tweeted that "we don't need another rail merger that'll crush competition, reduce safety, increase prices, and destroy jobs."
U.S. Rep. Raja Krishnamoorthi (D-Ill.), who represents some Chicago suburbs through which the new international railway will run, wrote on Twitter Tuesday that "even before the disaster in Ohio, I had been warning about the threats to communities in my district that would come from a potential CP-KCS merger."
Itasca, Illinois Administrator Carie Anne Ergo—who chairs the Stop CPKCS Coalition—toldThe Washington Post that "the tragedy in Ohio is an illustration of what we've been talking about can happen."
"If what happened in East Palestine happened here in Itasca, the entire community would need to evacuate," she added. "It's terrifying."
News
SUPPORT OUR WORK.
We are independent, non-profit, advertising-free and 100%
reader supported.