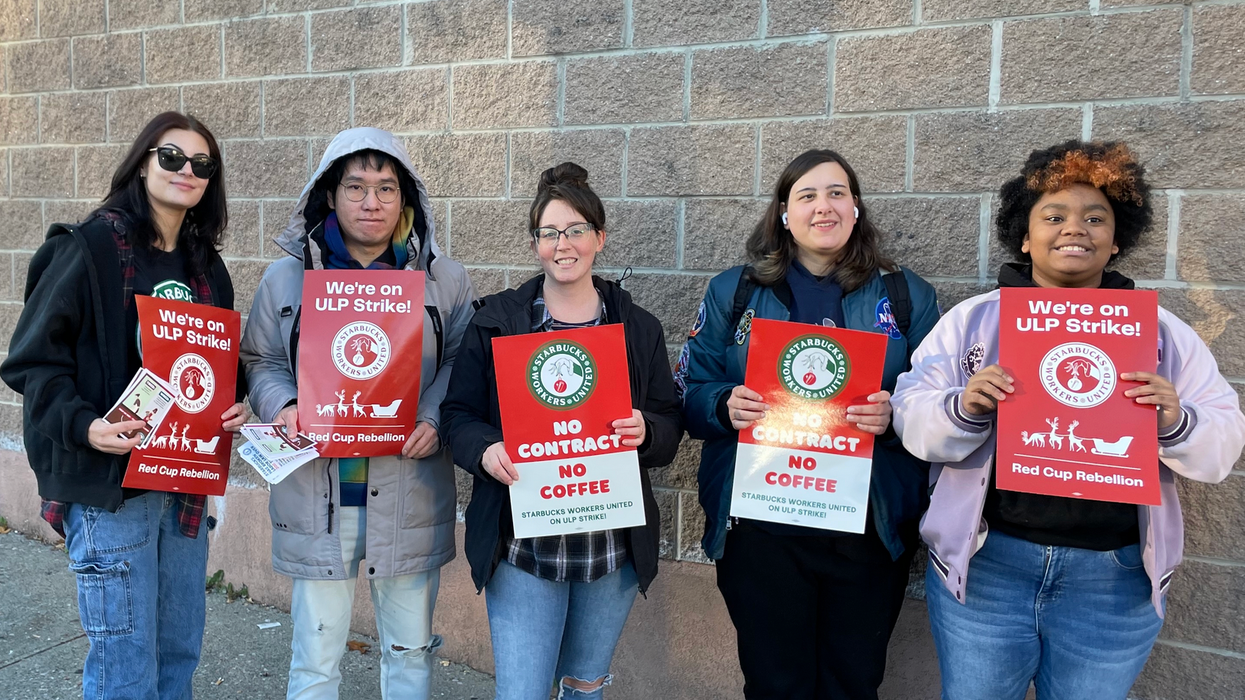 "Red Cup Day too often means defeat for employees and customers alike," said one shift supervisor. "And Starbucks walks away with a bulging bottom line."
With numerous unions and international Starbucks workers pledging solidarity, thousands of U.S. employees at the coffee chain on Thursday staged a work stoppage to protest what they say is the company's refusal to bargain over working conditions on increasingly busy and frequent "promotion days."
Thursday marked "Red Cup Day," when customers receive a red reusable cup upon ordering a holiday-themed beverage, and Starbucks workers, including those among the 9,000 employees who have formed unions at 300 U.S. stores in the past two years, say the event takes a serious toll on them due to the company's refusal to maintain appropriate staffing levels.
"On Starbucks promotion days like Red Cup Day, there is no additional staffing to cover the influx of orders that baristas have to handle," wrote Moe Mills, a shift supervisor at a Starbucks location in St. Louis, in a USA Today column on Thursday. "Red Cup Day too often means defeat for employees and customers alike—with overworked and exhausted baristas and customers angry as they wait while workers try to fulfill orders as fast as possible. Drink orders pile up, lines back up, and the supply of red cups runs out."
"By the end of the day, everyone feels deluded," Mills added. "And Starbucks walks away with a bulging bottom line."
Union members have called the work stoppage the "Red Cup Rebellion" and expect it to be the largest strike the company has ever seen.
Starbucks Workers United (SWU), which first unionized stores in Buffalo, New York in 2021 and has accused the $120 billion corporation of more than 200 labor law violations, filed a complaint with the National Labor Relations Board (NLRB) earlier this fall over promotion day scheduling and staffing practices.
The union is demanding that the company participate in contract negotiations over the issue and calling on it to turn off mobile ordering on promotion days, which workers say adds considerably to the chaos they face in stores.
"Starbucks workers can't keep working with such short staffing," said Neha Cremin, a barista who joined the Red Cup Rebellion in Oklahoma City. "At my store, we're expected to make drive-thru orders, walk-up orders, mobile orders, and delivery orders. This is difficult enough to manage with a fully-staffed floor, but we're often expected to manage all these things with only three workers. To make things worse, Starbucks is creating unnecessarily stressful working conditions by scheduling promotion after promotion without increasing staffing. Understaffing hurts workers and also creates an unpleasant experience for customers. Starbucks has made it clear that they won't listen to workers, so we're advocating for ourselves by going on strike."
SWU noted on Thursday that since unionization efforts began in 2021, "Starbucks has conducted a coordinated, scorched-earth campaign, centrally directed from its corporate labor relations office, to illegally frustrate and stall bargaining."

Last week the corporation offered workers at nonunion stores 3% raises, and the union said Starbucks has also offered nonunion employees benefits such as credit card tipping—a demand made by SWU.

The NLRB is considering more than 100 complaints against Starbucks, including refusal to bargain, firing union supporters and members, and prohibiting workers from exercising their right to organize.
"Instead of listening to those on the frontlines, Starbucks is finding every way possible not to pay workers their fair share," said U.S. Rep. Jim McGovern (D-Mass.) on Thursday as he expressed support for the Red Cup Rebellion.
International Starbucks employees from Brazil to Serbia also pledged solidarity with the striking workers, while Teamsters union members in the U.S. said they would observe a "no deliveries for union-busters" policy during the walkout.
"The picket line is sacred," said the union. "Solidarity, Starbucks Workers United family."

News